Hello from the other side! I have officially survived my Black Friday 1:30AM to 11:30AM shift! It was actually a lot of fun, the customers were all really nice and everyone just seemed happy to be getting good deals. These past few days have really flown, I can't believe Thanksgiving is already over! It was such a fun day that involved me waking up and lounging in PJs while watching the Macys Thanksgiving Day parade and then the National Dog Show. Everyone started arriving early afternoon, there were ten of us total, and we all hung out and snacked on veggies and cheese until it was time to eat.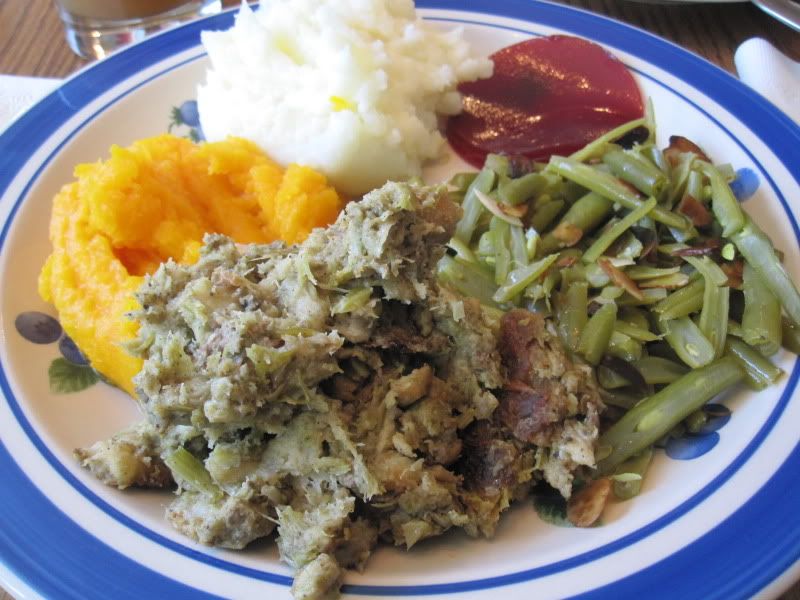 And oh man did we eat. I was going to make a vegetarian protein dish for Thanksgiving but I worked the day before and quite honestly was way too tired the day of Thanksgiving so I feasted on all the sides. Diane's green beans with almonds are out of this world good. I'm so glad we have leftovers!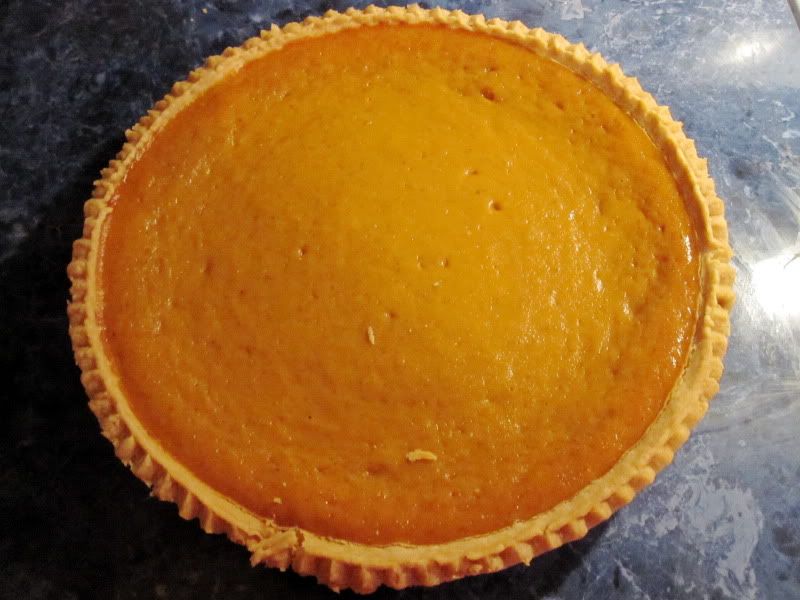 I also enjoyed this amazing pie. We had apple pie, brownies, and cupcakes as well but I only had eyes for this. My Aunt Sharon buys pumpkin pies from the Amish every year and they are literally the best pumpkin pies I have ever eaten. I don't know what they put in them to make them taste so much better than regular pumpkin pies, but they are pure amazing-ness!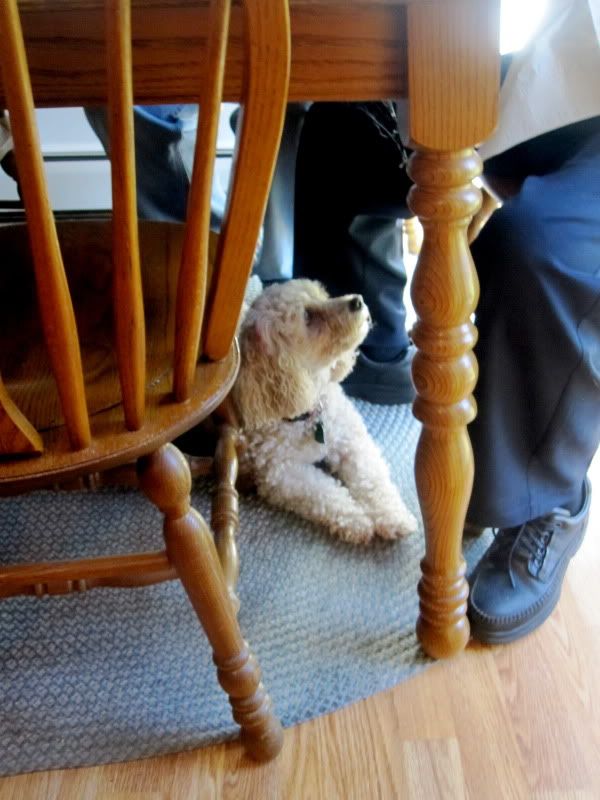 Bailey was quite a fan too! ;p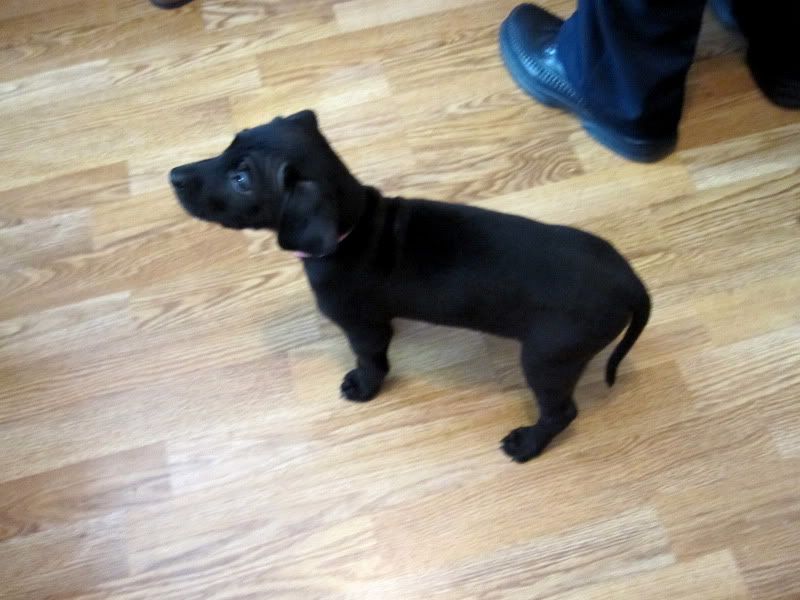 We also had a puppy guest for Thanksgiving! My sister and Jimmy just got a lab/German shepherd mix named Chanel. She is so tiny, and absolutely precious!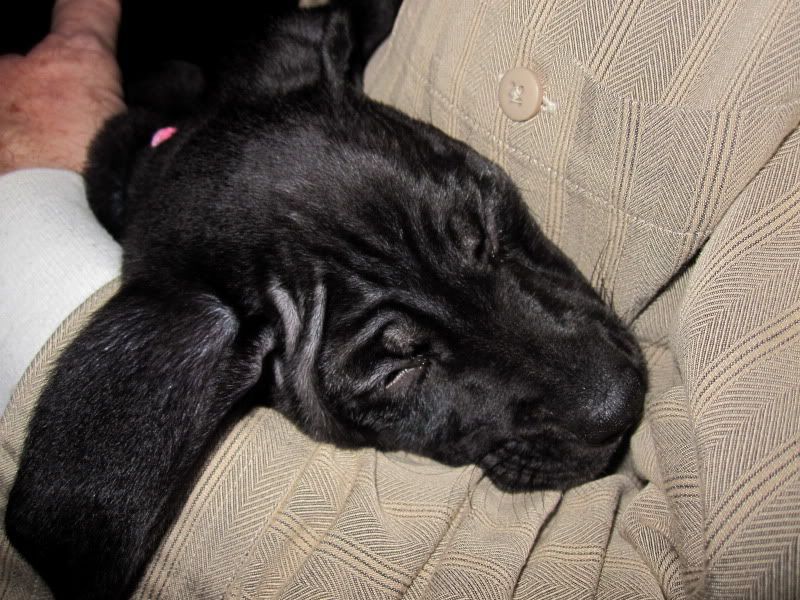 We all took turns holding her. She alternated between being a ball of energy and the biggest sleepyhead.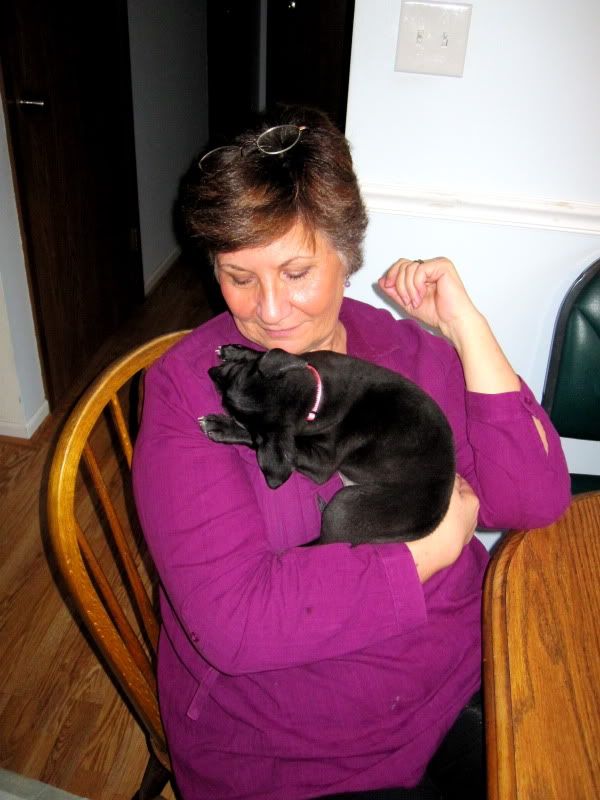 She had more than enough people who wanted to hold her while she slept! ;p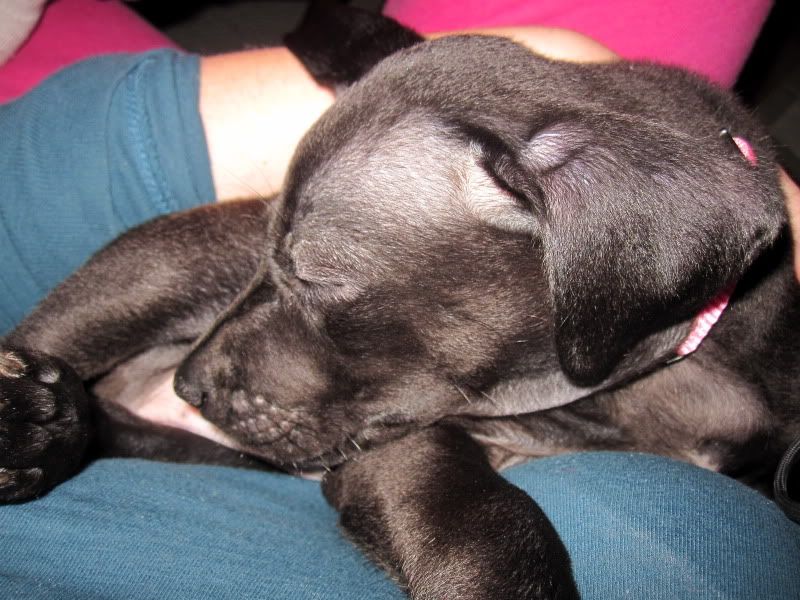 She fell asleep just like this on my chest for twenty minutes. She would wake up and then look off the couch, decide she was too scared to jump off, and then snuggle back down and fall asleep. It was so hard to say goodbye to her at the end of the day, I love puppies!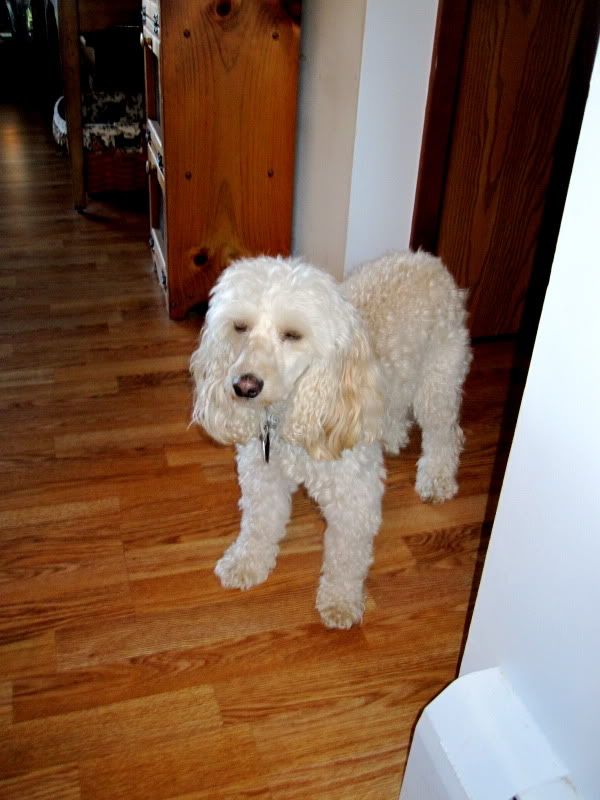 Andy was less than thrilled with having a new baby in the house. That title usually belongs to him. Andy and Bailey were so happy to have someone to play with but as soon as Chanel started getting cooed at and cuddled more than him, he was ready for her to leave. So jealous.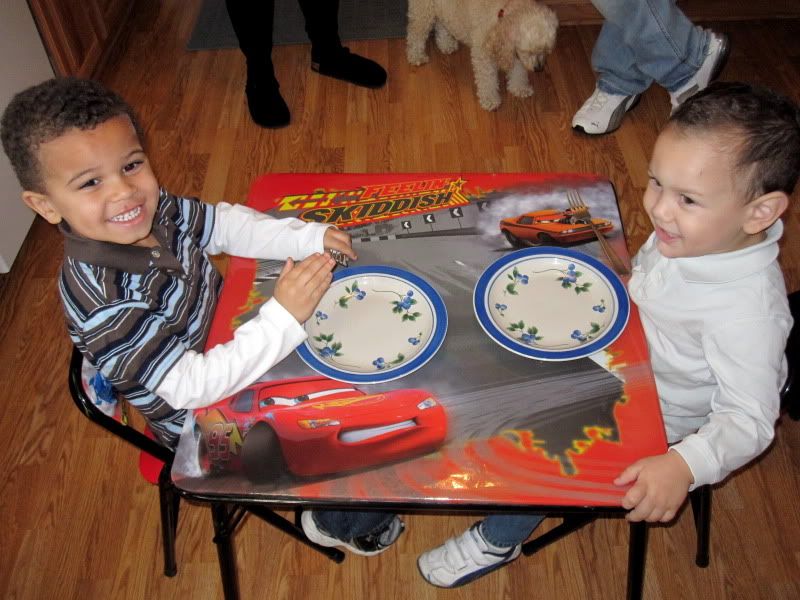 My two nephews had a lot of fun hanging out together. Christian is Laura's son and Jamie (James) is my sisters. They're a little over a year apart but got along great. They loved having dinner at their special Cars table. Jamie didn't eat a lot because he had already pigged out on the appetizers. He was double-fisting carrots and broccoli for most of the afternoon, before he moved onto olives. He is the most adventurous eater, he had never tried an olive before but he popped one in his mouth whole and ate it. When I asked him if he liked it, he went mhhm, and then ate another one whole! I was impressed.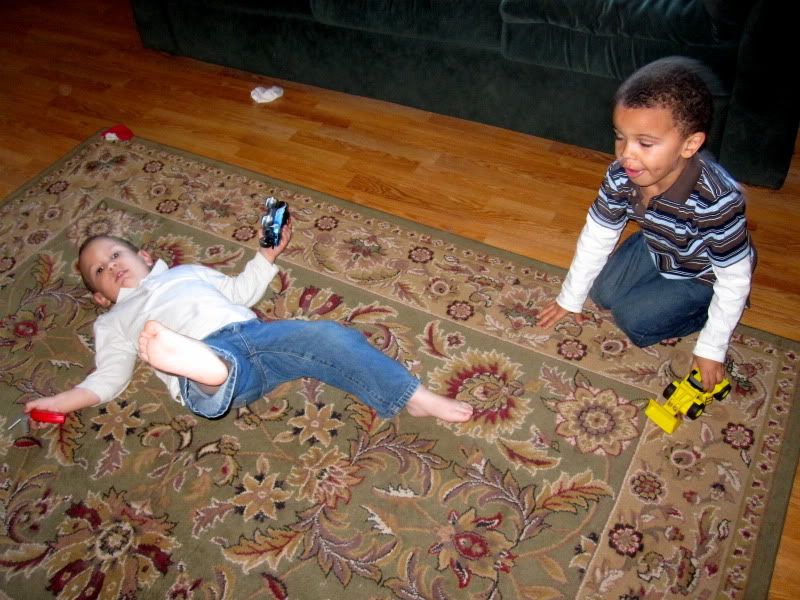 After dinner they played cars in the living room. I love seeing them grow up and how they change as time goes by. Christian was so sweet to Jamie and shared all of his toys. And Jamie is just a ball of adorable, when someone tells him to do something he looks at you and in this little deep voice goes oh-kay. And when he tries to go somewhere he shouldn't my sister asks him what he's doing and he freezes mid movement and covers his eyes with the logic that if he can't see you, you can't see him. ;p I spent the day laughing at his cuteness.

Us grownups spent the day hanging out and eating and talking ourselves into a food coma. It was so much fun spending time with my family and getting to catch up on everyone's lives. This truly is the best time of the year!
I ended up going to bed at 7pm since I had to be up at midnight for work. I am so glad I did or there is no way I would have survived this morning. Work was awesome and gave us survival kits, complete with coffee, water, hand sanitizer, tissues and chocolate. They also had breakfast for us and ordered pizza for lunch. I have more shifts coming up this weekend and I hope they were as fun as today was. I'll see you all on Monday with a recap of the weekend! Wish me luck with the rest of the holiday shoppers!
Question of the Day: What was your favorite memory from this Thanksgiving? Mine was getting to see my family, and eating my weight in pumpkin pie!