Its officially baking season! With Christmas just a few weeks away I've already started my annual cupcake/cookie/brownie baking. I love surprising people with baked goods and working on Black Friday gave me the perfect excuse to bake! If anything will make people smile while working at 4am its baked goods!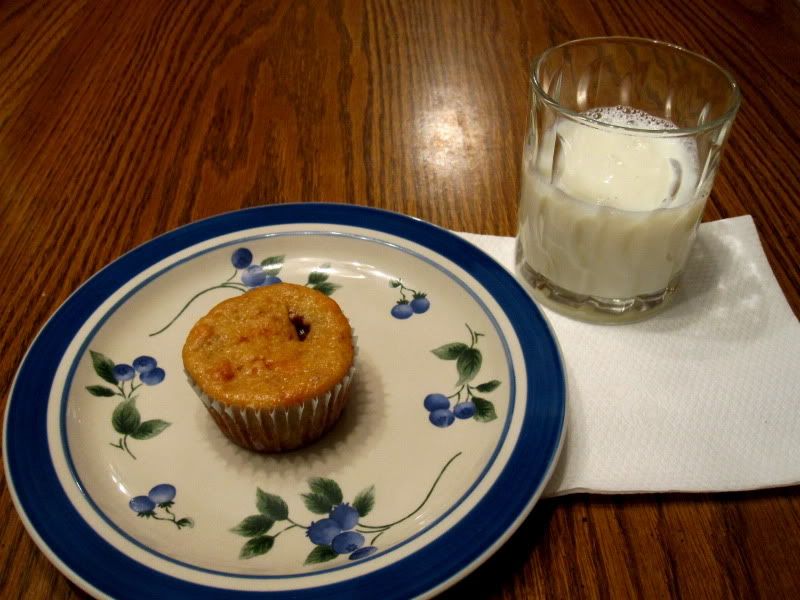 I made apple walnut cupcakes with a caramel filling. I may have eaten one (or two) fresh out of the oven with a big glass of milk. They are so good!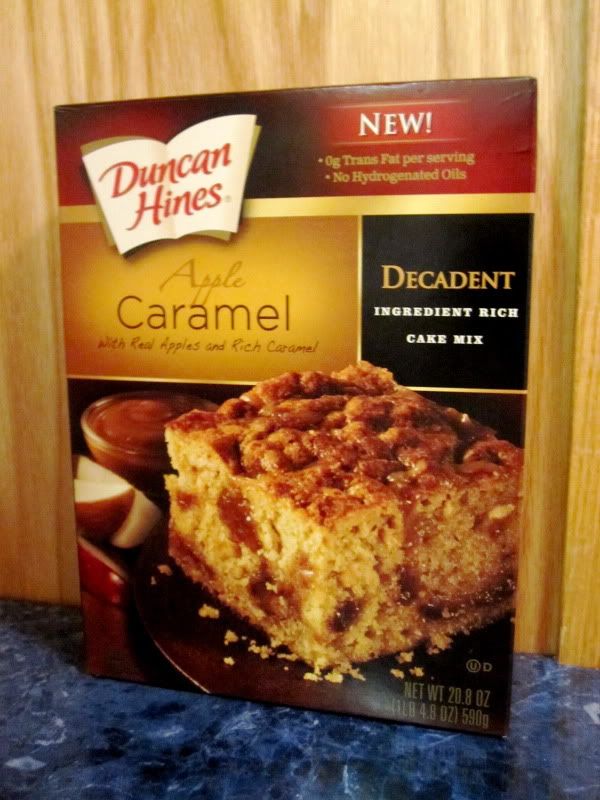 To make these I used Duncan Hines's Apple Caramel mix. As part of Foodbuzz Tastemakers I was selected by Duncan Hines to receive free product samples of some of their cake mixes. I'll be featuring three recipes using Duncan Hines mixes between now and the end of December (this being the first) and offering a coupon good for any Duncan Hines product to a lucky reader at the end of each post.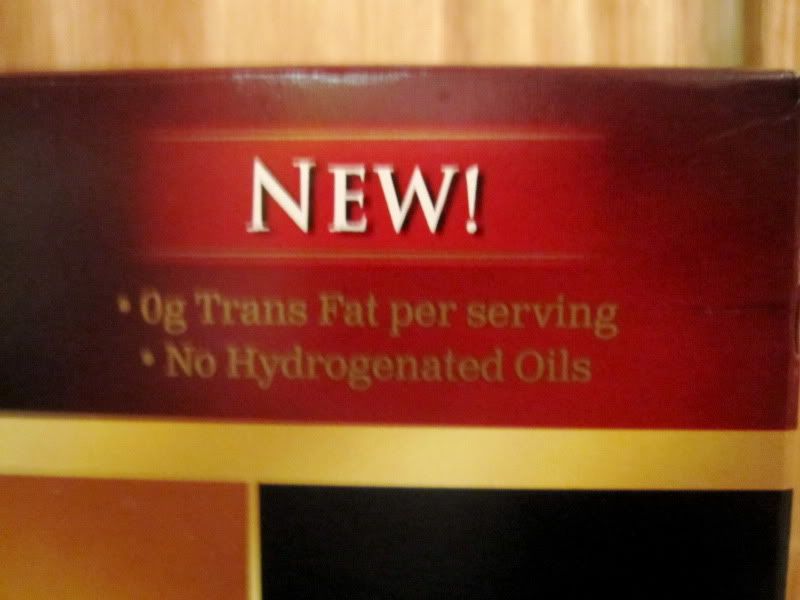 When buying mixes its really important to read the labels. One of the reasons I love making a lot of my baked goods from scratch is because I know exactly what goes into them. Duncan Hines is rolling out a new product line that has no trans fat and no hydrogenated oils which I think is awesome. So many mixes and icings have trans fats and they are the worst kind of fat for your body. My family has a strict no trans fat rule. We will not buy something that has trans fat on the label or if we do and discover it later we would rather throw it out than eat it. That doesn't mean I feel okay to go crazy with other fats, or that just because something doesn't have trans fat its healthy, but trans fat is the only fat that not only raises your bad cholesterol but lowers your good cholesterol. Its also important to note that under US law if a serving size of a product contains less than .5 grams of trans fat they can advertise it as trans fat free. The thing to look for on the label to see if there's any traces of trans fat is partially hydrogenated vegetable oil. If its in the ingredients list, there's trans fat in your food, even if it says 0 grams. I was really happy to see Duncan Hines taking steps to remove trans fat from their products.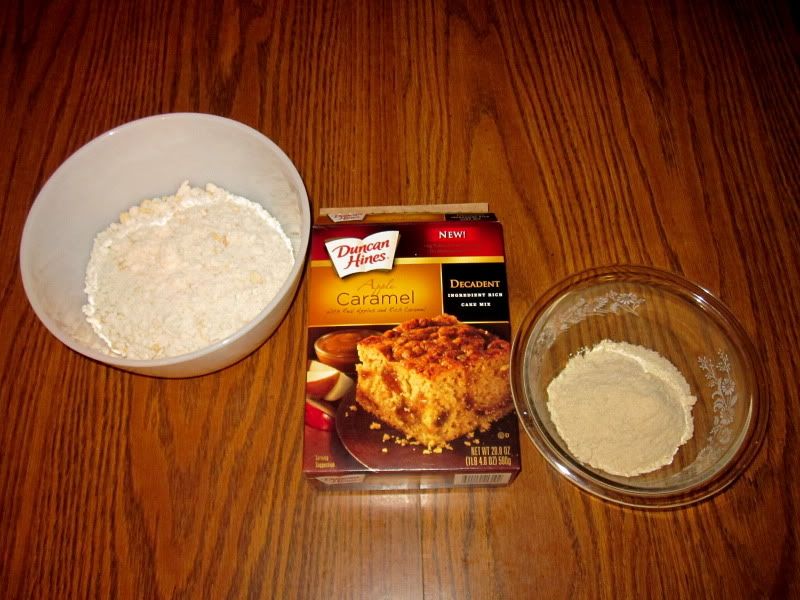 Another really cool thing about this mix is that it not only had the flour mix, but dehydrated apples and a caramel powder as well!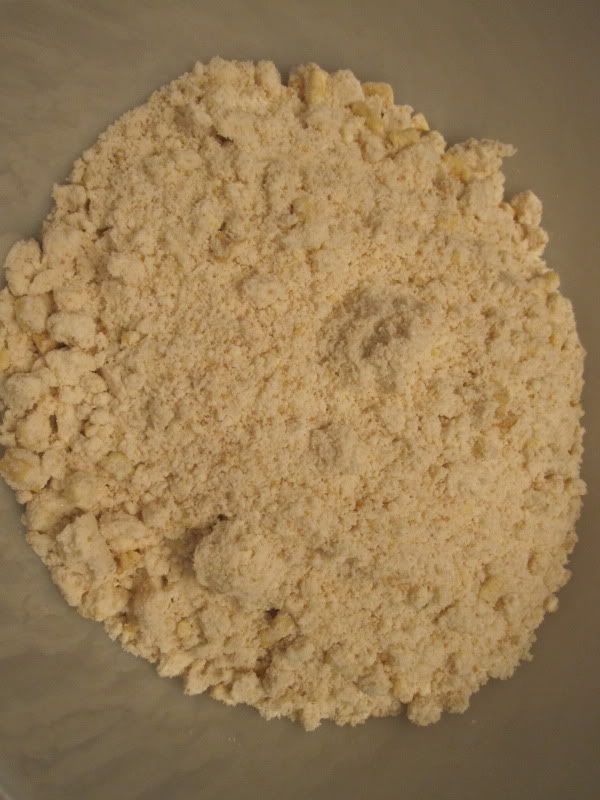 Can you see the apple pieces?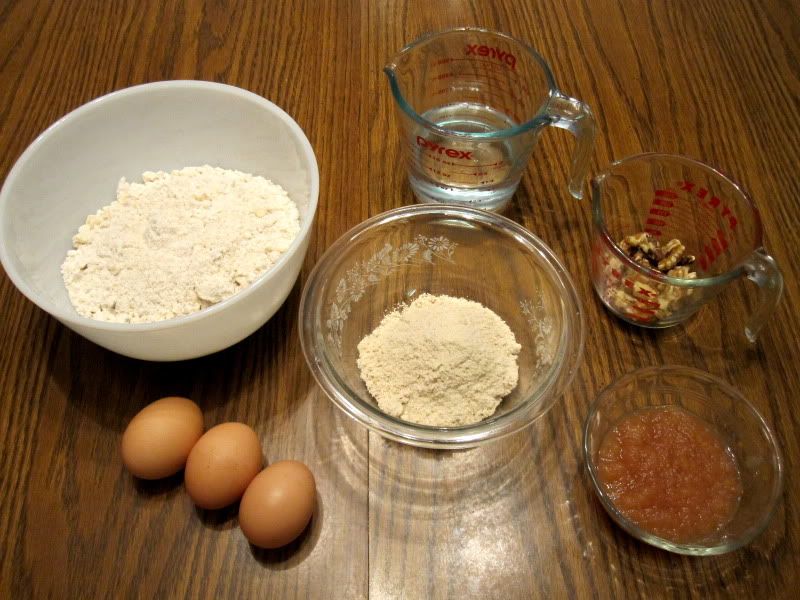 Yield: 18 cupcakes
What you will need:
For the caramel:
Duncan Hines caramel mix
1/3 cup water
1 tbsp apple sauce

For the cupcakes:
Duncan Hines cupcake mix
1 cup water
3 large eggs
1/3 cup applesauce

1/4 cup chopped walnuts
Preheat your oven to 350 degrees.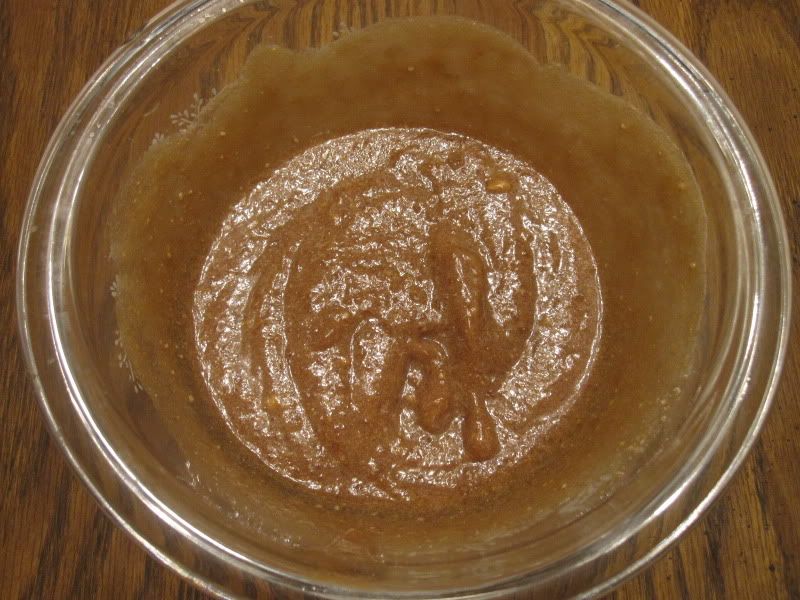 To make the caramel you take the caramel mixture and add the applesauce and water. Mix until well blended. It tastes really good! Set this aside until later.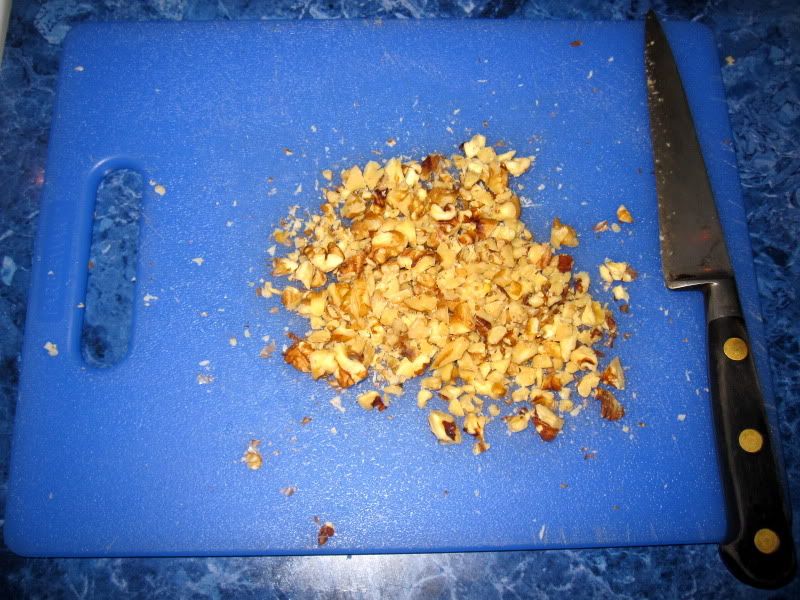 Go ahead and chop the walnuts up into small pieces.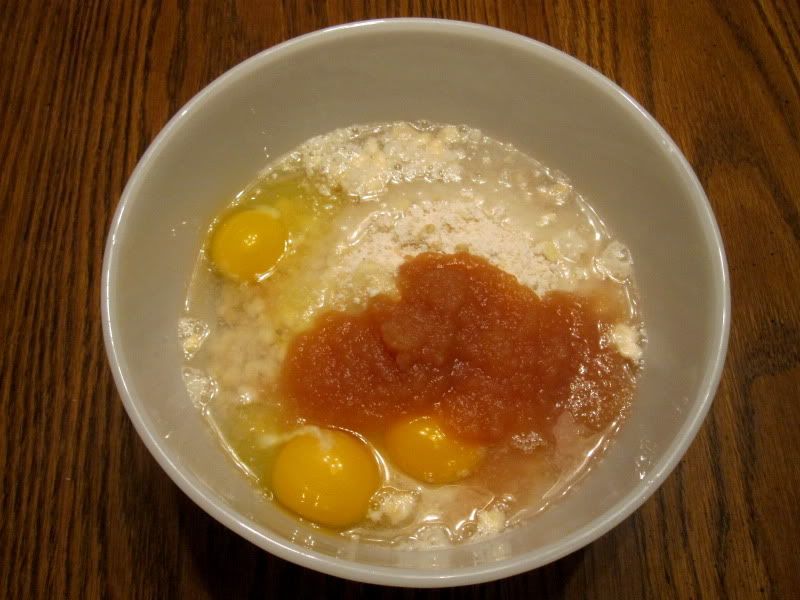 Take your flour mix and add in the water, applesauce, and eggs.
Mix well, adding in walnuts as you mix.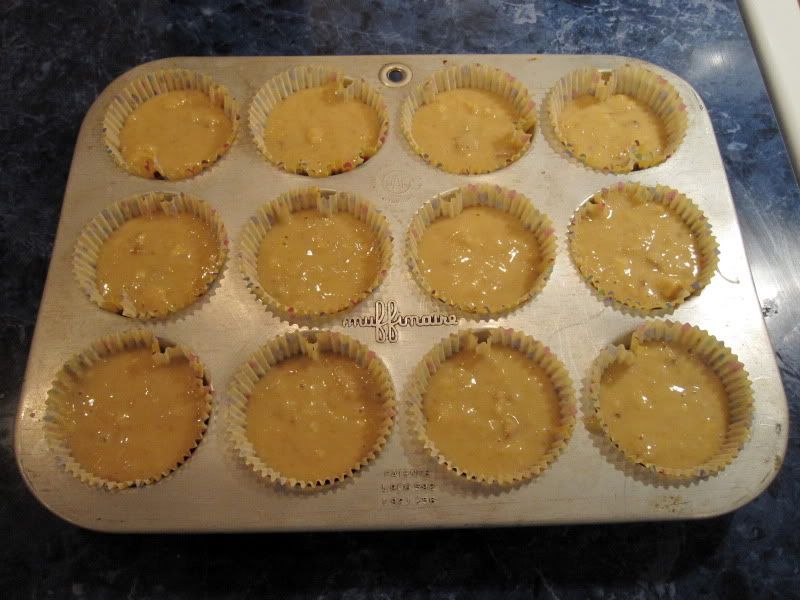 Fill the cupcakes 3/4ths of the way full with the flour mixture.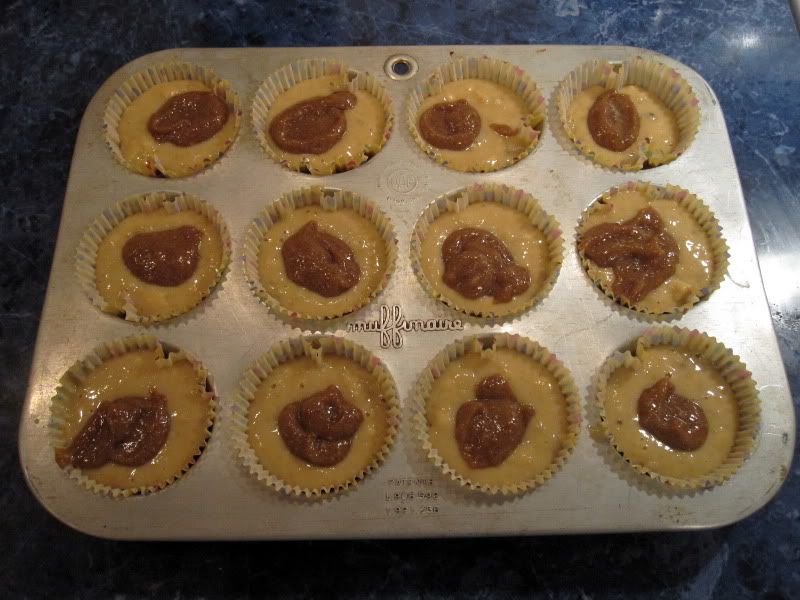 Add a teaspoon of the caramel to the top of every cupcake.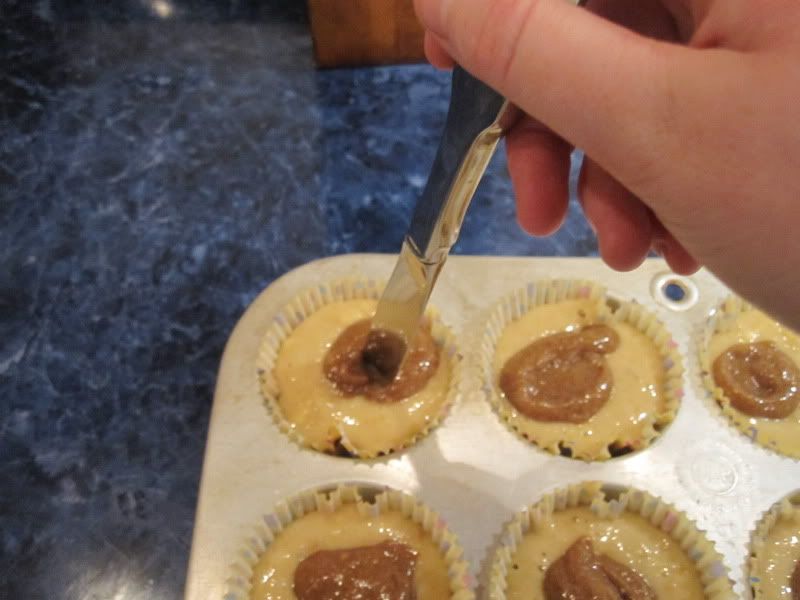 Use a knife to press the caramel into the center of the cupcake and swirl gently.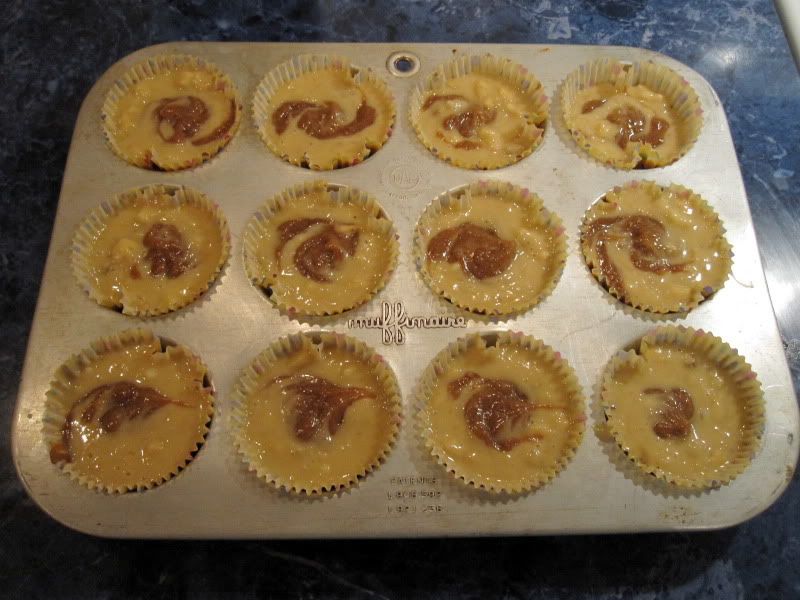 You'll end up with cool little swirl cupcakes like this. Bake for 30 minutes.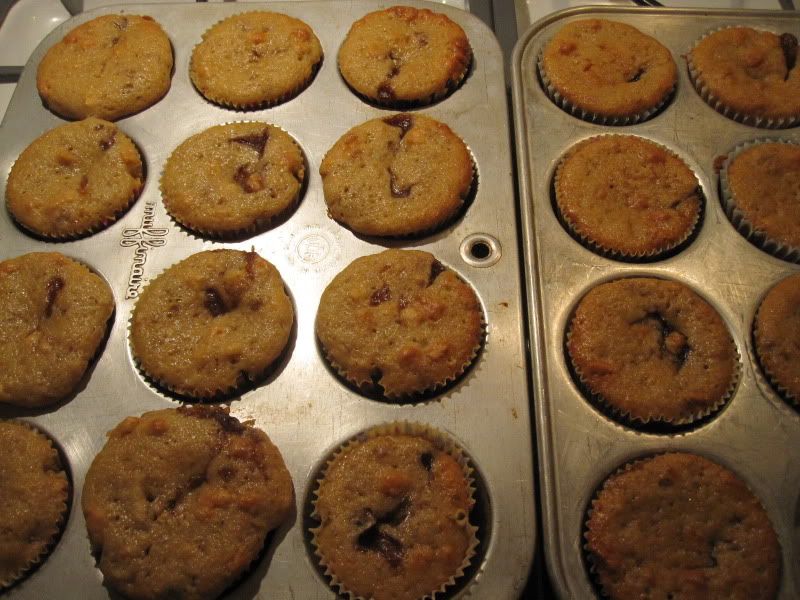 And voila! Remove from heat and let cool before serving.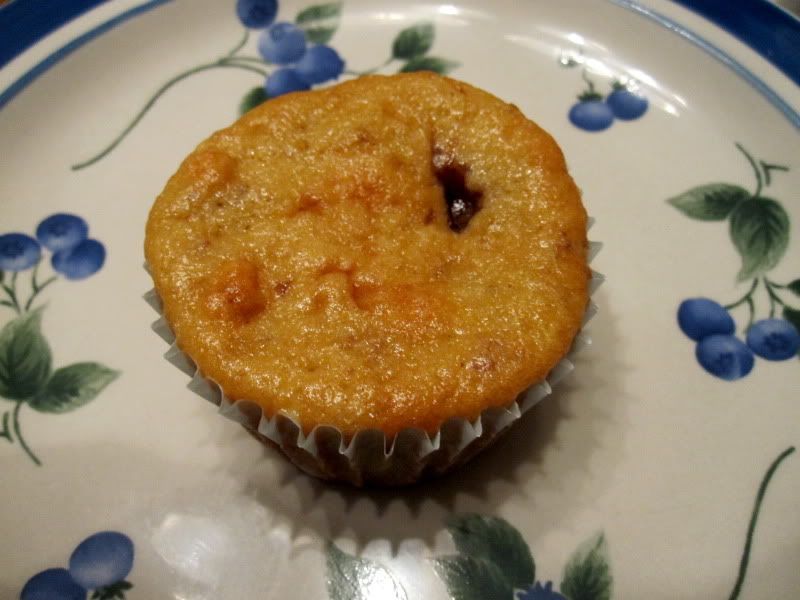 A cute little cupcake with a surprise filling.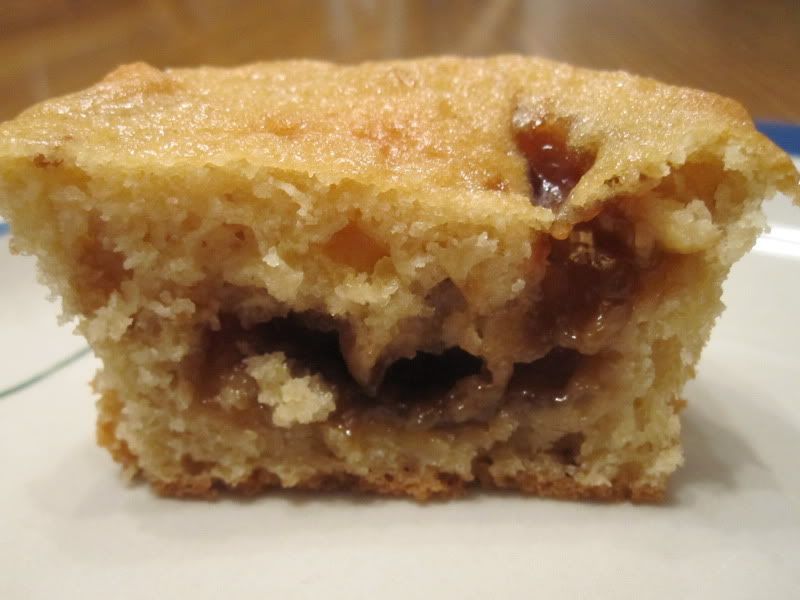 An ooey, gooey, caramel-y surprise filling. It was so delicious.

If you'd like the chance to make your own apple walnut caramel cupcakes or any of Duncan Hines's creations today is your lucky day! I've got a free coupon good for anything Duncan Hines makes.
To enter:
Comment on this post telling me what you are most excited to bake this holiday season. (1 entry)
Follow me on Twitter. (1 entry)
Retweet: "I entered to win Duncan Hines baked goods from @girlgoneveggie http://www.herheartlandsoul.com/?p=939″(2 entries)
Please leave a new comment for each of the entries so I can count them all. The contest closes this Thursday night at midnight EST. I'll be announcing the winner in Friday's blog post.