Today involved holiday baking which means today was an awesome day. There is something about cooking to NSYNC, Mariah Carey, and Faith Hill's Christmas songs that guarantee you're going to be in a good mood!
I'm mailing out some cookies to family and friends tomorrow and decided to make an assortment of pumpkin mookies and peanut butter mookies to send their way. Mookies are the term Josh's dad gave to baked goods that are a cross between a cookie and a muffin. I thought this was so cute and the perfect term for them, so its stuck with me.
Pumpkin Mookies:
1 can pumpkin
1 box spice mix
1 cup chocolate chip cookies
1/2 teaspoon pumpkin pie mix
This is a super simple recipe. You just mix all the ingredients together, plop them onto a cookie sheet, and bake them at 350 degrees for 15 minutes.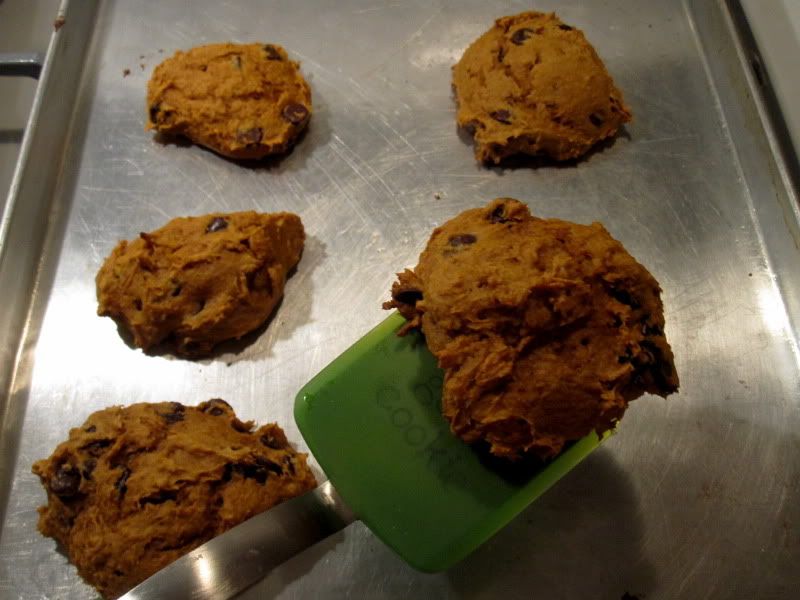 The result is pure deliciousness! Soft, moist, sweet, and chewy! The best combination. (Like my cute spatula? Read to the end of this post to find out how to win your own!)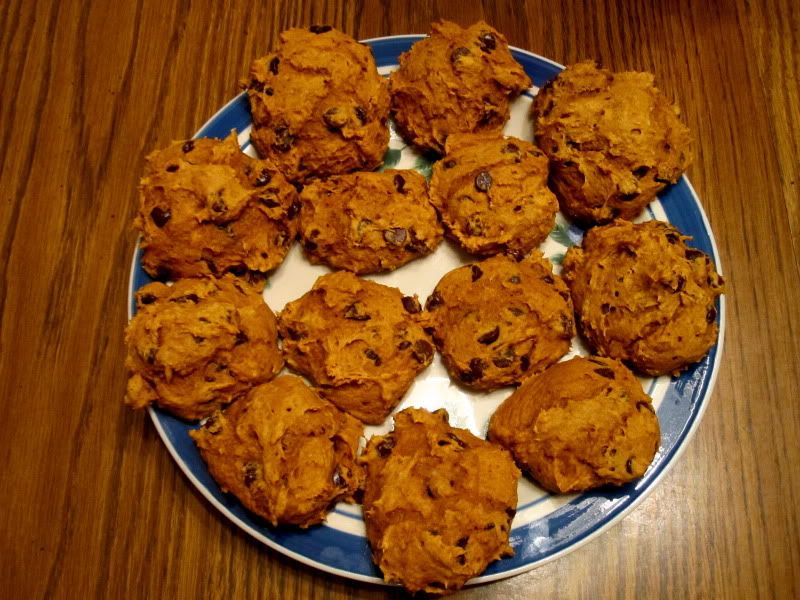 The recipe makes about 20 pumpkin mookies. I had to package these immediately so that I wasn't tempted to eat them all before I could mail them!
After baking the pumpkin mookies I took an hour to do a pilates workout and it felt amazing. I was inspired today watching this video on Live Laugh Eat's blog and wanted to share it with you. We have 24 hours in a day. For optimum health we need to take just thirty minutes of those 24 hours and get our bodies moving. It makes a world of a difference, as an ounce of prevention is worth a pound of cure. I'm really going to be more diligent with myself about making sure I'm taking time for my body and giving it the exercise it needs. And exercise can feel so good! I was a pilates noodle after my workout, feeling stretched and strong and super smiley. Gotta love those endorphins!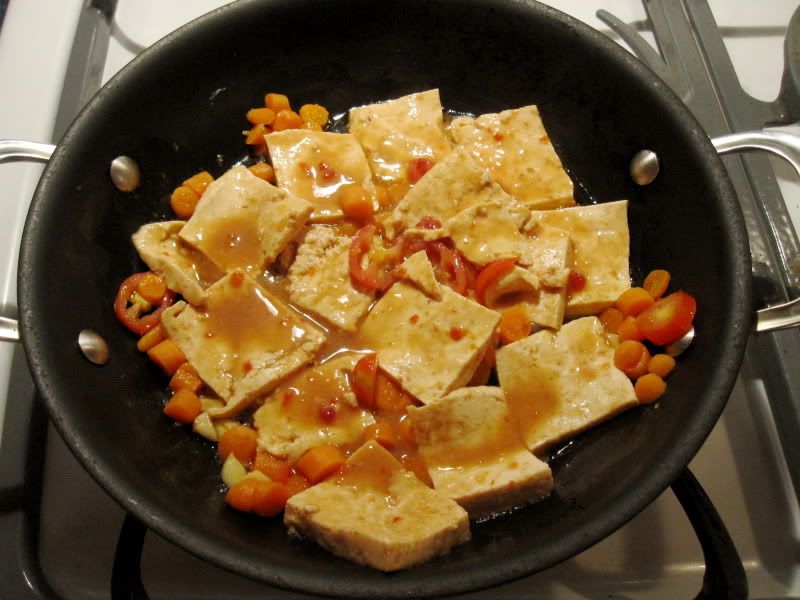 For dinner I decided to use up the other half of last night's tofu and marinade it in a personal creation of mine. It involved spicy mustard, soy sauce, ketchup, apple pepper jam, salt, water, and strawberry shrub. I was just throwing things together and crossing my fingers it would turn out good. Next time I make tofu I'll be keeping track of the exact amounts used as this turned out incredible. I sauteed it with some chopped carrots and tomatoes before adding in some protein pasta.
Quick, simple, healthy, and delicious! I will definitely be making this again!
After eating dinner I got back down to baking business!
Peanut Butter Kiss Mookies
1/2 cup applesauce
1/2 cup peanut butter
1/2 cup packed brown sugar
1/2 cup white sugar
1 egg
2 tablespoons milk
1 teaspoon vanilla extract
1 3/4 cup all purpose flour
1 teaspoon baking soda
1/2 teaspoon salt
1 bag Hershey kisses
This was another really simple recipe. Mix the wet, mix the dry, combine them together, scoop onto a cookie sheet, sprinkle with sugar, and bake at 350 degrees for fifteen minutes.
While the mookies are cooling press a Hershey kiss directly in the center.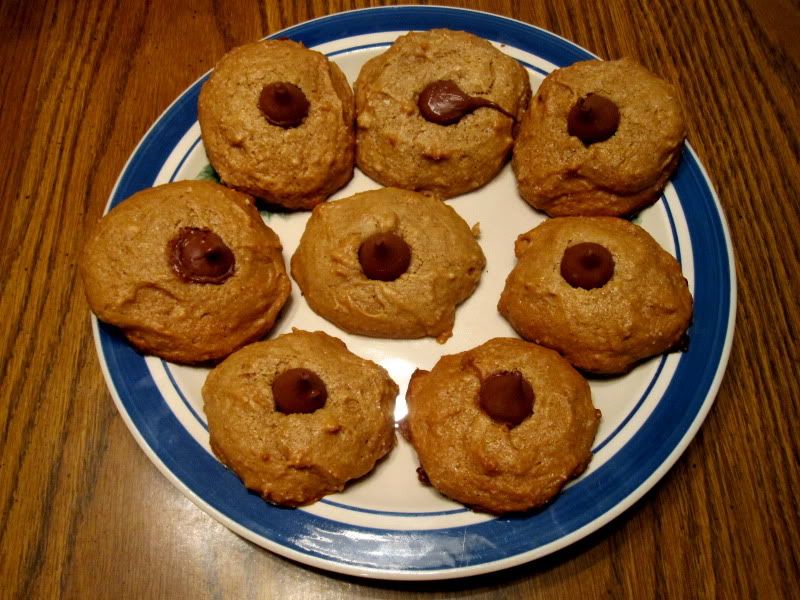 I'm used to making peanut butter kiss cookies that are tiny and rolled in sugar. My stepmom has the best recipe that is my go-to favorite. Her mom passed down recipes to her that she then tweaked and modified over the years. She has a recipe box that has some of the most amazing recipes in it. Unfortunately I forgot to ask her for the cookie recipe before she left for work so I modified an online recipe. I knew almost immediately into baking that these were not going to be the same. This batter was very wet, whereas normally peanut butter kiss cookies have a very dry batter so they can be rolled in sugar. This is probably due to me subbing out shortening for apple sauce. Taste wise they are less peanut butter cookie and much more peanut butter muffin. (Hence the name.) They taste great and I'm really happy with them but they're different than peanut butter kiss cookies. Now that I've discovered a new recipe for mookies I think I will be making peanut butter kiss cookies sometime next week so I can still get my cookie fix.
Did you notice that cute Be A Good Cookie spatula I was using while I baked? OXO was so kind to send me one to promote their Cookies for Kids' Cancer charity. Two OXO employees had a son born with pediatric cancer while working at the company. Through their own personal family battle with cancer they learned that 25% of kids diagnosed with cancer do not survive because of a lack of effective therapies. And the reason for the lack of effective therapies is simple: lack of funding. OXO decided to help "bake a difference" by creating Cookies for Kids' Cancer and making a limited edition cookie spatula where 50% of profits (up to $100,000 a year) benefit pediatric cancer research and awareness. The spatula costs $6.99 and is available on Amazon and at Bed Bath and Beyond. They also offer people the opportunity to host bake sales fundraising for Cookies for Kids' Cancer where they will match all proceeds from registered bakes sales (up to $100,00 a year). To sign up for one information can be found here.
Thinking of such little bodies battling such big illnesses breaks my heart. Anything to spread awareness is a step in the right direction. OXO offered me the opportunity to give away a spatula to a reader. I hope its cute message and bright color will start up conversations in your own kitchen about its meaning and bring awareness to a very serious issue. You never know the difference it could make!

To enter to win a Be A Good Cookie spatula:
Comment telling me about an issue that is near and dear to your heart.
The contest is open until Monday, December 19th at 11:59 pm EST.
While you're entering that contest, don't forget to enter to win a cooler filled with Wholly Guacamole. Entries are being accepted until Friday night at midnight!