As a vegetarian, eggs are a huge part of my diet. Eggs are incredibly nutrient dense (they contain choline, selenium, folate, riboflavin, vitamin A, vitamin E, lutein and zeaxanthin) and are packed with protein. I also just love how they taste. If you've been reading my blog for a while you've probably heard about my breakfast burrito. Its what I eat nearly every morning to ensure I'm starting my day right and fueling my body with what it needs. When I blog about my daily eats I usually omit my breakfast, because its always the same and I don't want my blog to get repetitious. But I think its time my breakfast burrito got its moment in the spotlight.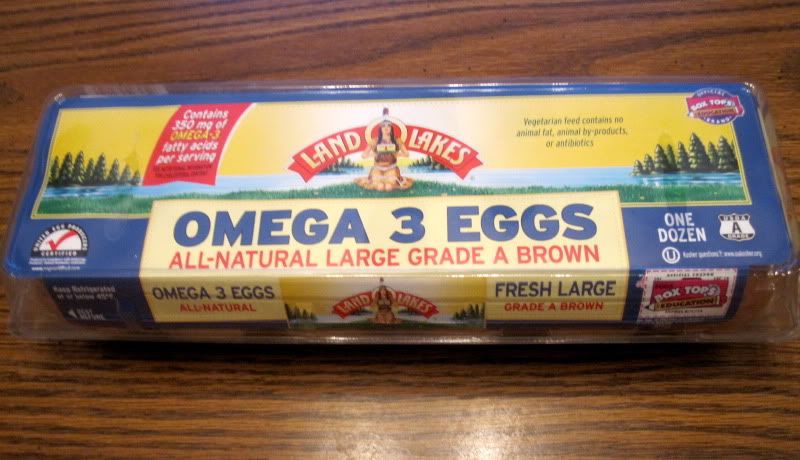 As a Foodbuzz Featured Publisher I was contacted a few weeks ago and given the opportunity to receive two free samples of Land O Lakes eggs to try and review. I didn't know Land O Lakes made eggs, to me they were always the butter company. I was really excited to try them because my stepmom always speaks really highly of the quality of their products, and she knows food.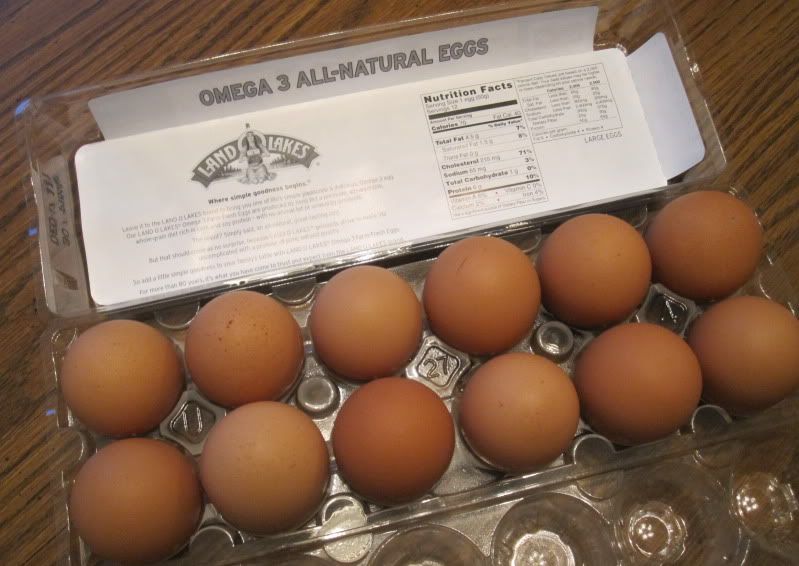 I had to wait a few weeks to get the eggs because as they are new they are not yet sold everywhere in PA. (To see if they are sold in a grocery store near you check out Land O Lakes's Egg Locator.) Central PA is never the first one to get products, so I was unsurprised that they're not sold here yet. Luckily for me they are sold in Eastern PA where I grew up and where I visited my family this past weekend. My dad was sweet enough to bring a cooler on our trip so I could go egg shopping after lunch and bring them home with us.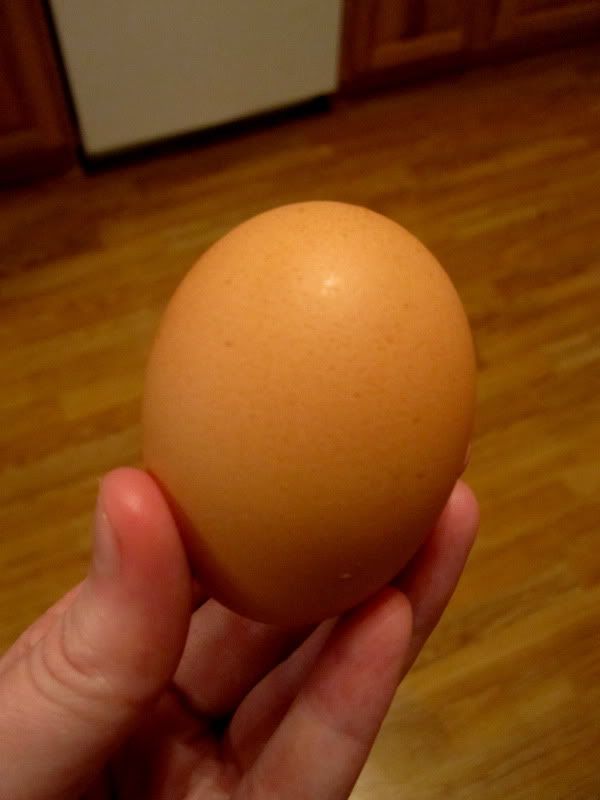 Now lets talk about these eggs. I never knew there was a big difference in eggs until I started researching for this post. In some ways an egg is an egg is an egg.
There are some big differences between eggs though. The differences depend on what the chickens are fed as it manifests in the egg. Land O Lakes enhances the nutrition of their eggs by doing the following:
Feeding their chickens a premium vegetarian whole grain diet.

Their diet consists primarily of whole ground corn and soybean meal.

There are no added hormones, antibiotics, animal fats, or animal by-products.

Their Omega-3 eggs (the ones I bought) contain 350 mg of Omega-3 fatty acids per egg. (Specifically ALA Omega-3, which the eggs contain by the chickens being fed flax seed. EPA and DHA Omega-3 fatty acids come exclusively from fatty fish, although our bodies partially convert APA to EPA and DHA. According to Harvard, it is not yet known if either vegetable or fish Omega-3 fatty acids are better than the other, although it is known that both are beneficial.) Omega-3 fatty acids are molecules that cannot be created by the human body but are vital to our metabolism. As a vegetarian, and someone who never ate fish, finding a way to get my daily allotment of Omega-3 fatty acids (Its recommended you get between 600 to 1000 mg a day.) is a big deal. I am so happy to have found these eggs.

Now that you've been thoroughly educated on eggs, lets get to the cooking!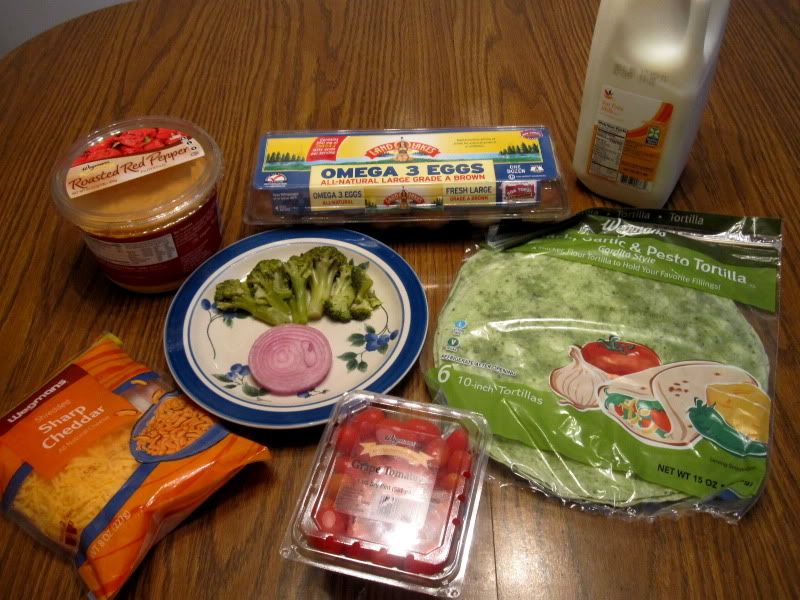 Erin's Breakfast Burrito
2 eggs
Splash of fat free milk
Handful of cooked broccoli
Handful of grape tomatoes
Chunk of red onion
1 tortilla
1 tablespoon of hummus
Handful of shredded cheddar cheese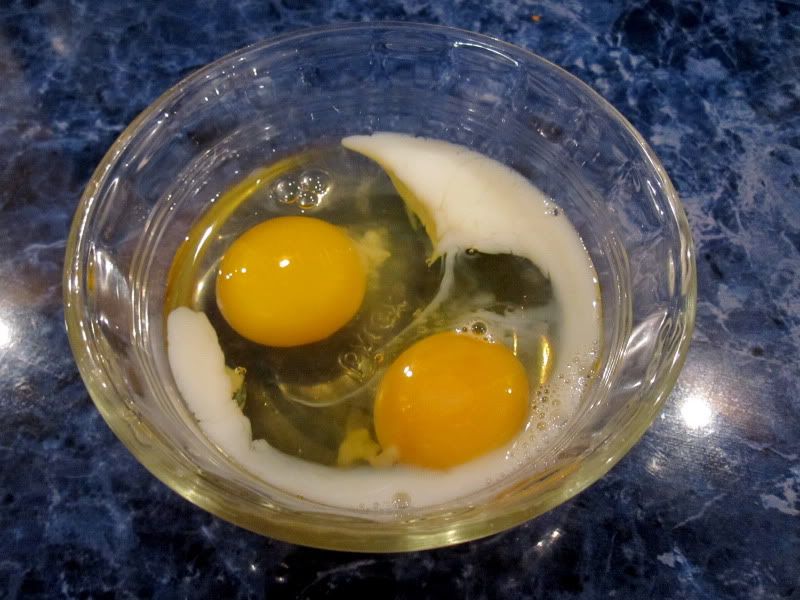 Begin by cracking the eggs and adding a splash of milk. The milk makes the eggs extra moist and fluffy. Mix together and set aside.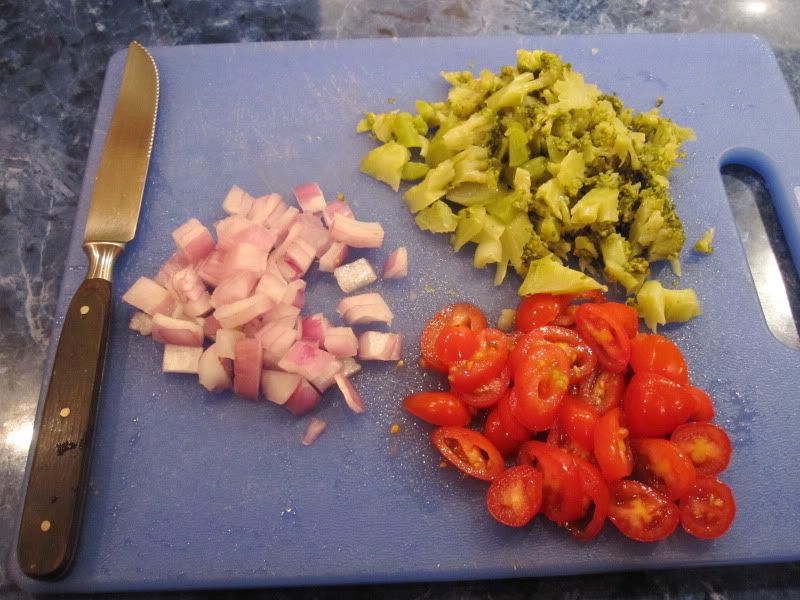 Chop up your veggies into small pieces and set aside.
Once you've got everything ready for cooking pour some extra virgin olive oil in your pan and heat it until ready.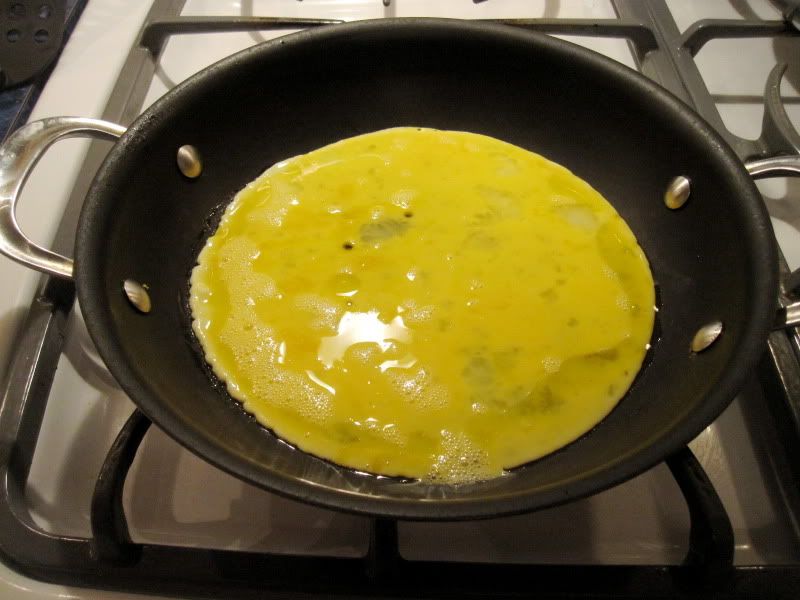 Once the pan is warmed add in your egg mixture and scramble until mostly cooked.
Once the eggs are almost done add in the veggies and thoroughly mix them, cooking with the eggs for a few minutes. Make sure to remove from heat before your scrambled eggs start to brown.
Did you know cooked tomatoes are actually healthier for you? According to Cornell cooked tomatoes have a higher lycopene content, an antioxidant that protects the human body from cell and tissue damage, as well as decreasing cancer and heart disease risk.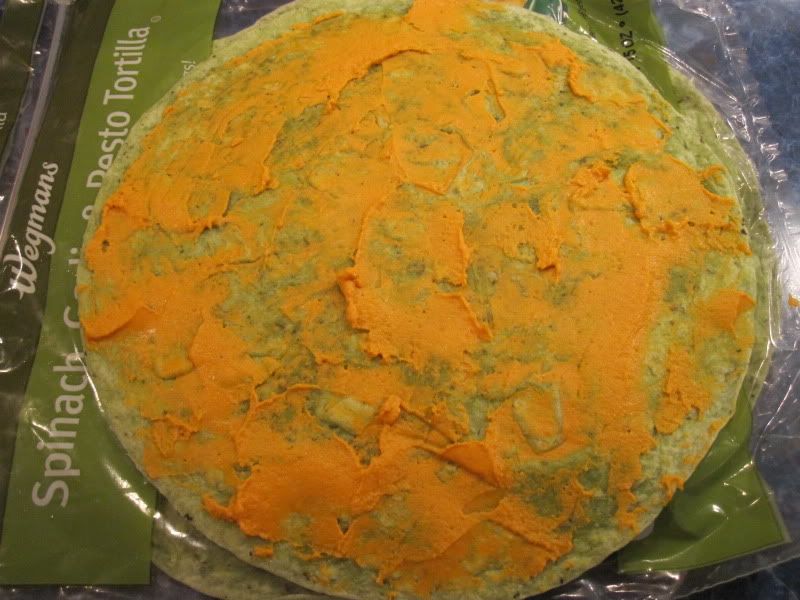 While the eggs are cooling down on the stove I take my tortilla and spread it with hummus. My favorite tortilla is Wegman's spinach, garlic, and pesto tortilla. It is so incredibly good and one tortilla contains 6 grams of protein. I love all types of hummus but my favorite for this burrito is roasted red pepper hummus. So yummy.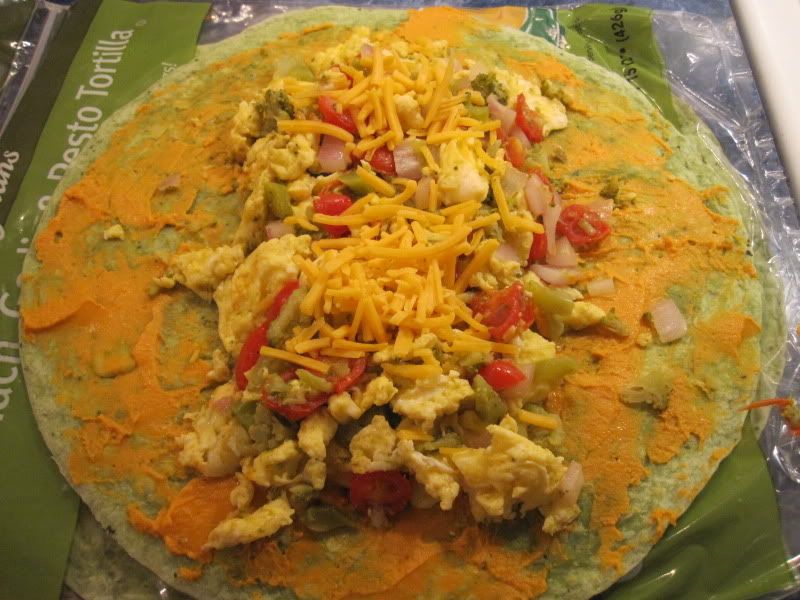 I then place the eggs in the center of the tortilla and sprinkle a handful of cheddar cheese on top.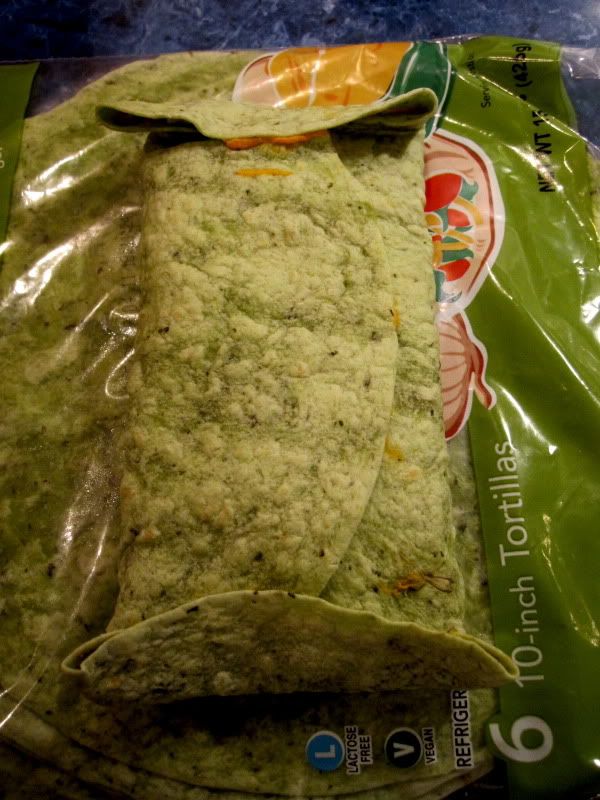 To roll up the burrito I fold the side pieces in over each other and then fold the bottom and top pieces over the middle. The hummus helps the burrito folds stay together.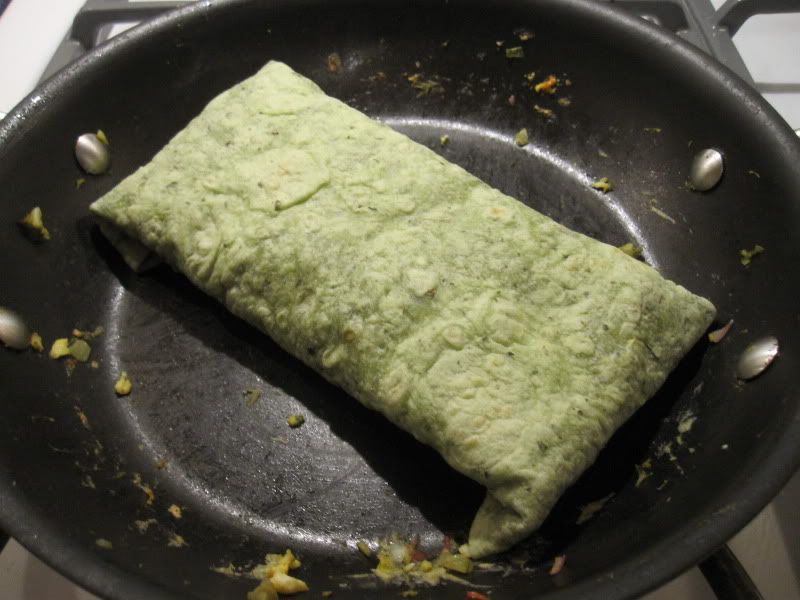 Once the burrito is folded transfer the burrito back onto the pan and cook for an additional minute or two on each side so that the cheese melts, everything cooks together, and the tortilla gets a light brown color on either side.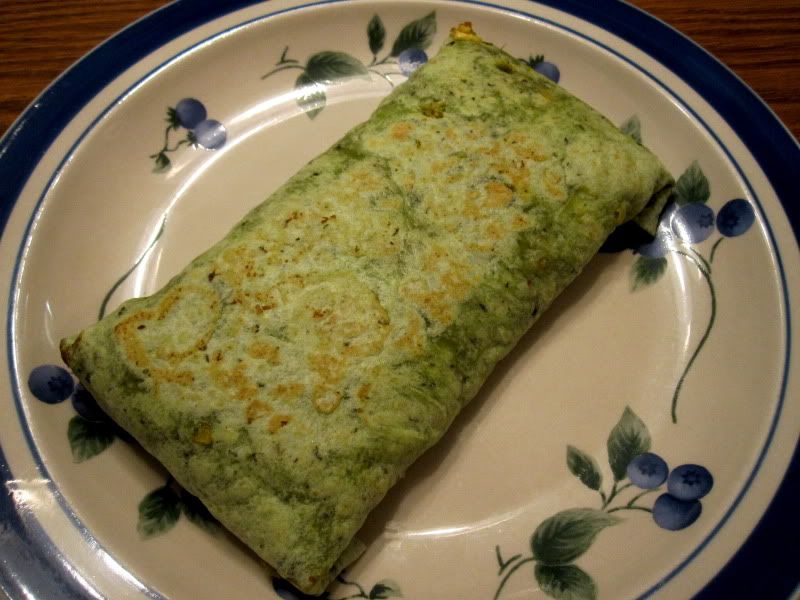 When both sides are lightly browned remove the burrito from heat and serve. You are all ready to eat!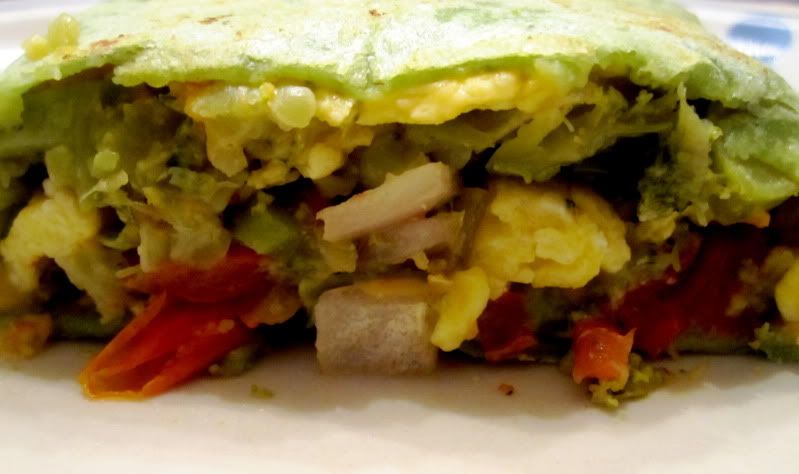 Mmm. Healthy, filling, and absolutely delicious! The perfect breakfast to start your day right. Bon Appetit!
I'd like to give a big thanks to Land O Lakes eggs for letting me sample their product. Their eggs are incredibly tasty and are made from premium ingredients that I feel good about putting into my body. I definitely plan on purchasing more of these eggs in the future!

Question of the Day: What's your favorite way to eat eggs? I love them scrambled or hard boiled or deviled.