Happy Monday everyone! Only one more day before I'm done with school for a week and vacation holiday retail working begins. In the meantime I'm soaking up as much sleep as I can.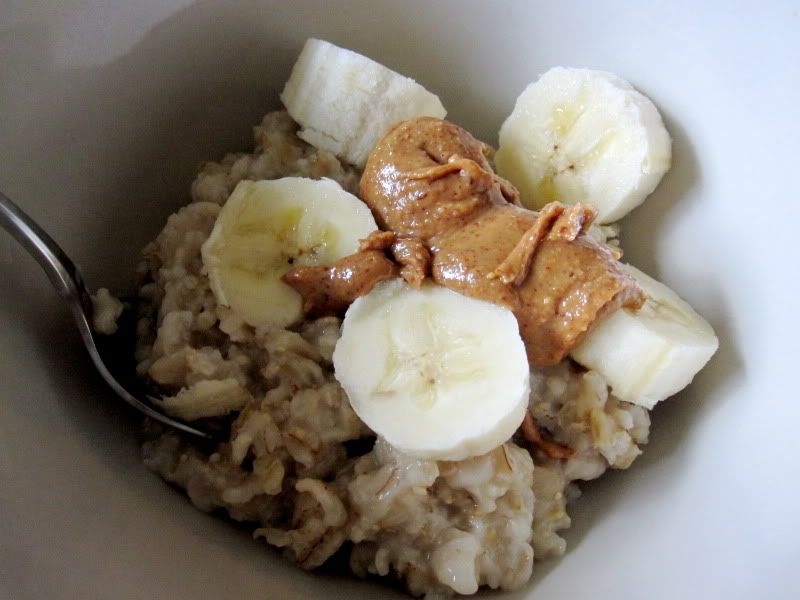 Over the weekend I rediscovered my love of oats. A third cup of old fashioned oats microwaved in 2/3rd a cup of water for three minutes with a scoop of almond butter and a half of a banana mashed in is such a delicious, healthy breakfast. Its also packed with protein and super filling. I had energy all morning. I'll definitely be eating this before my 1:30AM to 11:30 AM shift on Black Friday!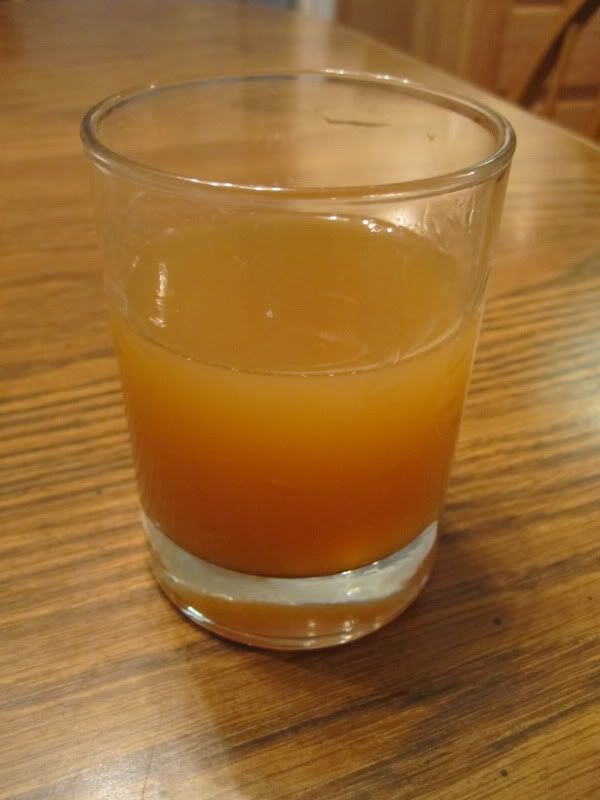 I also enjoyed lots of Apple Cider. It never fails to put me in the holiday spirit.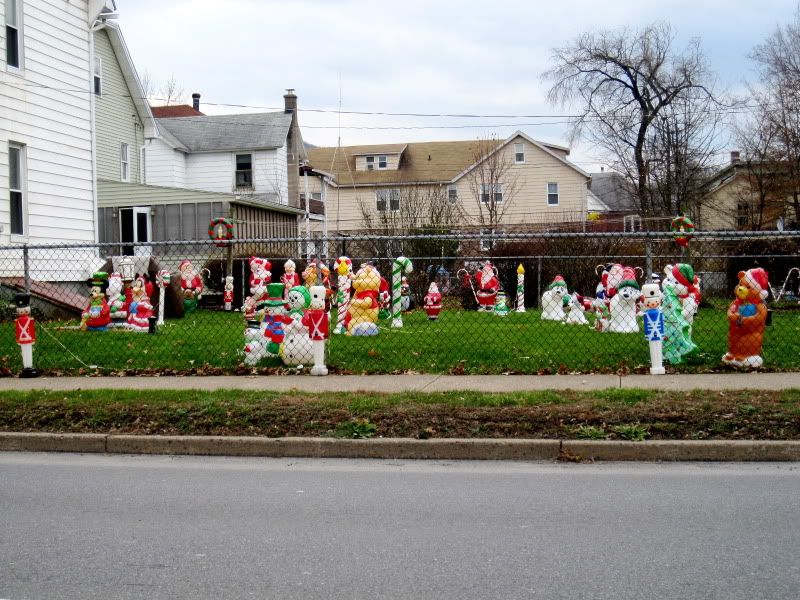 Apparently I'm not the only one in the holiday spirit! Remember the house I told you guys about that goes all out for holidays? (Halloween can be seen here.) Well they have just started decorating for Christmas! It gets so much bigger than this, but I thought I'd show you guys the beginning of their decoration overkill.
This weekend also included a fun father-daughter trip to Stroudsburg to visit my sister and her family and my Aunt and Poppie who were in town. I was so excited to get to see them. I really took for granted how often I saw my family when I was little. Even now living with my parents where I am lucky enough to see them every day I realize that soon I'll be moving out and I will really miss them. We are so close and I love that.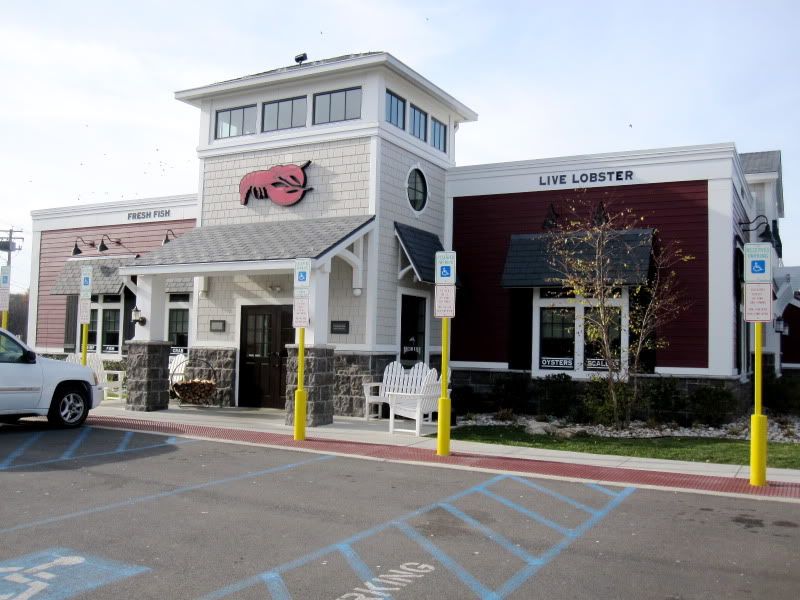 The one thing I did not love was my sister's choice for a restaurant for our family lunch. She requested we all meet up at Red Lobster. Even when I did eat meat I never touched seafood, its always disgusted me. Browsing the menu online while my dad drove I was sad to find there was not one entree that was vegetarian friendly. Katie may or may not have gotten an angry text from me asking why she picked the place, but she assured me it would be good and that I better like it. Typical big sister! ;p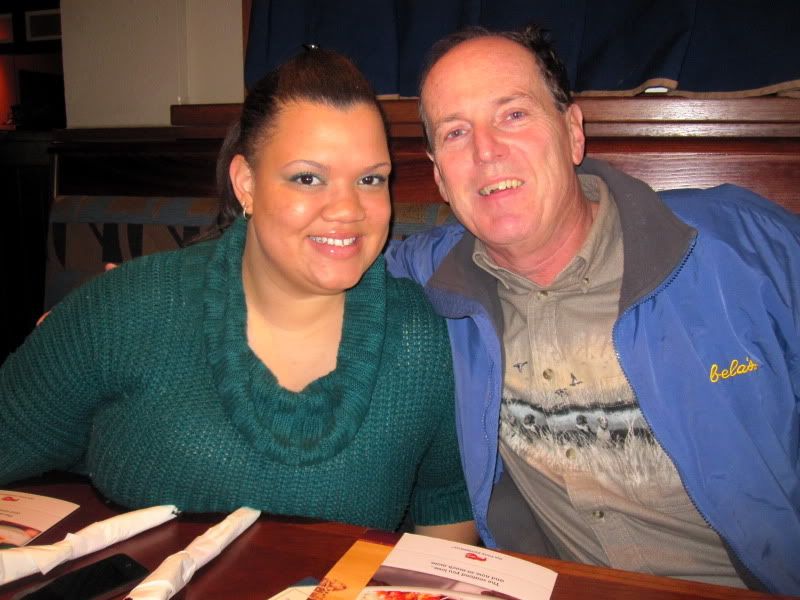 Katie and my dad! I have such a pretty soeur! 🙂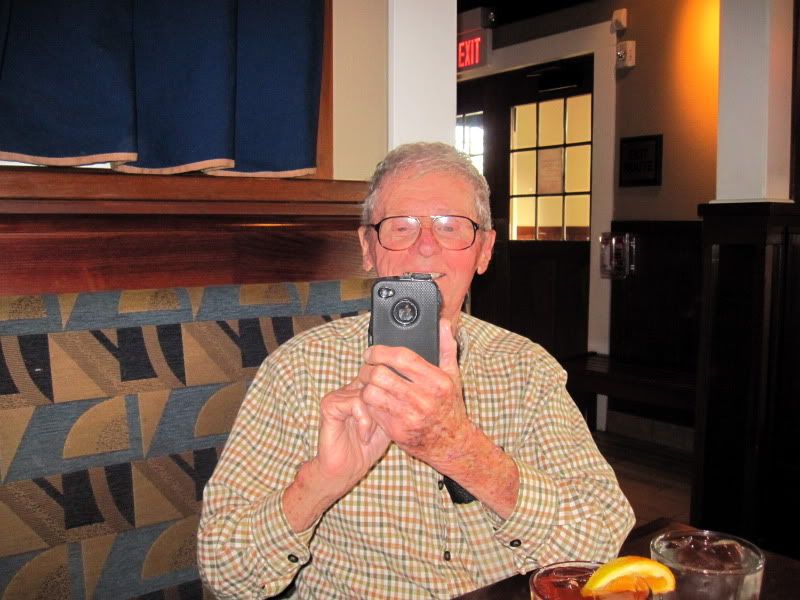 We were all taking pictures when my Poppie (who's in his 80's) whips out his iPhone and was like, "Let me get some!" Technology is catching on at all ages! I hope I'm that hip at his age!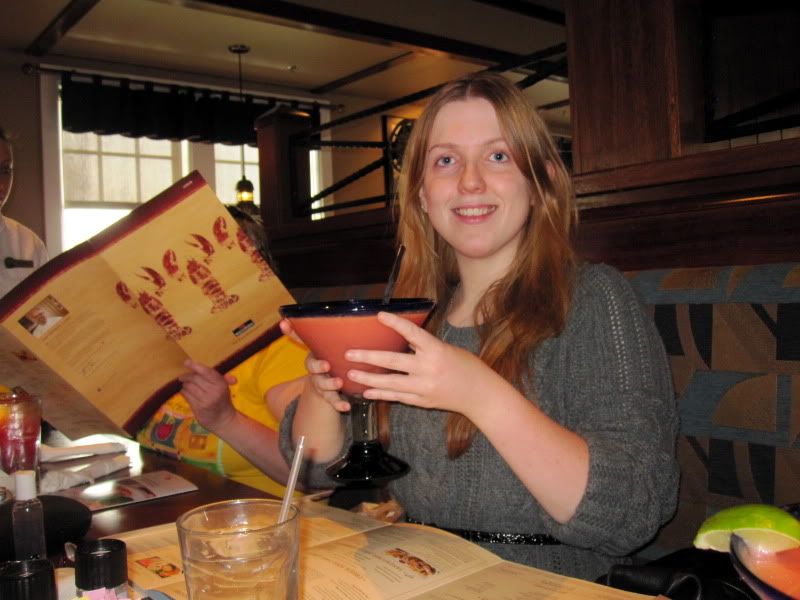 To start with we all ordered drinks. I love being 21! My sister and I split a Lobster-ita. Its their specialty margarita that is huge and tastes delicious. As good as it was there was not a lot of alcohol in it meaning I drank a ton of juice. I'm trying not to think about how many calories I drank that day! ;p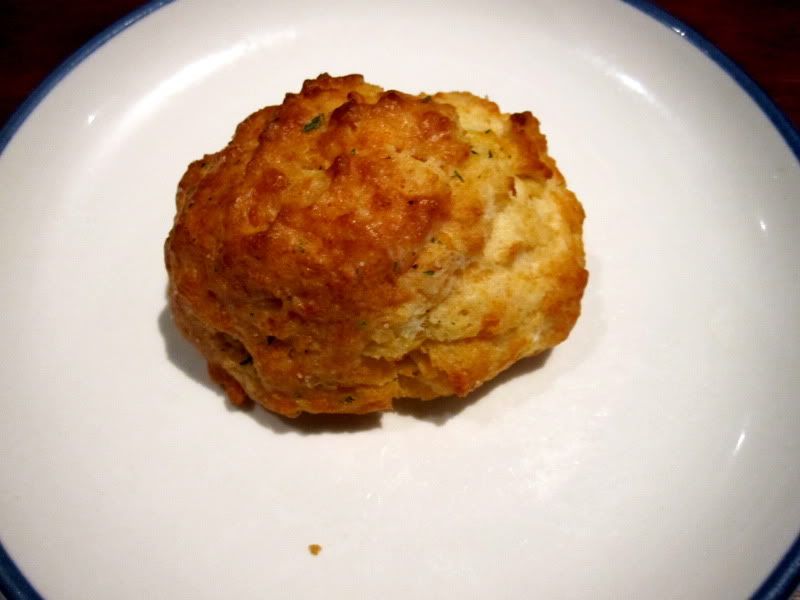 I had Red Lobster's infamous cheddar bay biscuits. It is true, they are really really good, I just really really wish I hadn't looked up the nutritional information on them when I got home. One of these bad boys has 120 calories! I won't tell you how many I ate!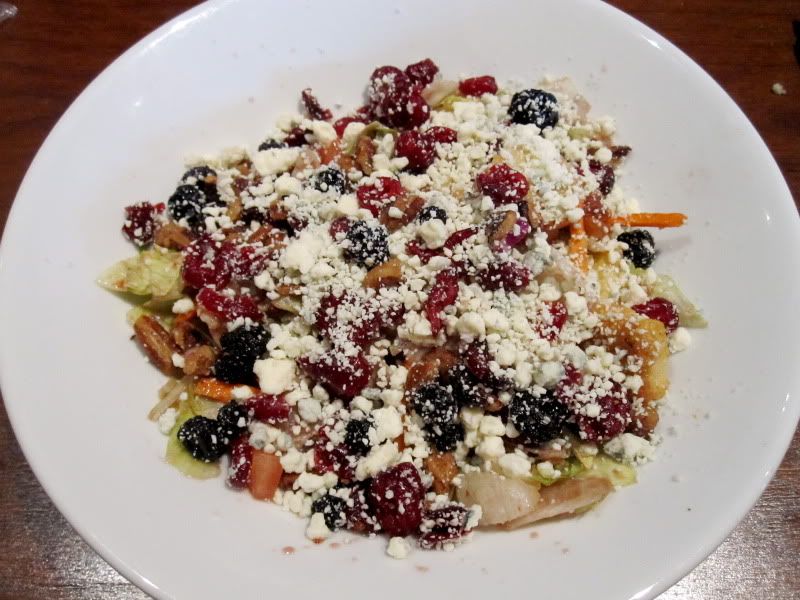 For food I started off with Red Lobsters's new Bay Cobb salad (without any of the meat or fish topping options). It had pecans, raisins, cranberries, blue cheese, carrots, tomatoes, and a blueberry vinaigrette. It was really good. My one big disappointment with it was that it was made with iceberg lettuce. What an empty filler! I really wish they would have used romaine or spinach for this, it would have taken it from good to great, and made it so much healthier!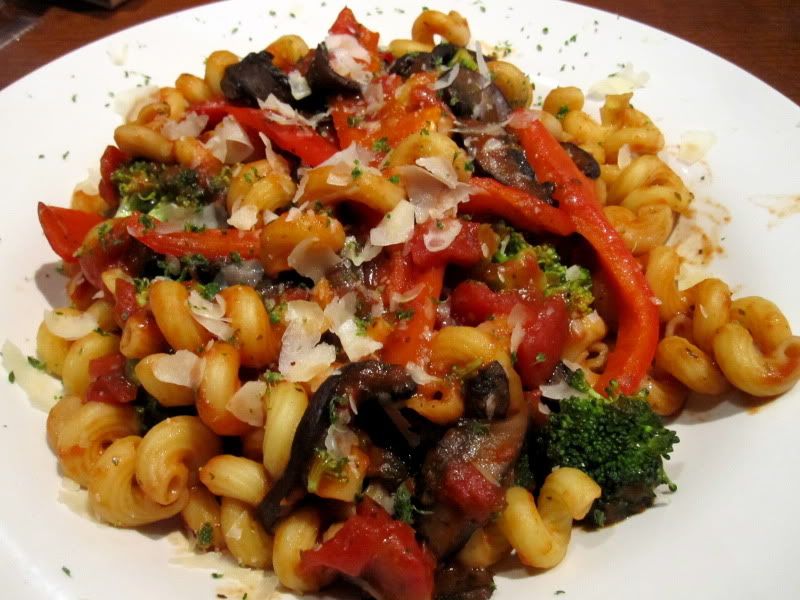 For my entree I rolled with the ONE vegetarian option on Red Lobster's menu. Pasta with broccoli, red peppers, mushrooms, and cheese in a tomato sauce. This was also really really good. I need to find out how they cook their mushrooms, I never like mushrooms and yet I found myself picking them out of the rest of the dish to eat first! They were seasoned amazingly. The one thing to know about going to Red Lobster as a vegetarian is that it is very very meat and fish friendly. My Aunt got the same dish I did and she asked the waitress for more cheese to put on top of it. The waitress (who was super sweet) brought her a cup of cheese to the table, which my Aunt used and then asked if I would like some. I'm never one to pass up cheese so I took the cup and reached my hand in and came out with a piece of shrimp, coated in cheese. I grew up eating meat so seeing it doesn't disgust or repulse me now that I'm a vegetarian but it was still a shock when I realized what I was holding in my hand. If you're a can't-look, can't-see, can't-touch meat kind of person you may want to reconsider visiting Red Lobster. Otherwise, as much as I hate to say it, my sister was right. It was a great meal, with the best company, and all around a lot of fun.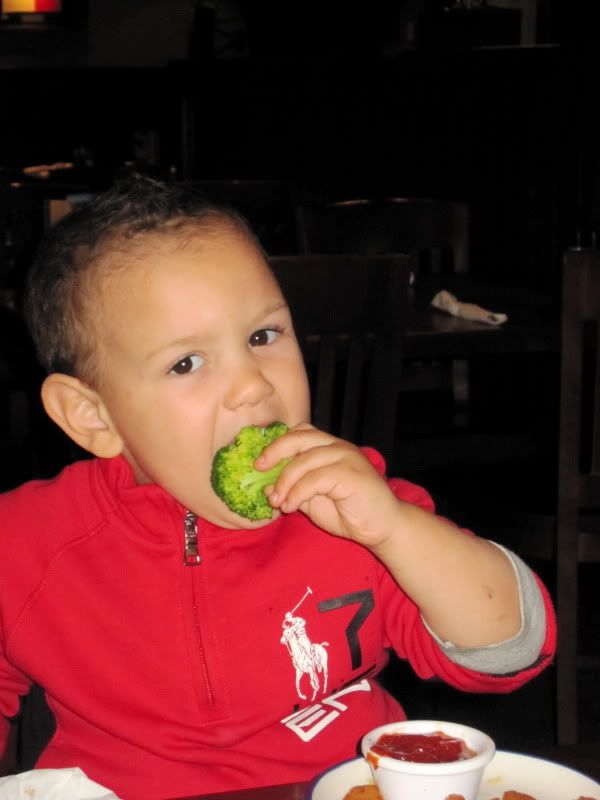 Jamie was a happy camper throughout the meal! Seeing him chow down on broccoli (or trees as he calls them) melted my heart. I'm so glad he won't be like his Auntie, who grew up hating anything healthy until I was in my teens! I'm also loving his style, how cute does he look rocking the polo? Now that he gets from his Auntie! ;p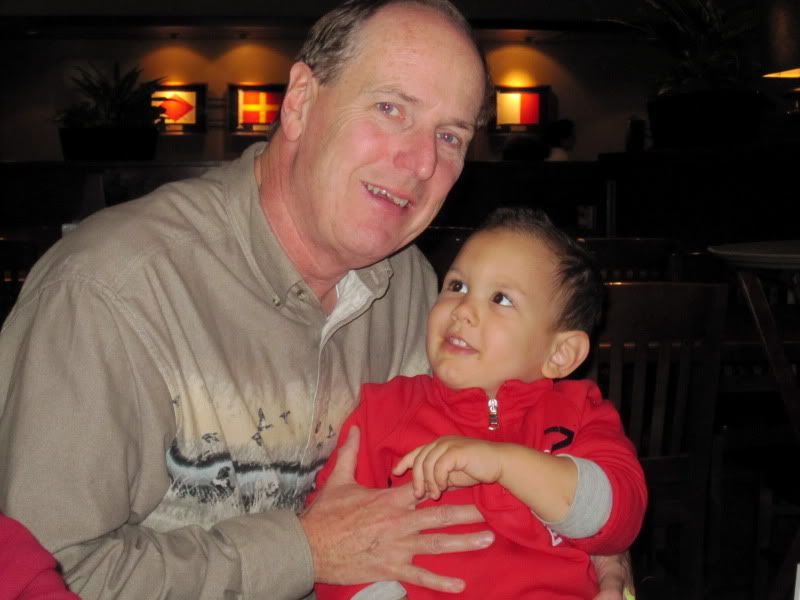 Spending time with my family is such a precious gift, and one I am so thankful for this Holiday season! I'm so excited to get to see my sister and her family again for Thanksgiving on Thursday!
Question of the Week: What are you most excited for this Thanksgiving? I'm excited to see my family and to eat all the food!