I have such a cool gadget to show you guys today! A few weeks ago OXO reached out to me and asked if I would like to review one of their kitchen products. I am a huge fan of OXO, they make some of my favorite storage containers, so of course I said yes. 
I was really excited when I opened up the package and saw their salad spinner. I have been wanting a salad spinner for forever. As a vegetarian I make salads a few times a week and hate having to deal with towel drying soaking wet veggies. I can never seem to get them all the way dry and usually end up with bowl of still wet salad.
Well no more with this bad boy! It has an awesome pump design with an easy stopping button. I'm not going to lie, I pressed the spin button and then the stop button over and over for a good solid five minutes when I first unpacked the salad spinner. Its so fun, and I'm secretly five. ;p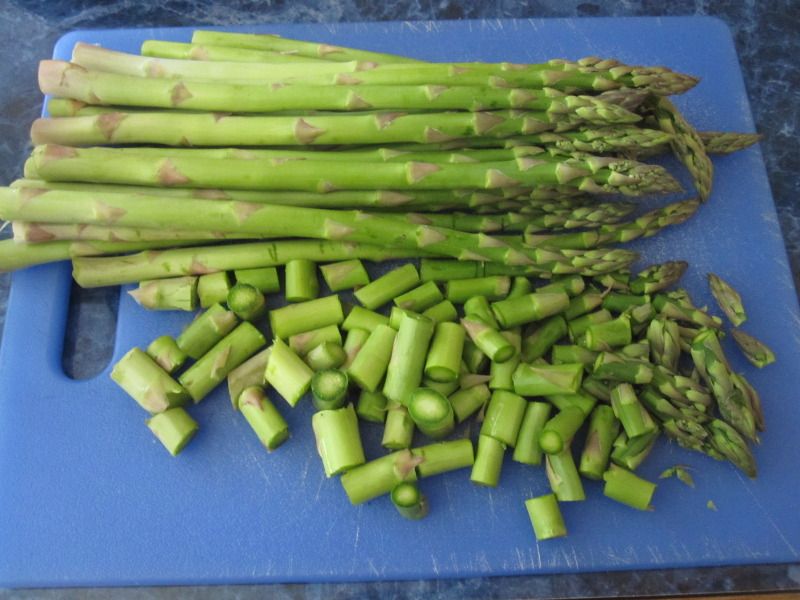 While reading more about the salad spinner I learned that it can spin fruits and veggies too! I had a hankering for asparagus after reading Mama Pea's awesome recipe last night and decided to test out the spinner with asparagus.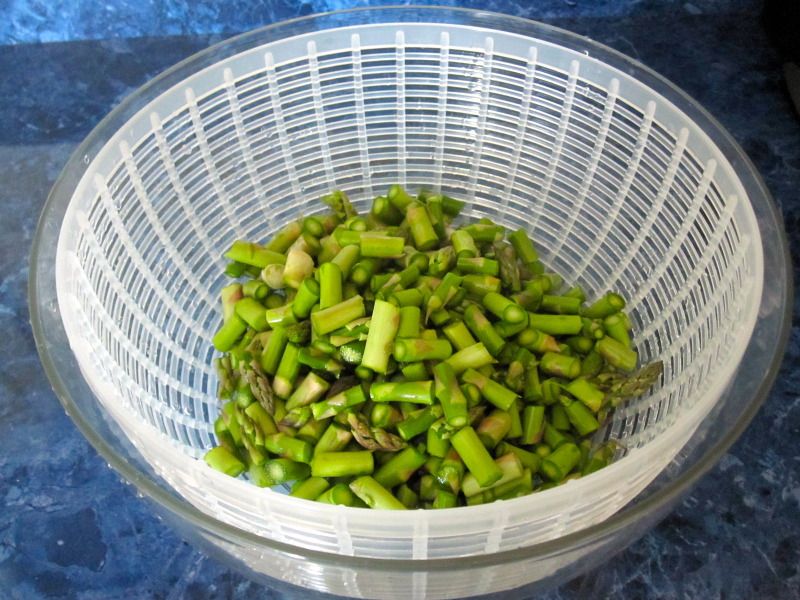 I wasn't going easy on this spinner, I cut up over a pound of asparagus, rinsed it, and then dropped it soaking wet into the spinner.
With the click of a lid and the push of a button it was spinning time!
Voila! Dried asparagus ready for cooking.
An added bonus is that the dryer basket pops out of the spinner for easy transfer. I took it right over to the stove and transferred the asparagus directly onto the baking sheet. If I didn't want to cook it all today I could have left some of the asparagus in the spinner and put it in the refrigerator where it would keep it fresh.
But I did want to cook up all the asparagus. 😀 It turned out amazing, I already packed a container full of it for work tonight.
Using the spinner was a breeze and it handled asparagus great. I will definitely be using this for future salads and future fruit and veggie washings.
And the best part of trying out the spinner is getting to offer one to one of you guys! OXO was so sweet to let me give one away!
To enter, you have three options. You can do one or all of them for up to three entries.
1. Comment on this post telling me how a salad spinner would help you in the kitchen.
2. Follow me on Twitter.
3. Tweet "I want to win an @OXO Salad Spinner from @girlgoneveggie at http://www.herheartlandsoul.com/?p=1386"
Please leave a separate comment for each entry.
The contest is open until Tuesday, April 10. I will be announcing the winner in my blog post that night. Good luck!