Today was a test day, which means today was a Starbucks morning. I woke up, and after making my breakfast burrito headed over to Starbucks for a mocha and a quiet place to study. I'm the kind of person who does well through repetition. If I read the same thing three times its usually set in my brain. So I drank and I read and then I drank and read some more. By the time it was time for me to head to school to take my test I was feeling pretty confident.
I was so relieved when I started taking the test and realized I was completely prepared for it. I hate that moment right before a test is passed out when you doubt yourself and wonder if you truly know the test material.

After the test was over I was feeling so happy. I headed to consumer behavior class next, where we had a really interesting discussion about vitamins and multivitamins. There have been recent medical studies done that found that the women that took vitamin supplements died younger than the women who did not take vitamin supplements. There are all sorts of questions raised in response to these studies and the Wall Street journal does a great job of listing them all. Nothing is conclusive yet, but as someone who does not currently take a multivitamin, I'm okay continuing to not do so, unless I am told by my doctor I have a deficiency of some sort and need to.
After class I headed home and immediately started thinking about food. Caffeine fills me up for a long time, but once it wears off I am starving. I was looking for an easy yummy recipe and came across this one for pumpkin chickpea fritters on Twitter.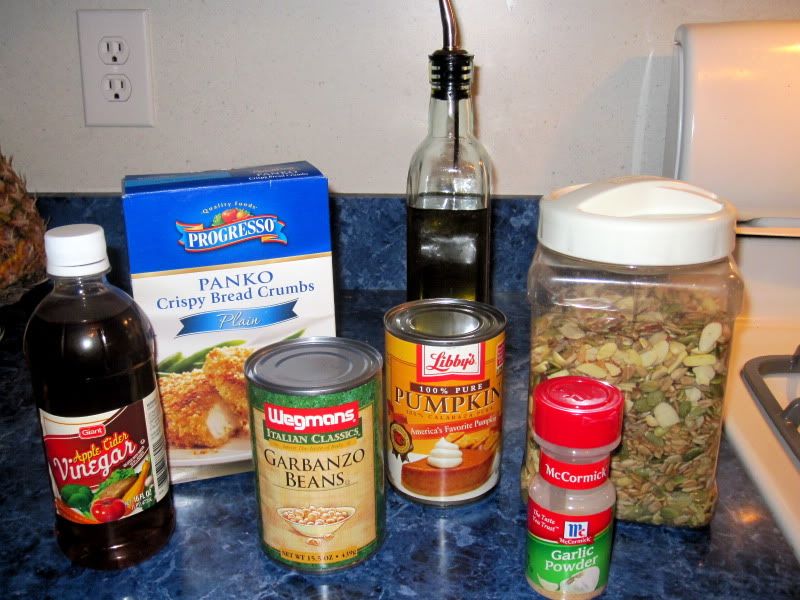 The ingredients list looked so simple I had to try it.
1/2 cup canned pumpkin (Wegmans is finally stocking Libbys! YES!)

1 can drained chickpeas
1/4 cup seeds (The recipe called for hemp seeds but I was out so I used a seed mix of Diane's that I think tasted better than just the hemp seed would have. It brought such a rich flavor to the fritters! Moral of the story, any seed goes!)
1 tsp garlic powder

2 tsp apple cider vinegar
2 tsp flour (Not pictured. I realized while cooking that I would need this.)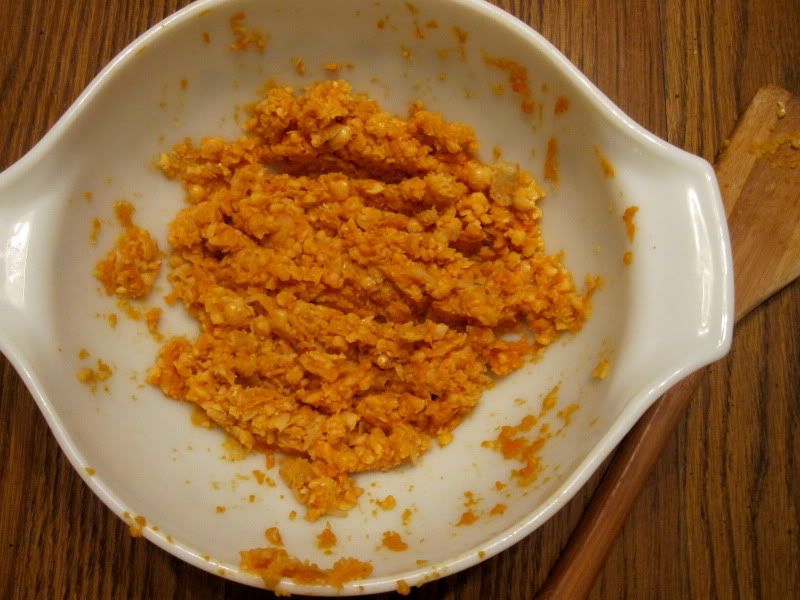 I started by mixing together the chickpeas and pumpkin and then mashing away. If you have an immersion blender I would use it for this, my arms got a serious workout mashing those little chickpeas!
At this point I added in the garlic, seeds, and vinegar. I mixed it all up and then set out a plate of panko crumbs.
I made each fritter the size of a golf ball and rolled it in panko before patting it down to resemble a patty.
Once they were rolled in panko I placed the fritters on the stove to fry in extra virgin olive oil. They cook quick and only need about a minute and a half on each side before they're done. Flipping them turned out to be a struggle as they were falling apart so easily.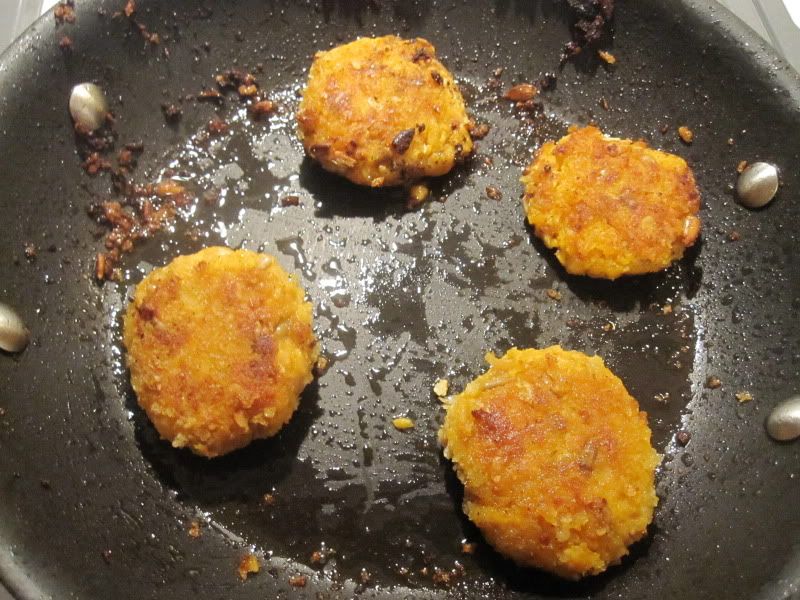 I took those four off the stove and ended up adding 2 teaspoons of flour to the rest of the fritter batter before frying more. Look how much more solid this batch looks! I was able to flip them without a problem and they held their shape perfectly. I ended up giving the first batch to Diane as she cannot eat gluten and I wanted her to get to enjoy how good these taste!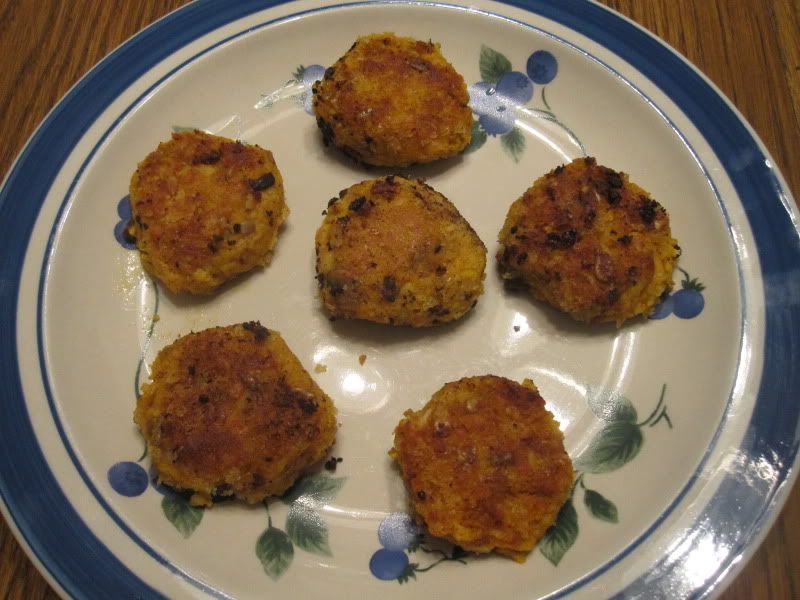 They were done within minutes and ready for eating! They have such a rich, nutty, garlic flavor. The pumpkin really isn't the star of the show in this, but rather a subtle aftertaste. I'd be curious to see how these compared to butternut squash chickpea fritters.

There are a lot of ways you can serve these. I chose to top them with pesto and mozzarella cheese. It was a match made in food heaven for me. Pumpkin and pesto might not be a combination for everyone, but I loved the mix of slightly sweet and slightly salty. It was extra yummy!
The rest of my night was spent relaxing, talking to Josh, and watching Burn Notice. I love that show! I'm about to get back to it but I wanted to share a touching puppy story with you guys first.
Meet Lily. She's a blind Great Dane living in England. When Lily was a puppy an illness forced vets to remove both of her eyes. Hardly knowing a life with sight she grew up experiencing the world blind alongside her best friend Madison. Madison instantly became protective of Lily and now guides her and watches over her to make sure she stays safe.
The two are inseparable. Unfortunately they are both up for adoption as their previously owners could no longer deal with the complications involved with raising a blind dog. Here's hoping they find a home soon! If they lived in PA I would take them home with me.
Question of the Day: How do you feel about the safety of vitamins and multivitamins? Do you take them? Did the recent studies change your perspective on them at al?