Despite not having a class until 12:30 I found myself up bright and early heading to school today. My car had an appointment at the automotive lab to get the alignment checked. I had two new tires put on my car about two months ago and the auto center that did it recommended I get the alignment checked as well since new tires driven with a bad alignment can wreck the tires. My school has an automotive major  and they offer students the option to have their car fixed by senior students and professors for a $10 shop fee. Seeing as how an alignment is normally $75 I figured I'd wait until my school was accepting new cars to work on and take it there. I dropped my car off at 9:45 and then headed to the computer lab to pass the time until class.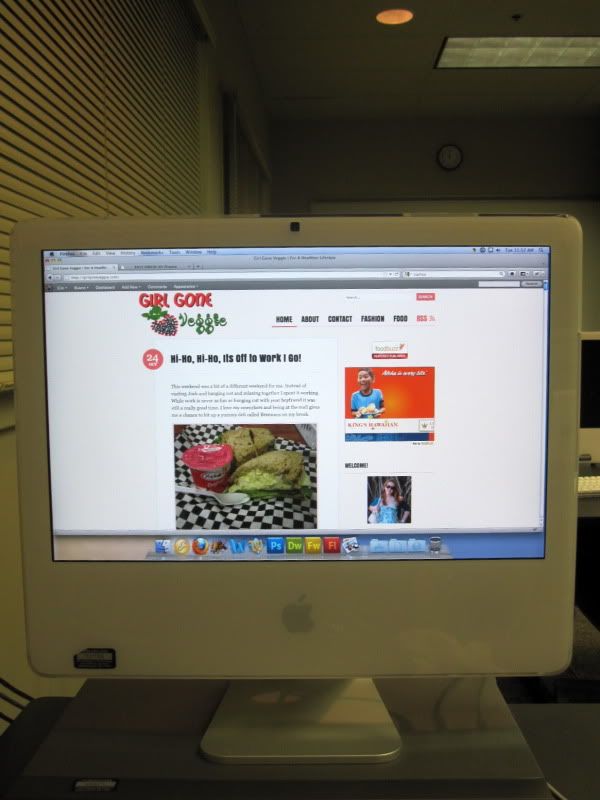 Oh hey blog! You would think with all this time before class I would have been so productive and gotten a ton of studying done for my leadership test tomorrow. You would be wrong. Looks like I'm sticking with my usual method of studying and doing a lot of reading tonight and tomorrow morning!
After finance I headed over to aerobics where I was one of three people in class today. She warned us last week that today was our anaerobic interval training. I guess a lot of people didn't want to have to deal with it! We did 30 seconds maxing our heart rate with a two minute recovery four times, and then a minute of maxing our heart rate with a three minute recovery twice. It was intense. It took me at least two intervals to get my heart rate up to max but once I did I really felt it! The workout was over before I knew it and because only three of us showed up we get to have an easy class on Thursday, while the rest of the class gets an even harder interval workout.
After aerobics I went to pick up my car and was happy to find out my alignment went great. The back wheels were already aligned but the front were pretty out of whack which I was surprised to hear. I've put about 600 miles on my car since I've gotten the new tires and was worried I did damage to them as the alignment has been off but they assured me you have to be putting thousands of miles on your car with a really bad alignment for it to do damage. Phew! So glad I averted another car crisis. I can't wait to have a big girl job so I can have a car that isn't slowly but surely approaching its teen years. Used cars are stressful!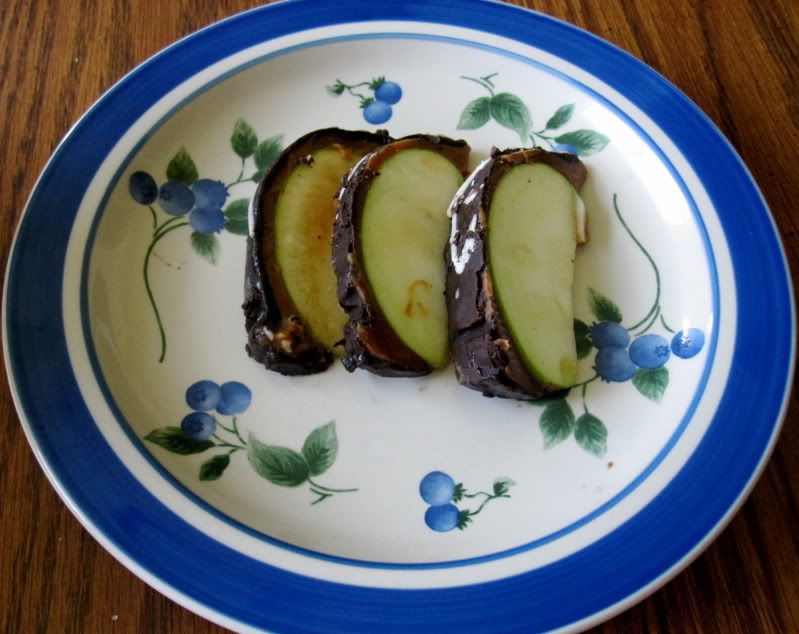 I came home and decided to devour enjoy the rest of my Gertrude Hawk dark chocolate and caramel covered apple. It was so good but disappeared way too fast!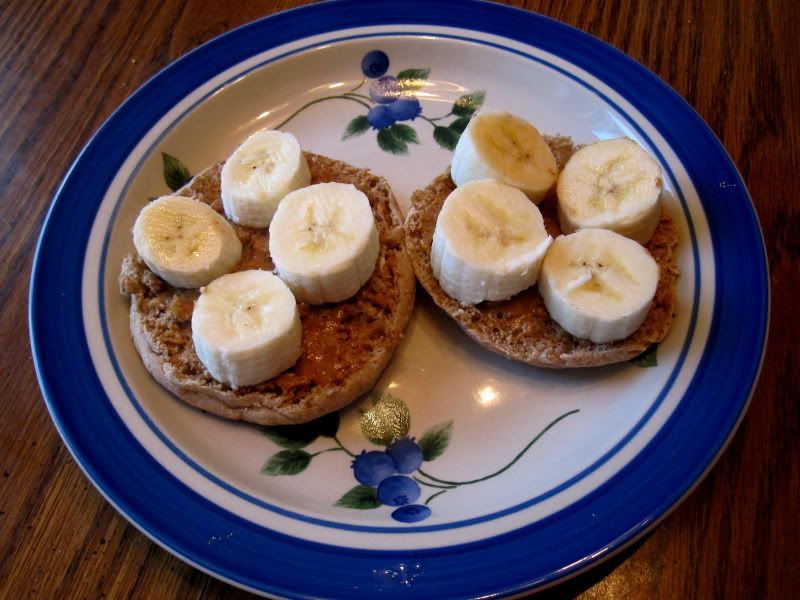 And for an actual lunch I decided to make a toasted English muffin slathered in almond butter and topped with banana. Yum!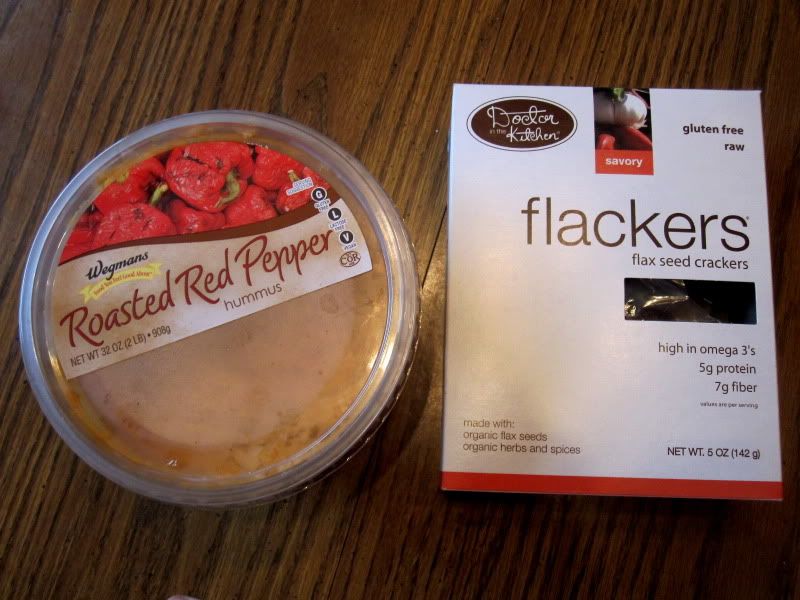 Even after all that I was still feeling snack-ish so I broke out the flackers that are quickly becoming my favorite cracker. I dipped them in hummus and they were so good!
I spent the rest of the afternoon puppy cuddling and watching episodes from the first season of Burn Notice. Has anyone else watched that show? Josh has been talking about it for a while and it sounded so good I thought I'd check it out. I am only three episodes in and am already hooked! I loved Alias growing up and have been missing having a show like that to watch every week! Now I just have to catch up six seasons so I can watch it when it airs!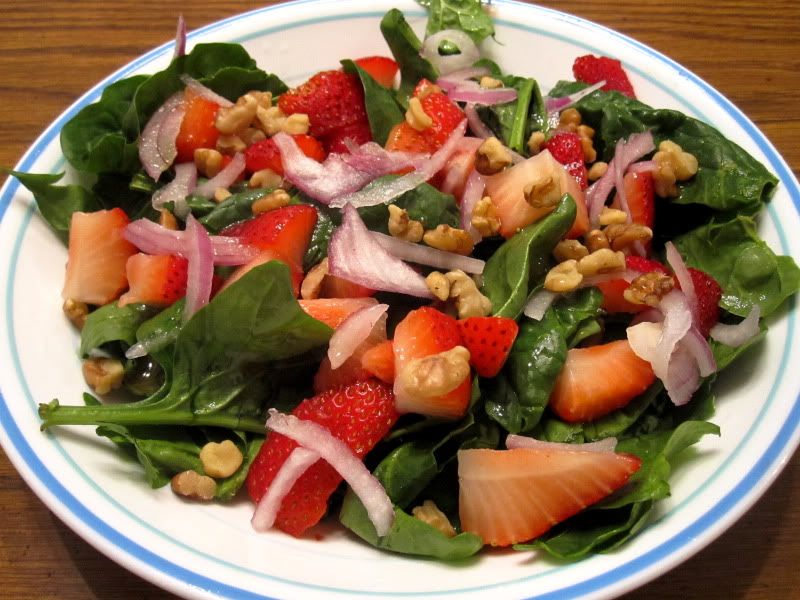 For dinner I decided to make a strawberry spinach salad with onions, walnuts, and strawberry shrub dressing. It was so sweet and yummy. I love how shrub tastes as a dressing!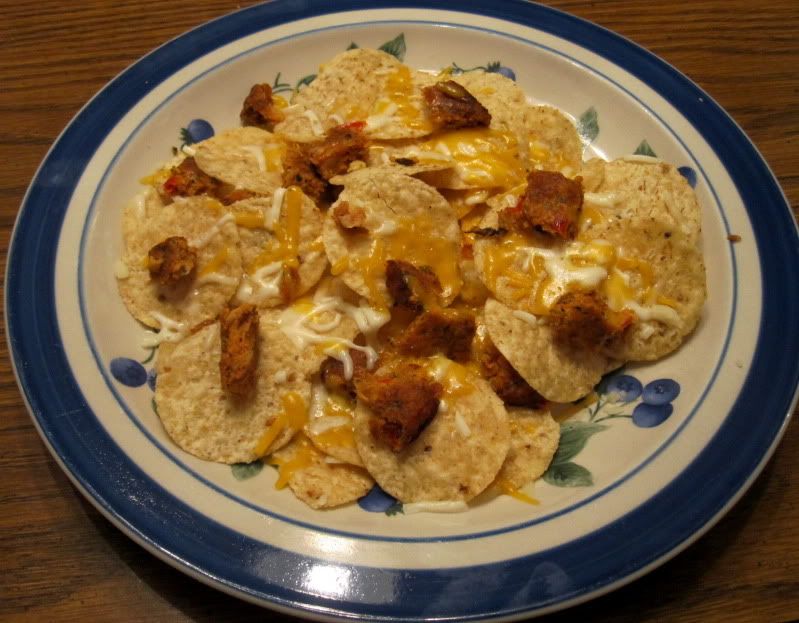 I've been having a serious salt craving lately so I decided to make some nachos to accompany my salad. I crumbled up a veggie burger and topped it all with mozzarella and cheddar cheese. It was just what I was craving!
And now its time for me to finally get studying! I foresee a big Starbucks in my future tomorrow! Have a great night everyone!
Question of the Day: Are you someone who loves getting things done early and out of the way, or someone who always ends up waiting until the last minute? I'm a bit of both. Stuff I'm not particularly looking forward to I will wait until the last minute but if its something I'm super excited for I'll have it done months early. Hence why I'm almost completely done with Holiday shopping in October!