I've got a funny story to share with you guys today. Over the weekend a package arrived at my parent's house addressed to me from my Aunt who lives in Hawaii. I was at Josh's house so they went to add it to my mail pile, until they noticed it had a sticker on it saying it contained cheese and to refrigerate immediately. When I talked to my dad over the weekend and he told me they put the box downstairs in the refrigerator for me to open when I got home I was both excited and confused. I love cheese! But why was my Aunt sending me cheese? Flash forward to when I get home Monday and am all excited to open this package. Josh and I had brainstormed all the kinds of cool cheese it could be. (Are there exotic Hawaiian cheeses?) I eagerly ripped open the box and unwrapped the packaging to find these:
Definitely not cheese. She sent me these gorgeous Amrita Singh bracelets for a belated birthday present. They were chilled and ready for wearing. ;p Apparently she reused a box she had ordered cheese in previously. While I don't have exotic Hawaiian cheese, I will think of some every time I wear these, like I did today. They are absolutely stunning, thanks Auntie Kathi!
Besides spicing up my day by adding some bangels, its been pretty routine over here. Thanksgiving break starts next Wednesday, which also kicks off my Holiday retail hours. Because papers and projects and tests are due/happening the week we get back from break I've been trying to get everything done now that way I don't have to worry about it next week when I'm working shifts like 1:30 AM- 11:30 AM.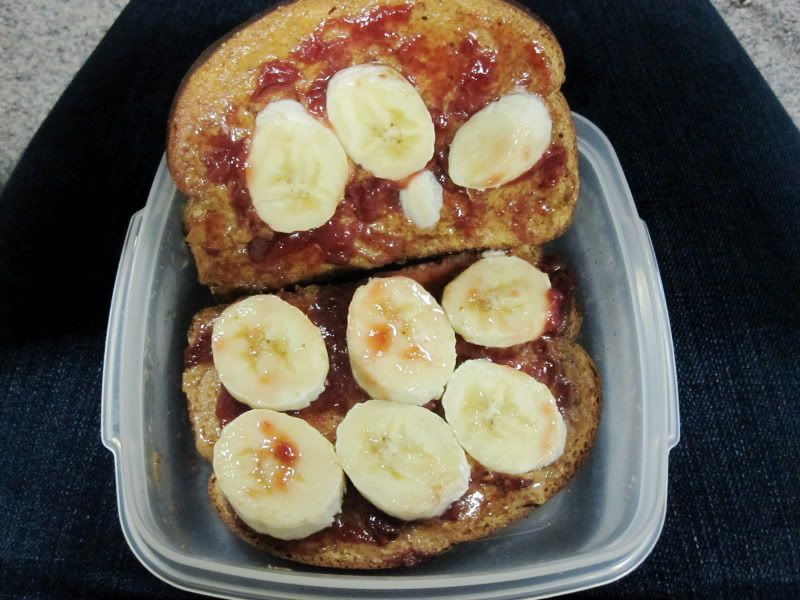 I was working on my Consumer Behavior paper right up until Leadership today, so I took my lunch to class. It consisted of toasted wheat bread, almond butter, sour cherry jam, and sliced banana. It was delicious.
After Consumer Behavior class I decided to head over to Starbucks to get a drink to warm me up after a chilly, rainy day and finish up some work on my consumer behavior paper. Does anyone else doodle on their papers? I always draw hearts and sign my name. I swear I'm not five. ;p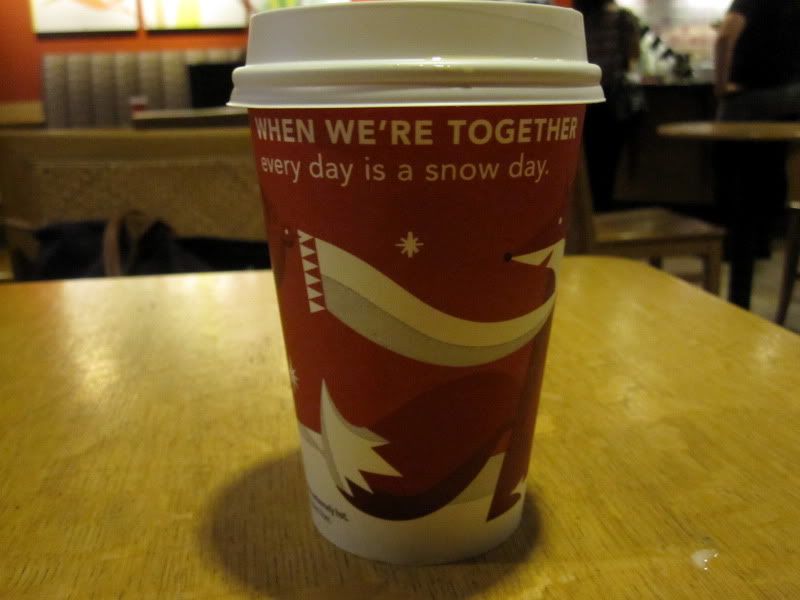 "When we're together every day is a snow day!" I love that red cups are back at Starbucks! And I also love the amazing service Starbucks baristas provide. I always order a white chocolate mocha with skim milk and no whip, its my cold months drink (chocolate frapp (not the light mix) with skim milk and no whip double blended in the hot months). On the fall menu Grace introduced me to the salted caramel mocha and I actually really liked it. When I saw on the winter menu today they had a caramel broulee I was intrigued, since I liked the last caramel drink I got so much. I asked the barista what it was like, and after she explained it to me I told her how I rarely stray from my signature drink (I'm a person of habit) but that I was intrigued so I'd like to try it. She was so sweet and told me that if I didn't like it to just let her know and she'd make me my favorite on the house. When I did try it and realized it wasn't really my thing, she took it back with a smile and made me an awesome white chocolate mocha. Now that is incredible service!
After finishing up my work and heading home for the night I was starving and looking for something to eat that was quick and simple. I took a Wegmans tofu, spinach, and cheese burrito out of the freezer and heated it up for dinner. It wasn't my favorite burrito that they make but it was still good, and filling.
And now I'm going to get back to work so I can finish early and watch an episode of Big Bang tonight before bed. Josh introduced me to it and I am quickly becoming obsessed. Its so funny!
Question of the Day: Do you have a signature coffee drink? Does it changed based on the time of year? Besides my seasonal coffees I also have seasonal perfumes. I like light, fruity scents in the summer and warm, heavy scents in the winter.