I always learn some interesting things in my classes at school. Today in Finance we talked about how insurance agents determine the premiums you pay for your coverage. My Professor asked us if we'd like to play The Longevity Game designed by a financial services company to find out how long we are expected to live. Everyone in the class was interested so he showed us this site that took the factors analysts consider the most important in determining human life span and simplified them into a game. These factors include BMI, drinking, smoking, stress, and driving record.
I thought this would be fun to share with you guys as I really enjoyed taking the test and found it informative. While there are so many things that can pop up in life unexpectedly  that can alter your longevity its still cool to get to see the effect your healthy choices are having on your overall lifespan, or identify changes you could make that will lead to better health.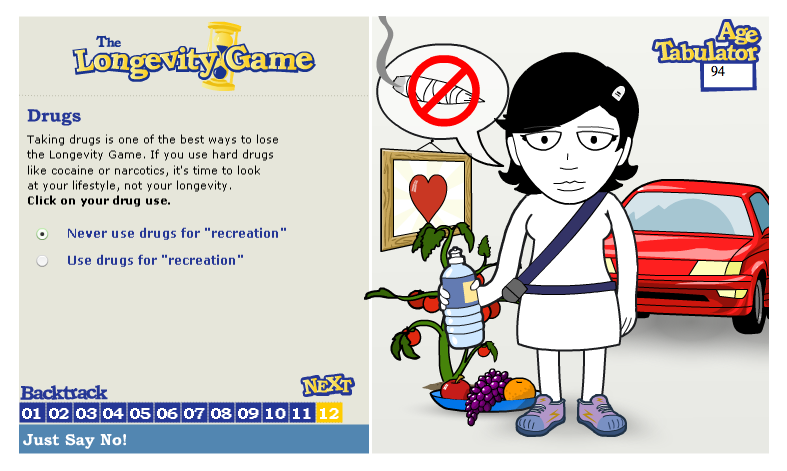 The game is made up of 12 simple questions, and it keeps a running total of your age expectancy as you answer them. I'm expected to live to 94! I'd like to live to 100, but 94 sounds like a pretty good age too!
After finance I headed to aerobics where we had a lecture on aerobic interval training vs anaerobic interval training. The workout that killed me on Tuesday was aerobic interval training, aka the easier one. I am so scared for next weeks anaerobic interval training.
After I got back from aerobics I snacked on a crumpet topped with a mixture of Smuckers apricot preserves and Smuckers strawberry jam. It was so good!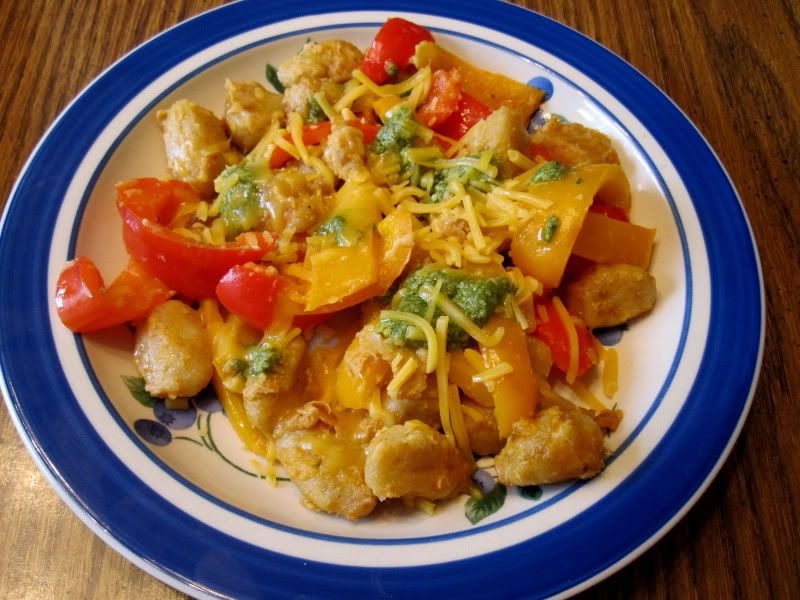 For lunch I decided to finish up the rest of the gnocchi and peppers. I topped them with some extra pesto and cheddar cheese for a nice pop of flavor. I finished this plate way too fast.
The rest of the afternoon was spent switching out my summer shorts and sundresses in my closet for winter sweaters and cardigans. It was quite the process and I am so glad to have it done. One of the perils of having my clothes packed away in boxes for half the year is I forget what I have. While its always exciting to rediscover my clothes again, I usually end up buying more winter clothes in the spring and summer that always look like what I already have. I'm the proud owner of three nearly-identical purple J.Crew cardigans. On the plus side you can never have too many cardigans, right?
After getting my clothes arranged in my closet for the next two seasons I was feeling hungry for dinner. I just bought chutney from a farm Josh and I visited last weekend and I was dying to get to use it in a meal. When I was talking to Josh about my cooking craving on the phone last night he suggested making chutney glazed carrots, which sounded like a perfect idea to me!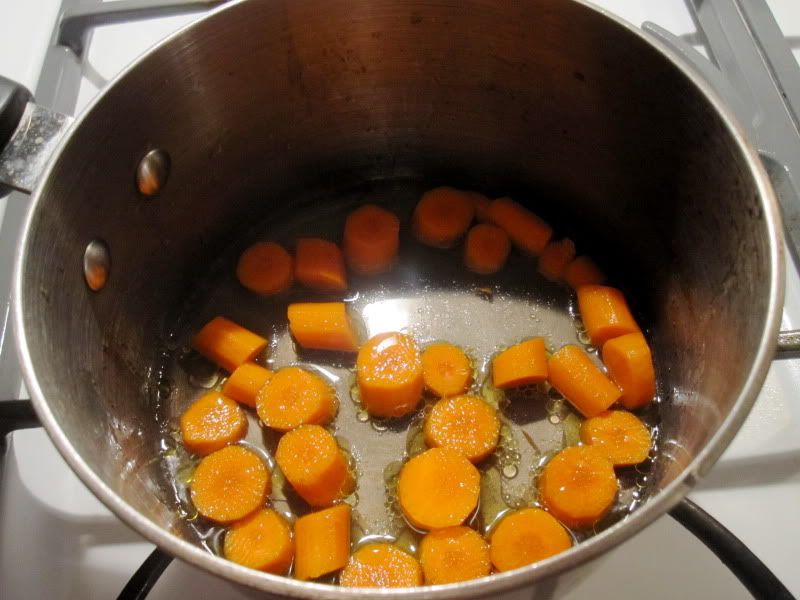 I cut two full-sized carrots into little chunks and threw them into a pot along with 1/4 cup of water, 1 tablespoon extra virgin olive oil, and 1 teaspoon sugar. I cooked them on high heat until the water boiled, then covered them and cooked on low heat for five minutes. I then uncovered them and cooked until the water evaporated out and the carrots were cooking in just the oil and sugar.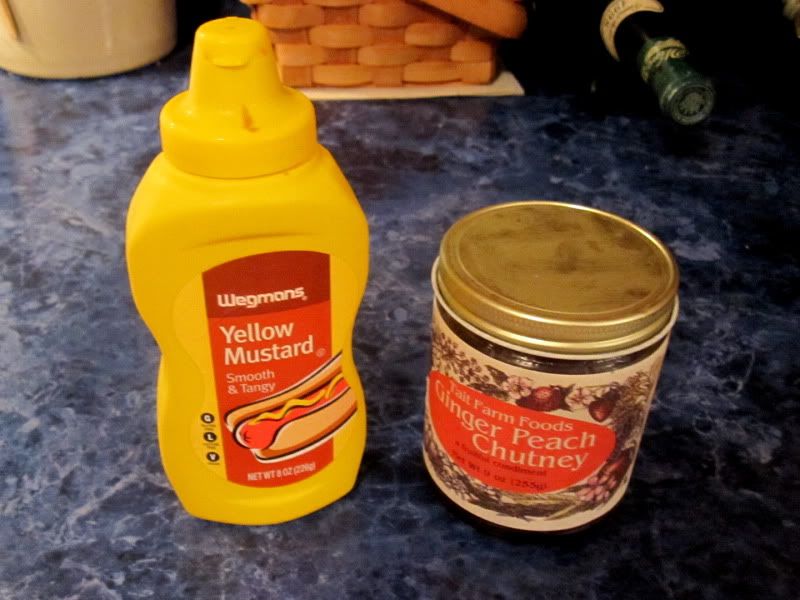 I then added 1/2 tablespoon of mustard and 1 tablespoon of ginger peach chutney.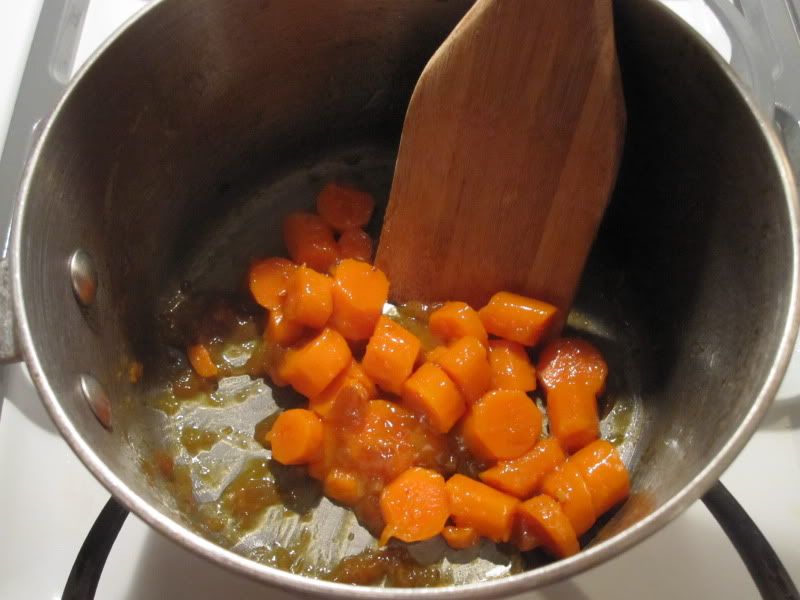 I mixed it all up and then removed the carrots from the heat. I was impatient to try them so I grabbed a fork and sampled right then and there. They were delicious! The chutney blended great with the mustard and gave the carrots such a rich, flavorful taste. And they were so easy and quick to make!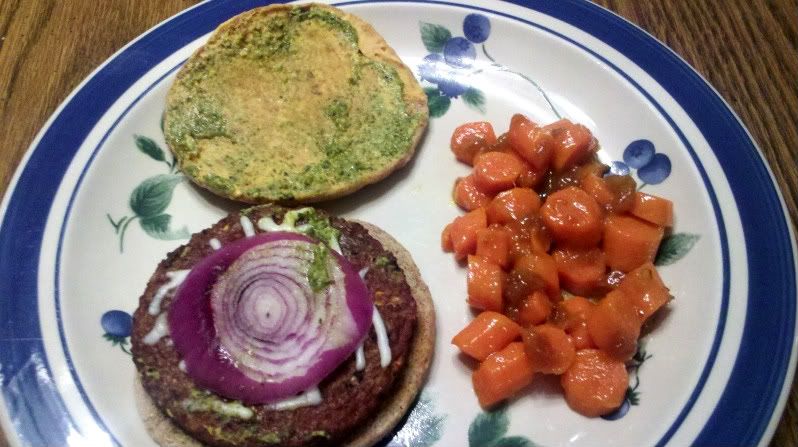 I served the carrots alongside a black bean veggie burger topped with mozzarella cheese, onion, hummus, and pesto. Sorry the picture quality is a little low, my camera battery decided to die at that moment so I had to improvise and use my camera phone as I was way too hungry to wait for my camera battery to charge before eating. It was such a delicious dinner that was so simple to make and yet so full of flavor!
And now its time for me to start working on a review and giveaway post for you guys! I am SO excited to get to share this particular product with you! Tomorrow and Saturday I'm working full shifts at the mall so the giveaway is going to be posted a lot earlier than usual on my blog. The product will be revealed in a post around 10am Eastern time tomorrow, and entries will be accepted until Sunday night. I hope you guys love the giveaway as much as I do!
Question of the Day: Did you play the longevity game? How long are you expected to live to? I had everyone in my house play, and we all compared ages. Apparently girls are expected to live much longer than guys!