So this morning I woke up to a BIG surprise. I had a box from Apple waiting on my doorstep with my brand new charger! I called them yesterday afternoon as soon as my charger broke. Less than twenty four hours later I'm back on my laptop and it is running perfectly again.  Talk about amazing customer service!
My Macbook is alive! It was such a happy moment seeing that little light come on. I love the new design of the charger, its so much less cumbersome than the magnetic box I had before. After doing a happy charger dance I headed off to finance where my luck continued when I got a parking spot right next to the door. No running across campus to avoid being late for class today!
I'm glad I didn't have to run before class because boy did I run a lot in aerobics today! We are doing intensity training this week and our workout today consisted of 3 minutes at 95-100% of our maximum heart rate, then 3 minutes at 50%. We then repeated this four more times. I definitely over-maxed on some of the intervals and found myself feeling nauseous and struggling to breathe. There's nothing like interval training to tell you how far you still have to go in your fitness goals!
After finishing my workout I headed back over to the computer lab to start working on next semester's class schedule. Somehow time is flying and scheduling for my second to last semester of college starts in two weeks! This is crazy! Now that I'm getting down to my final classes its a lot harder to make everything fit. Unfortunately it looks like I'll have at least one Friday class next semester. This past year has spoiled me!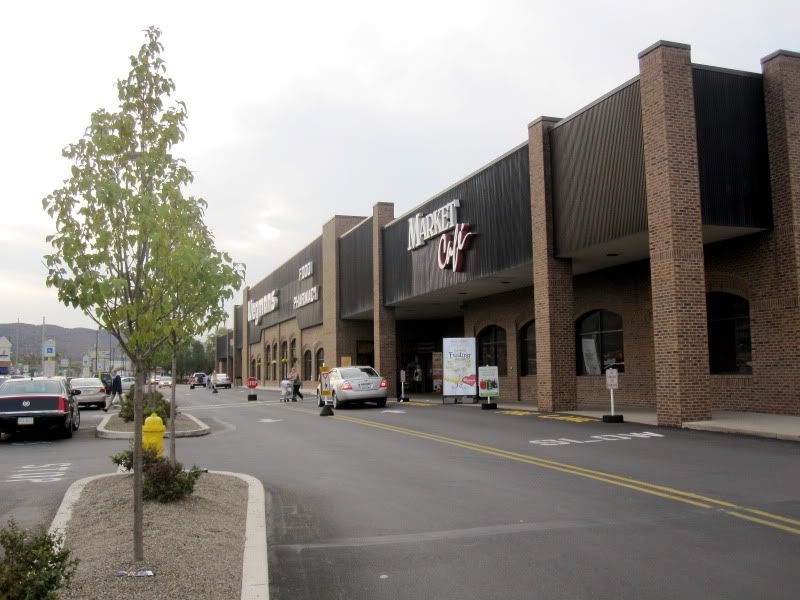 By the time I finished up class scheduling work for the day I was pretty hungry. Ever since I had the gnocchi at Marios with Josh on Saturday, all I've been craving is gnocchi. I found this awesome recipe over at Iowa Girl Eats the other day for crispy pesto gnocchi with tomatoes and goat cheese and decided it would be the perfect meal for tonight. I left school to head over to Wegmans to pick up the necessary ingredients.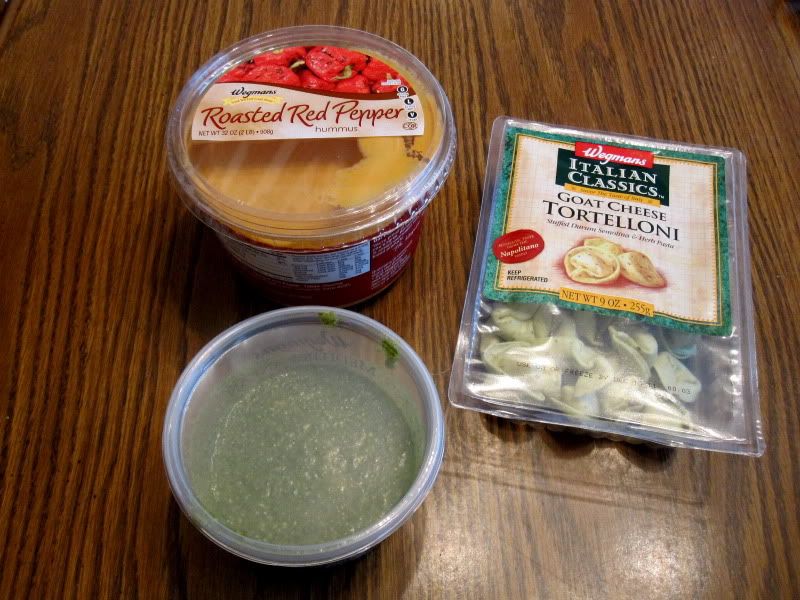 Unfortunately for me Wegmans was out of the gnocchi I was looking for. 🙁 I was bummed. Since I was still hungry and craving something carb-y and cheesy I decided to pick up their goat cheese tortellonis. And a huge tub of hummus as a consolation prize! 😀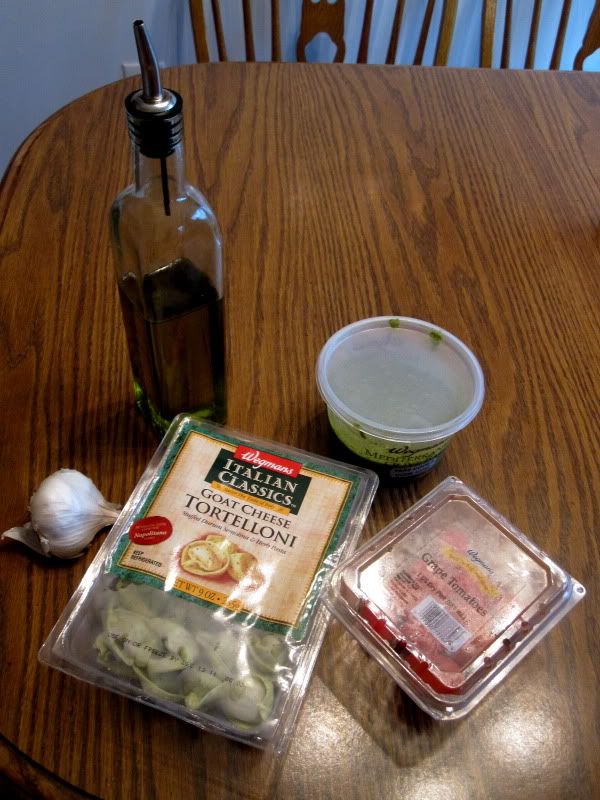 I decided to cook the recipe almost exactly the same, just subbing in the goat cheese tortelloni for the gnocchi and goat cheese. While not gnocchi, tortelloni is pretty amazing too. The stuff is delicious.
To make crispy pesto tortelloni with goat cheese and tomatoes you will need the following:
2 tablespoons of extra virgin olive oil
1 clove of garlic
1 package tortelloni
A handful of grape tomatoes
A few scoops of pesto
I'm such a technical cook. ;p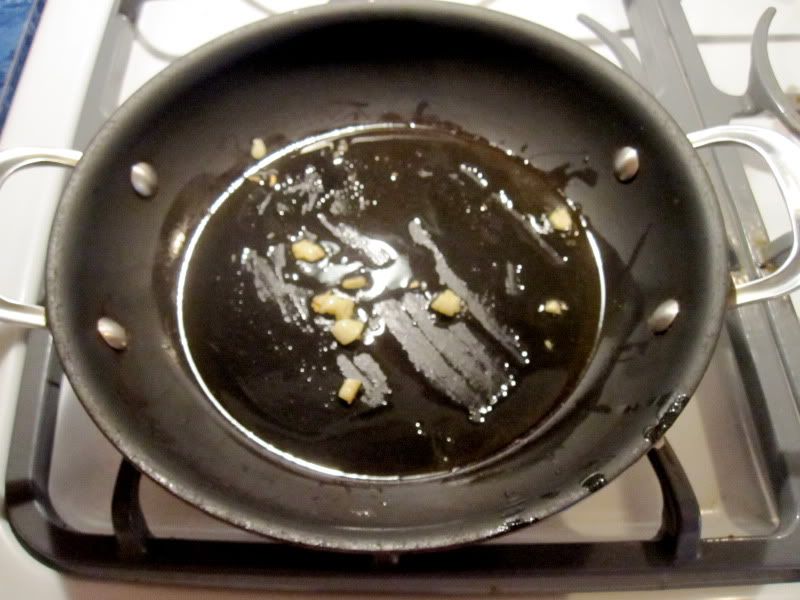 To start with I cut up a clove of garlic and cooked it in the olive oil to give the olive oil a nice garlic flavor. At the same time as this was happening I was boiling water for the tortelloni. Once the water boiled I cooked the tortelloni for five minutes before draining.
Bailey lined up in front of the stove hoping food would fall. She LOVES the smell of garlic!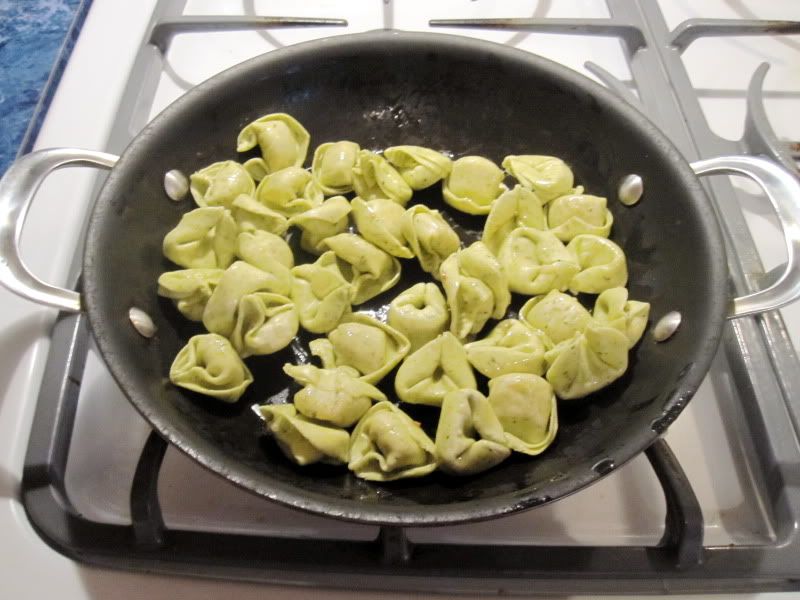 Once the tortelloni are cooked and drained remove the garlic bits from the pan and place the tortelloni in the oil. Cook them until they start to turn a golden brown color. While they are cooking I sliced up the grape tomatoes.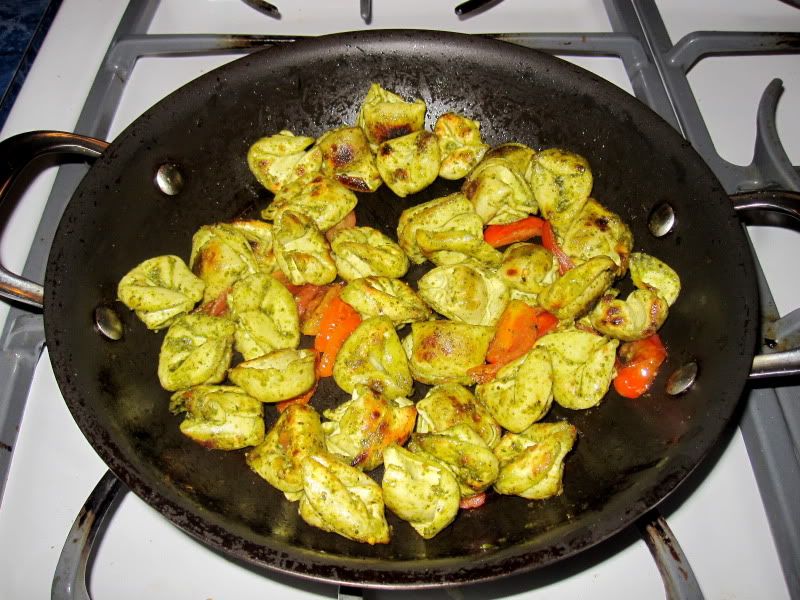 Add as many tomatoes and as much pesto as you see fit. I used five tomatoes and three spoonfuls of pesto. The pesto was spot on but in the future I would add more tomatoes. Its crazy to think I used to hate those things. Cook until everything is fully mixed. Your house should be smelling amazing right about now.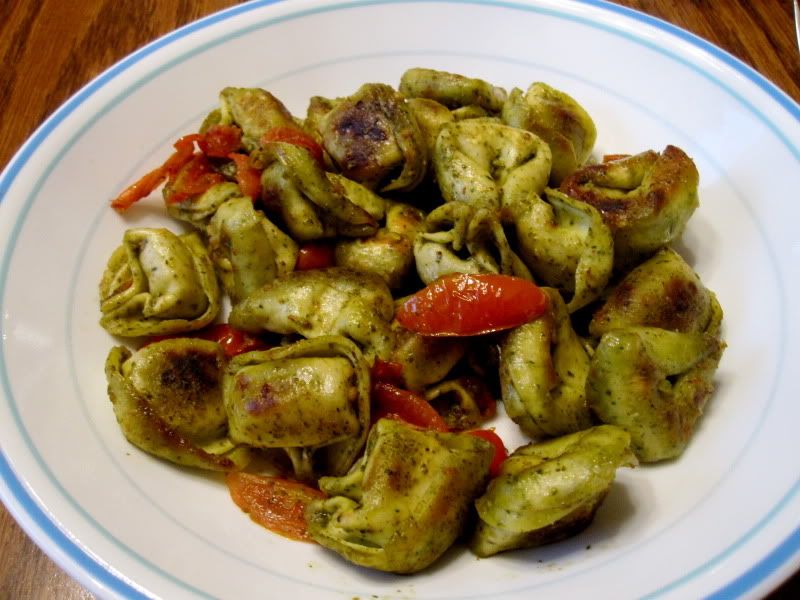 Remove from heat and serve! While it wasn't the gnocchi I was originally craving, it was absolutely delicious and a dinner dish worthy of being craved itself!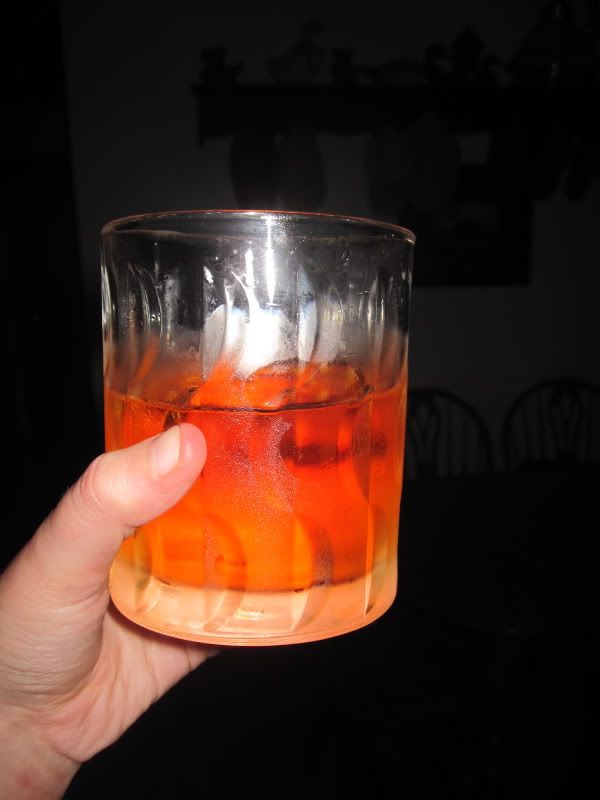 To top off my yummy dinner I mixed a glass of apple juice with two tablespoons of the strawberry shrub I picked up from Tait Farm on Sunday to make a dessert drink. My sweet tooth is on hiatus right now as I have consumed obscene amounts of candy within the last few days. I didn't know it was possible for my body to be sugared out. Sweetest Day was very good to me! This drink had the perfect amount of sweetness to cap off dinner and I loved how beautiful it looked mixed together. I have a feeling I'm going to be making a lot more shrub drinks in the future!
Question of the Day: What is a company that has impressed you with their customer service recently? As a marketing student I really notice things like that about a company and when I experience companies going above and beyond for their customers they make a very loyal consumer out of me.