This was such a good weekend! My friend Lily hosted an Easter party at her house and Josh and I were so looking forward to going. Themed dress up parties with activities and food? We're there.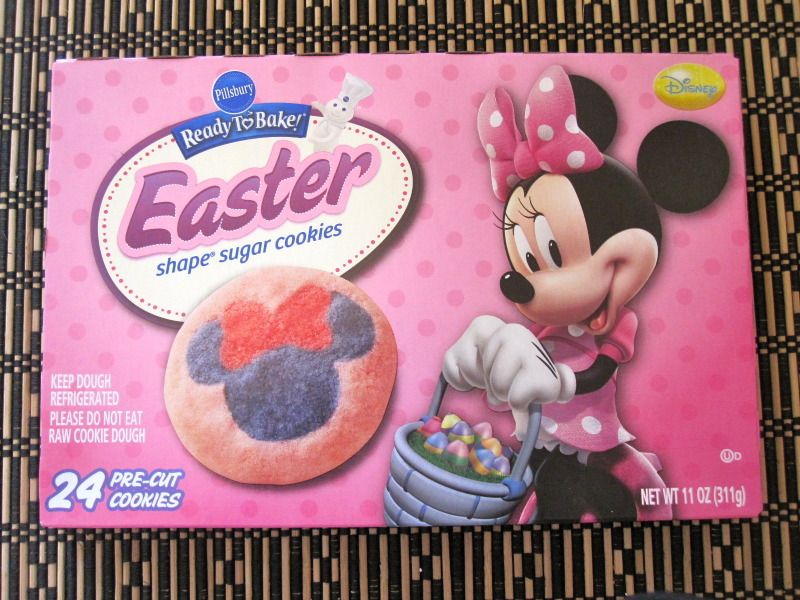 We headed to Wegmans to pick up some treats for the party. Josh was so sweet and agreed to make Minnie Mouse cookies. How adorable are they? Even better, they were the only Pillsbury ready to bake cookies that didn't contain transfat. They are also made with whole wheat flour and don't have any crazy additives. Better ingredients and Disney characters? I'm sold.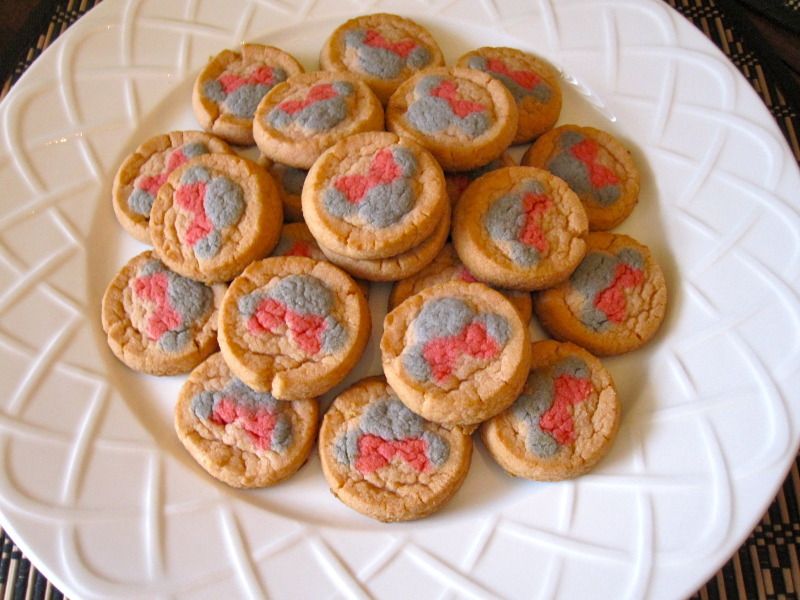 I think they turned out so cute! And major props to Josh for somehow balancing this tray while I drove without any aluminum foil over it. We were all out and it made for a very interesting car ride going around corners. ;p
We were all decked out in our Easter pastels. 😀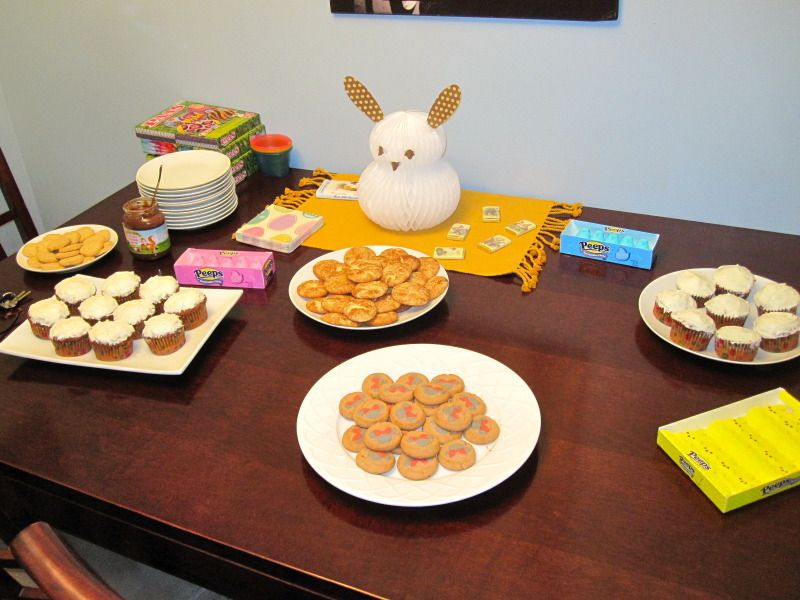 Lily had set up some super cute decorations and there were lots of little snacks around the house to munch on.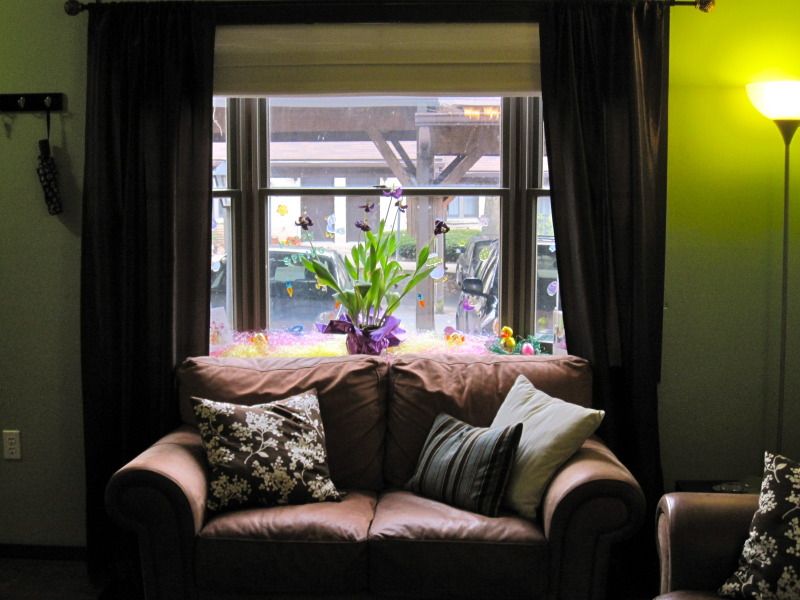 I loved the window decals and tulips!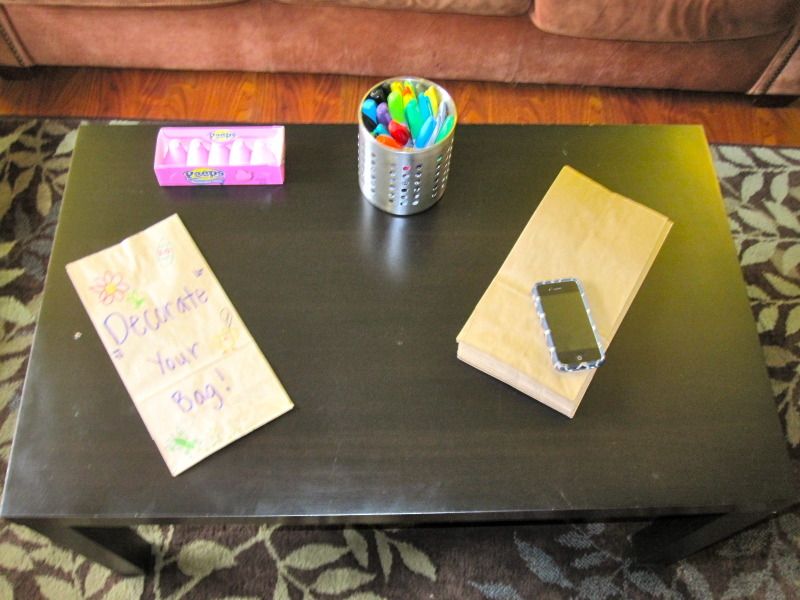 Our first activity of the day was decorating our Easter bags.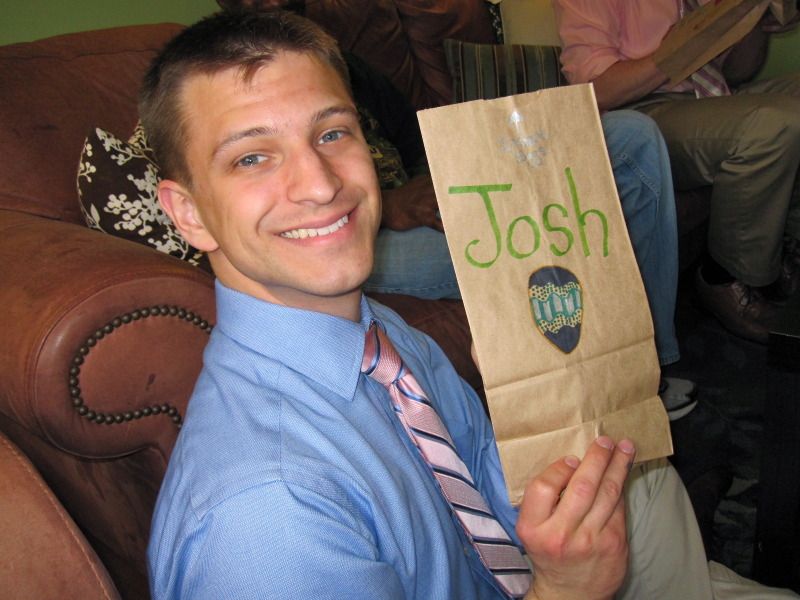 Josh and his awesome bag.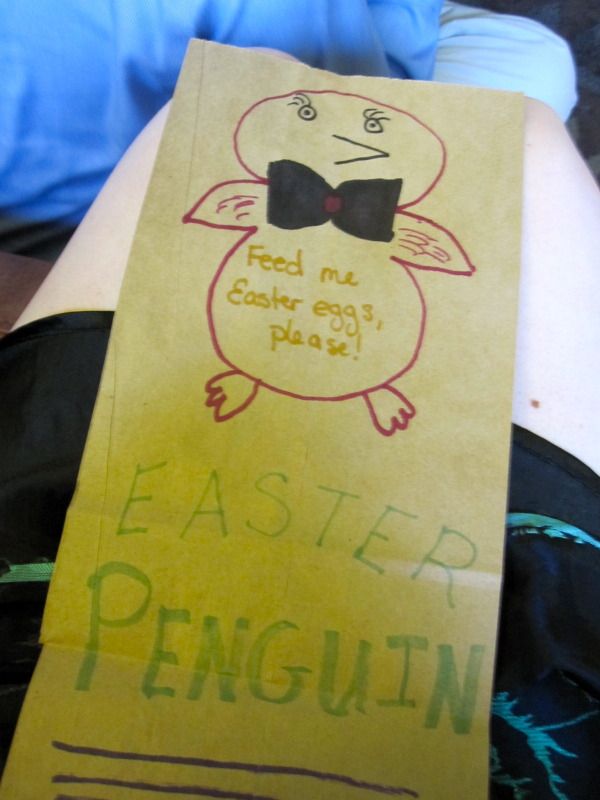 I made an Easter penguin bag. Full disclosure, it started off as a bunny but somehow slowly morphed into a penguin. As anyone who plays Draw Something with me knows, art skills are not my strong suit.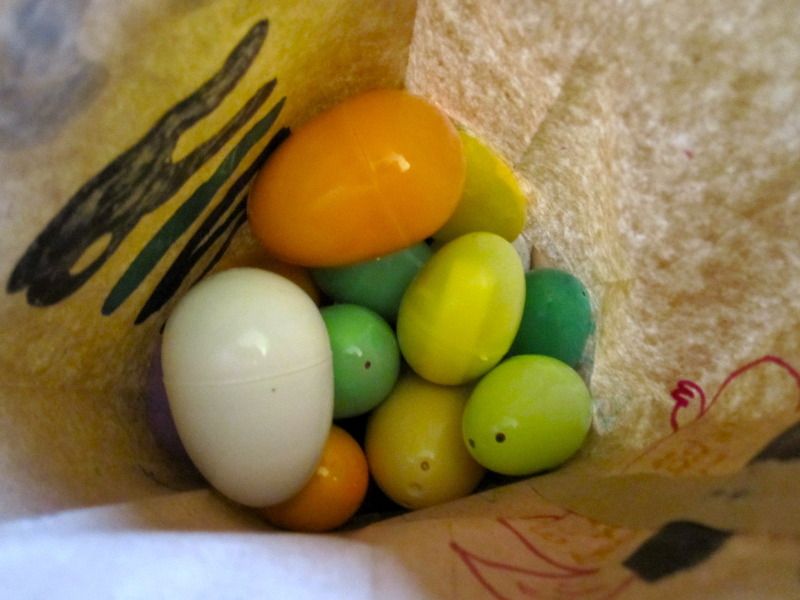 Luckily egg hunting is. Being the younger sibling I've been trained since I was little that egg hunts are serious business and that if you don't get out there and find eggs quickly someone bigger is going to come by and snatch them all up.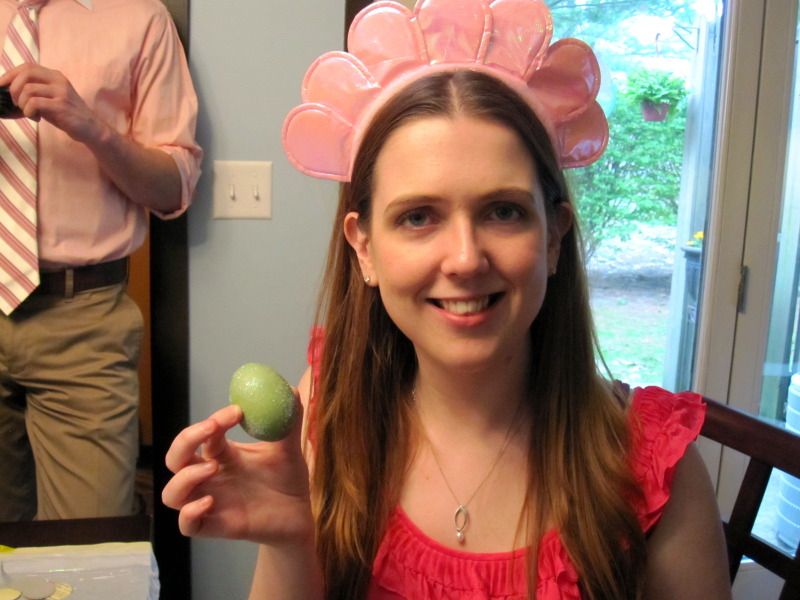 Who found 18 eggs, won the egg hunt, and an awesome flower crown? This girl! I was so proud.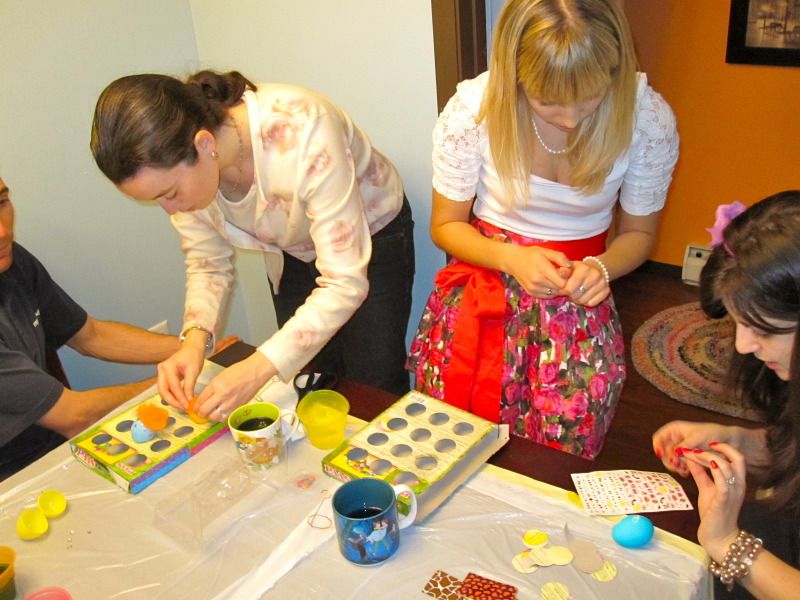 After egg hunting it was time to decorate hard boiled eggs. But these eggs weren't meant to be put on display. They were meant to be smashed into each other to see who had the strongest egg.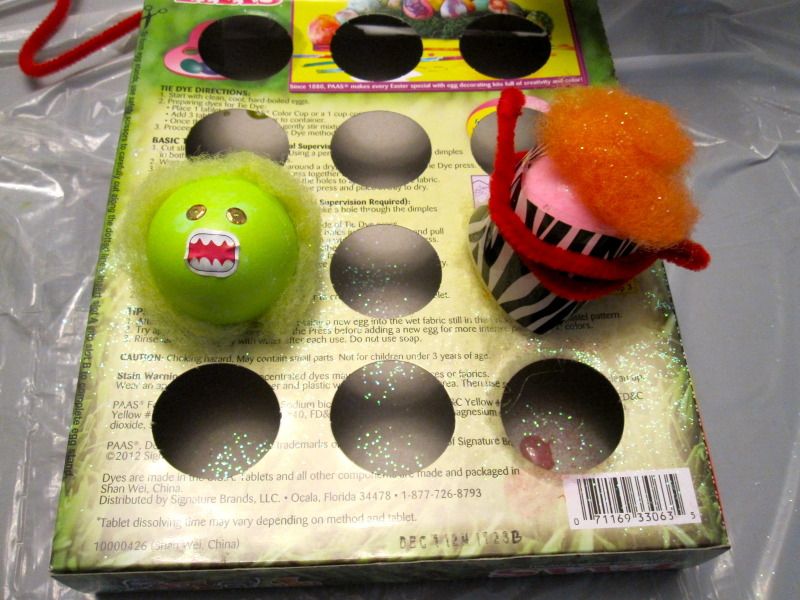 Josh's rabid Kermit the Frog and my glammed out Beaker.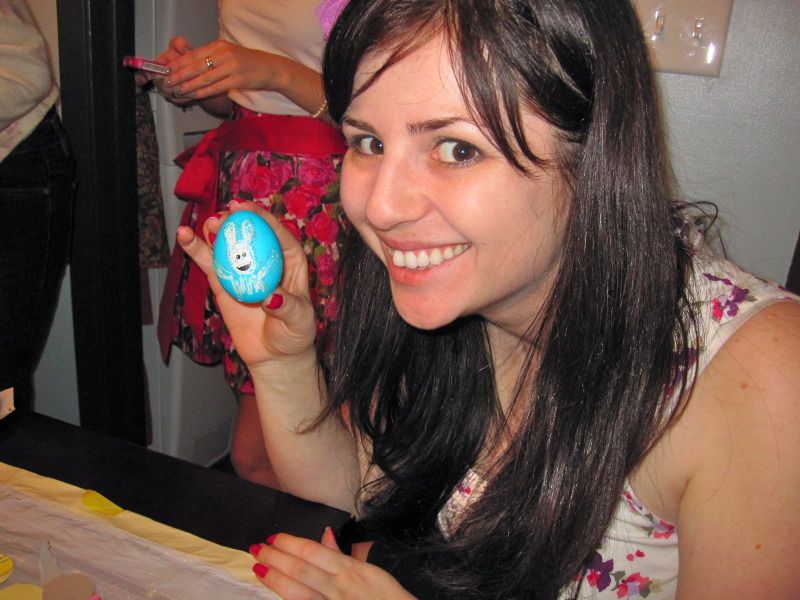 Lily made a seemingly cute bunny but don't be fooled. This was a crazy bunny. In the egg wars it killed us all.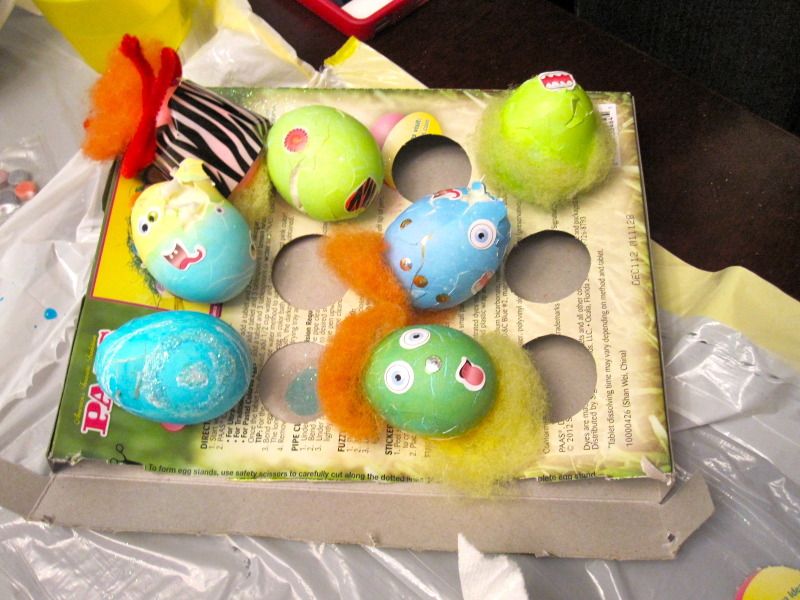 The sick ward for our sad, helpless eggs.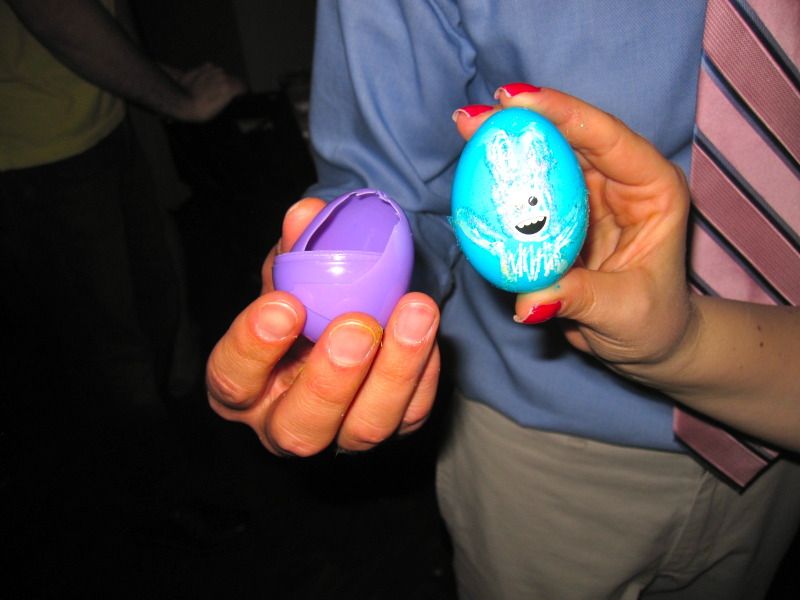 Lily's bunny was so insane it even cracked a plastic egg in the final face off. We ended up cutting into it just to make sure it was in fact a hardboiled egg and it was. It was apparently just an insanely strong one.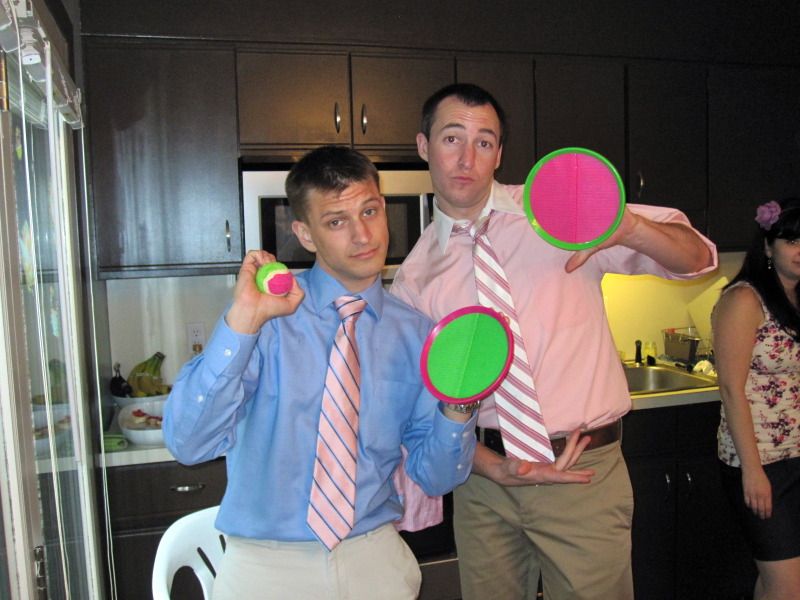 We also played egg relay races and some outdoor games. The boys had a blast. ;p It was such a fun party and so sweet of Lily and Nicole to host. Now Josh and I really want to plan one!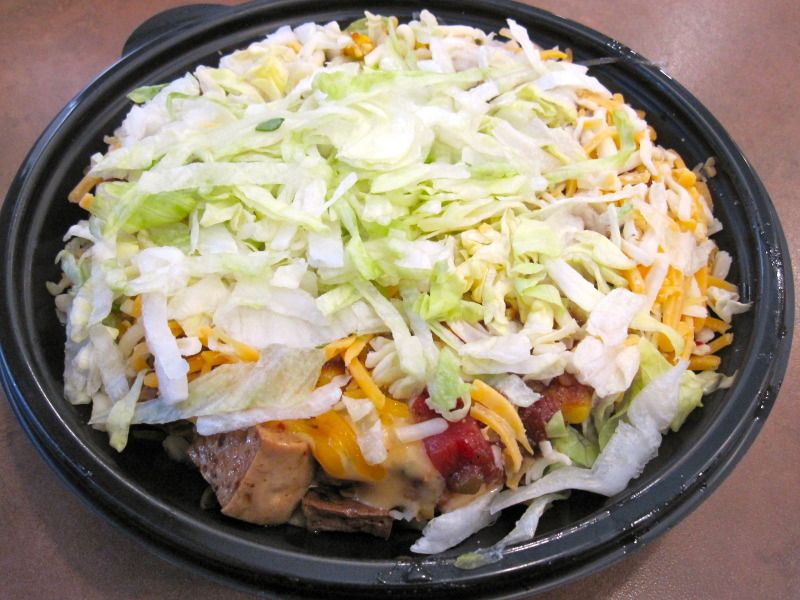 Other things we did this weekend included hitting up Wegmans for their amazing burrito bowls. This was chock full of veggies. onions, tofu, salsa, queso, black beans, cheese, and lettuce. It was so great.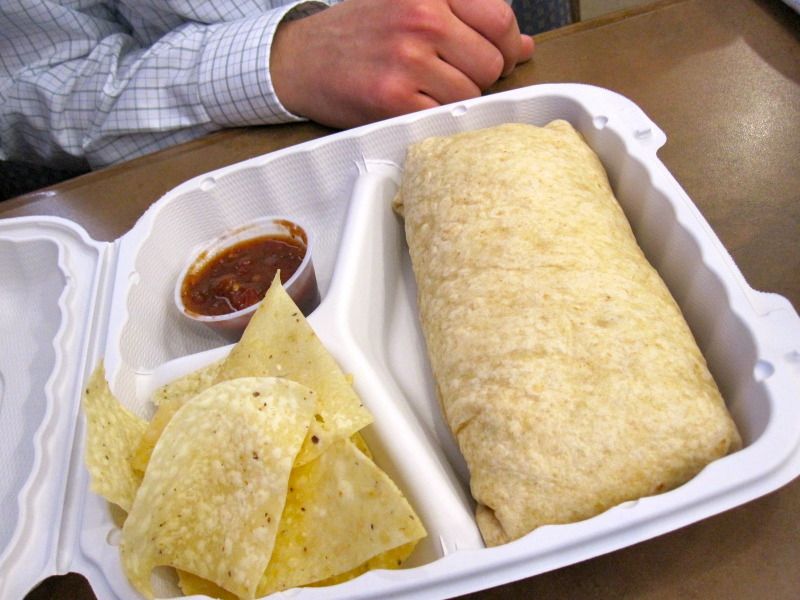 Josh got a traditional burrito with a side of chips and salsa.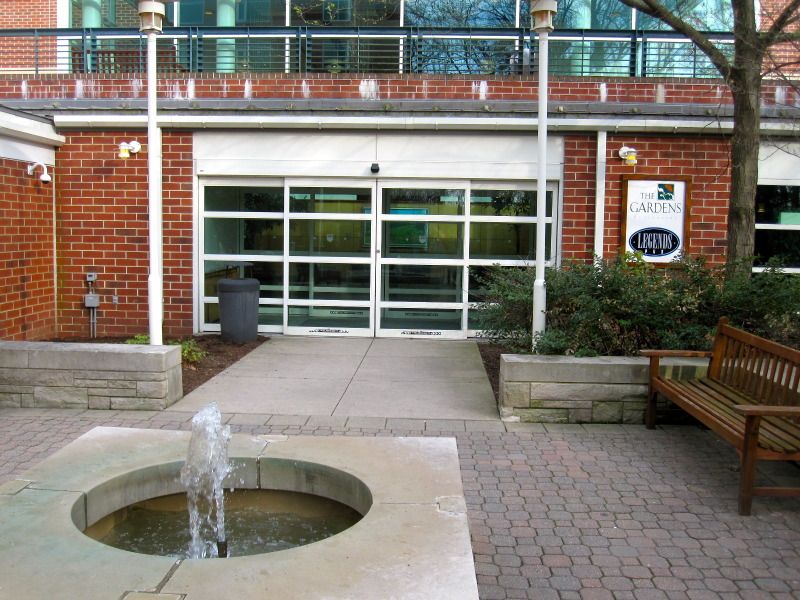 We also ate out at one of our favorite local restaurants. Legends at the Penn Stater is such a well kept secret in State College. The prices are cheap and the food is delicious.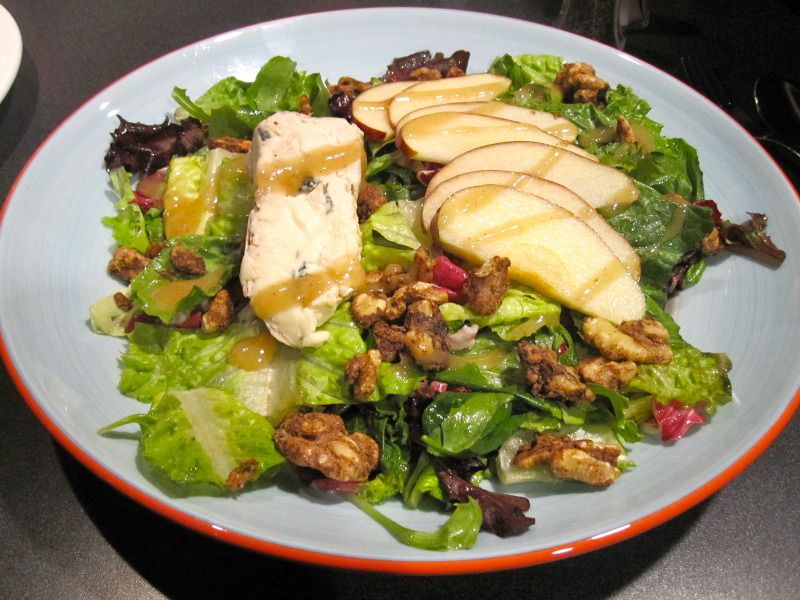 Josh and I split a blue cheese, apple, and pecan salad for an appetizer. It was so good.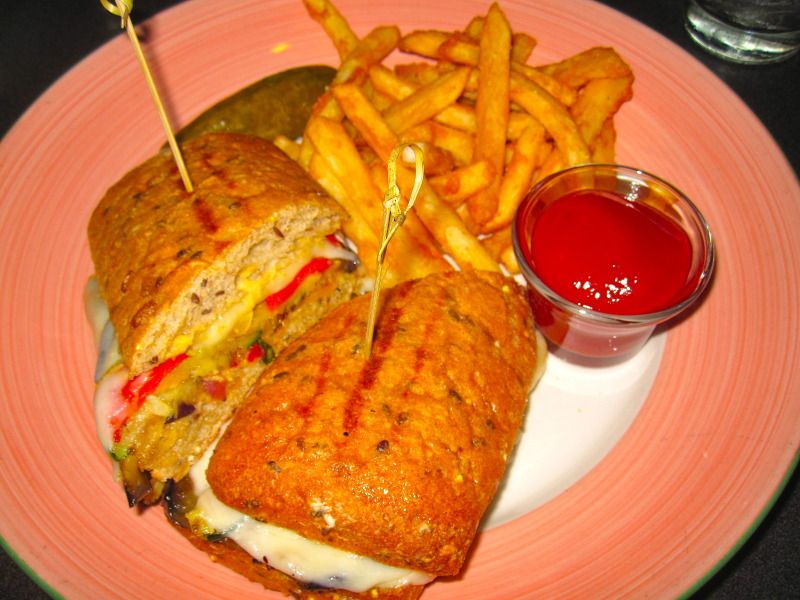 For our entree we split a roasted veggie sandwich and fries. It was so delicious we finished everything on our plates. And half of the meal only cost $8 including the tip! We have plans to go back a lot in the future.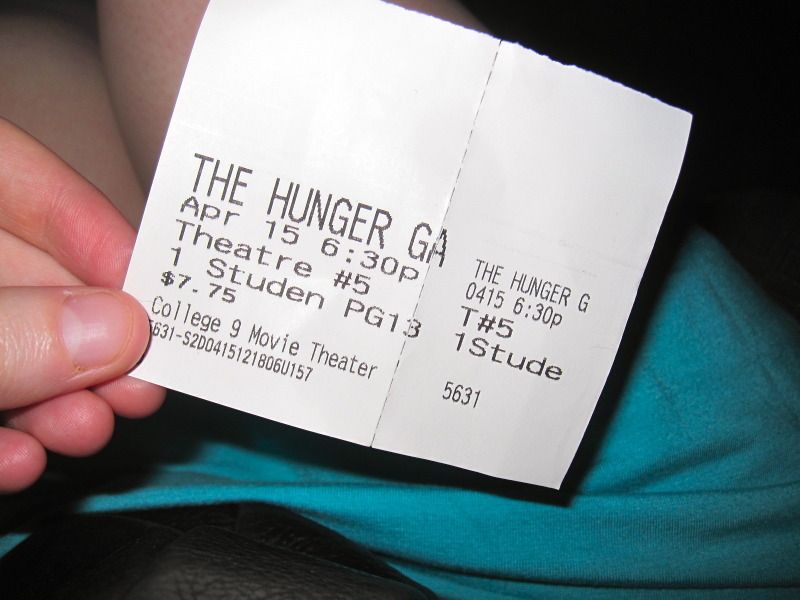 After dinner we caught a night showing of The Hunger Games. Neither Josh or I have read the book but we have heard such amazing things about it we really wanted to go. I'm a big believer in reading the book before seeing a movie adaptation but I didn't get around to reading the book in time. I didn't want to miss my chance to see the movie in theatres so Josh and I went anyways and we were both so glad we did. We absolutely loved the movie. And we both spent Monday afternoon cuddled up reading the book afterwards. I thought I'd glance over the book because I had just seen the movie but it was such great writing I was sucked in all over again and could not put it down. I love how the movies showed an overall view of the action while the book was just in Katniss's head. I felt like I got to get so much more personal with her story and learned so much. It's going to take all my willpower to get work done this week and not spend every free second reading the other two books in the series.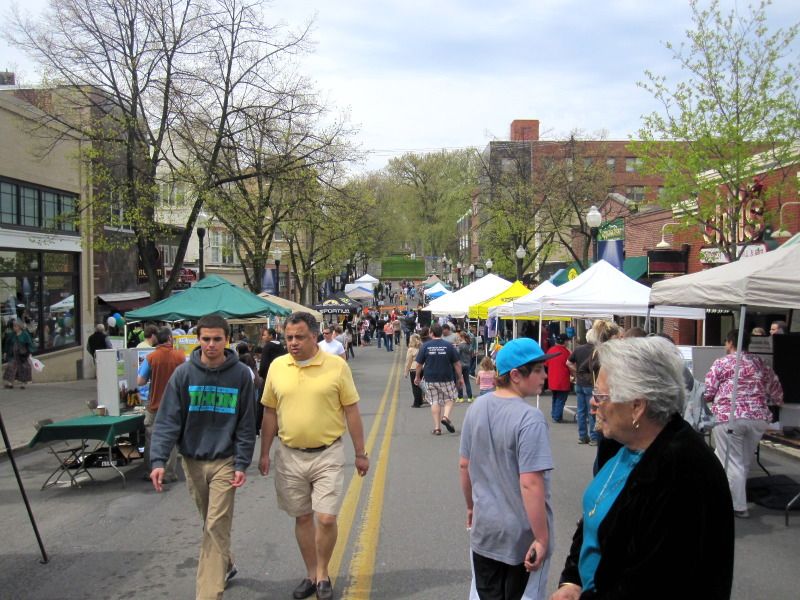 When we were not holed up being bookworms Josh and I ventured out to downtown State College for State College's Earth Day festival. We stumbled upon it by accident on the way to the State College library but had fun walking up and down browsing the tents. It was such beautiful weather!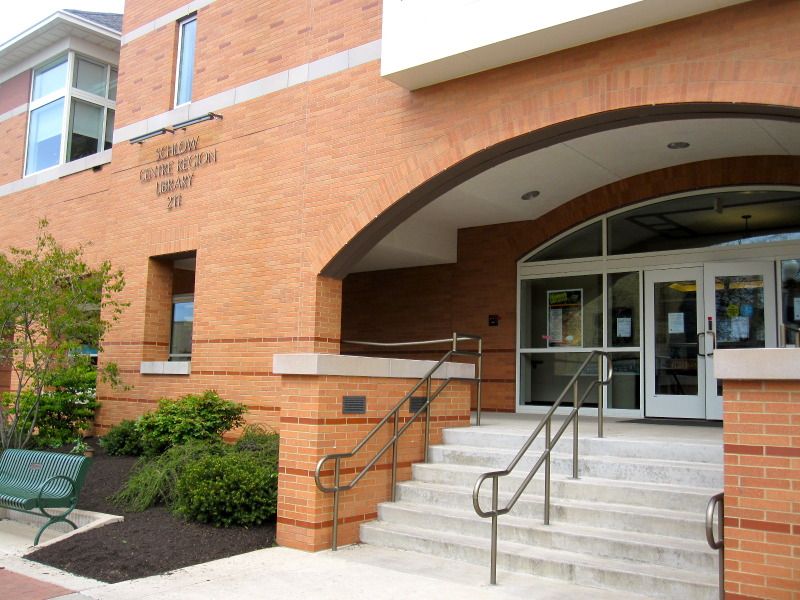 The reason we ended up downtown was for a Vegetarian Festival held at the local library we found out about online. There was tons of free food and I got to try Field Roast veggie dogs for the first time. Both Josh and I loved them! We have dreams of sausage and onions in our future. I was hoping we might be able to make some veggie friends there we could go out to eat with but the people there seemed to be more of the militant vegan variety. I'm all for everyone doing what's best for them but don't like when people cite certain foods as the reason for all the problems in the world. You can be a healthy vegan, a healthy vegetarian, and/or a healthy meat eater. There is no one way to be healthy, everyone is different. And eggs are not evil. Okay, enough ranting. ;p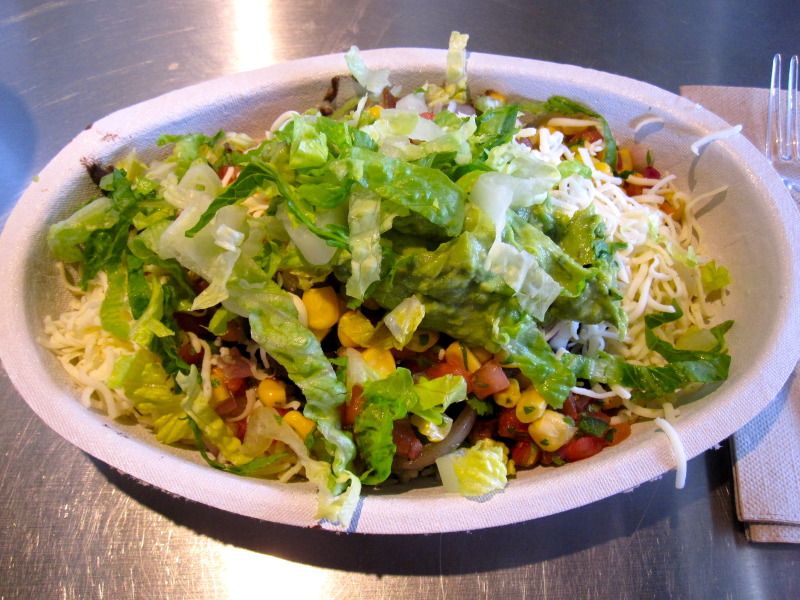 For dinner on Monday we went to Chipotle and I got another burrito bowl. This one had roasted veggies and corn and salsa and guacamole. The lime seasoning in the rice really made the flavors pop in your mouth and it tasted so fresh. If I had to rate them on a scale of 1 to 10 I'd rate Wegmans's burrito bowl a 9.5 and Chipotle's a 10. All the others I've tried from other places can't even compare to these two.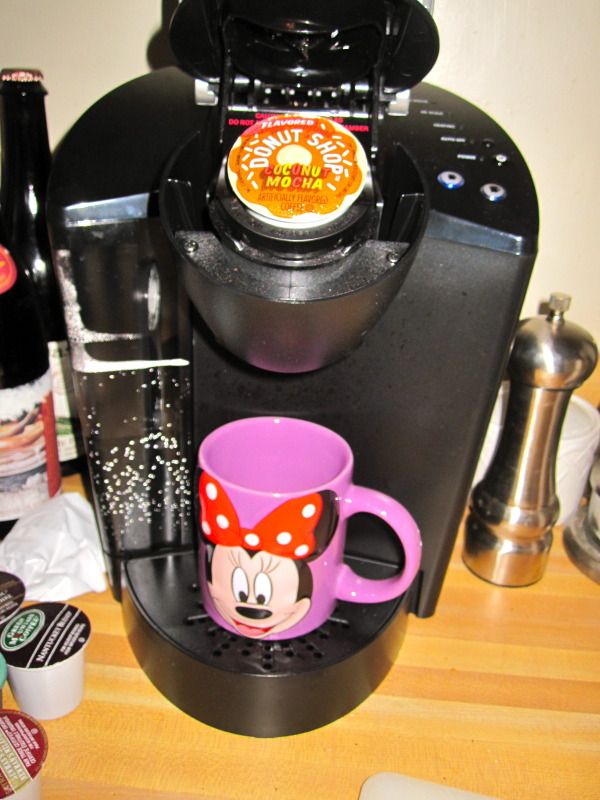 Just as we started our weekend with Minnie we ended with her too. Josh got a Keurig for Hanukkah but didn't get to open it until his parents brought it down a few weeks ago from Connecticut. We've had so much fun trying different flavors. My current obsession is Donut Shop's Coconut Mocha. Its so good.
And that was our weekend! I hope you are all having a great start to your week!
Question of the Day: What was a highlight of your weekend?