Today was a go-go-go kind of day. After I woke up (to Andy barking like a madman at the mailman) I had to put together some breakfast and get out the door to finance. While I was rushed I was excited, because breakfast was this.
Cold, left-over tofu! 😀 I took leaves of romaine lettuce and lined them with hummus and then placed sliced tofu pieces on top. It was perfect, and paired with a banana it kept me full all morning!
My workout was a lot less intense today. On Tuesday only the girls showed up to aerobics class so my professor decided that since all the guys were there today they could do a harder version of our anaerobic exercise from last class and the girls could leave after fifteen minutes on the treadmill. It was awesome since I had a lot of homework to do today and was worried about having the time to do it all. I wanted to make my fifteen minutes count though, so I worked on running. The speed and resistance were both at 4.5 (If you're a super runner and this is like a turtle pace to you, please keep me disillusioned and feeling like a rock star.) and I ran the entire time without struggle. While I was working my heart rate at 85% of its maximum I could do it without feeling like I had to stop or slow down. It was awesome. 😀
After my workout I headed over to the computer lab to submit some homework due today. By the time I was finished it was time for me to race home and make lunch.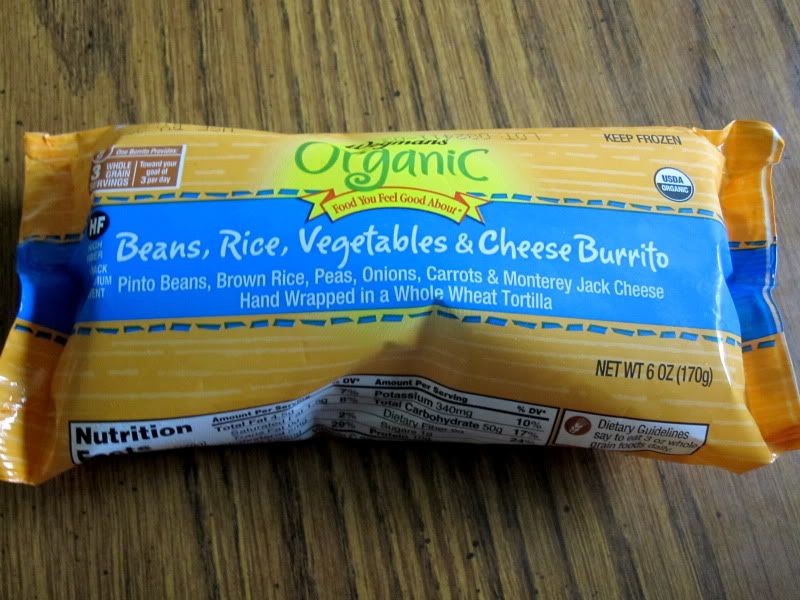 I only had fifteen minutes to prep, cook, and eat so I whipped out one of these bad boys.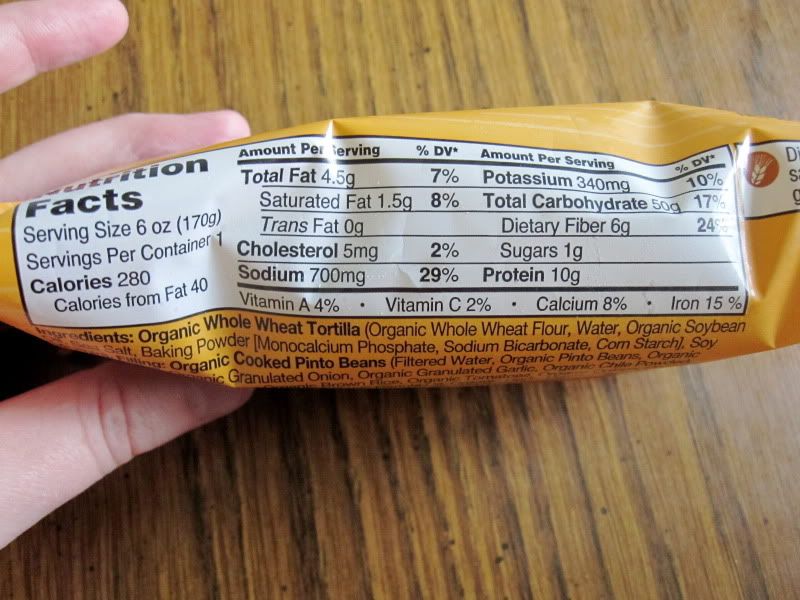 And check out the nutrition stats! For a frozen burrito I think this one gets a gold star! I <3 Wegmans.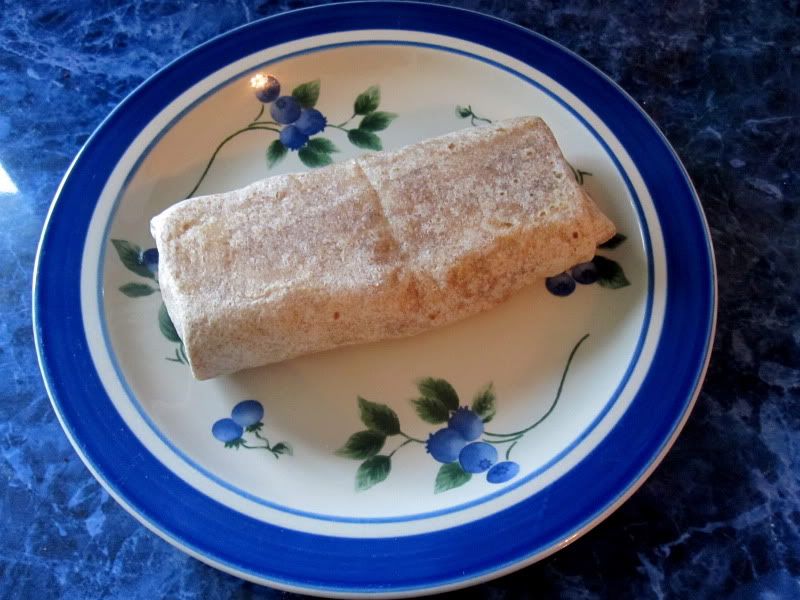 All I had to do was wrap it in a paper towel and microwave for two minutes.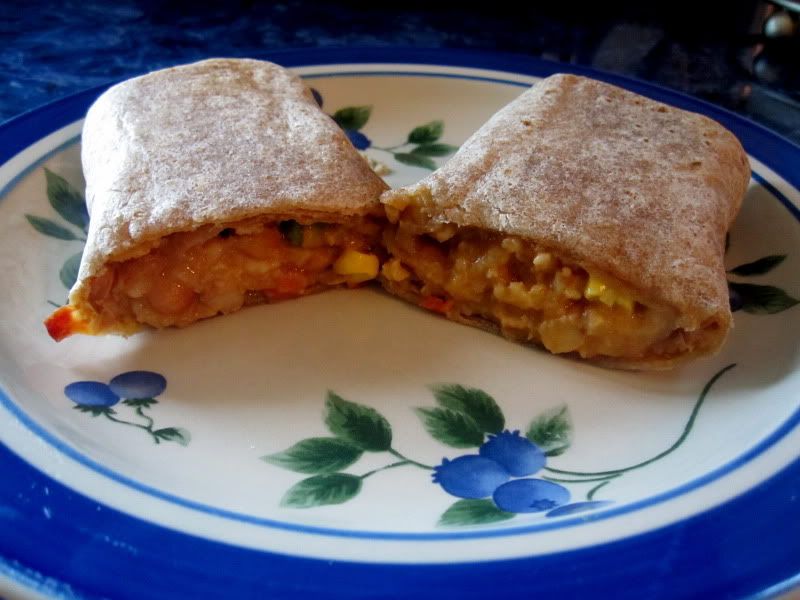 And my lunch was ready! My verdict is that they are amazing burritos! They taste so good and so fresh and are incredibly filling. They are also super quick to make and eat which was a plus today. I was heading into work for a few hours to sell some clothes/make some money.
On my way to work I passed a house that amuses me to no end. I don't know who lives in this house but I want to meet them. They must be the happiest people alive. They decorate their house for every holiday. Not decorate in the Homes and Garden sense of picking a color scheme and incorporating seasonal accents into your yard decor. I'm talking about covering their yard in every possible holiday themed item they can. I can't wait to show you guys a picture of their yard at Christmas. There are no words. In the meantime, today marked their first day of being decorated for Halloween.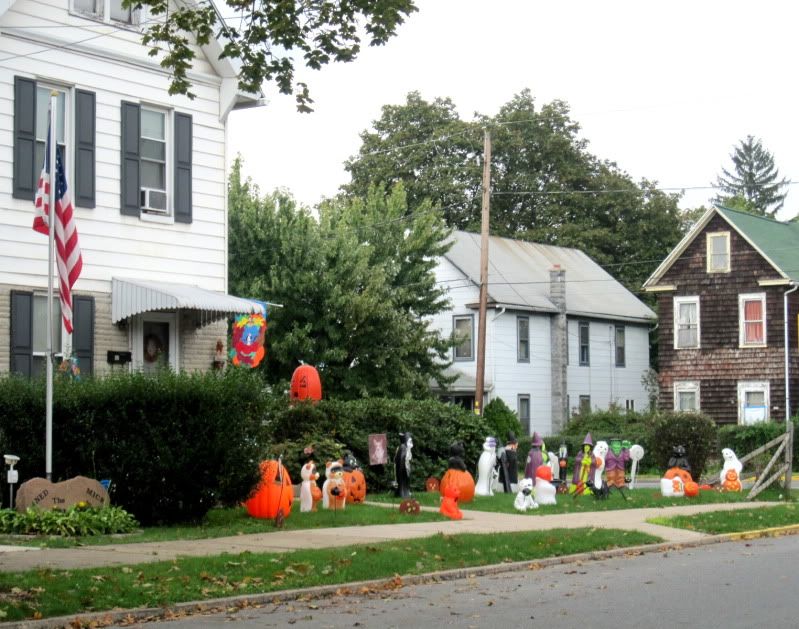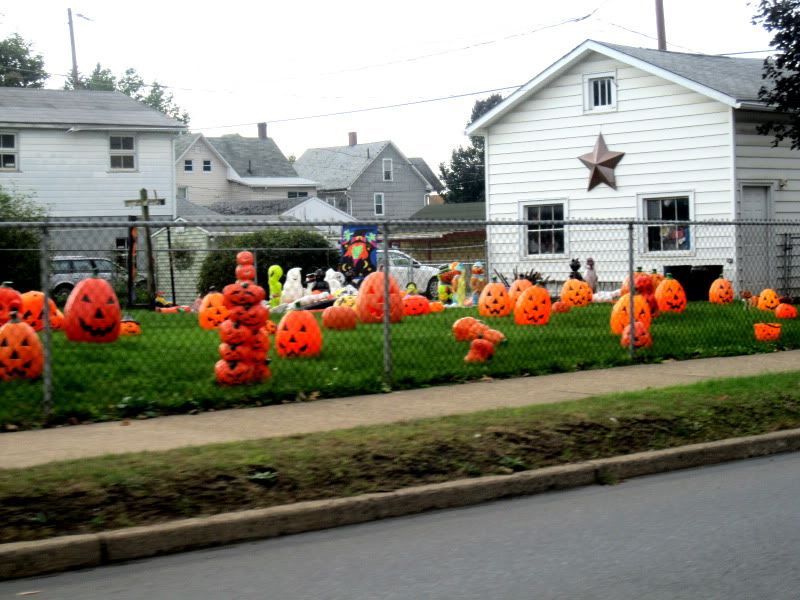 That's a lot of pumpkins! ;p
Work was great today, I had a lot of fun helping customers and catching up with my coworkers. When it was time for my dinner break I knew exactly what I was craving.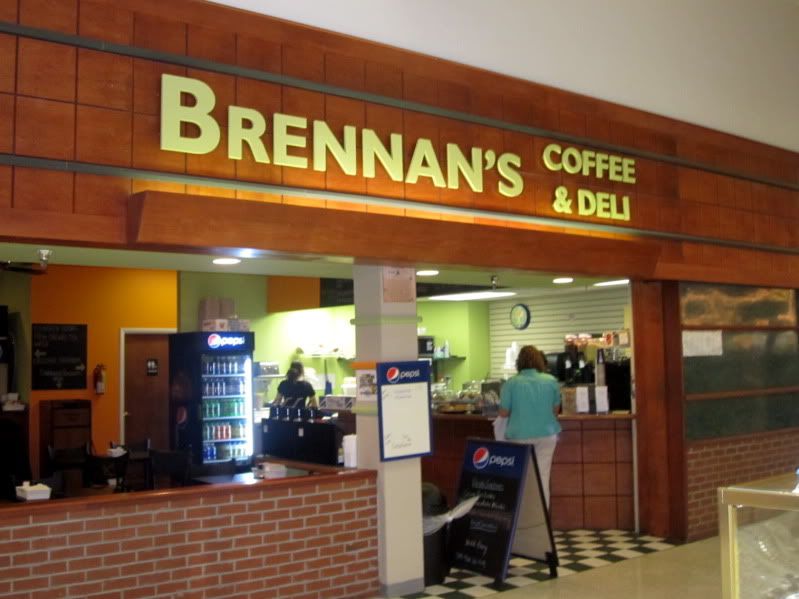 My mall is small. So small, it doesn't have its own food court. I know, I didn't think that was possible either. What it does have is a pizzeria, a Friendlys, a Chinese Food shop, a Subway, and Brennans. Brennan's makes awesome soup and sandwiches, and they give mall discounts and play country music in the dinning area. Triple win!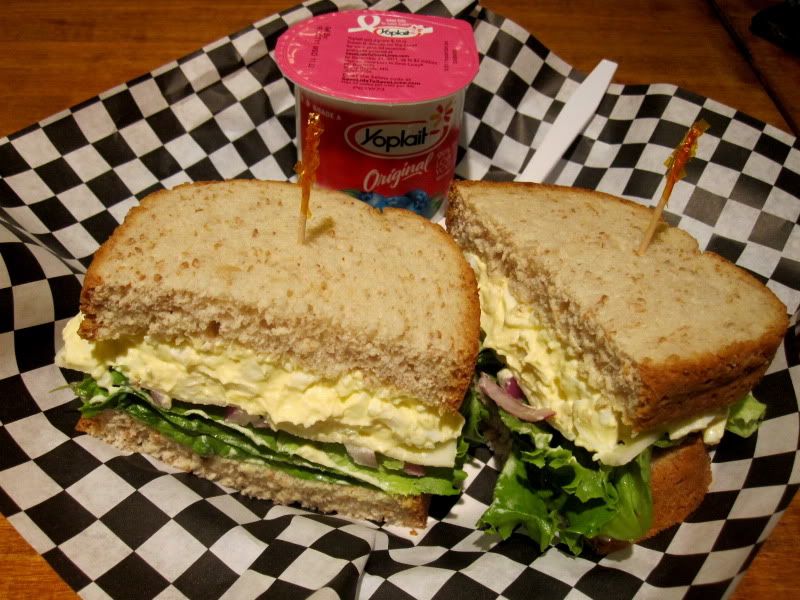 This was one heck of an egg salad sandwich! It had onions, cheese, and lettuce on it, the perfect combo of flavors to go with the egg. This is also why I skipped a breakfast burrito this morning! ;p My favorite combo from Brennan's is a half an egg salad sandwich with a bowl of broccoli cheddar soup but since today's soup of the day was chili I decided to get the whole sandwich and a yogurt instead. I was hungrier than I realized because I ate everything in this picture. And it was good! 😀
And now its time for me to get to bed. Josh and I are doing a big review of Jamba Juice smoothies on here tomorrow, along with a very cool giveaway for five lucky readers!! Make sure to stop by Friday around dinner time for that post!!
Question of the Day: Have you ever won something off a blog contest?
I won a Peas and Thank You cookbook sampler! No food or trips-of-a-lifetime yet, but I'm holding out hope! :p