Explaining my love for Jamba Juice involves a story. The story of the summer of 2010. The summer of my internship in Hawaii.
In January of 2010 I was reading an article in Business Week about the top marketing companies in the world. Being the business nerd that I am I started Googling all the top companies seeing where they had offices. My Aunt lives in Hawaii and I had stayed with her for two weeks for the past two summers. Out of curiosity I decided to check if any of the marketing agencies had branches in Hawaii. I was shocked to find that WPP, the second largest marketing firm in the world, had an office in downtown Honolulu.
After finding the contact information for 141 Marketing (a boutique marketing agency under the umbrella of the WPP brand) online I decided to send them an email. I explained how I am a marketing student and I have been visiting Hawaii for the past two summers and I was looking for an internship. I attached my resume and phone number and hit send with the feeling that it was a long shot, but at least I took it.
Months went by. I figured I wasn't what they were looking for, or they didn't hire interns, or they didn't need more. In late April I got an email from a woman named Lori, apologizing for the lack of response, and explaining that my email had gotten stuck in a spam folder. We proceeded to have a phone interview, after which she offered me the internship. It all happened so fast, I couldn't believe I was being given such an opportunity. I called my Aunt to ask if I could stay for most of the summer instead of just two weeks. She was incredible and said yes.
So I packed my bags and left for my summer adventure.

This was the downstairs courtyard where I worked. I had no idea what to expect at my internship, as it was my first one and located halfway around the world. I had heard horror stories from friends about their internships and worried I would be a coffee-fetcher and paper-filer all summer. I shouldn't have worried. 141 Marketing is made up of the most incredibly kind people. They took the time to get to know me, taught me skills that I will take with me to my future career, and gave me real and meaningful work. I got to visit local charity organizations and conduct interviews for the Sony Open, and then compile all of the writing into a five page article that was featured in the Sony Open Program that gave me byline credit! I got help organize goody bags for the Korean Festival, and then photograph pictures of the event and attend the Mahalo Banquet for the top sponsors. I got to explore the city with my bosses, take lunches together, and ask questions. I could not have dreamed of a better internship opportunity.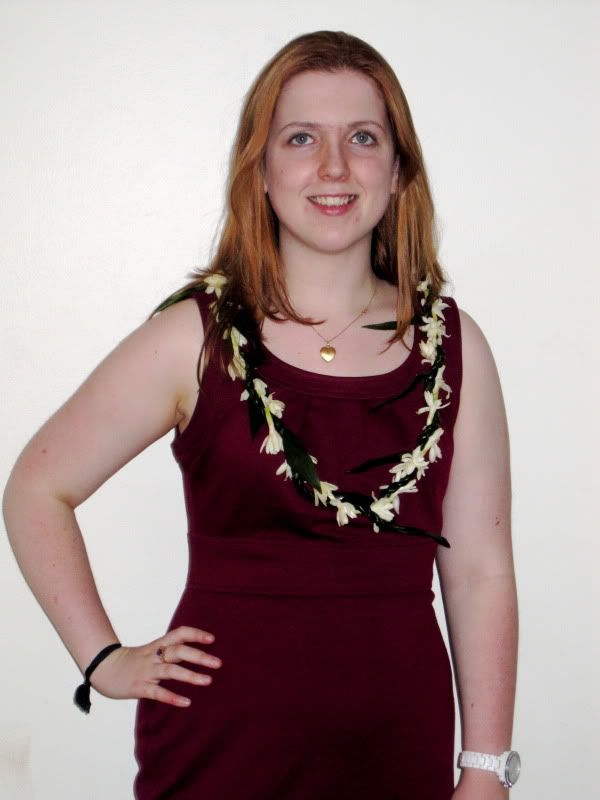 Here I am after my first day at work. Excuse the hair tie. ;p I was so excited because they greeted me with a lei at work!
When I wasn't working I was exploring Hawaii. It was my third summer there, but I had never got to see Hawaii like I did that summer.
I had some great company:
My Aunt and I!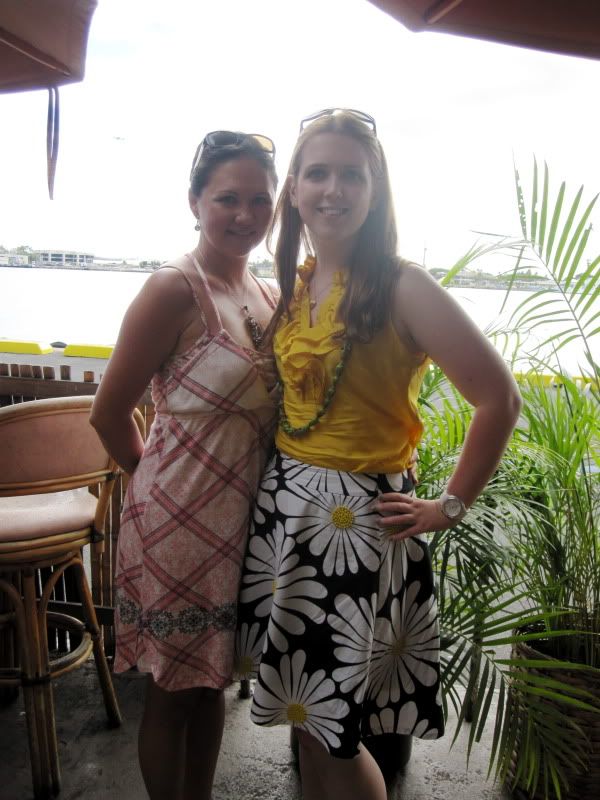 My good friend Maile, who is from Hawaii but lives in Williamsport and was visiting family while I was there!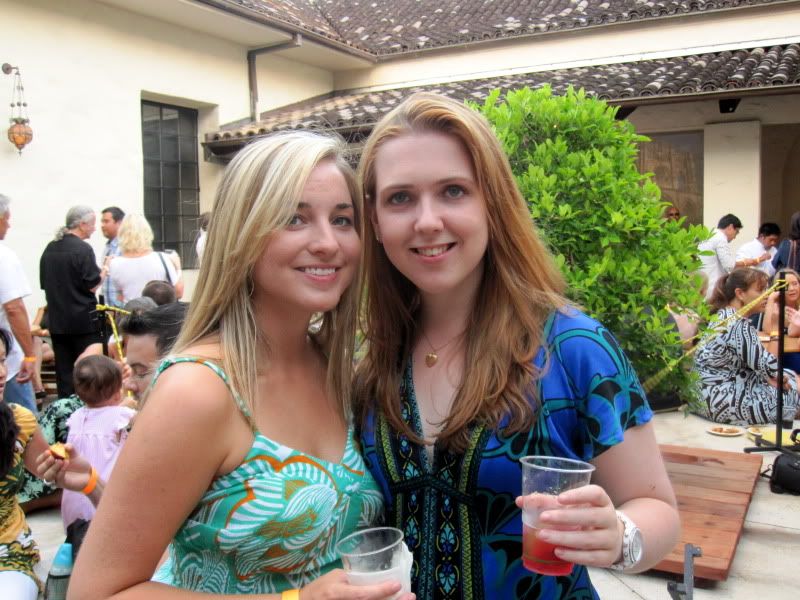 My friend Jessica who I actually met in Hawaii! It was awesome getting to meet people and form friendships halfway around the world from where I live! I really felt like I lived there while I was there.
I got to go to some of the coolest events: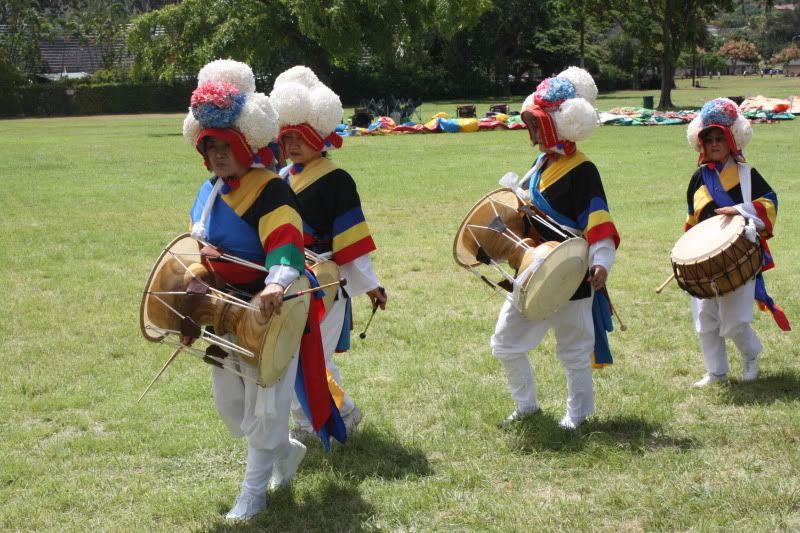 These women were performing at the Korean Festival. I was in love with their hats.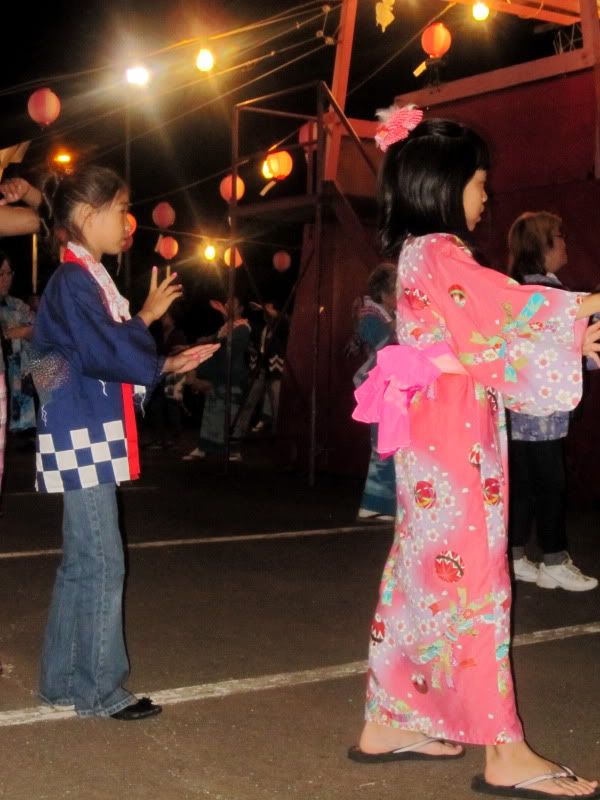 My Aunt and I got to take Bon Dancing lessons from women who have been doing it all their lives. Bon Dancing is a traditional Japanese dance done to honor their deceased relatives. We then went to a lot of the Bon Dancing events over the summer to watch and participate.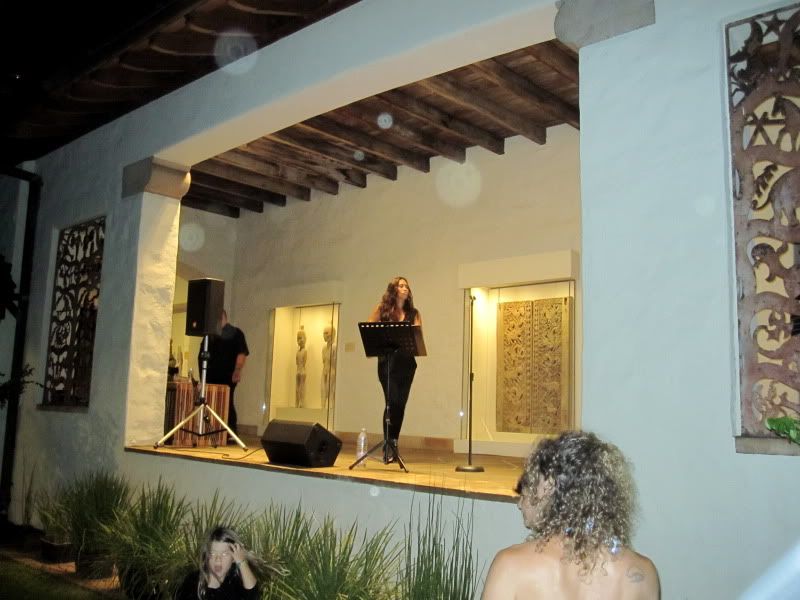 A party at an arts museum. Food, dancing, entertainment, and art. It was incredible.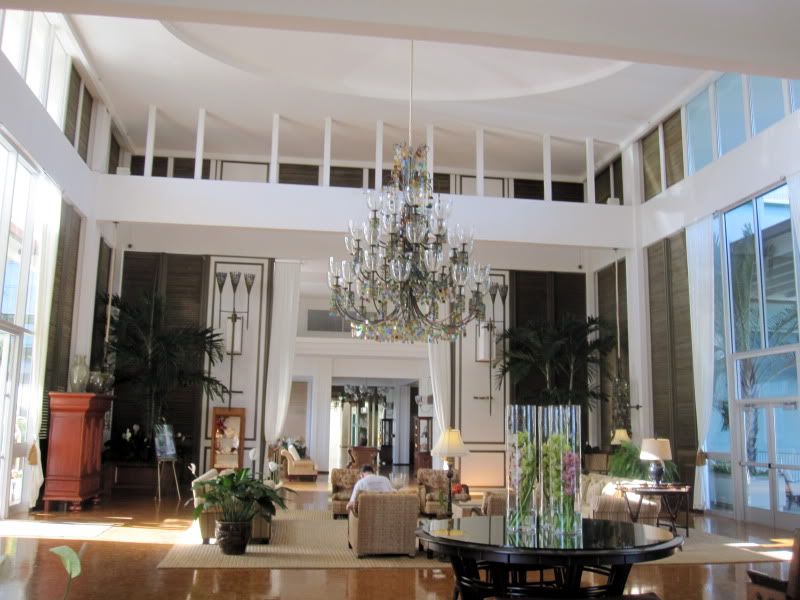 The lobby at the Kahala resort, where the players in the Sony Open stay. They have dolphins right outside the lobby, swimming around the pools and waterways. It is one of the most beautiful hotels I have ever seen.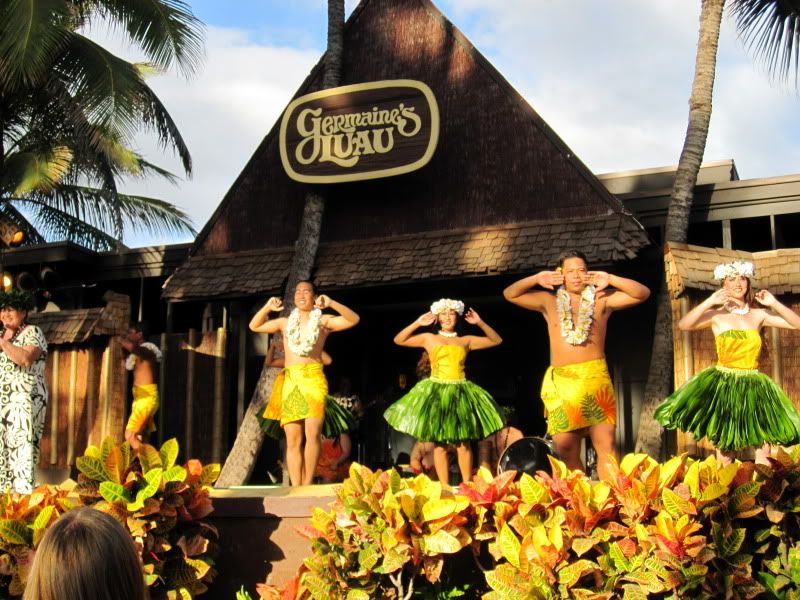 A luau! I had been to a few of them before this but never had as much fun. Germaine's is known as the party luau. All you can eat, practically all you can drink, and the best entertainment. I was dancing at my table by the end of the night.
I was surrounded by stunning natural beauty:
My Aunt and I hiked a mountain to take in the beauty and check out the lighthouse. I love lighthouses.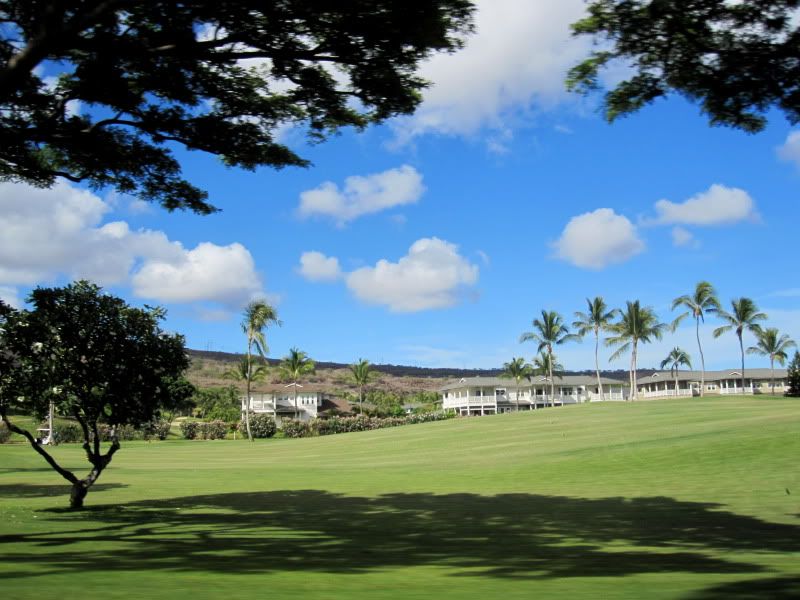 The neighborhoods in Ko Olina, where Disney now has a hotel!
We drove up one of the biggest mountains in Hawaii to discover the most amazing view.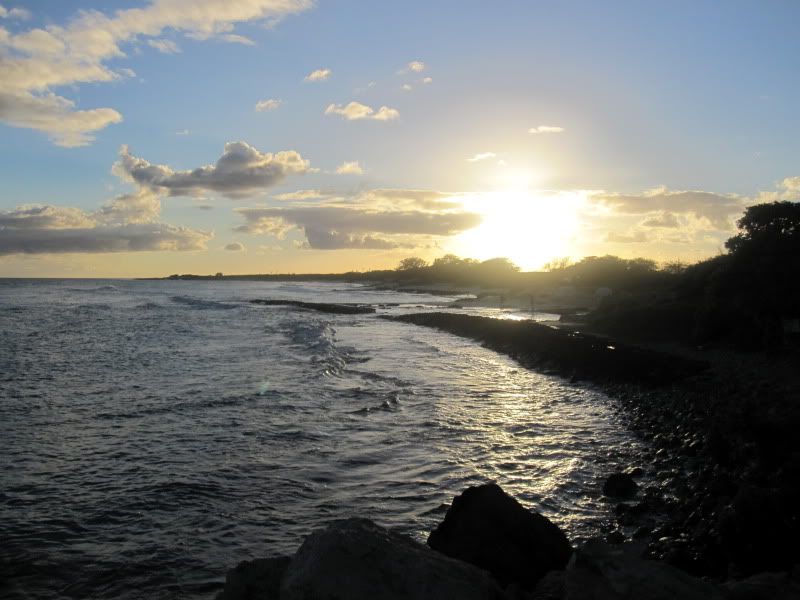 We spent countless nights watching one of the most beautiful sunsets. This was taken on one of my last nights on the island, my aunt made dinner for us and we packed it up and ate on the beach while the sun set.
I believe there are experiences in your life that help define you. This was definitely one of those times for me. I learned so much about myself as a person, grew so much through all my new experiences, and discovered my independence. I was taking the bus every day to work, taking trips to the beach and exploring places by myself, and feeding myself. While my Aunt provided a ton in terms of food and support and guidance I had never been so responsible for myself before, especially when it came to food.
I ate some of the best food in my life in Hawaii. I also discovered a love of smoothies.
I had never been to a Jamba Juice before visiting Hawaii, just like I had never done a lot of things before visiting Hawaii. Living in Central PA makes it hard to get access to cool places like this. I remember the second or third day I was walking to work from the bus stop in Honolulu and realized that practically right across the street from my office was a Jamba Juice. I had heard so many good things about this company over the years, but never got to try one myself! I had time to spare before I had to be at work so I decided to take a slight detour and see what all the hype was about. I walked in and instantly fell in love with the bright interiors and huge selection of smoothies all made with fresh fruit and boosted with nutrients. The staff was so nice and answered all of my questions. I walked out with a Mango-A-Go-Go, and it is to this day my favorite of their smoothie flavors. I loved it so much, I came back the next day, and then the next. Nearly every work day started with a Jamba Juice smoothie, as I sampled all the flavors and fell in love with how good they tasted, how nutritious they were, and how they started my day off right.
I was sad to leave Hawaii at the end of the summer for a number of reasons. I was going to really miss my Aunt, miss the beauty of the land, and miss the access to all the incredible stores and restaurants and foods there that we don't have back home. I haven't had a Jamba Juice smoothie since the middle of August in 2010.
Until today. 😀 About a week ago I was informed of the opportunity to get to sample Jamba Juice's new at-home smoothie mixes carried in the frozen foods section of grocery stores across the country. They offer the same flavors made in stores and the same nutritious content. They are all natural, made of real fruit and non-fat yogurt,  and contain a boost of Vitamin C. All flavors are less than 70 calories per 8-ounce serving, have 0 grams of total fat, 100% of your daily recommended vitamin C, and up to 2 grams of protein! They have no high fructose corn syrup, no artificial flavors, and no artificial preservatives. They found a way to make Jamba smoothies at home, and in doing so gave me the opportunity to get to enjoy something I otherwise don't currently have access to.
Josh and I were so excited to test it out! I love Jamba Juice, so I had high expectations for these smoothies.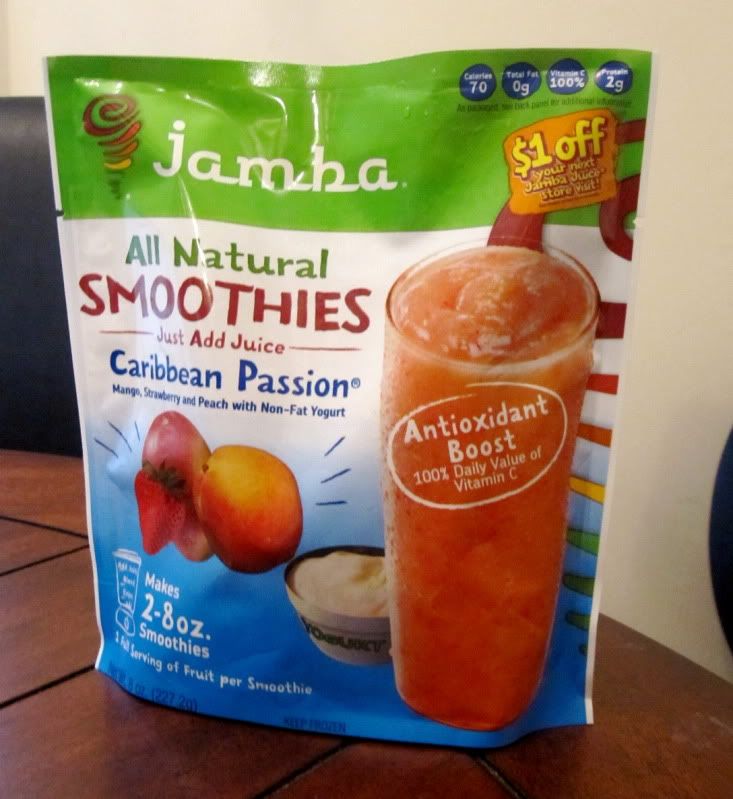 We sampled the Caribbean Passion smoothie made with mango, strawberry, peach and non-fat yogurt. Each package contains enough to make two eight-ounce smoothies.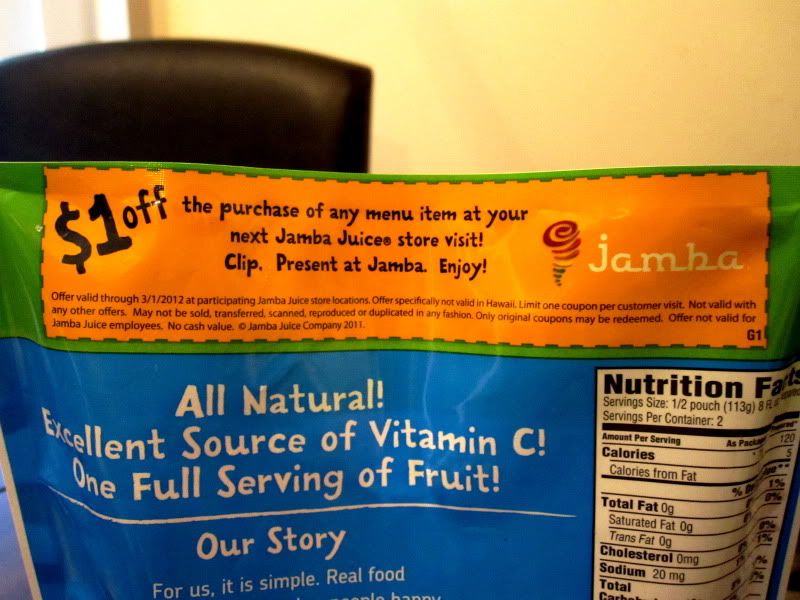 Check out what the smoothies also have. A $1 off coupon for your next in-store visit to Jamba Juice!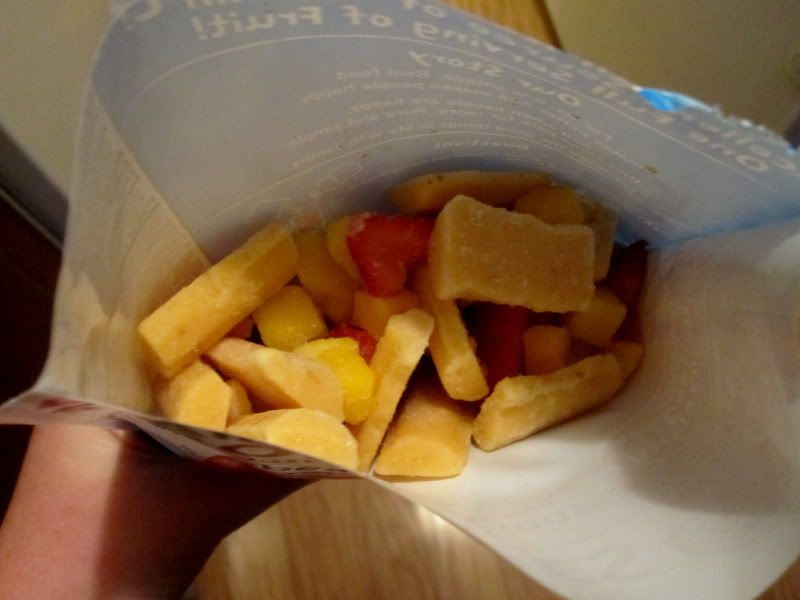 As soon as we opened the bag we were flooded with the smell of fruit. It was so good I was tempted to start popping strawberries and yogurt squares in my mouth.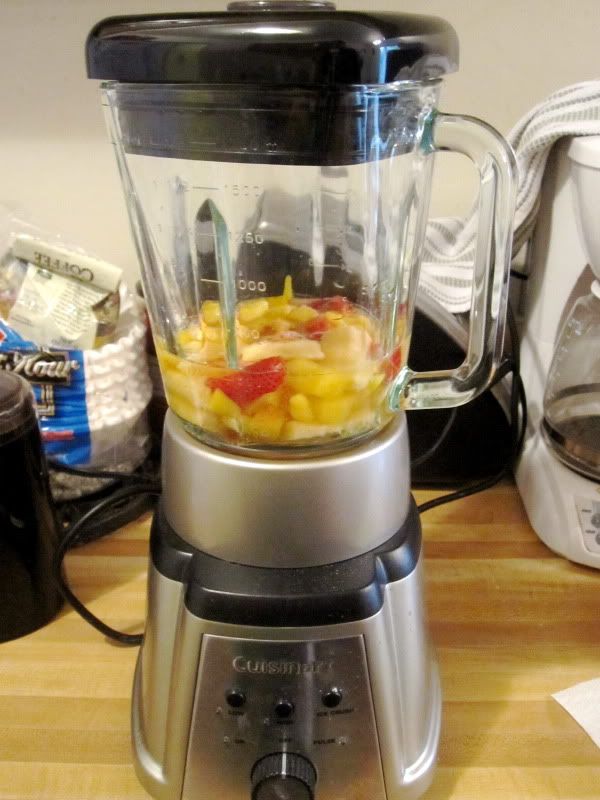 All you do is pour in the smoothie package and then 8 ounces (=1 cup) of apple juice.
Pulse for twenty seconds or mix until smooth. By this point it will not only be smelling amazing but looking great too!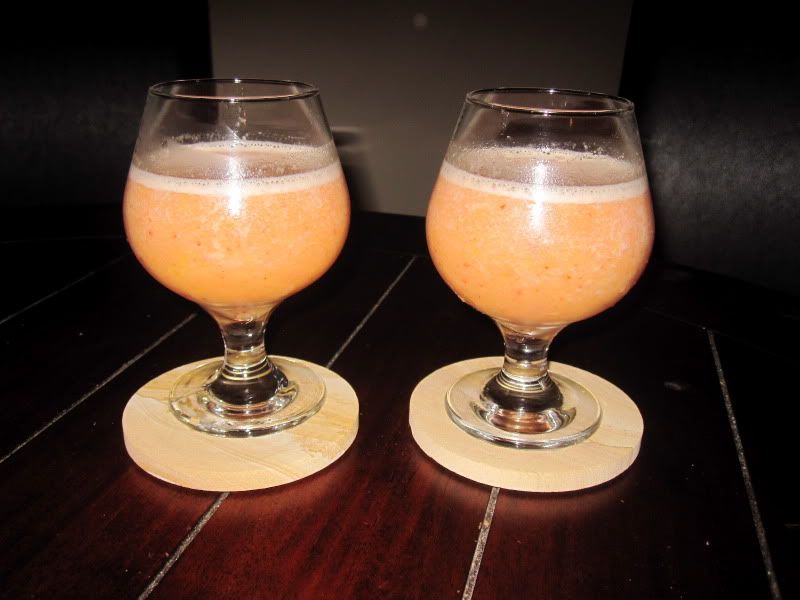 Pour and serve. Its that easy!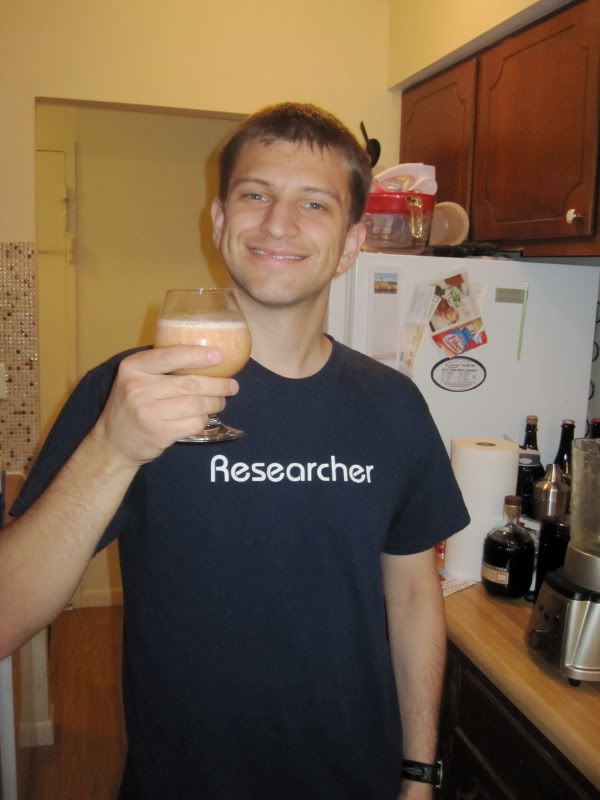 Josh has never had a Jamba Juice smoothie before so I was super excited to get to be there when he tasted his first one! He loved it, he said it was really tasty, super refreshing, and that he loved the blend of fruit flavors.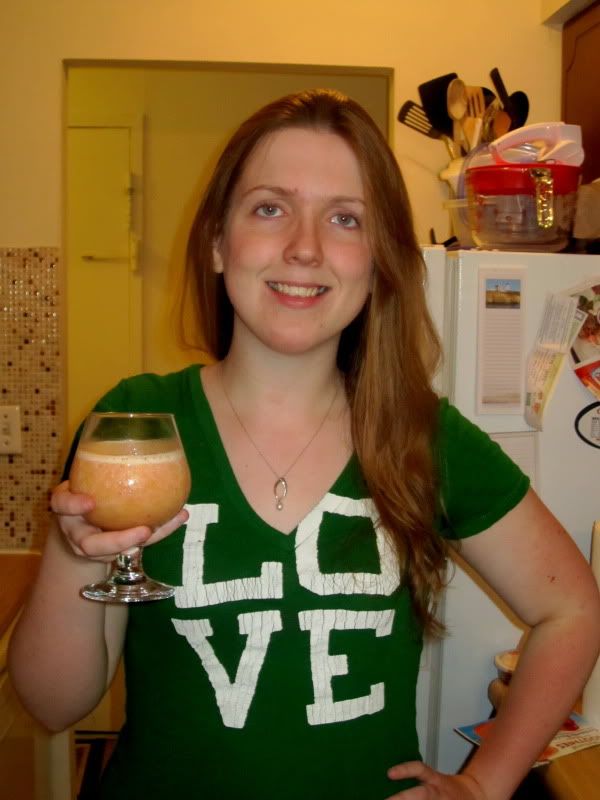 I was so excited to try mine. I thought it was incredible! It tasted so much like the store smoothie it was hard to believe it wasn't. The fruit tasted so fresh and it was sweet without being overly so. It is everything I look for in a smoothie.
The smoothies were so good our glasses were empty before we knew it. Josh was wishing a Jamba fairy could come refill his glass with more Carribean Passion. Luckily for us, they carry these in Wegmans!

While we are all out of smoothies, you don't have to be! Jamba Juice was so kind to send me five coupons for a free Jamba Juice at-home smoothie mix. The list of what grocery stores carry Jamba Smoothie kits can be found here. (Its carried almost everywhere!)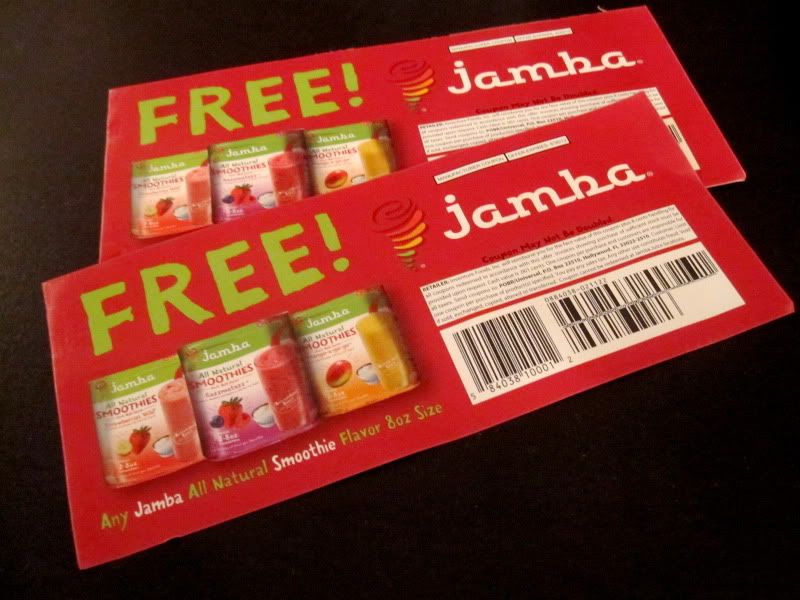 All you have to do to enter is the following:

1. Comment on this entry and tell me either something you love about this blog or something that you think I can do better. I am a new blogger and looking to make my little space on the internet a happy place where people enjoy spending time. I am open to all comments and criticism. 😀
2. For an optional second entry you can follow me on Twitter! Just leave another comment letting me know you're now following me on Twitter.
You can enter until 11:59 pm EST Sunday. I will pick the five winners randomly on Monday and will announce them in Monday's blog post, so make sure to check back to see if you won! I'll be asking for the winners to email me their addresses. Monday's blog post will also have a recap of Josh and I's weekend. We're leaving for Stroudsburg tomorrow to visit some of my family and see some of my best friends! I am so excited! 😀
I would also like to send a big thank you to Jamba Juice for giving me this opportunity! They make products I really love and am passionate about and I am so excited to get to share those products with all of you! I hope you all have a great weekend!