Hey all! I hope you all had a wonderful Easter with family and friends! This has been such a fun weekend with some special guests for Josh and I. His parents came down from Connecticut for the weekend and my parents came from Williamsport to meet each other and have lunch Saturday in State College. The parents meeting the parents! 😀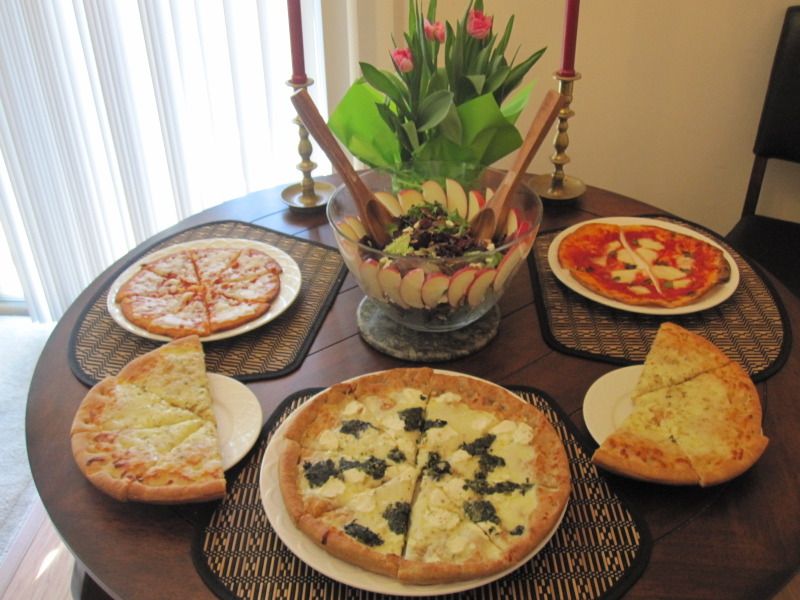 Josh and I picked up some pizzas from Wegmans that were absolutely delicious and made a huge salad for everyone.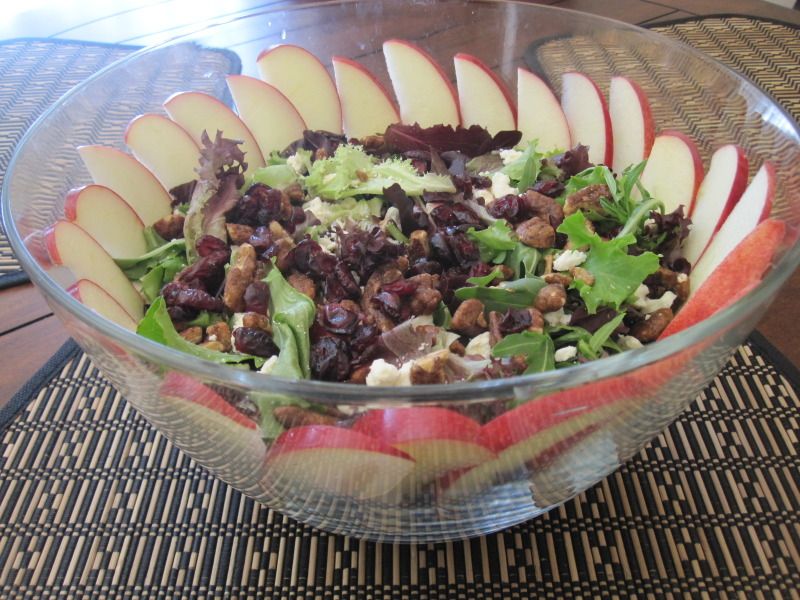 Mixed greens, apple slices, candied walnuts, cranberries, crumbled feta, and raspberry vinaigrette is my all-time favorite salad combo.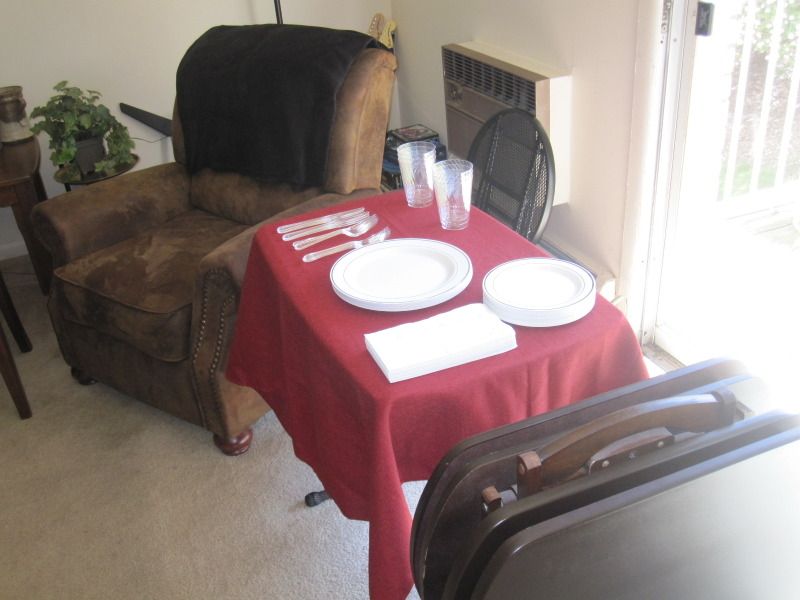 We decided to serve it buffet style and put the plates and cups out in the living room. It was the perfect sunny day for the occasion!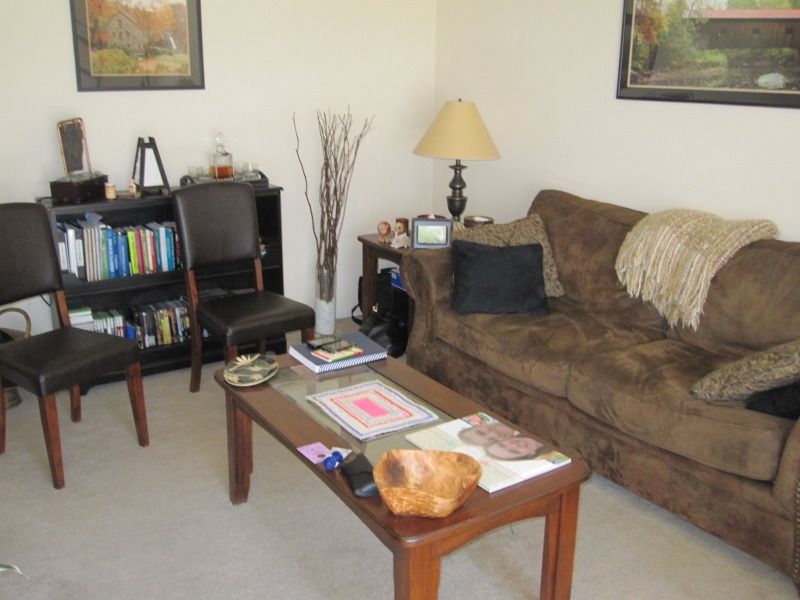 We added chairs to the living room for extra space and all hung out and talked for a few hours. I was so excited they were getting to meet each other and so happy they all had such a fun time and got along great. The pizza was a hit and we also served a berry crumble with vanilla ice cream that was from Wegmans as well. It was delicious! Even though I knew everyone would really like each other I was still nervous because I've never done something like that before. I was so happy it went so smoothly and that they all want to get together again sometime soon! Josh and I are so lucky to have such great relationships with our parents and its so exciting to see them start to form relationships with each other!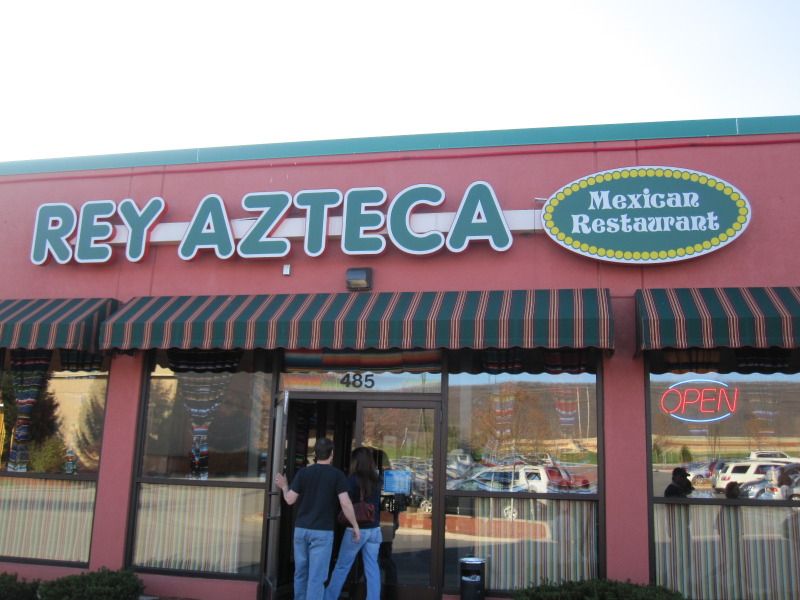 After my parents left Josh's parents and I spent the rest of the weekend hanging out, shopping and eating. We had so much fun! For dinner we went to Rey Azteca, my favorite local Mexican place.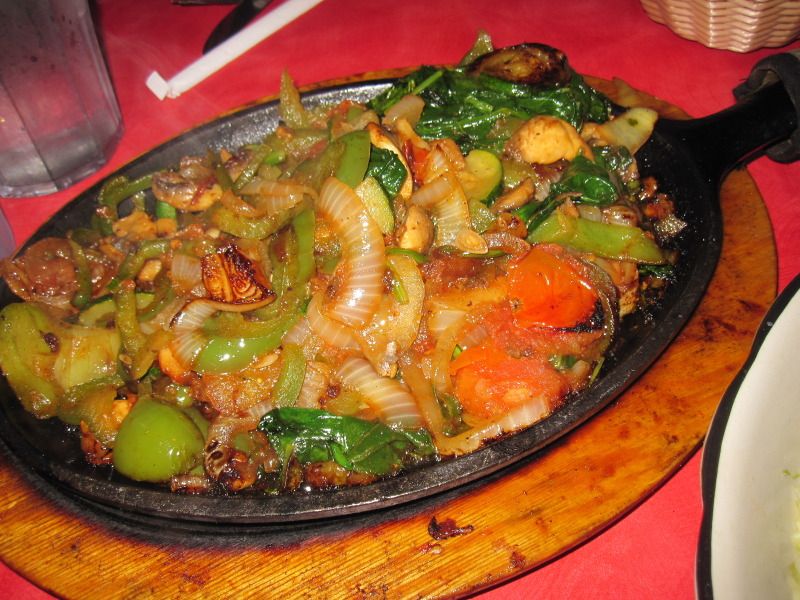 I got the veggie fajitas that I mixed up all together on a plate sans fajitas. The restaurant was super busy and while I loved the food I bit into something on my plate that tasted odd and realized it was chicken. I just spit it out and continued eating without any problems but I know there are people that that would seriously be a problem for.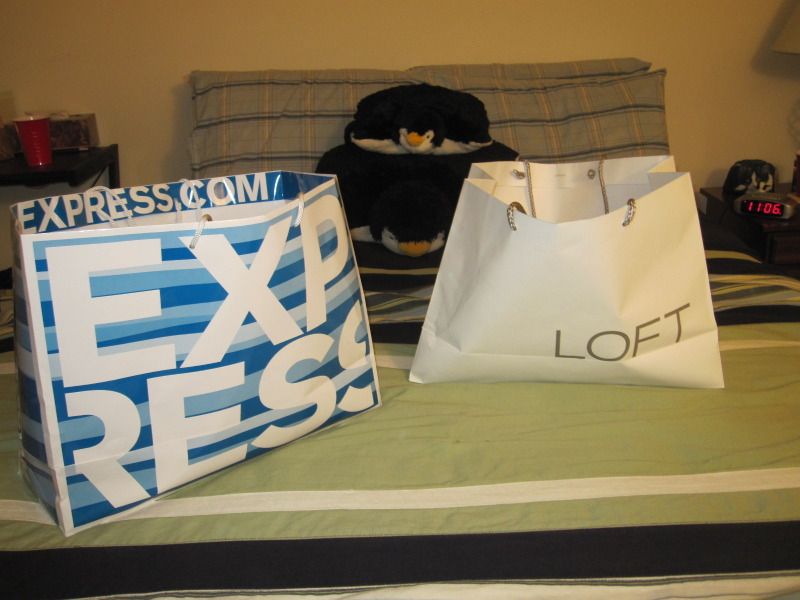 Debbie loves to shop just as much as I do so we spent some time looking for professional clothing for me since I graduate this December! It was so incredibly sweet of her and so much fun!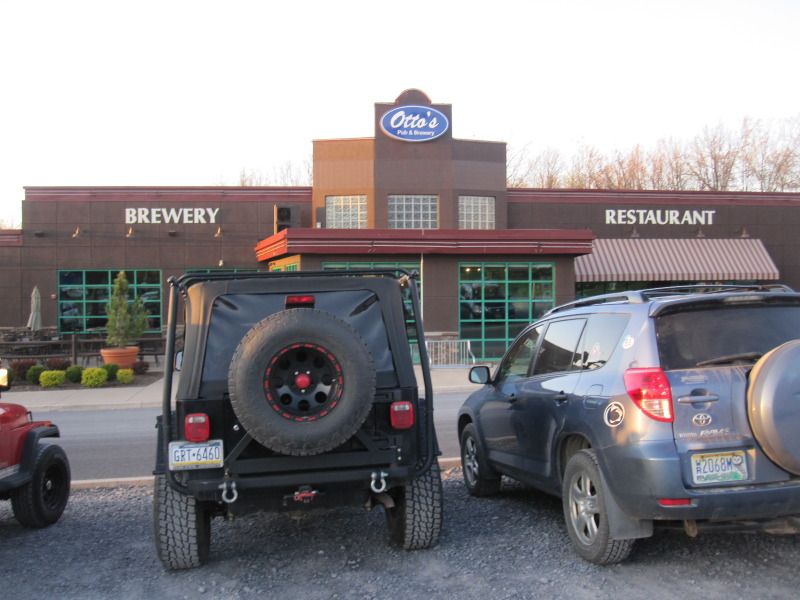 For dinner the next night we went to Ottos. I feel like Josh and I have eaten our way around State College pretty thoroughly but this is one of the few places I still hadn't been to! I was really excited!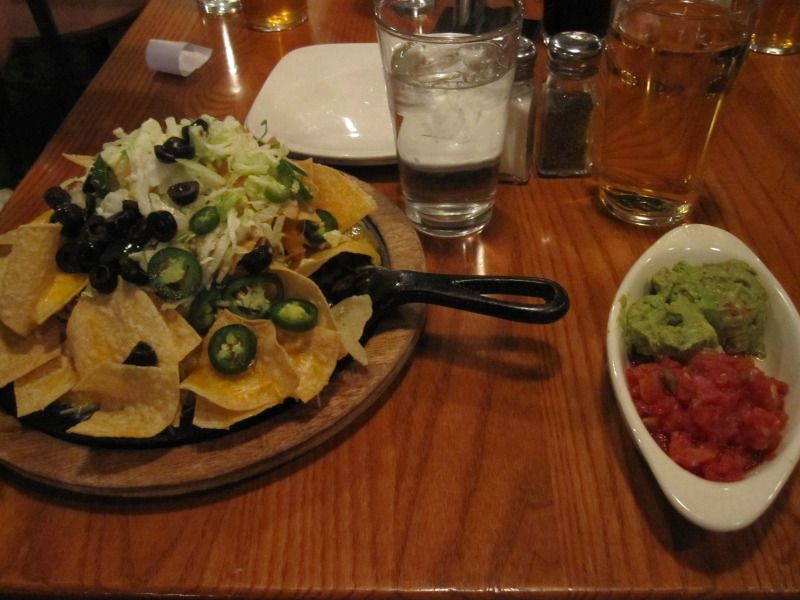 To start we shared a huge plate of nachos. They were really good!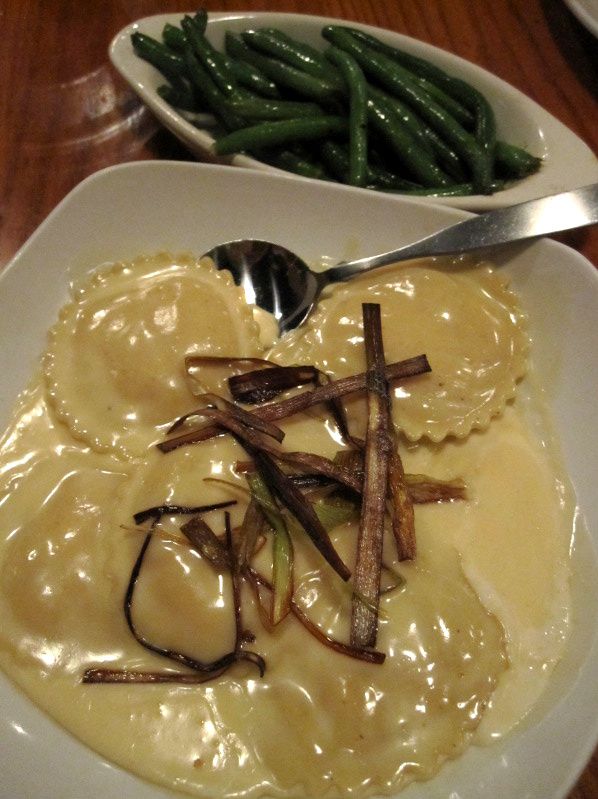 For my main course I ordered squash raviolis in a cream sauce with green beans. It was all so good I finished everything in this picture! Ottos was amazing and a place I definitely plan on visiting again!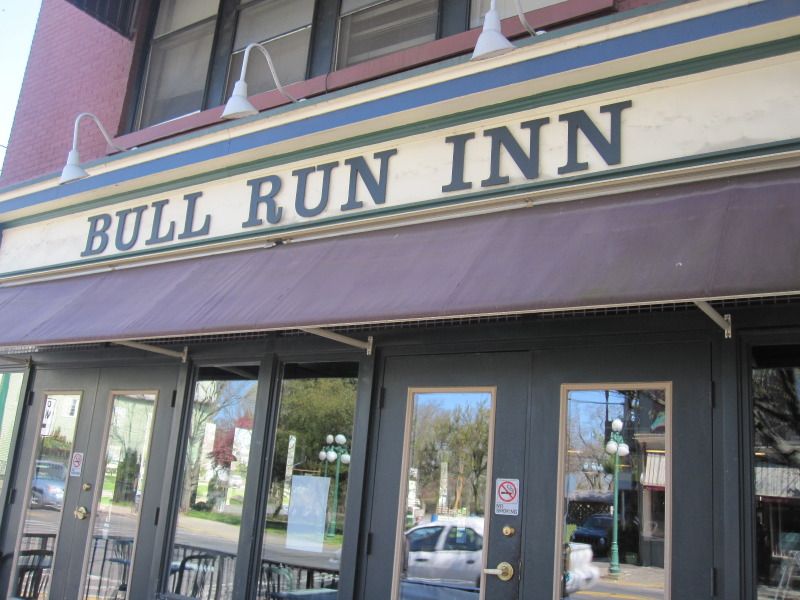 We spent Easter Sunday in Lewisburg walking around the downtown and enjoying the beautiful weather. For lunch I recommended we eat at Bull Run Inn. I spent my freshman year at Bucknell University and frequented here a lot whenever I started to get tired of the dining hall.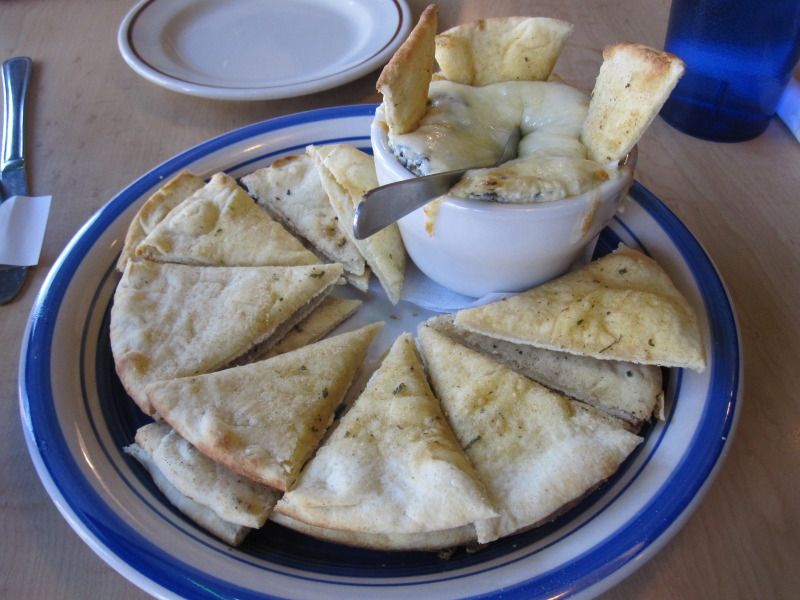 Their bull dip (aka spinach and artichoke veggie dip) is amazing. I tend to skip sour cream but this was one of those times it was totally worth it. It tastes so good on the pita bread.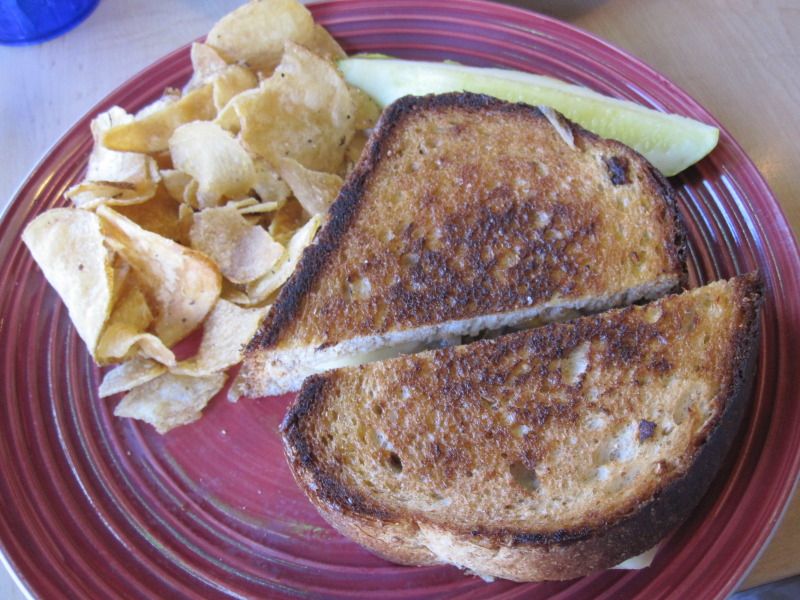 For my main meal I got grilled cheese and onions on wheat bread.
I dunked the sandwich in a cup of tomato rice soup. I love the combination.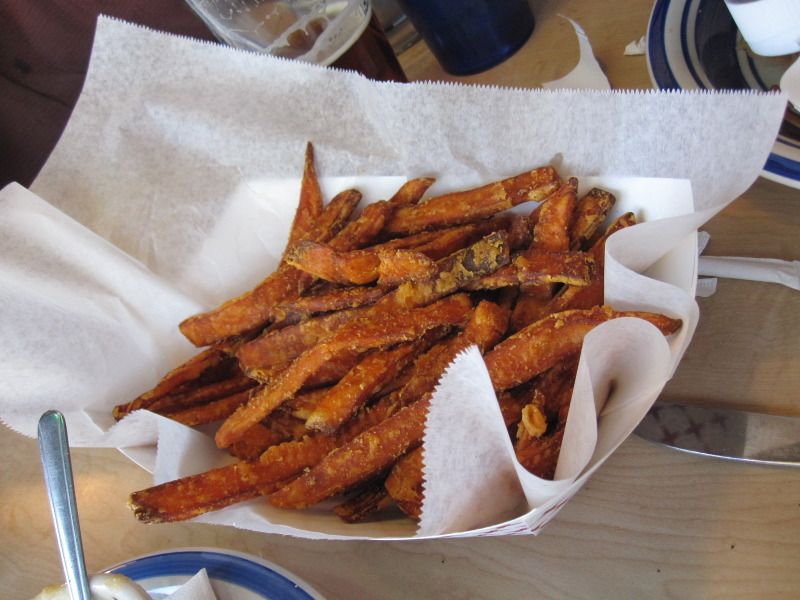 The table split a basket of sweet potato fries and they were so good. I don't know what it is about sweet potatoes but they taste so much better in fry form than regular potatoes to me!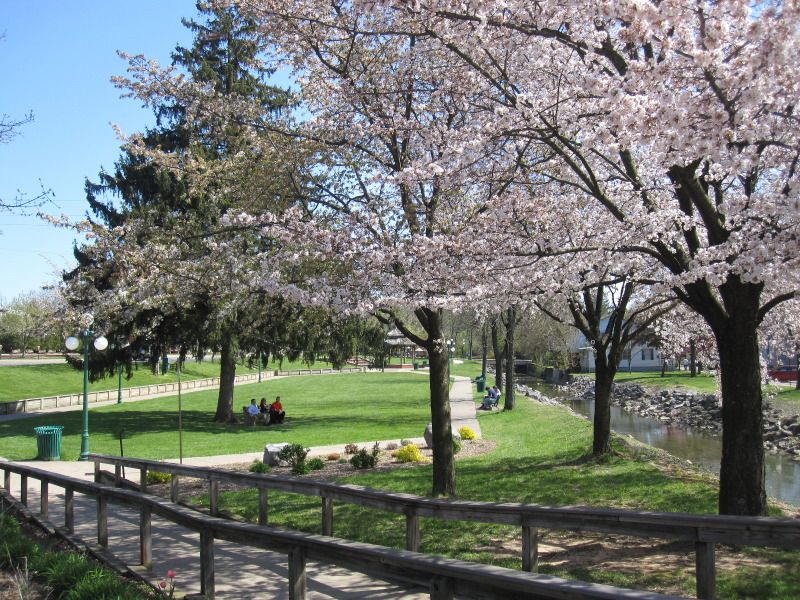 Walking around downtown brought back so many freshman year memories. My dad married my stepmom while I was a freshman and since my stepmom is an administrator at Penn College it became free for me to go there, instead of having to pay $55,000 a year to stay at Bucknell. I absolutely loved Bucknell, and was devastated to leave. Looking back now though, it was the best thing to ever happen to me and I am so glad life worked out the way it did. <3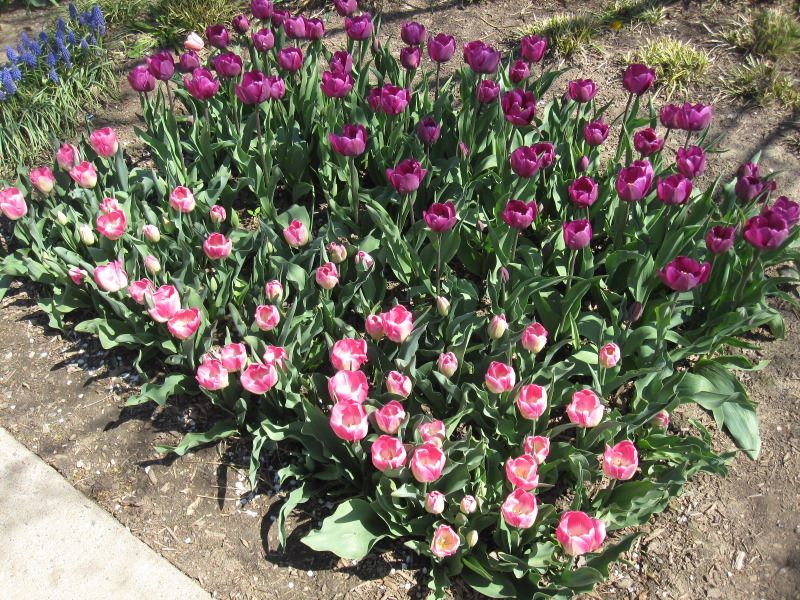 All the flowers were in bloom for Easter!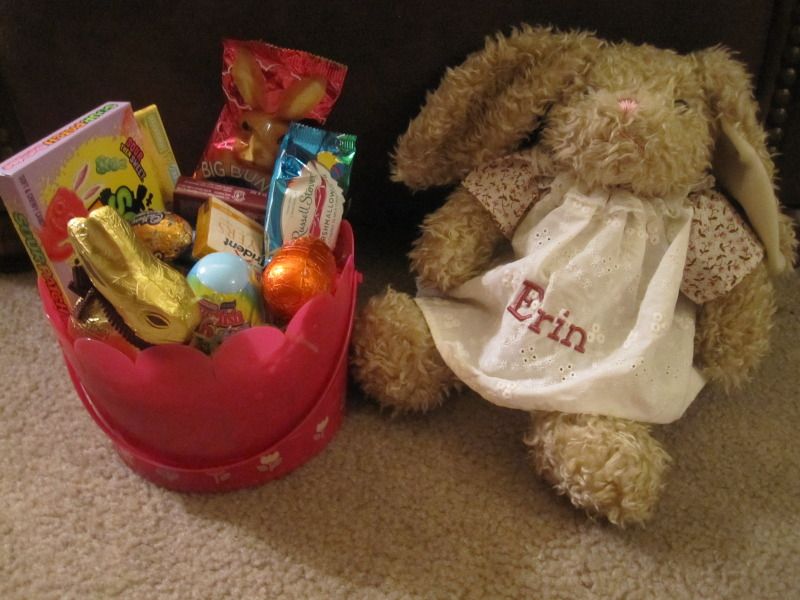 When we got home we all exchanged Easter parents. Josh's parents were so sweet and surprised me with the most adorable bunny ever and an Easter basket filled with all of my favorite treats!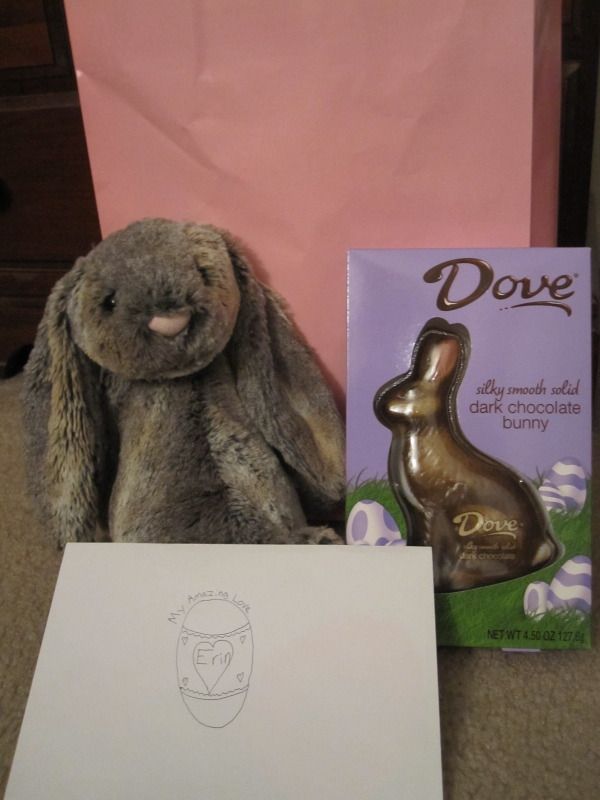 And Josh was so wonderful to surprise me with my favorite dark chocolate and the softest bunny I've ever felt. When we were walking through Anthropologie a few weeks ago we stumbled upon it and couldn't get over how cute it was and how soft it was. I was so surprised and happy to find he had gotten one for me!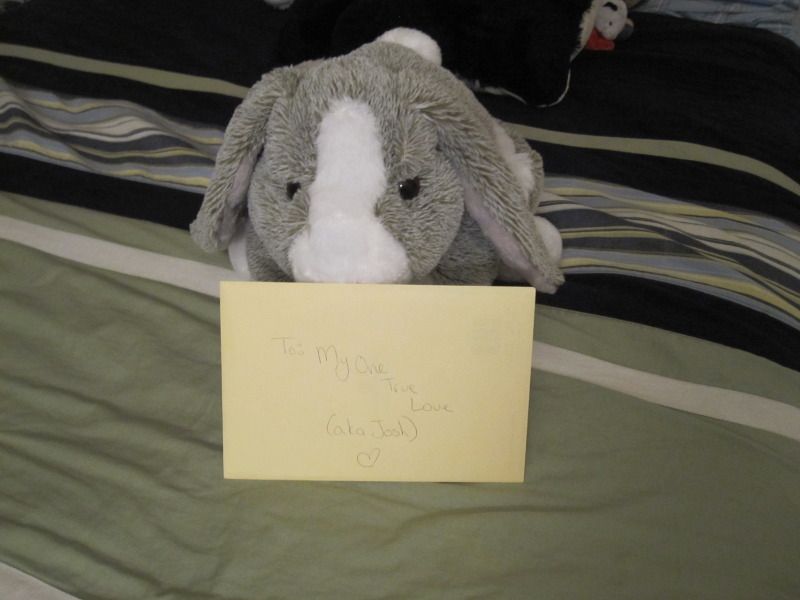 I got Josh his own mega sized bunny and some peanut butter M&M's hiding behind the card. I was so happy he liked them! I didn't get a picture of it but for his parents I got a peanut butter chocolate meltaway egg from Gardners. They're a really good local chocolate company that always makes some of the best Easter stuff.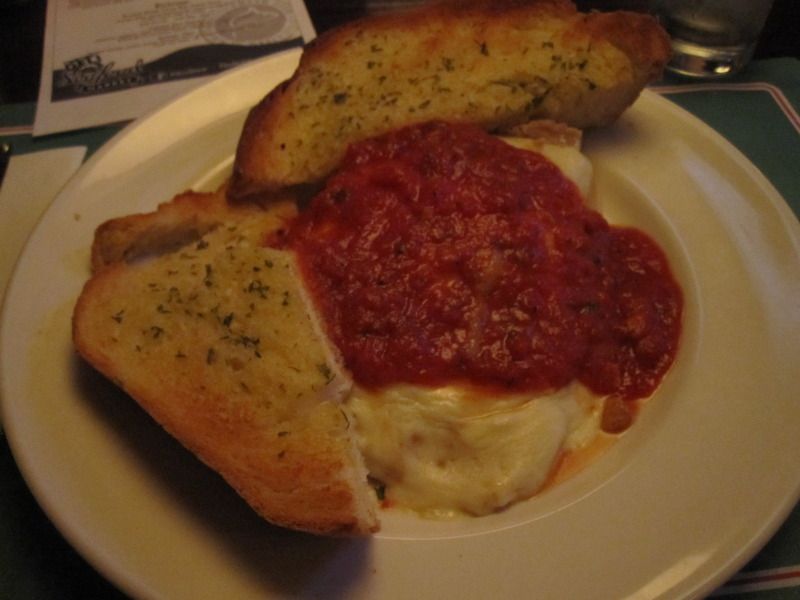 After exchanging gifts we went to The Deli for Easter dinner. I always get the veggie burger from The Deli because it is my all time favorite but since I was just there last weekend I decided to get the veggie lasagna. It was chock full of veggies and smothered in cheese. It was so delicious that I will definitely be ordering it again!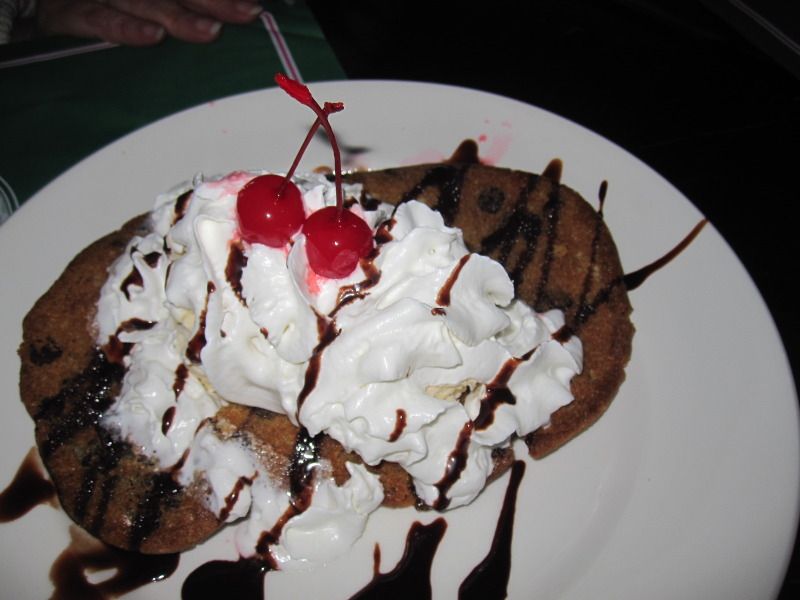 For dessert we split another killer cookie. This one didn't have the bananas and nuts like last week but it was still incredible with a fresh baked, warm, ooey gooey cookie.
Sadly after that it was time to say goodbye to Josh's parents as they needed to head back to the hotel to get a good night sleep before heading back to Connecticut the next day. It was such a fun weekend and I loved getting to spend more time with them!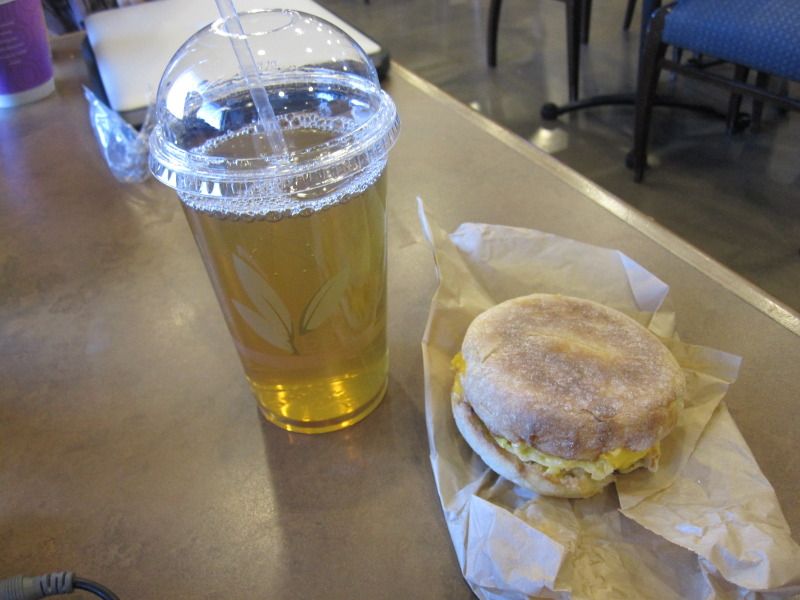 The next day Josh and I woke up early to meet Lily at Wegmans for a morning writing session. I had work to get done but unfortunately left all the folders I needed to use to get work done at home so I spent the morning reading blogs and shopping for my Foodie Pen Pal. I can't wait to see what she thinks! 😀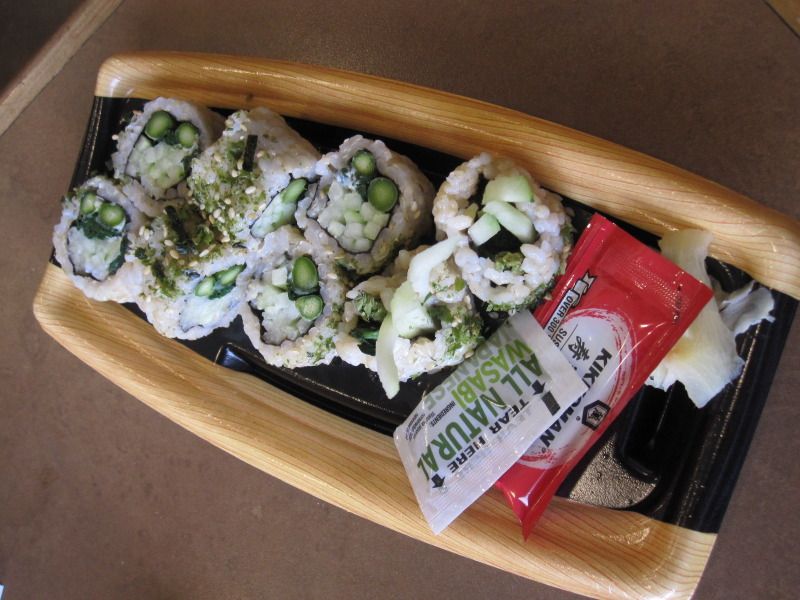 For lunch I got the veggie green sushi from Wegmans. It was good but not as good as their tofu and mango rolls.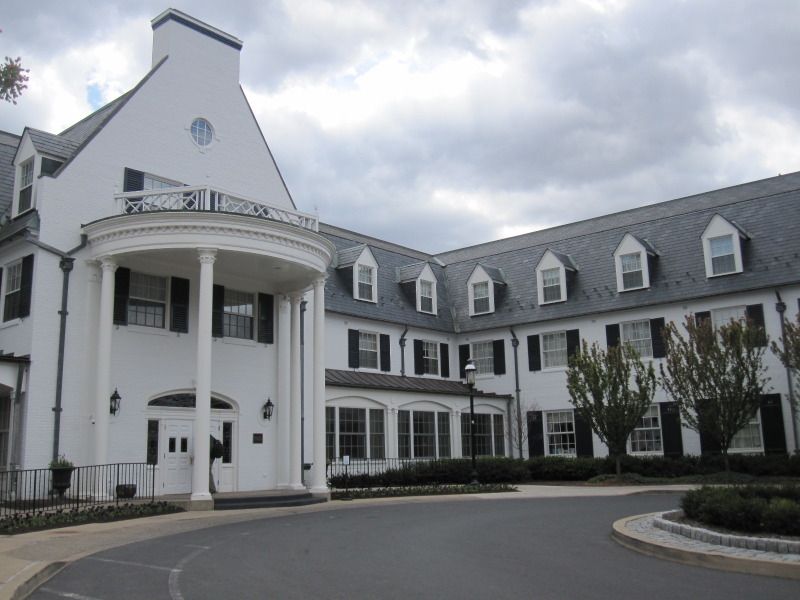 After lunch we headed over to the Nittany Hotel to see a psychology poster competition. Josh and Lily are advisers to an undergrad who was presenting all of her research and findings that day. She did awesome and won first place! I was proud of her and so proud of Josh and Lily for being such great mentors.
After the competition we decided to check my air pressure at Sheetz. Suffice it to say do not trust automatic air pumps. They said all my tires were at 25 psi instead of my recommended 32 psi. We filled them up but then thought that seemed strange so we took my car over to Firestone. They were so great to check for free and told me the air pump had filled my tires to over 50 psi. I was super freaked out with how dangerous that could have been. I drive long distances a lot and do not want to think about what a blowout on the highway would be like. Thankfully Firestone lowered the pressure and everything is fine but I wanted to pass on a word of warning to you guys.
After getting my car all straightened out Josh and I came home and relaxed and watched Father of the Bride together. Its one of my all time favorite movies and I was so excited for him to see it. I was so happy he liked it!
And that's been my weekend! I hope you all are having a great start to your week!
Question of the Day: How did you celebrate Easter? Did the Easter bunny bring you anything special?
* The winner of the OXO giveaway is Caitlin. Congrats Caitlin! Please email me at eringoneveggie @ gmail dot com to claim your prize! I know you are going to love the salad spinner!