Hey everyone! I hope your week is off to a great start and that you had a great weekend! This weekend was such a fun one for me! Josh and I went on our first vacation together, to a bed and breakfast in Reedsville, PA. Josh's parents were so sweet and surprised the two of us with a night in the country to celebrate Josh getting his Masters this past summer. It was such a thoughtful gift, and one we were so excited for!
While our night at the B&B was Saturday, I left for Josh's on Friday. All my bags were packed and ready.
We left for Reedsville early Saturday morning. The night before we spent some time researching the best restaurants to go to on our trip. Finding restaurants with vegetarian options proved to be a little tricky as we were really out in the country.  Sifting through wing restaurants and hot dog stands took a while but in the midst of it were some real gems. The first one was the one we went to for breakfast before checking in to the Bed and Breakfast.

Sticky Bun Cafe is a local favorite, which we could vouch for as the place was packed while we ate. They are famous for their sticky buns and comfort food, so we brought our appetites.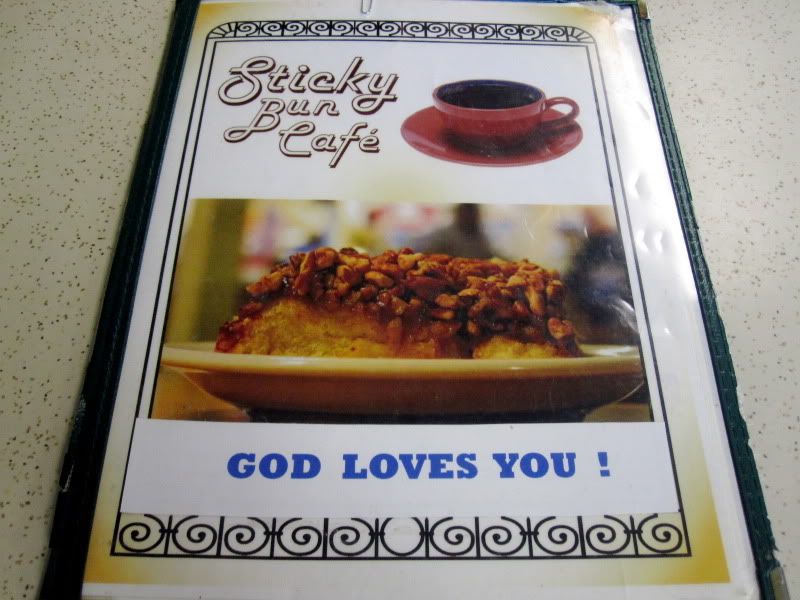 Their menu made me smile. Who doesn't want to be told they're loved at 10am?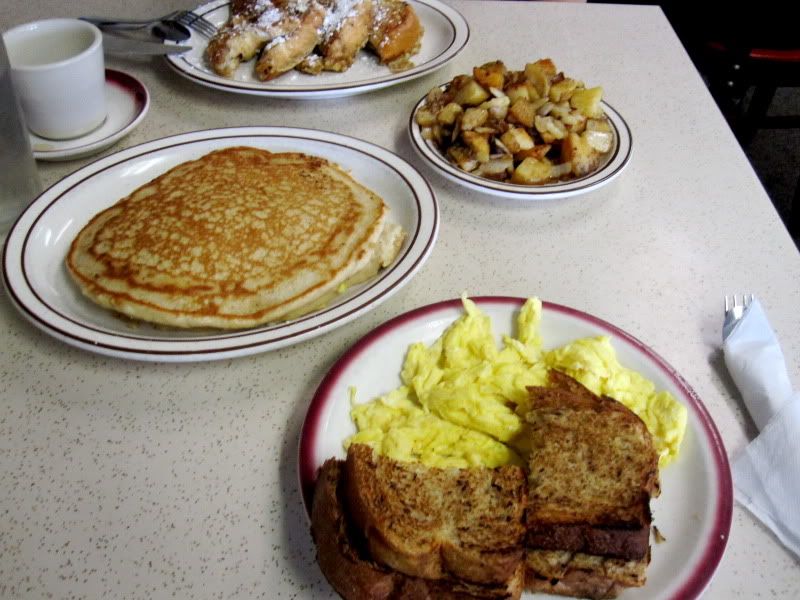 For breakfast I ordered two scrambled eggs and a pancake. Josh ordered two pieces of french toast and a side of homefries. The french toast and homefries and pancake were all good, but the toast that came with my eggs (it was homemade bread) and homefries were phenomenal.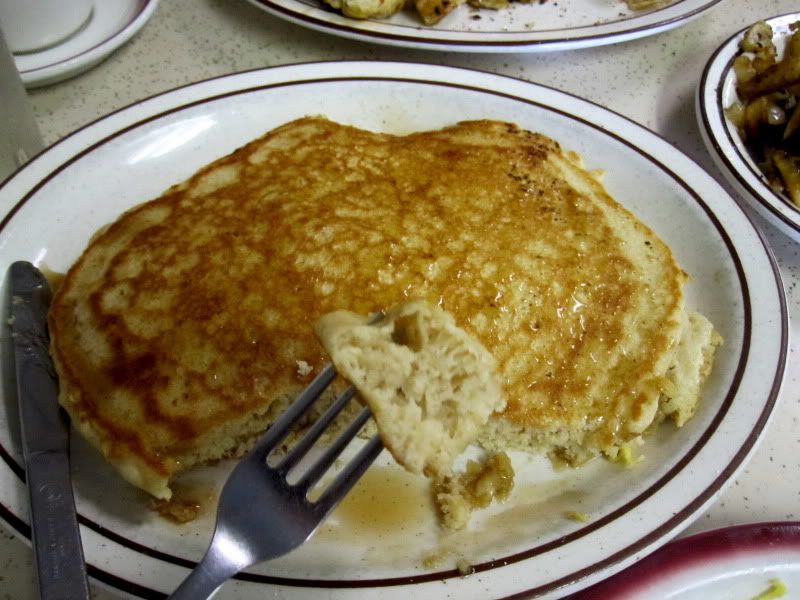 Check out how huge this pancake was! I have never seen a pancake this thick in my life. After this picture I was done with the pancake. It was okay, but too filling, and I really wanted to save room for this: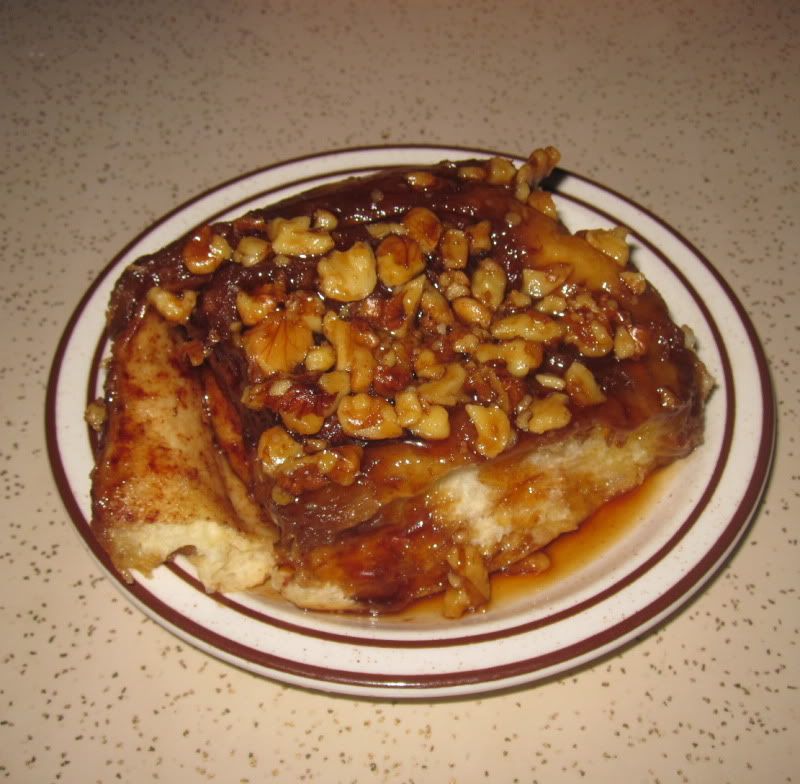 Their famous nut sticky buns! We devoured this plate and had it clean within minutes. The sticky bun was so soft and warm and gooey. And cheap! Our bill for everything was $11– you can't beat it!
We had some time before check in so we decided to drive around a bit and explore the local scenery and stores. There are tons of antique shops in the area and we were really excited as we both love antique shopping.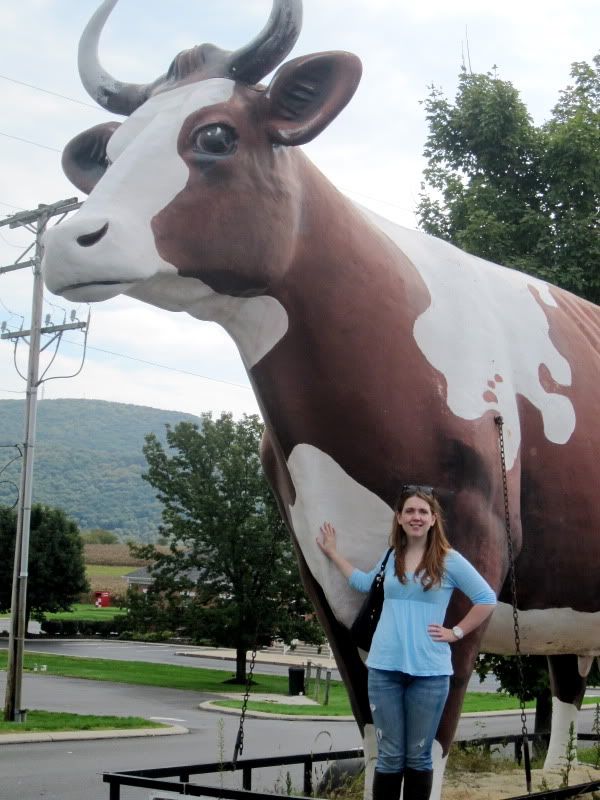 Outside of Dairyland antiques, where they have a giant cow in their parking lot. I had to get a picture.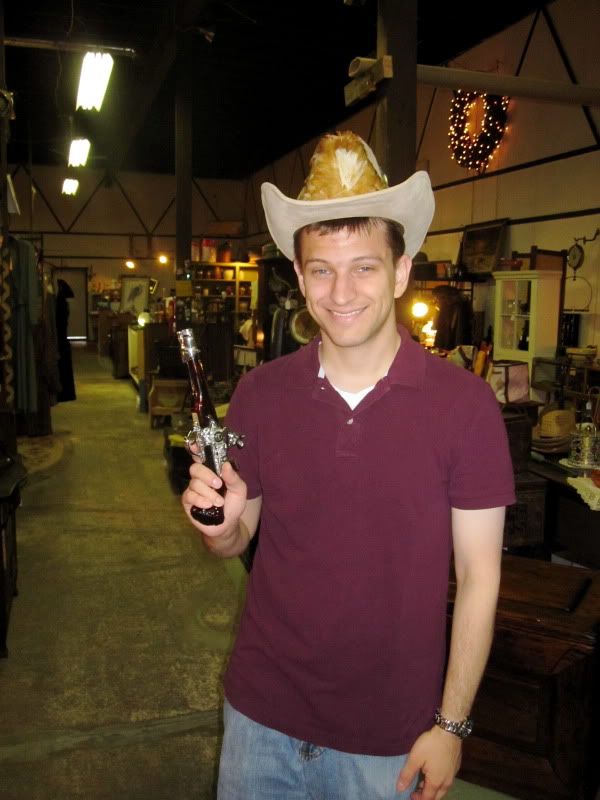 Josh having fun in a shop with some cowboy merchandise. I love how you never know what you'll find in an antique shop. Its always entertaining. 😀
After a few hours of antique shopping it was time to check into our bed and breakfast! We had seen pictures online and in brochures and knew it was beautiful but we were still absolutely blown away seeing how beautiful it was in person!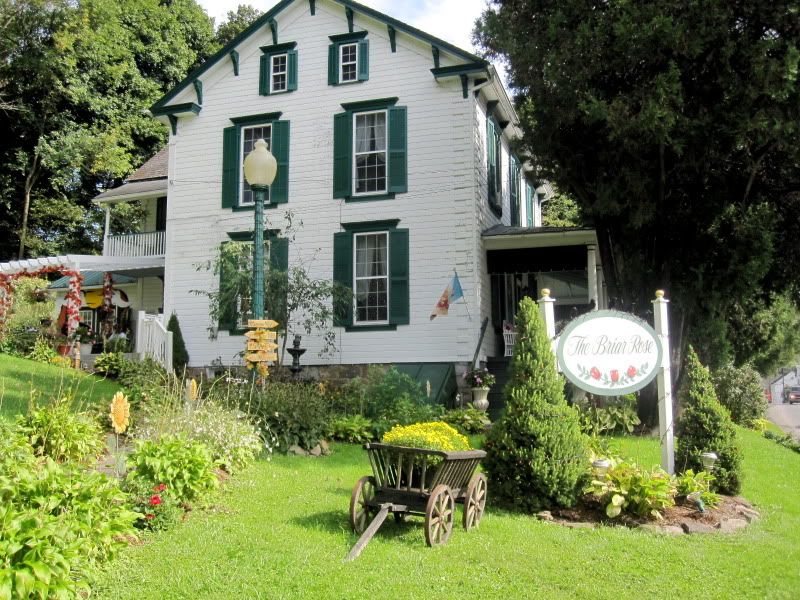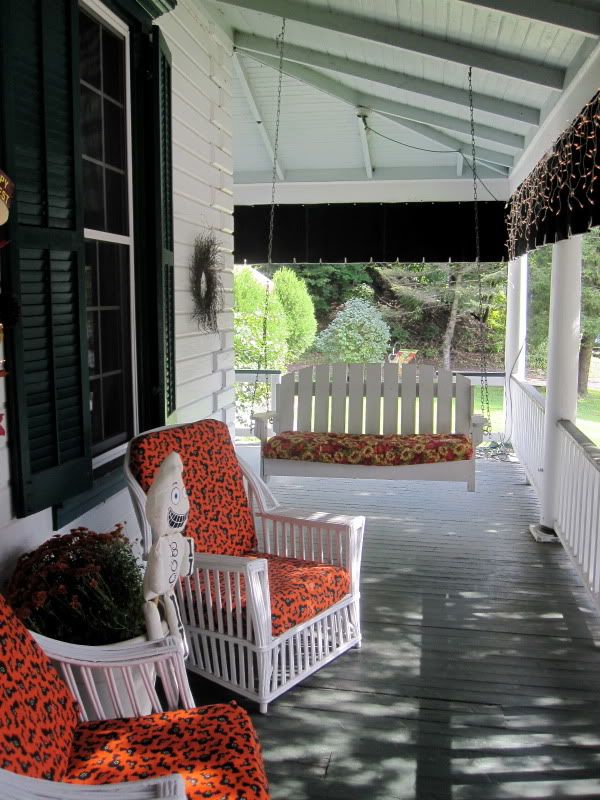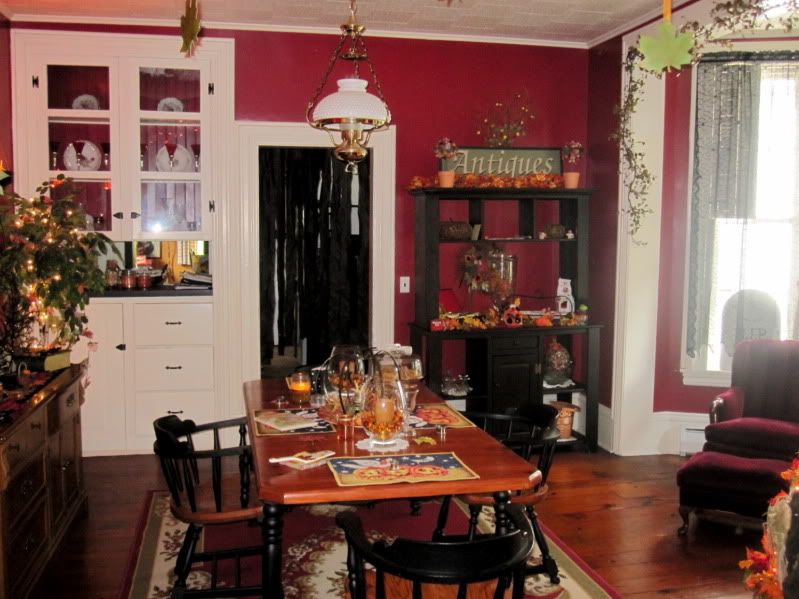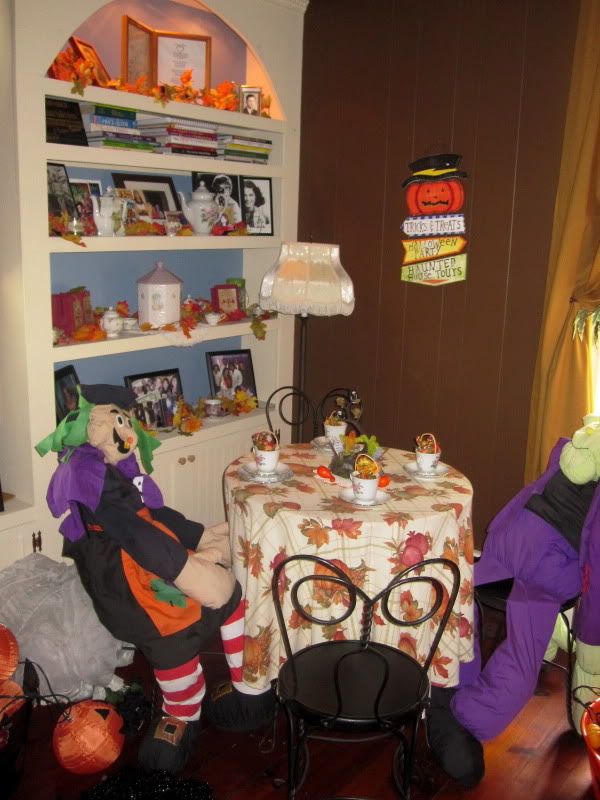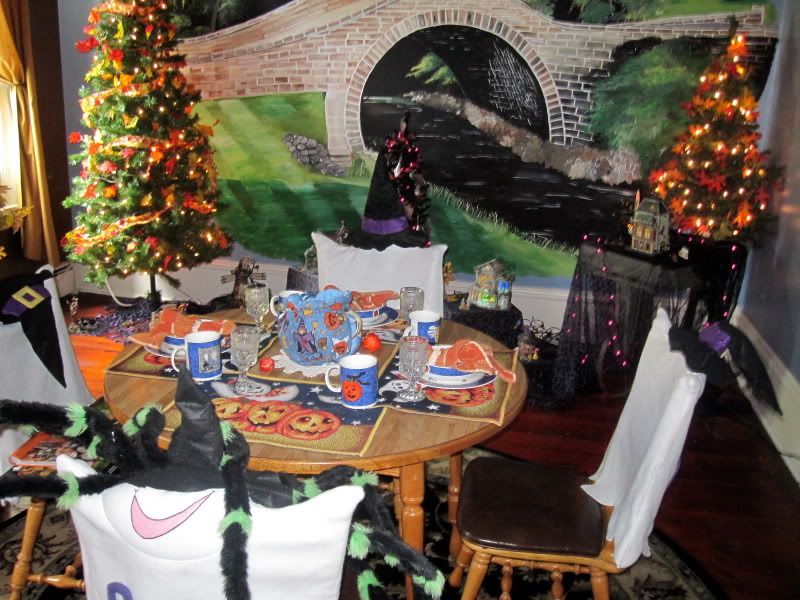 The house was decorated for Halloween and looked so beautiful. Josh and I were blown away by the level of detail and thought and care put into everything. Every room felt so comfortable and homey. We knew we were in for a wonderful weekend!
The decorations and beauty extended all the way upstairs. We were staying in the Gazebo room, complete with an indoor jacuzzi and private balcony. It was gorgeous.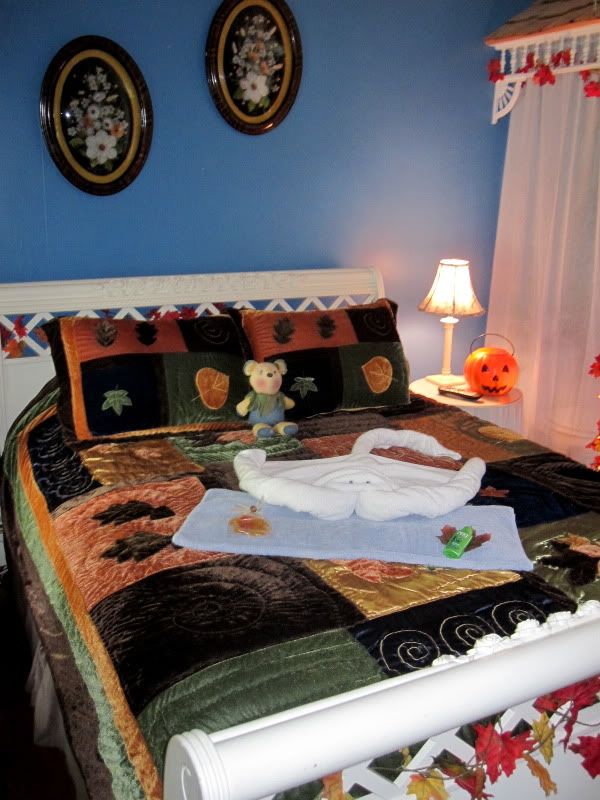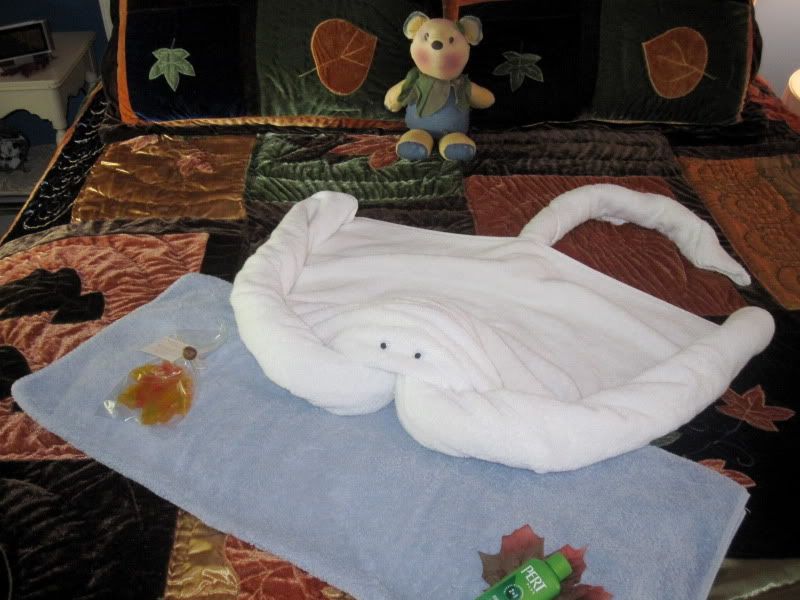 Our towels were rolled into animal shapes and we were given a stuffed animal and handmade soap to keep! The sweet little touches were so special.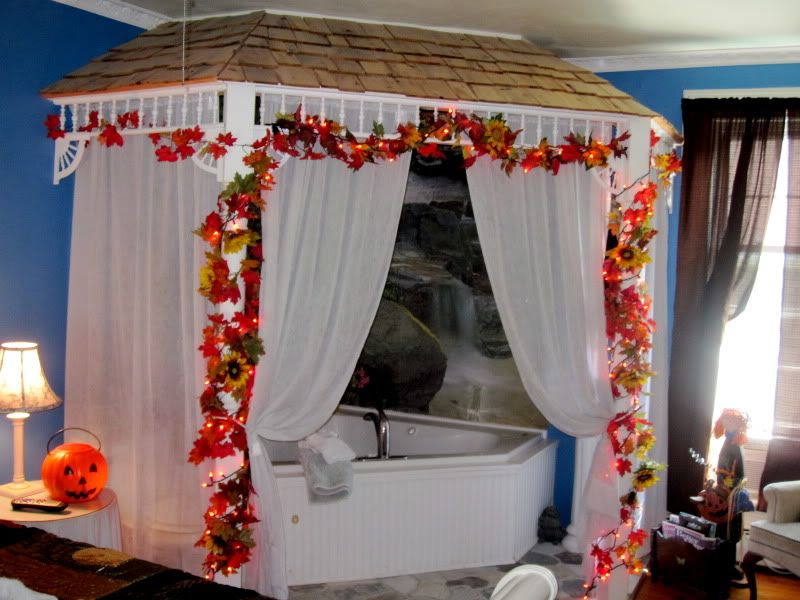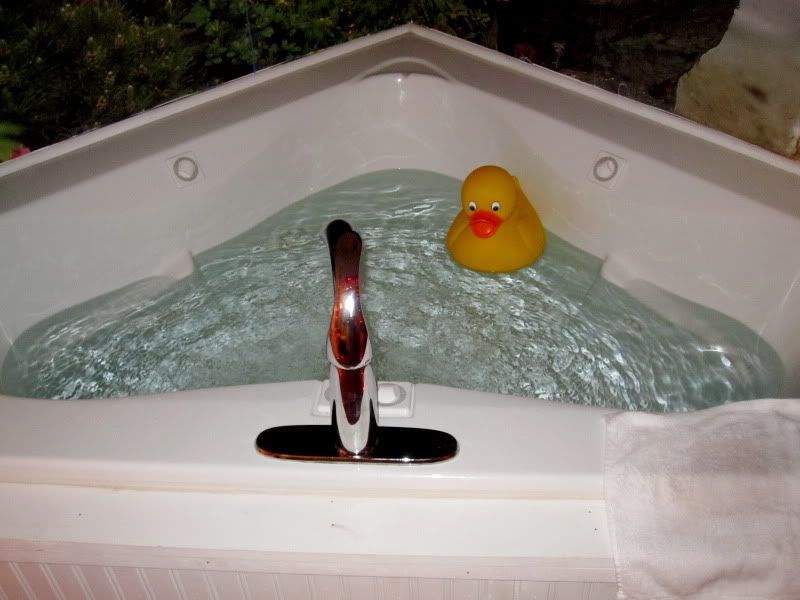 Our jacuzzi had a huge duckie in it! It was so cute! 😀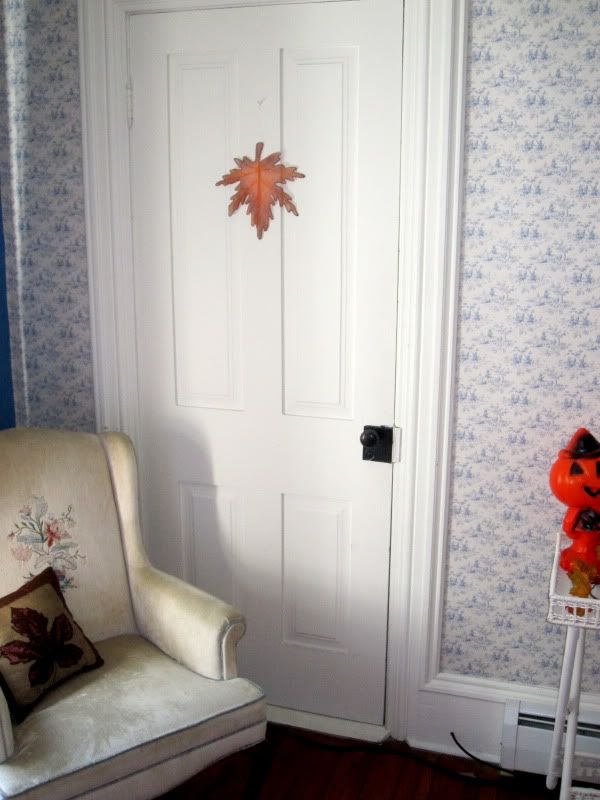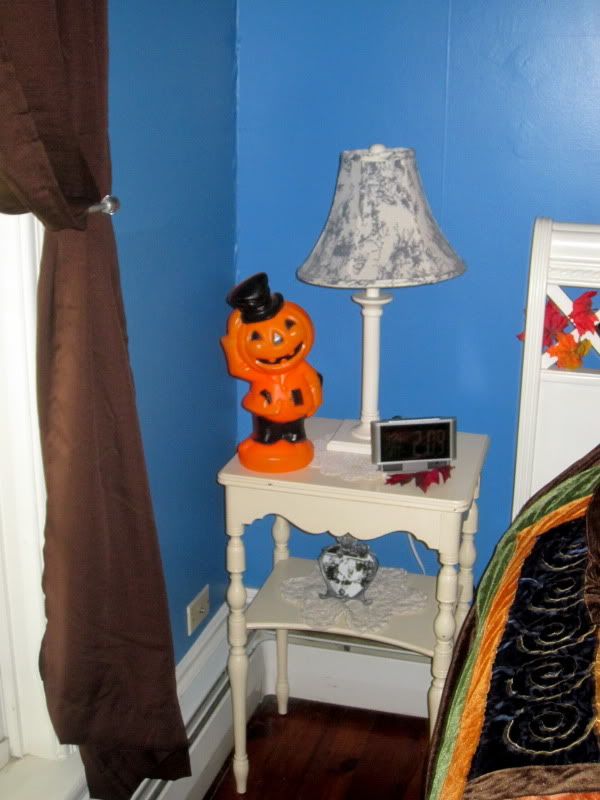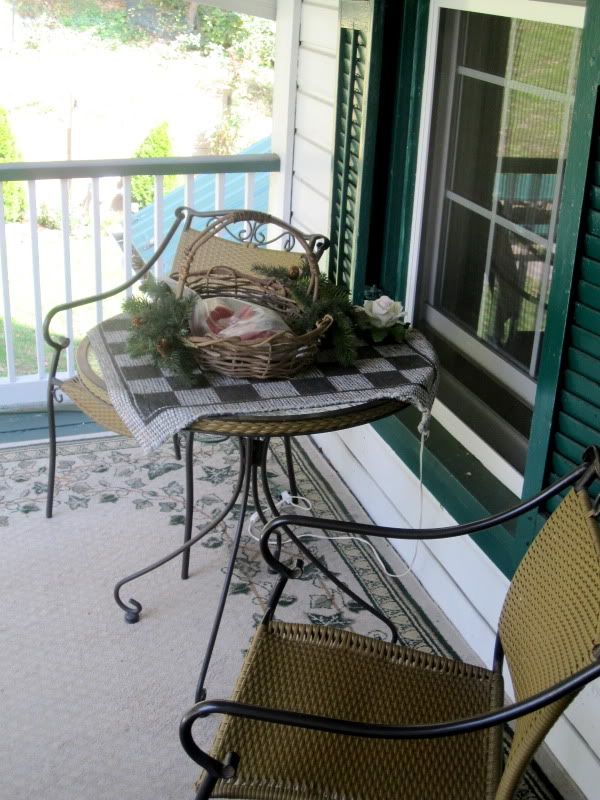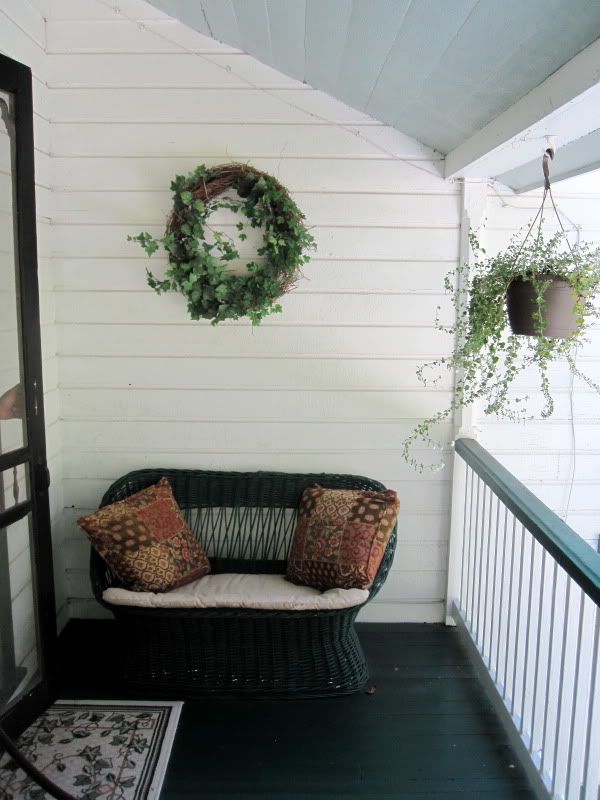 It was all so beautifully decorated. I didn't want to leave the room!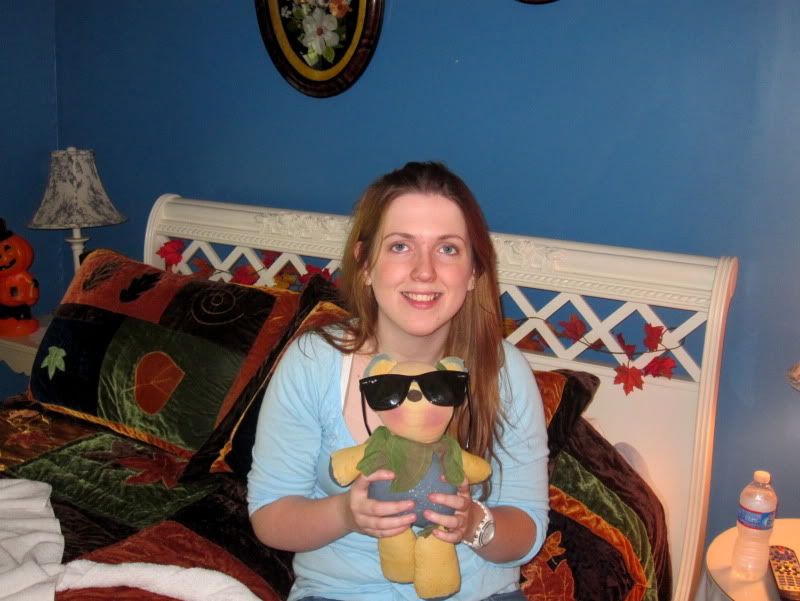 Me playing with our new bear. Her name is Bella Bee.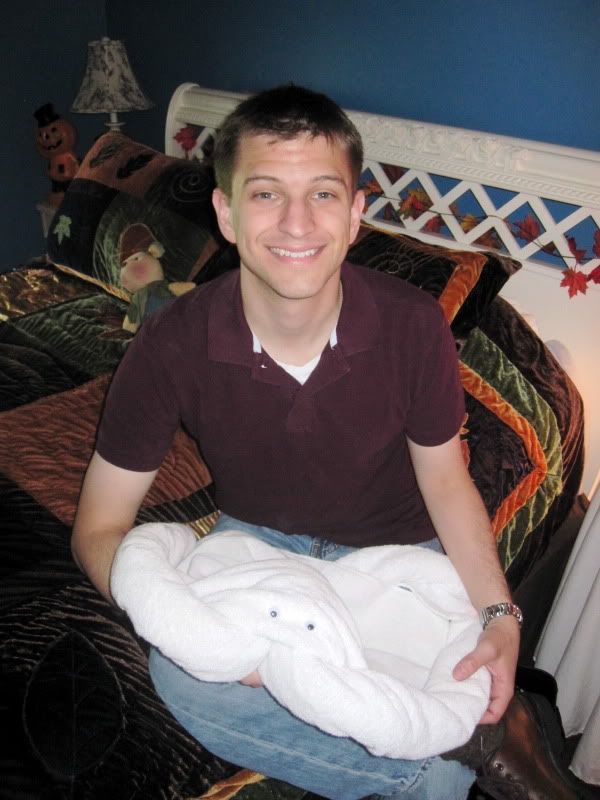 Josh hanging out with the stingray.
We had a bathroom in our room but there was also one down the hall if we wanted to shower. It was also decorated for fall.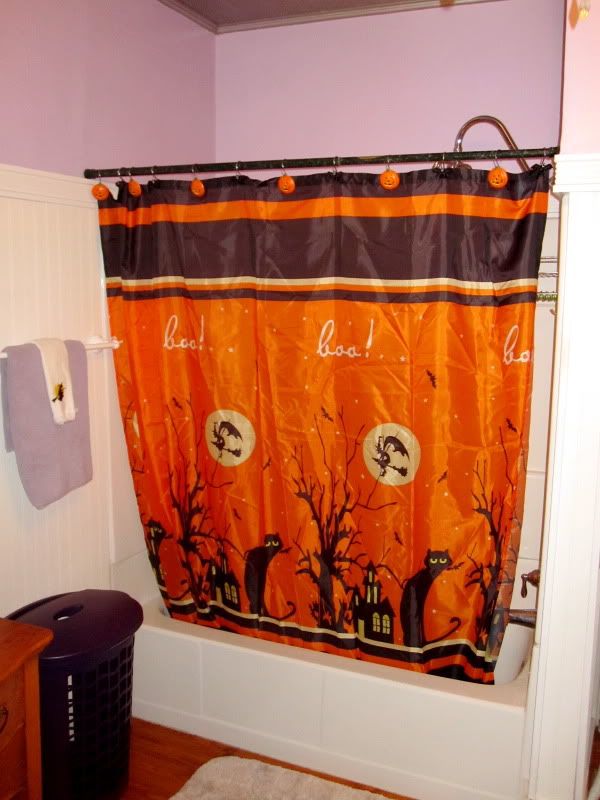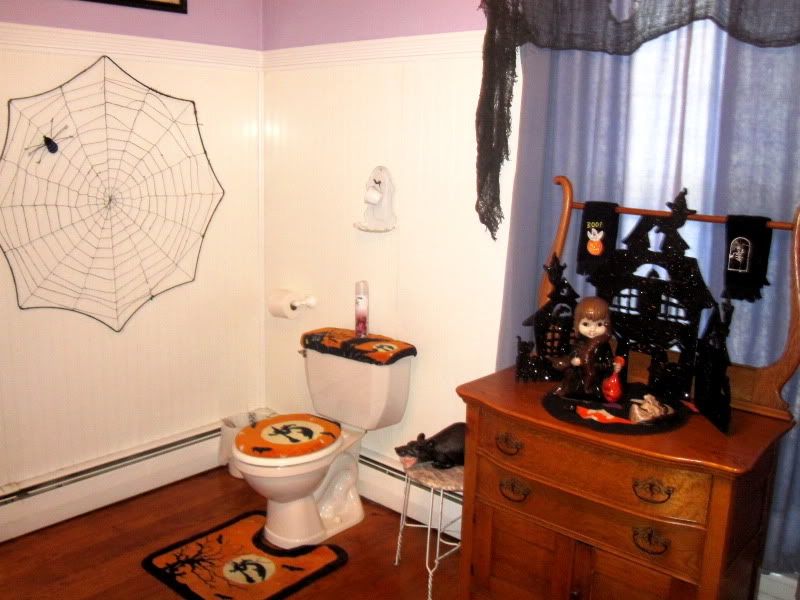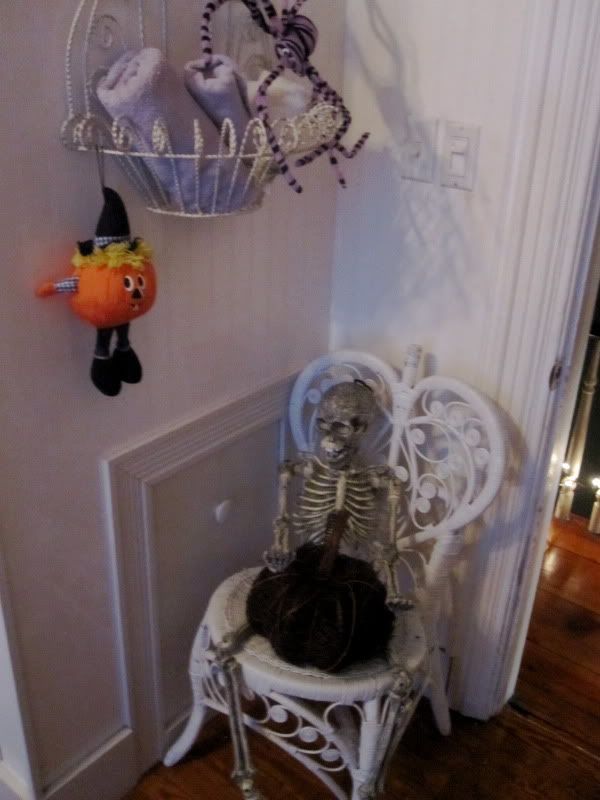 After unpacking we decided to head out for lunch.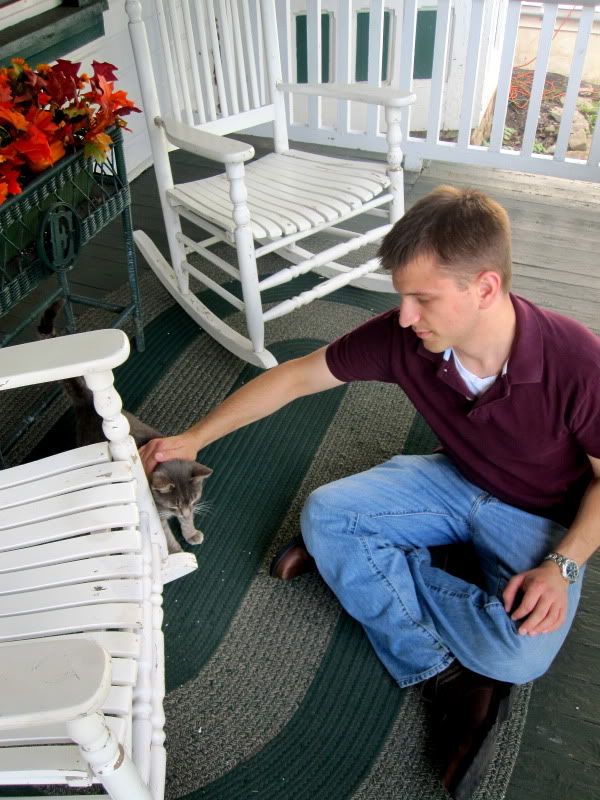 While we were leaving Josh discovered a new friend. 🙂 He loves animals, its one of his many amazing qualities.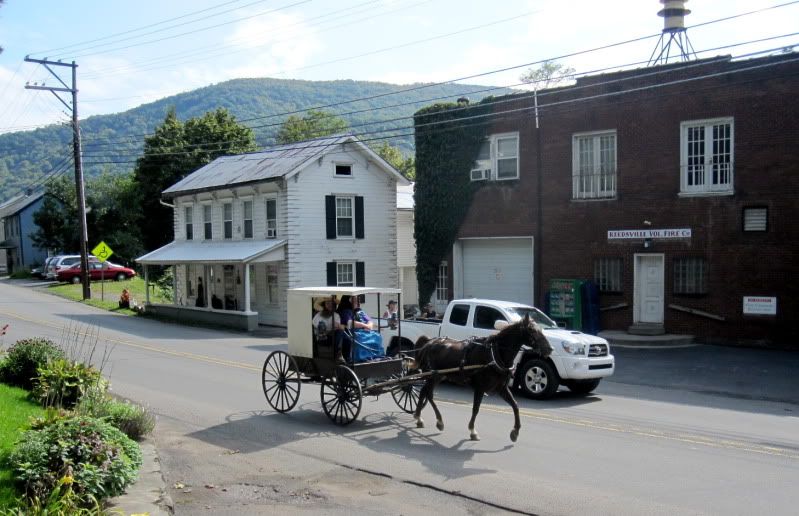 And we got to see an Amish horse and buggy going down the road! (Notice the crazy truck driver passing them on a one-lane road? Insane!)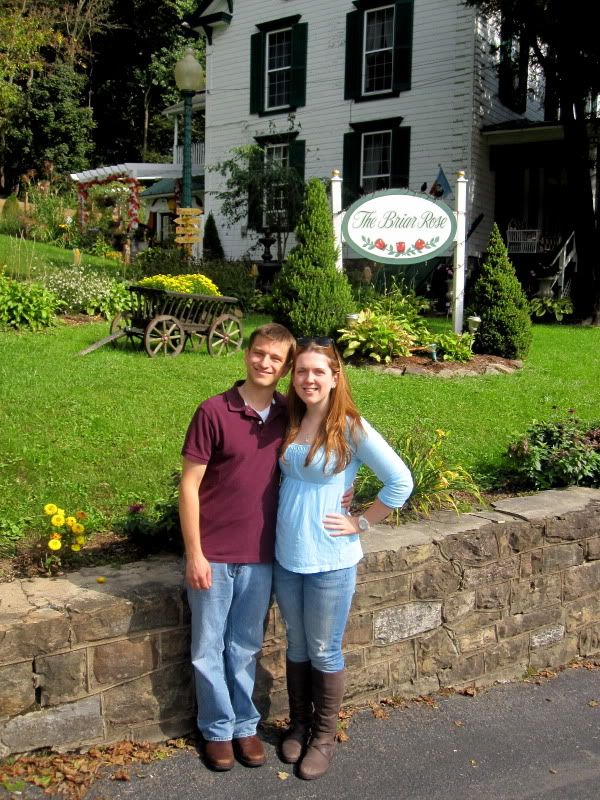 Lisa, the owner of the B&B, was so incredibly sweet! Her whole family was! We felt so welcomed! She offered to take our picture so many times, which I really appreciated. In case you can't tell by the length of most of my blog posts, I love documenting things through pictures.
After checking in and hanging out for a little bit we started to get a little hungry. We decided to head over to The Waterfront, a place both Google reviews and Lisa recommended. It was the perfect weather to sit outside by the water.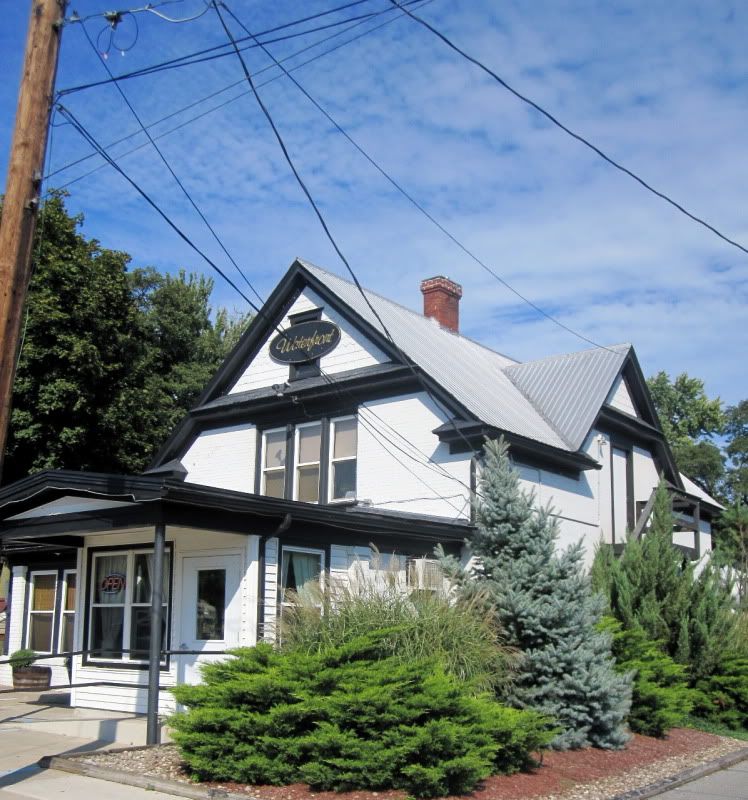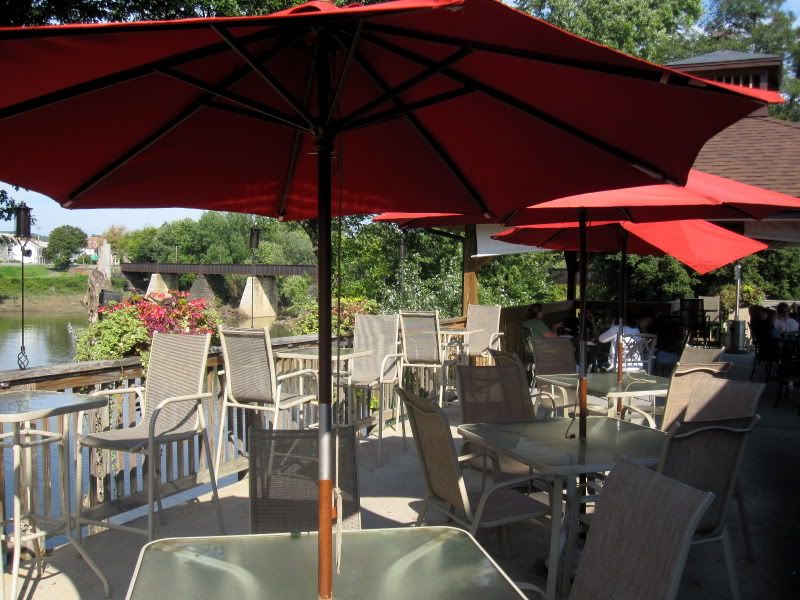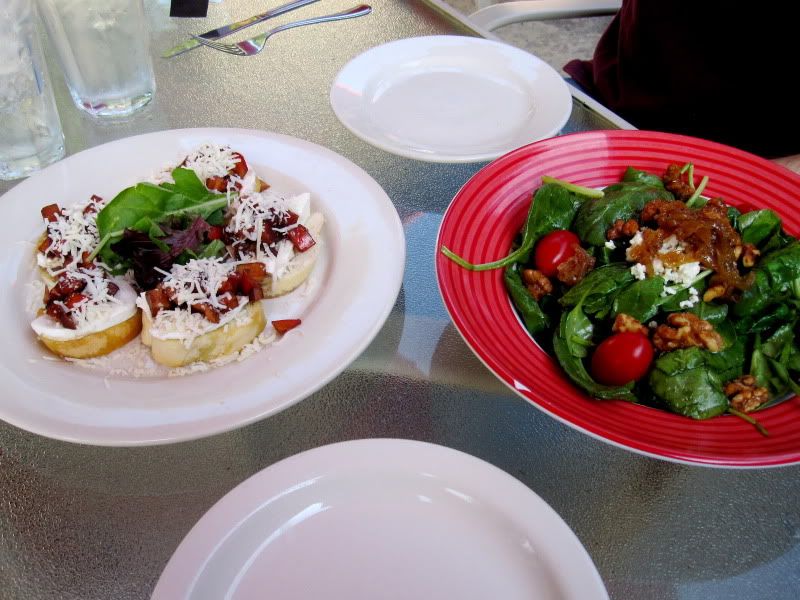 We were planning on having a big dinner so we opted for a light lunch. We split a plate of bruschetta and a goat cheese and walnut spinach salad topped with a fig and pear spread. They were both so delicious.
After a wonderful lunch we decided to head to the Brookmere winery. I had never been to a winery before, and it was only twenty minutes away, so we thought it would be really fun.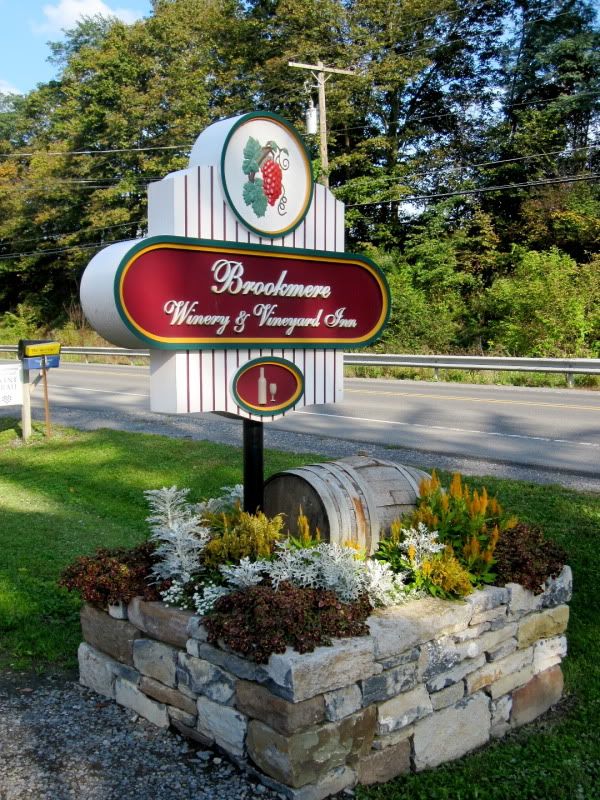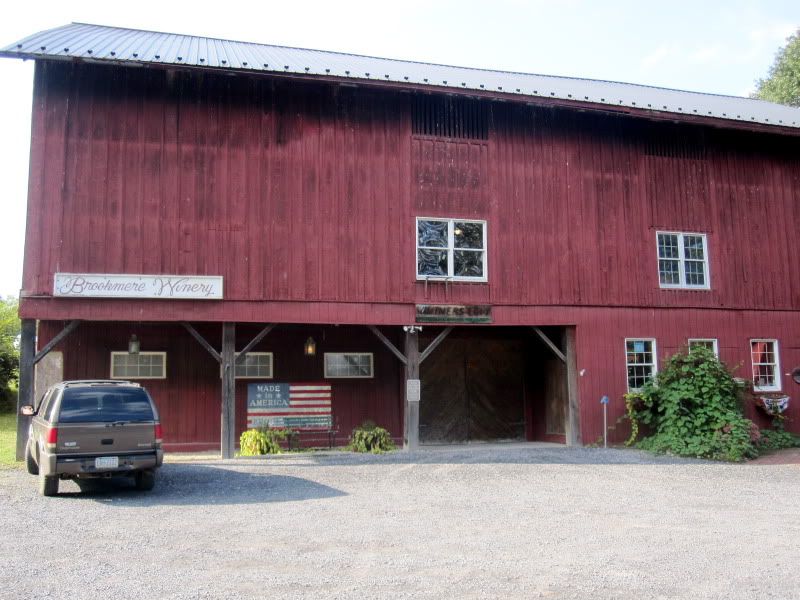 A lot of their wines have won awards and are known throughout PA. I was excited to sample a few and find that they lived up to the hype. We decided on a bottle of port for the night that was out of this world.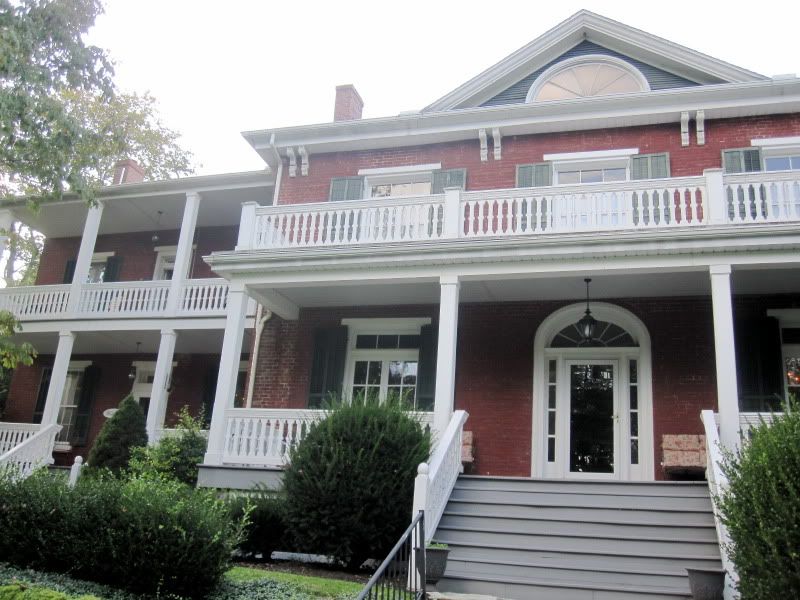 While exploring the grounds we stumbled on the winery's attached Bed and Breakfast. It was so adorable! We didn't get to explore the vineyard too much as they were hosting a wedding, but it was so fun to see everyone all dressed up and having fun. I love people watching.
After checking out the winery we were starting to get hungry. We had a list of possible dinner options and after driving by a few and crossing them off our list because of their lack of anything besides wings and steak Josh found The Cedar House.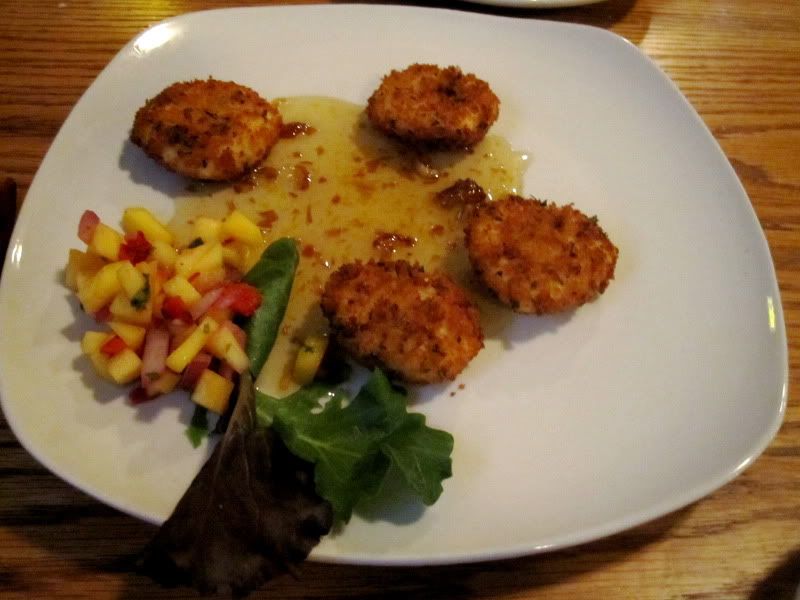 We were really hungry by this point and decided to split the fried goat cheese with maple mango chutney appetizer. It was amazing.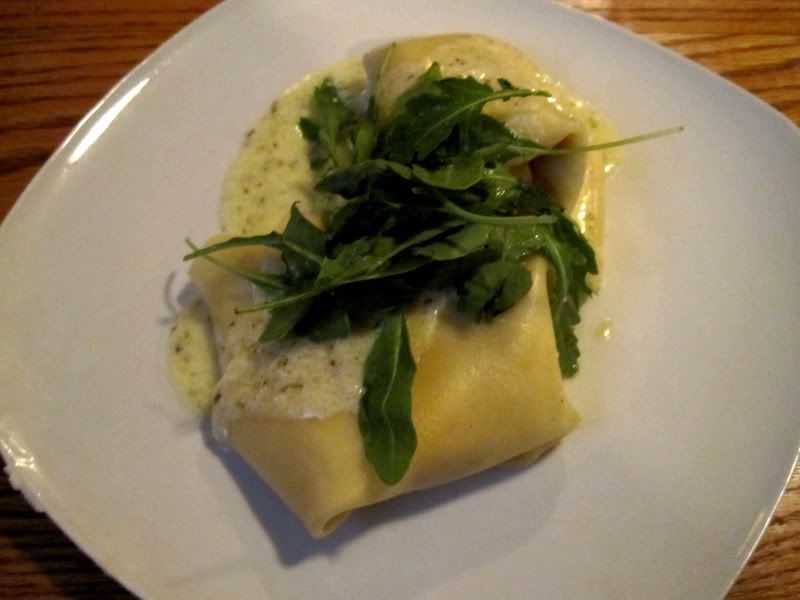 For dinner we both got raviolis stuffed with ricotta and mushroom drizzled in a nut sauce. It was so good I ate every last bite.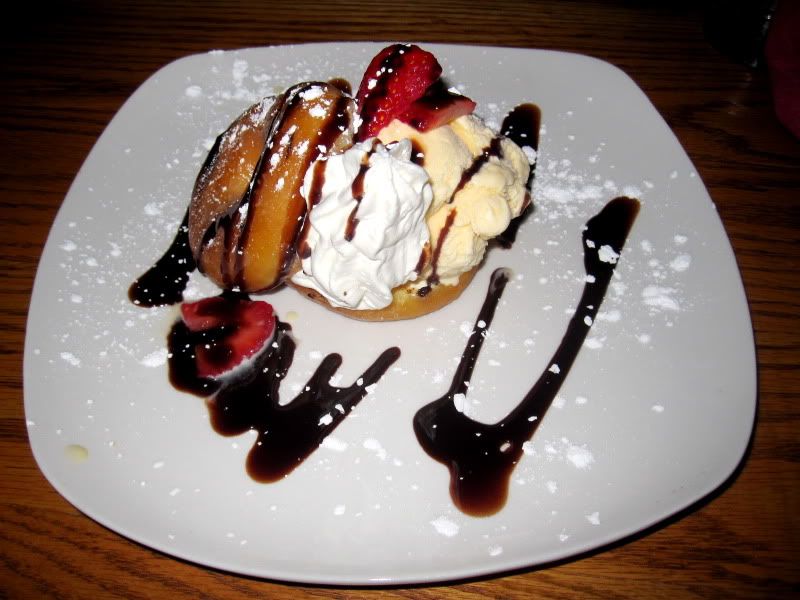 Our stomachs must have doubled in size because somehow after all that food we still had room for dessert. Their menu consisted of a lot of typical restaurant desserts but there was one unique dessert that really intrigued us  and stood out. It was a crystallized doughnut filled with ice cream and strawberries topped with whipped cream, powdered sugar, and chocolate sauce. It was so good.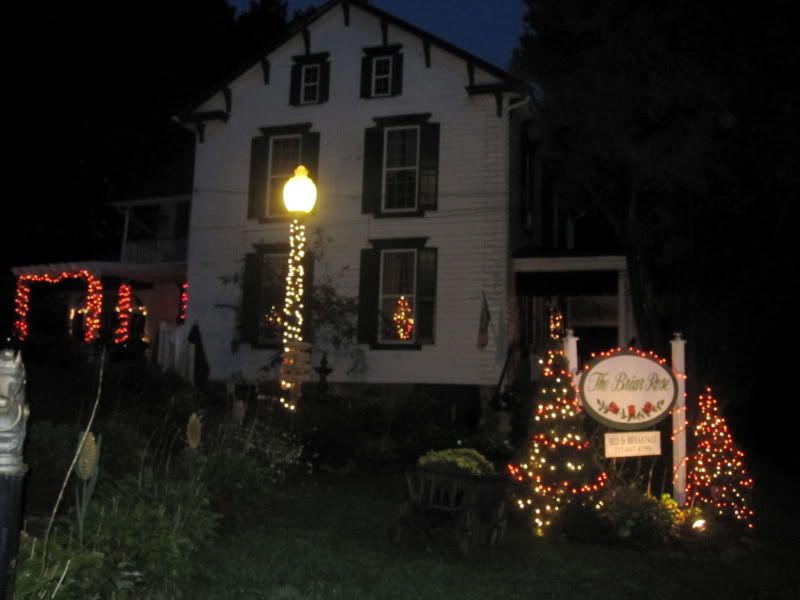 After dinner we headed back to our room and were greeted by all the beautiful lights when we pulled into the driveway.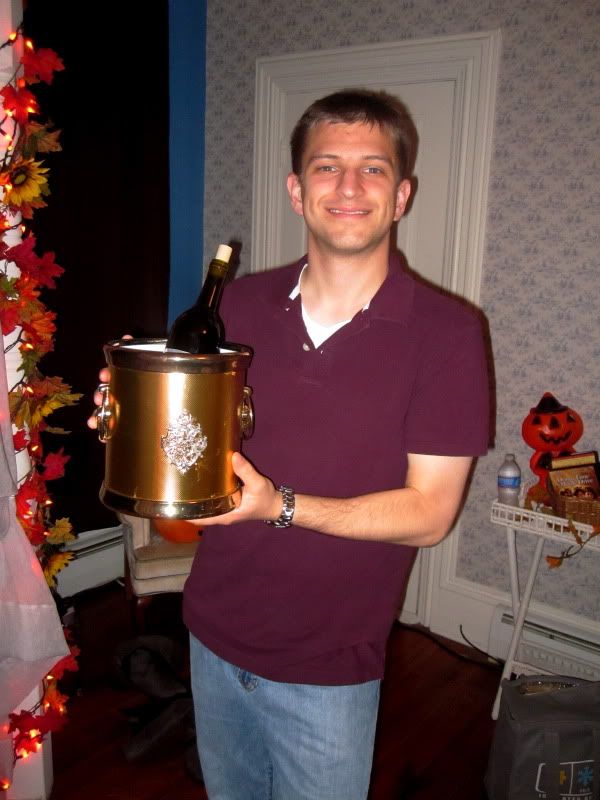 We ended the night cozied up enjoying each others company and the bottle of port we picked up earlier in the day. It was perfect. <3
We woke up bright and early the next day and were so excited for breakfast! We had heard great things about Lisa's cooking! We were not dissappointed.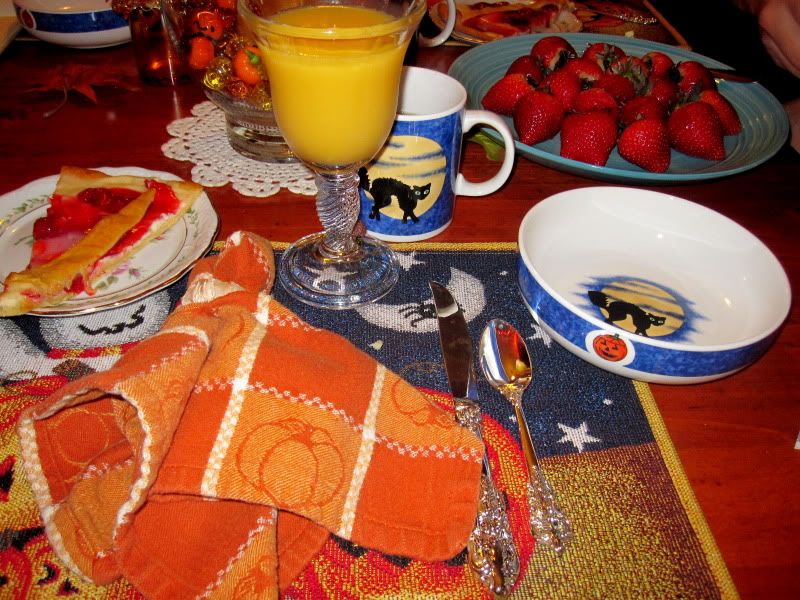 Check out this beautiful place setting! There was orange juice, coffee, fresh strawberries, and the most delicious homemade cherry danish I have ever had. It was gone way too quickly.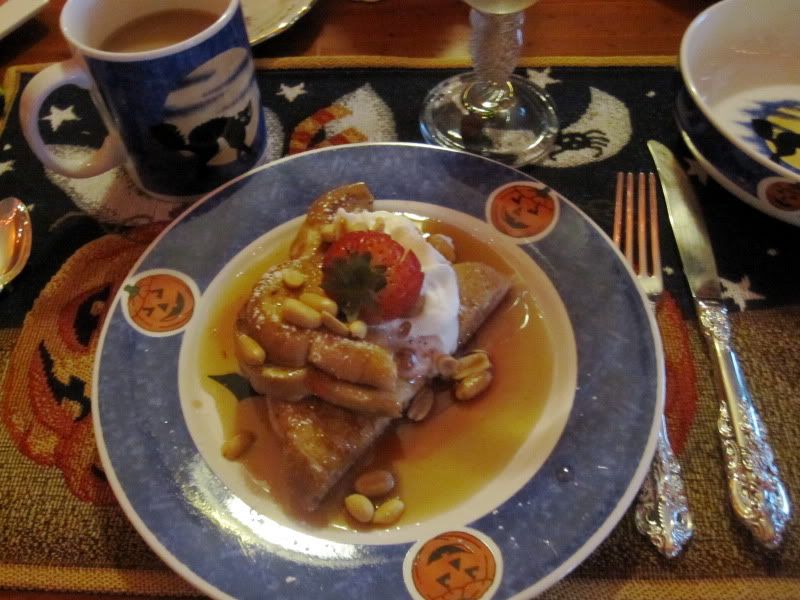 And for the main breakfast course we enjoyed PB&J stuffed french toast! We had told Lisa the day before that we were vegetarian and she was so sweet and accommodating! I really appreciated the fact she found ways to add protein into our meal!
After our delicious breakfast we spent a while chatting with Lisa and the other couple spending the night at the inn. Then it was time to pack our things and check out. 🙁 We didn't want to leave.
We decided to stay in the area for a while longer to explore more of the surrounding towns. In Milroy we discovered a really big antique store.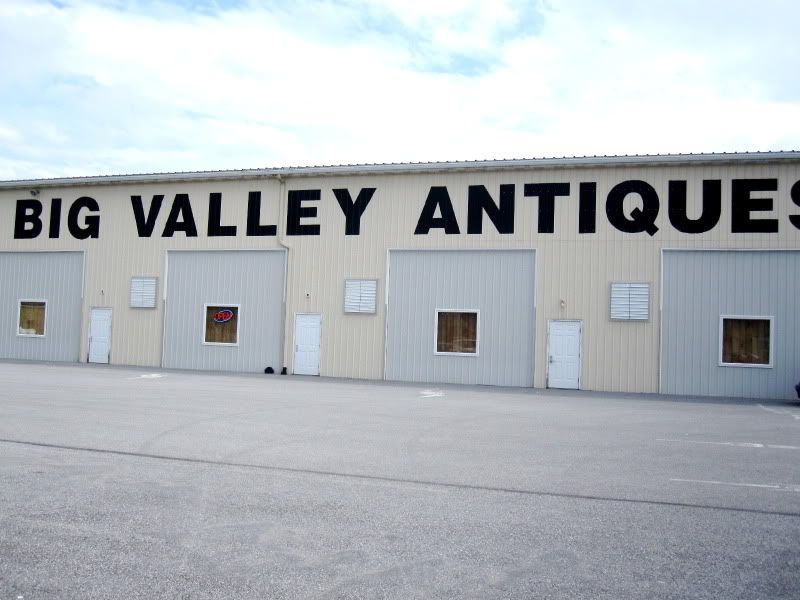 This place was huge! And the best part is they sold a local specialty we really wanted to try.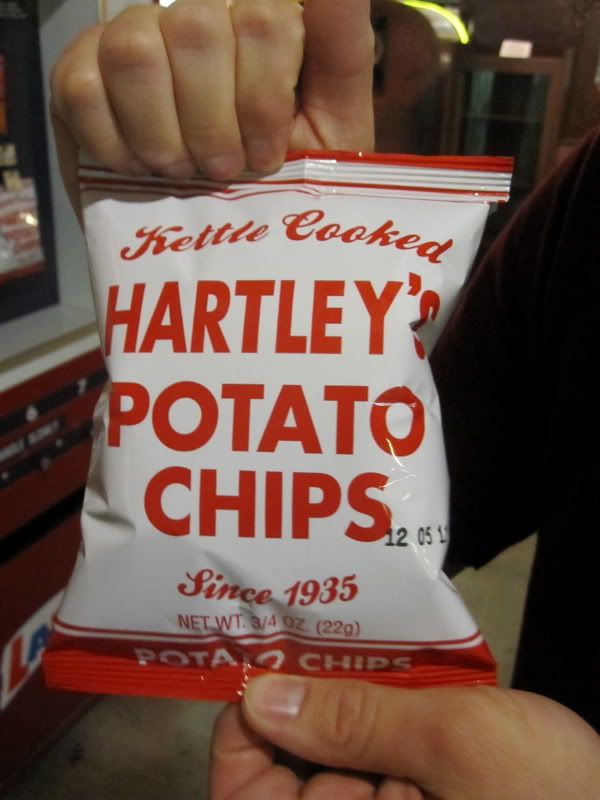 Hartley's Potato Chips! The day before we saw at least three different people eating chips from bags we had never seen before. When looking at a tour book before bed Saturday night we realized they were locally made and a source of great pride for those in the area. We were so excited to try them, and both loved them! Their secret is they use shortening in their chips and a bit more salt than your average Lays. It was so cool to get to try a local staple.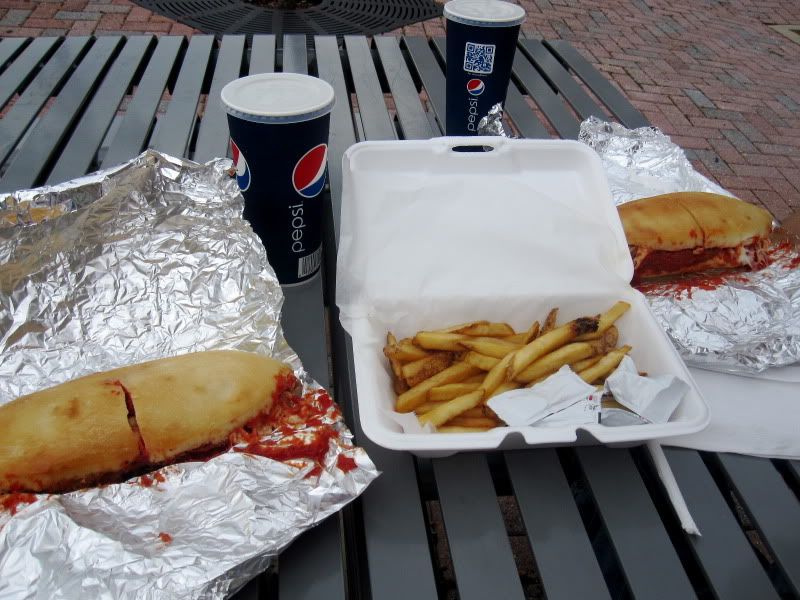 After antique shopping we had plans to get lunch and ice cream in a nearby town but could not find one restaurant that appealed to us. I thought Williamsport was small, I never realized how truly small a town can be when there are three main eating options in the entire vicinity. We ended up getting eggplant subs and fries from an Original Italian Pizza shop, mostly because it was the only thing not filled with meat. I could only eat half because of how huge the sandwich was, but it was pretty good and filled me up. We decided to skip the ice cream because unlike quaint and pretty Reedsville this town seemed to be filled with sadness and broken dreams. We hopped in the car and drove back to Happy Valley, sad to leave our bed and breakfast but so happy to be back in State College.
It was such a great weekend, and one I will always remember. Josh and I joked that the only thing that could make The Briar Rose more perfect would be if it was all-inclusive, so we wouldn't even have to leave the house for food! ;p If you are looking for a place to vacation in Central PA I wholeheartedly recommend them! Their website can be found here.
They helped make our first trip so memorable and special, and I am so thankful to them for that. I'm also really excited because Josh and I will be getting to visit again very soon! They invited us to their Halloween party! Now we just have to figure out our Halloween costumes!
Question of the Day: What is everyone being for Halloween?
Josh and I want to be characters from Little Big Planet! We just have to find out how to make the costumes!