I woke up with energy today. I don't know if it was because I was super excited for everything on today's to-do list, or simply because I went to bed before 3am. Either way, I woke up before my alarm clock and got started working on a project I was very excited about.
Yesterday while browsing the internet I came across an article on how to make a pumpkin spice latte at home. I love lattes, but definitely don't love their $5 price tag. The recipe seemed simple enough, and I was seriously craving pumpkin, so I decided to give it a try.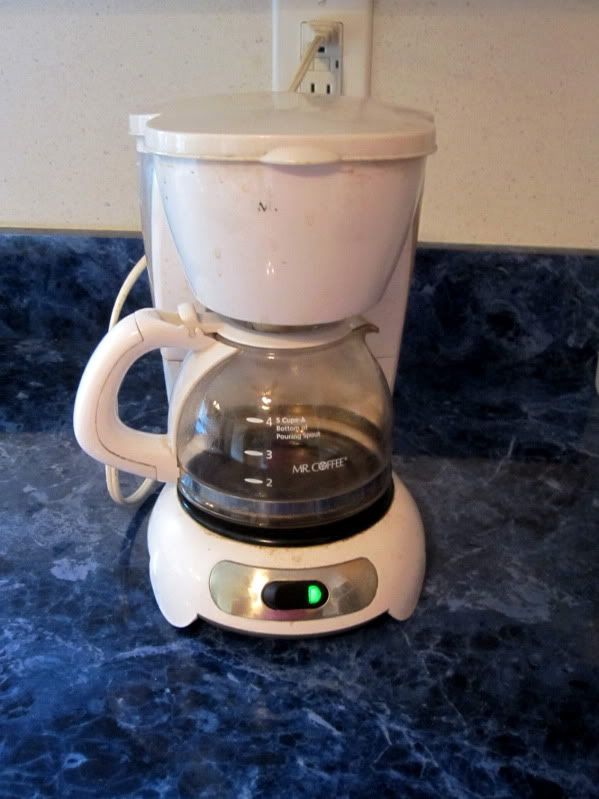 First I had to get to work brewing the coffee. My family aren't big coffee drinkers. Hence the kind of funny looking, super rinky-dink coffee maker.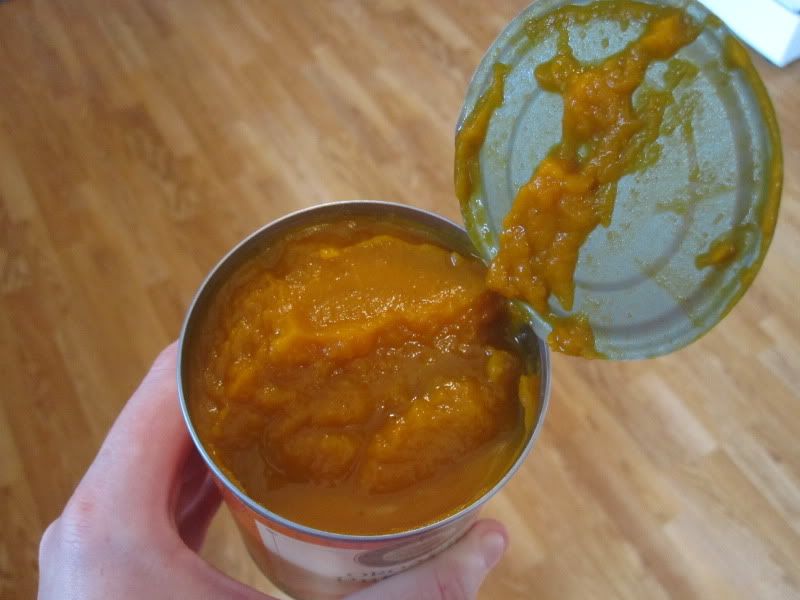 While the coffee brewed I got to work on getting the other ingredients ready. Oh pumpkin, how I've missed you.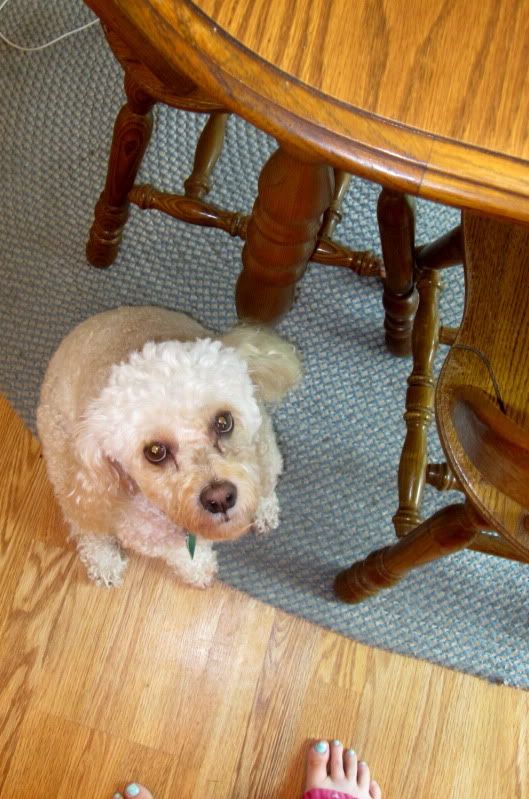 Apparently I'm not the only pumpkin lover in this house.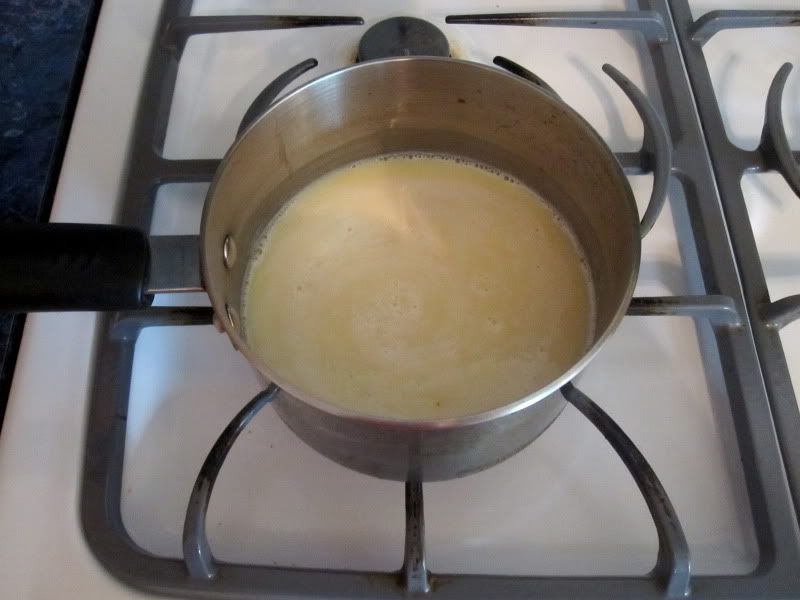 Once your milk, sugar,and pumpkin are mixed you want to bring it to a boil on the stove. This is how it should look when you start.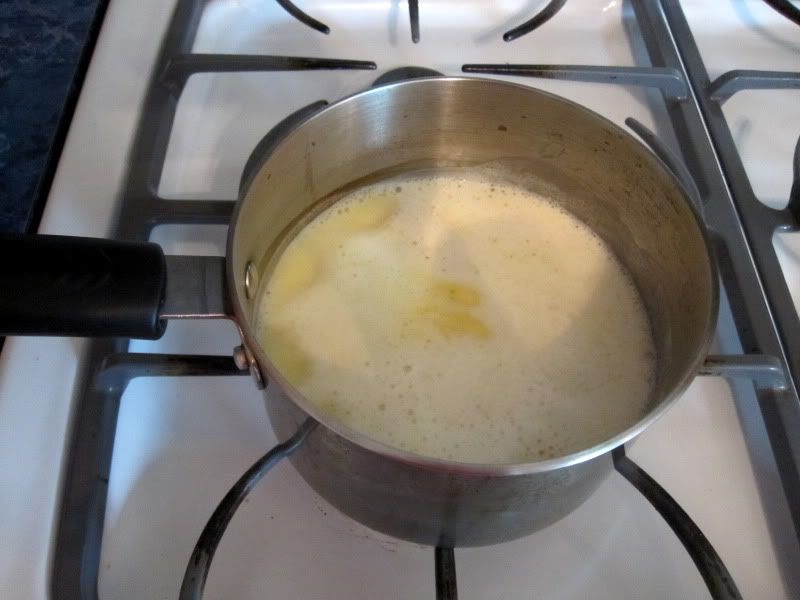 And when its done it will get nice and frothy like this. At this point remove the pan from the heat and add the vanilla extract and pumpkin spice. Then either whisk furiously or transfer into a blender for a few seconds to make sure everything is well mixed.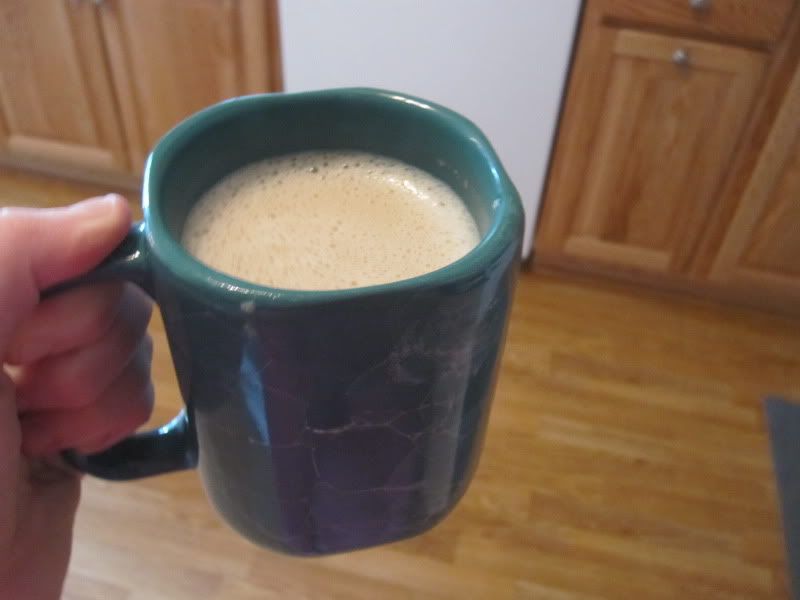 The finished product. Yum! It tastes exactly like a Starbucks pumpkin latte, for significantly less money. Just be warned that it requires two tablespoons of vanilla extract so if you have both I'd definitely recommend using the imitation vanilla. I only had the pure stuff in my pantry and it was hard pouring $2 worth of it into something where the higher quality ingredient wasn't really necessary. In a drink with so many spices and flavors, imitation would work just as well.
After energizing myself with coffee it was time to get baking! Remember that Wegmans shopping trip I took yesterday? It was to get the ingredients to make pumpkin cookies! I was showered with love on my birthday and I wanted to make sure to thank some of the people I can't thank in person with a card and yummy treats. The recipe I found sounded absolutely delicious and super easy to make! I get nervous sending things with a lot of milk and eggs in the mail, so when I saw the two main ingredients are canned pumpkin and spice cake mix, I was all about it.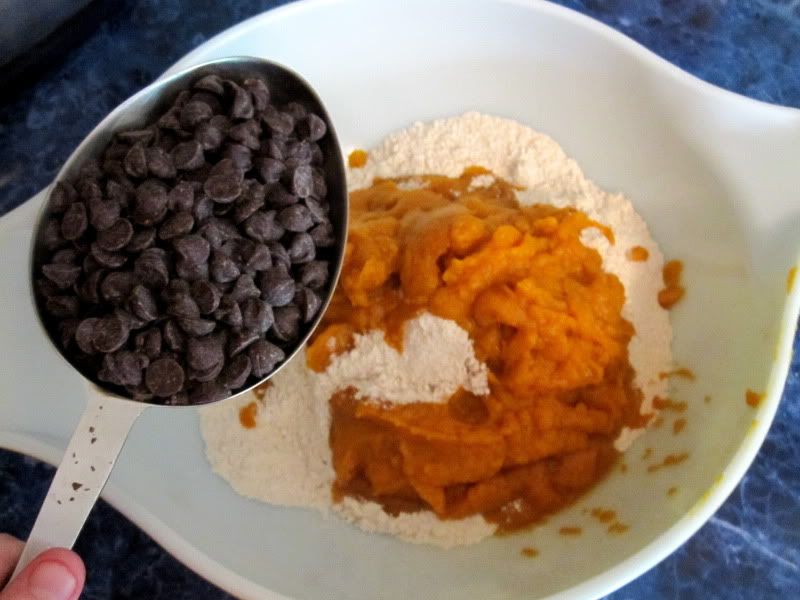 The original pumpkin cookie recipe called for 2 ingredients but I ended up going with four. One of the extras was chocolate chips. A cup of them. You can never have too much chocolate. 😀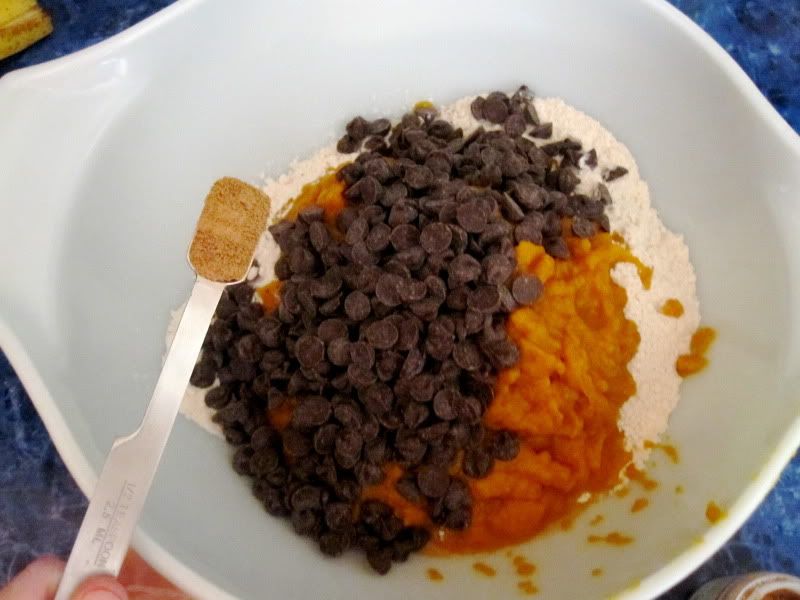 Another addition to the recipe was pumpkin spice. I debated buying this because I knew I had all the spices in my cabinet necessary to make it, and it was an extremely overpriced spice for what it was. (Like the organic canned pumpkin I had to buy because they were out of Libby's, but I digress.) I was worried because I was making these for other people and I was nervous about experimenting with spice amounts if it wouldn't turn out good. If I made something for me and it didn't work out its no biggie, but I would hate to be trying to thank someone for their kindness and send them yucky baked goods. So I stuck with the premade spice, it was easy and guaranteed to taste good.
Pumpkin Mookies:
1 box spice cake mix
1 can pumpkin
1 cup chocolate chips
1/2 teaspoon pumpkin spice mix
Preheat oven to 350 degrees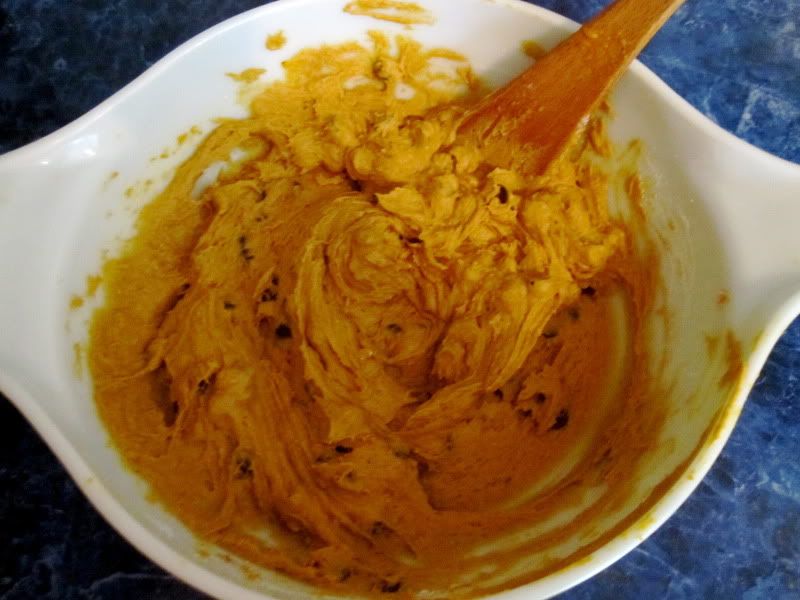 After adding all four ingredients mix well and try not to eat all the batter before it makes it into the oven.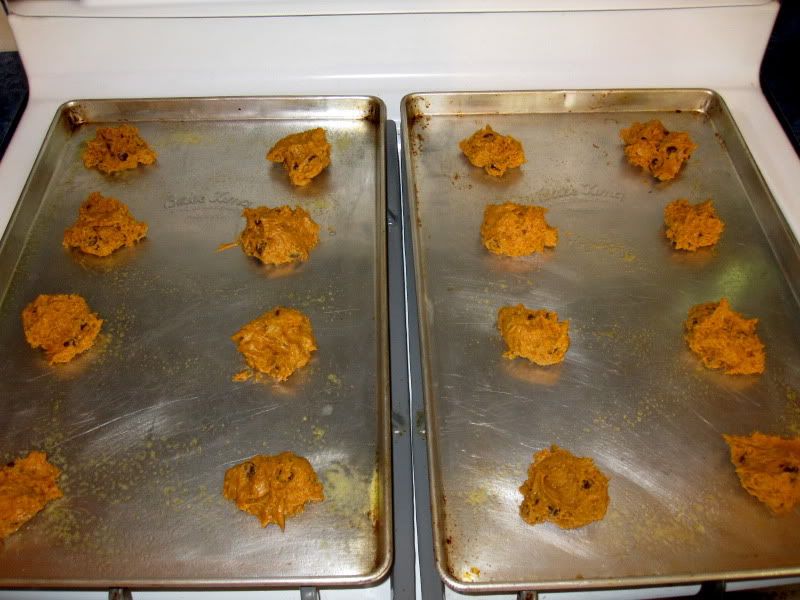 I was proud of myself for making regular sized cookie scoops. My baked goods usually look like they're on steroids and yield half the amount that the recipe says. Not today, the recipe called for 24 and I got 24 perfectly sized little balls of pumpkin! Its the small accomplishments. Make sure you put these on greased cookie sheets.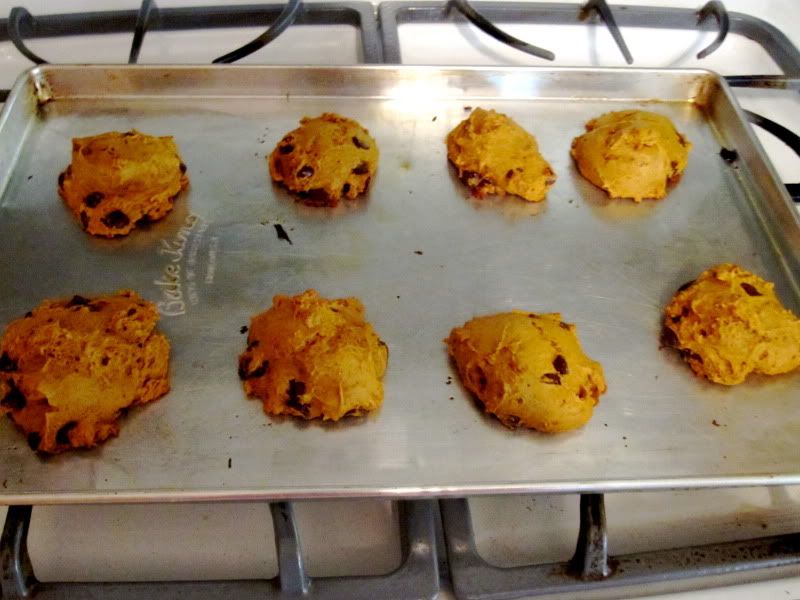 After 20 minutes they're all done! They are soft and moist and absolutely delicious.
All ready for eating! Or in this case all ready to be longingly stared at while I wrote out thank you cards and then packed them up for mailing.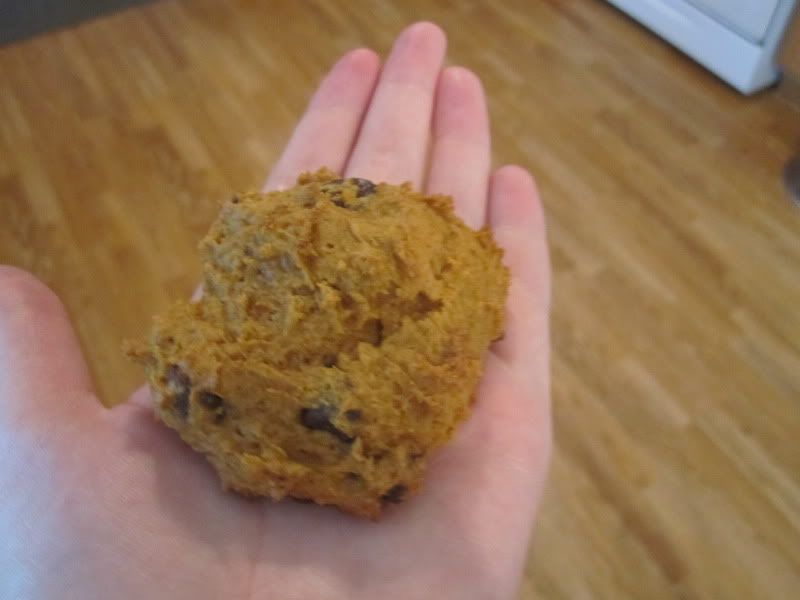 I did sneak one though. 😀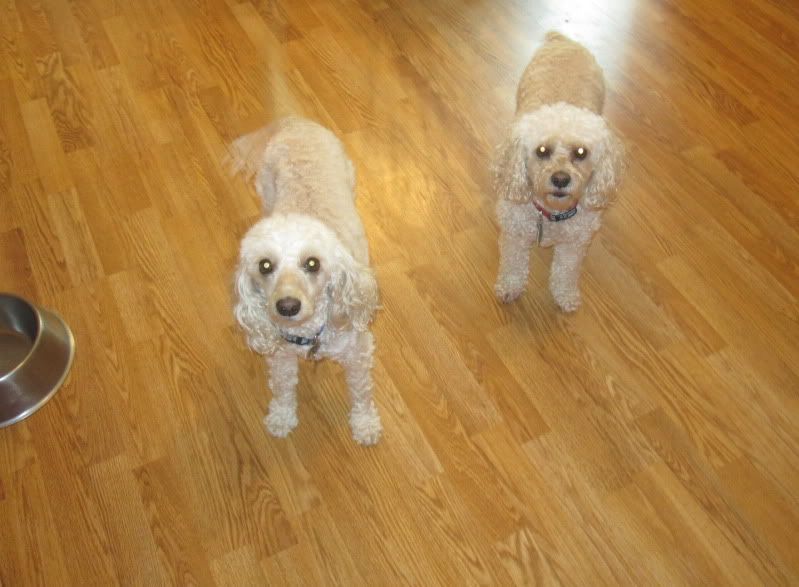 Apparently not very well. These two were on the scene and begging for a cookie judging me for my lack of self-control. Unfortunately for them these had chocolate. They didn't have to beg for treats long though, it was almost time for my finance class and I still had to make breakfast.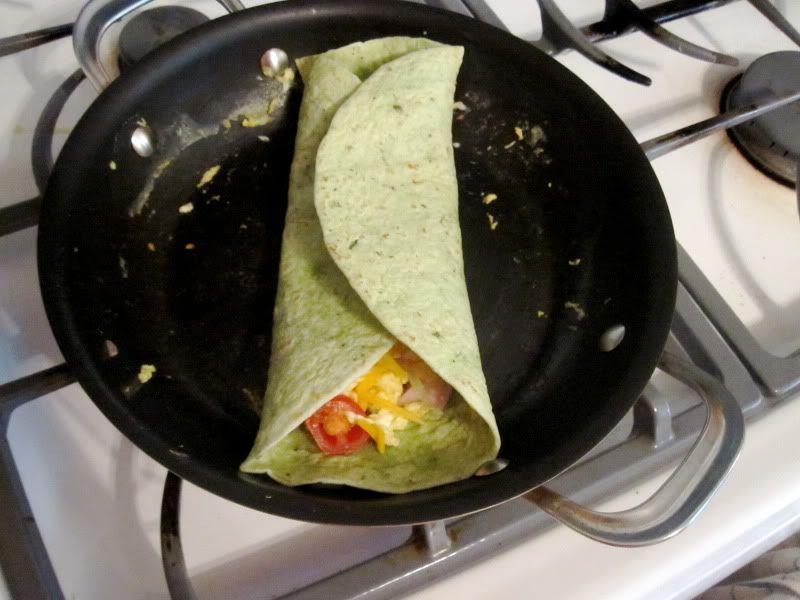 Its a weekday therefore it was a breakfast burrito day. My puppies love breakfast burrito mornings because I always give them broccoli.
After breakfast I ran to the post office to drop off the thank-you packages before heading over to finance class. After that it was time for aerobics class, that involved an intense forty minute treadmill/elliptical/stair stepper workout along with some stability ball stretches. I broke a hardcore sweat and felt awesome when I was done. After an afternoon meeting it was time to head home for the day. I was starving and craving something chock full of veggies.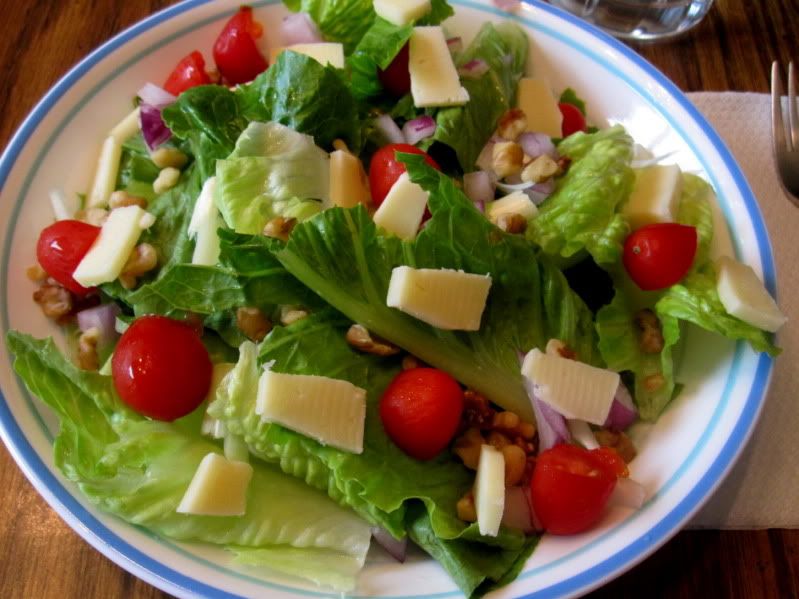 A true salad beast consisting of romaine lettuce,tomatoes, onions, scallions, walnuts, and cheese. It was everything I was craving and so so good. As great as the ingredients in this salad are, what took it over the top was the dressing.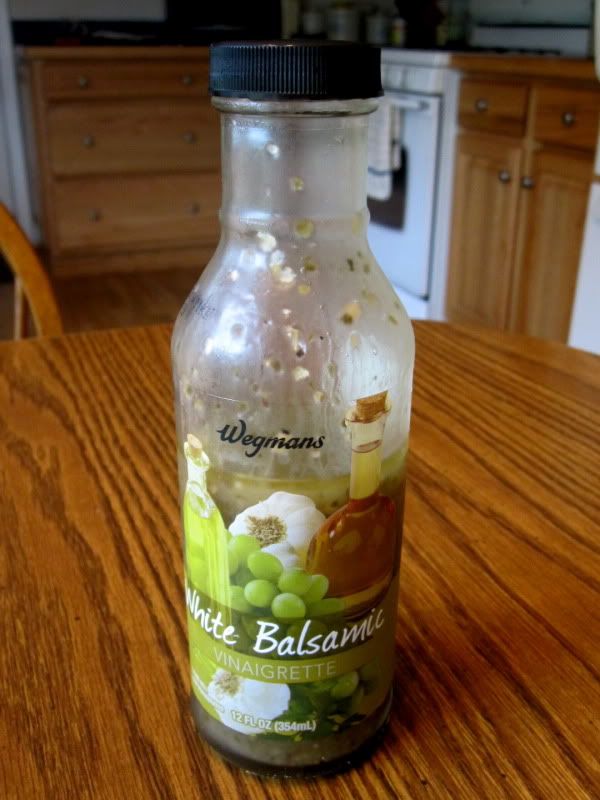 My favorite dressing ever. Wegmans White Balsamic Vinaigrette. Light, full of flavor, and so good.
After lunch I worked on some market research for the meeting I had earlier in the day. This is the second year I'm competing in a national construction competition as a member of my school's team. While I know virtually nothing about construction marketing is pretty universal regardless of the topic. And the competition is in Orlando. 😀 Disney here I come!
After some awesome discoveries researching the topic (I feel dorky getting excited about that.) I was staring to get hungry. Diane asked if I could try to use up some of the veggies since she's going food shopping this weekend and she didn't want them to go to waste. She didn't have to ask me twice! 😀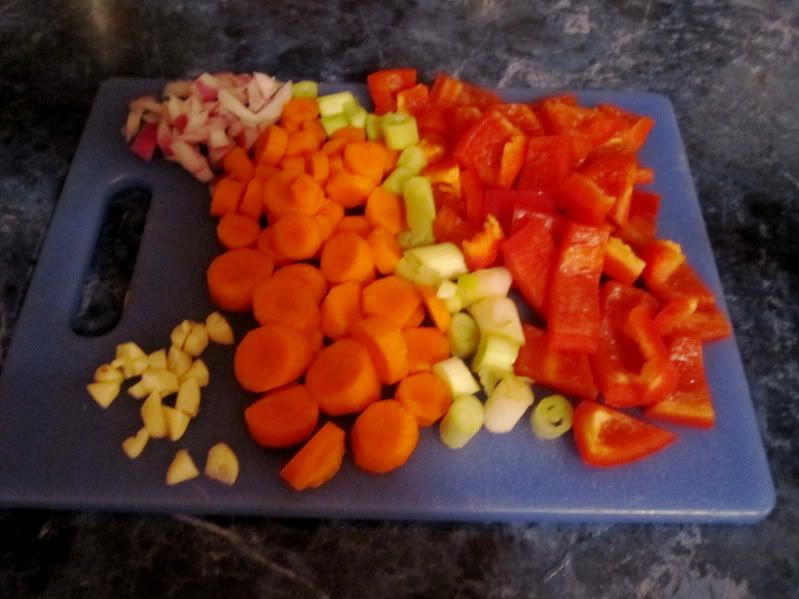 While heating up some quinoa on the stove I chopped up a red pepper, scallions, carrots, part of an onion, and two garlic cloves. I love being able to just throw some ingredients together and have it taste amazing. Quinoa seems to be awesome with being able to do that.
I figured while I was throwing everything but the kitchen sink into this I might as well add some spices. Chives, crushed red pepper, basil, onion powder, and garlic powder. It might sound like overkill, but it was awesome. It had a little bit of spice, and a whole lot of flavor.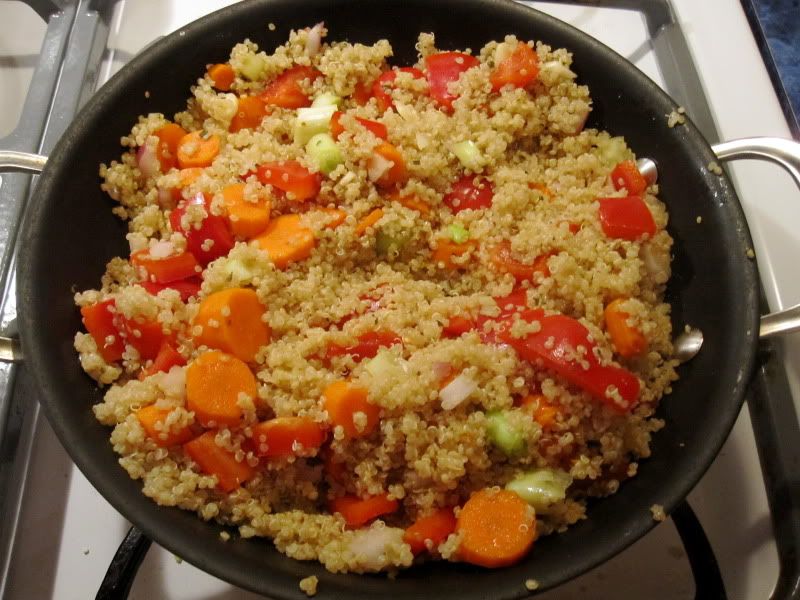 I finished off my eclectic creation with a handful of shredded mozzarella and cheddar cheese. It was so delicious I'll be having leftovers for lunch tomorrow!
Question of the Day: What's a meal you love that you can throw together with different ingredients every time, and always have it taste amazing? That's my favorite way of cooking and I'm always looking for new meal ideas! 😀
*Tomorrow I am heading to Josh's for the weekend, his parents surprised us with a bed and breakfast voucher that we are so excited to use! Because of this I likely will not be blogging tomorrow, so stay tuned Monday for a recap of our weekend. And later in the week look for some very exciting giveaways!! 😀