TGIF! I hope everyone is having a great last day of the work week and that you have some fun plans to look forward to this weekend! I know I can't wait! I turn 21 this Monday so Josh and I have some really awesome plans coming up to celebrate! 
As excited as I was for this weekend to start I was kind of dreading this morning. I had a huge finance test to take and was so nervous. Tests always stress me out, especially when they're the first one with a new professor, you never really know what to expect. Thankfully I can report it went great, I was so relieved! I think it was the testing God's extra early birthday present to me! 😀
I woke up early this morning to study and take the test and didn't have a chance to eat beforehand. By the time I finished my test around noon my stomach was grumbling. My dad suggested we head over to a Church rummage sale going on downtown where they were also doing a lunch and bake sale. My dad and I love going to rummage sales/ clothing swaps/ garage sales together. Its our father-daughter bonding. 😀 I love a good deal and I learned that trait from him. It is amazing the sales you can find at those places.
The church was absolutely gorgeous.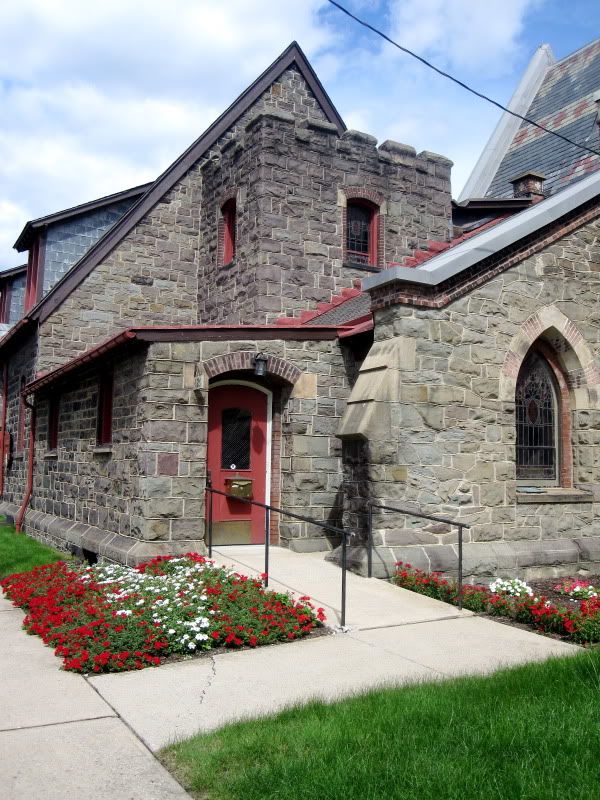 The stone work was amazing and I loved how the architecture managed to be quaint and cute while also being grand and magnificent. A love of architecture is also something I got from my dad.
We decided to eat first when we got there. I love church basement events because the food is always good and the prices are always cheap. This one was run by the cutest group of little old ladies that had such personalities. They had me laughing all through lunch!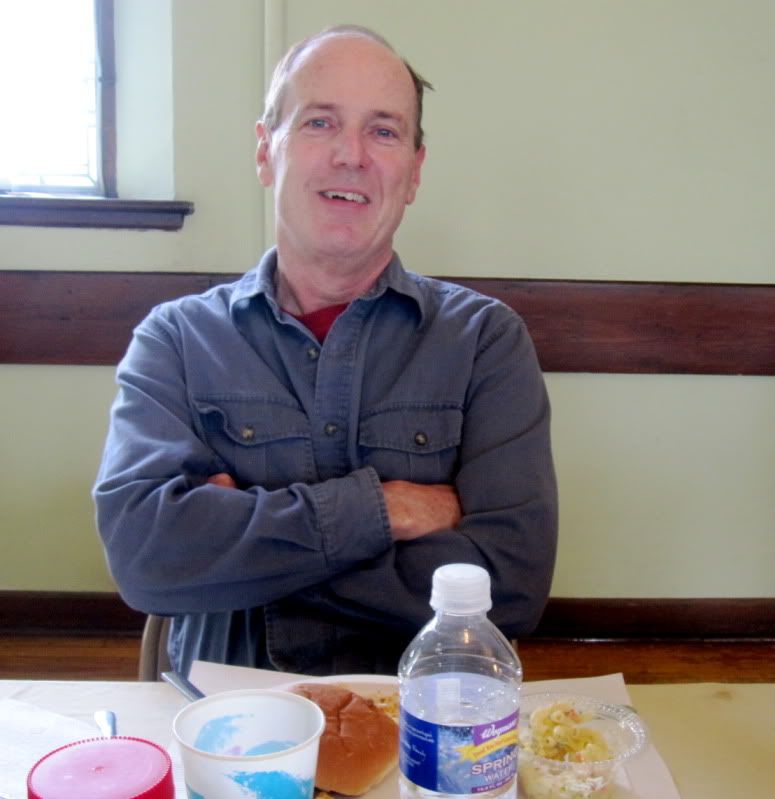 My Dad enjoying his sloppy joe and macaroni salad. (This is my Dad's first appearance on the blog, hi Dad!)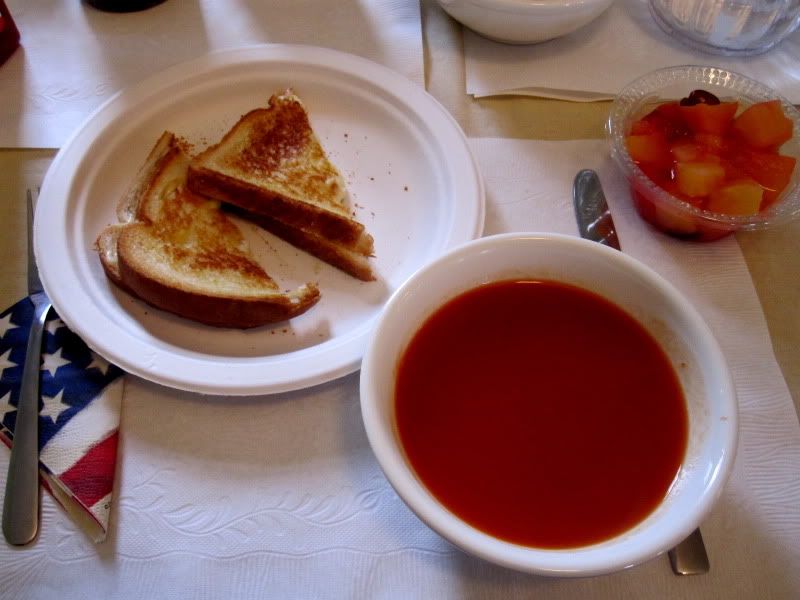 I got grilled cheese and onions with tomato soup and a fruit cup. It wasn't the most healthy of lunches, the bread was white and the fruit cup was super sugary but it tasted good and hit the spot. Despite being hungry I could only eat half of the soup and fruit cup. The grilled cheese was super filling!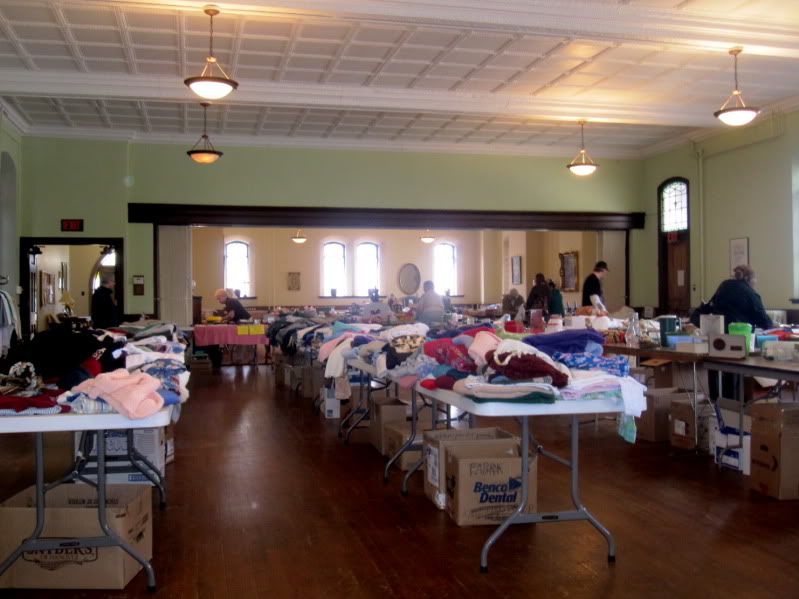 The rummage sale was full of stuff! When you go to places like this you have to prepare yourself that if you want to find something good you are going to have to dig. Because that one nice item is going to be buried under ten hideous/ridiculous/completely useless things. But persistence pays off, because sometimes you can find the most incredible deals.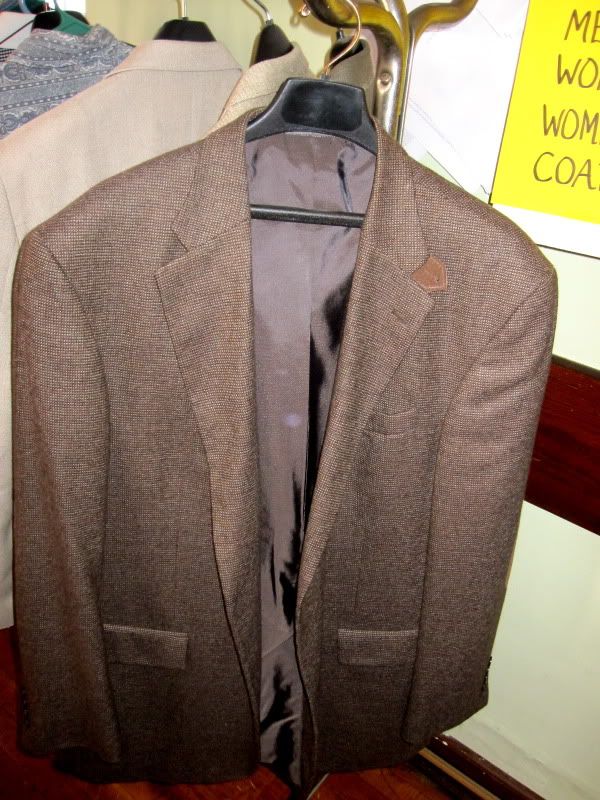 Like this Oscar de la Renta wool sportcoat, for $1. The cream colored jacket behind it is also an Oscar de la Renta, made of 100% silk, and also $1. Rummage sales are awesome ways to find a good deal!
While I didn't find any clothes for myself this time I still had a great time shopping with my dad. We left after about an hour to head home so I could start packing for Josh's. I don't pack light, even for a weekend, so packing up all my bags can take a while.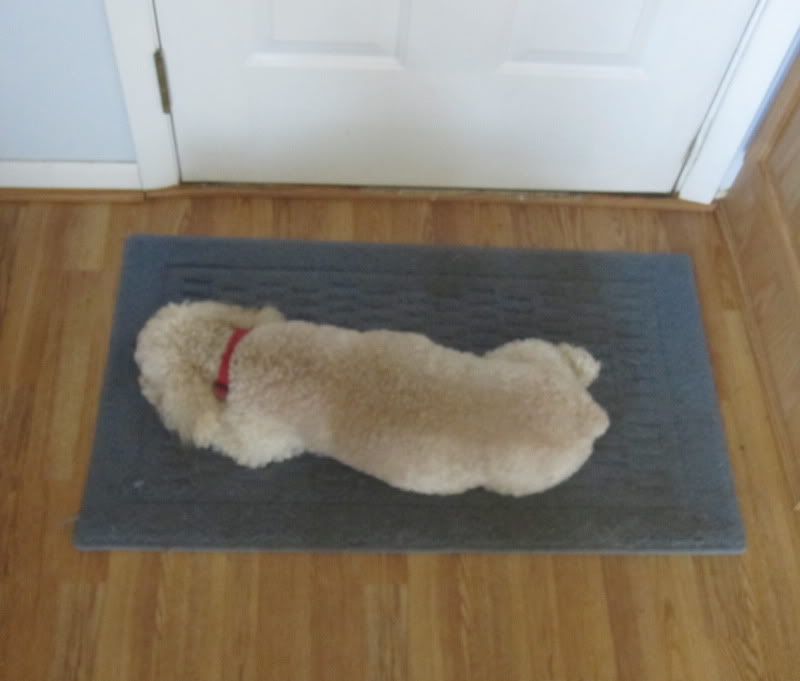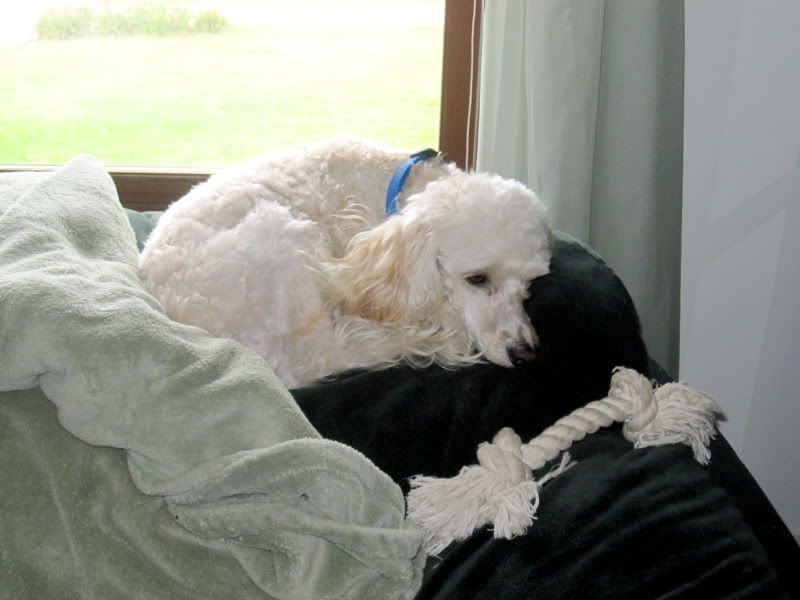 Don't they look so sad? 🙁 As soon as I start pulling out my bags I can feel their moods drop. They love when our entire family is home together, when one person is gone it just isn't the same to them. I always look forward to opening the door after a few days away and getting pounced on with puppy snuggles and kisses. They're such good puppies.
Once I did get on the road to Josh's it was easy driving. The weather is amazing today and it felt so good to have the crisp, cool air on my face.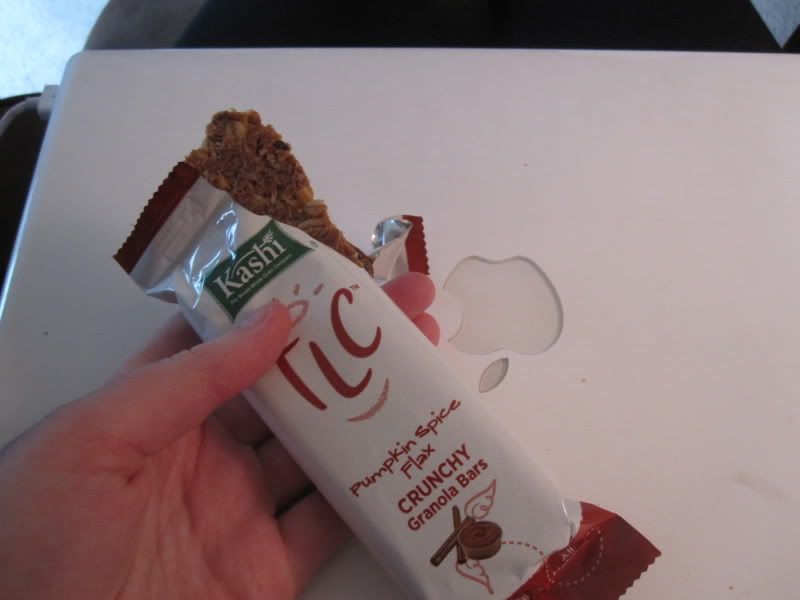 When I got there I was hungry again so I decided to snack on a Kashi TLC Pumpkin Spice Flax granola bar. I have been craving pumpkin like no other for a good week now but have been trying to avoid it so I can enjoy it when it is truly fall. I hate letting go of summer foods. Today felt so much like fall though I decided it was a perfect pumpkin bar day. It was really yummy!
After hanging out for a little bit we both decided we were hungry for dinner. Josh has a paper to work on tonight so we decided to order in some pizza. We usually get brick oven pizza from this place down the street that is amazing but its a little pricey so we decided to get the Dominos special of two medium pizzas for $5.99 each. We spent for two pizzas less than what would would have paid for one! They also have super fast delivery!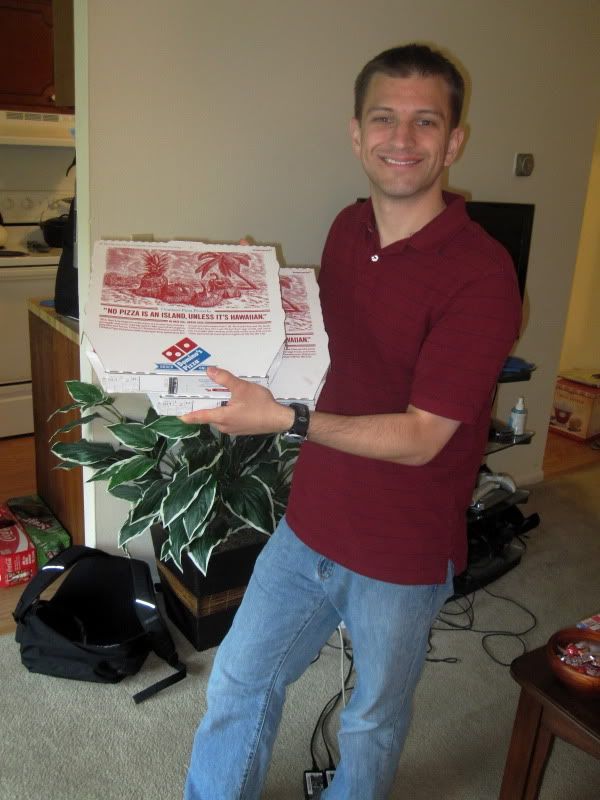 Pizzas are here! (I totally just said that in my head in the Pauly D "cabs are here" voice!)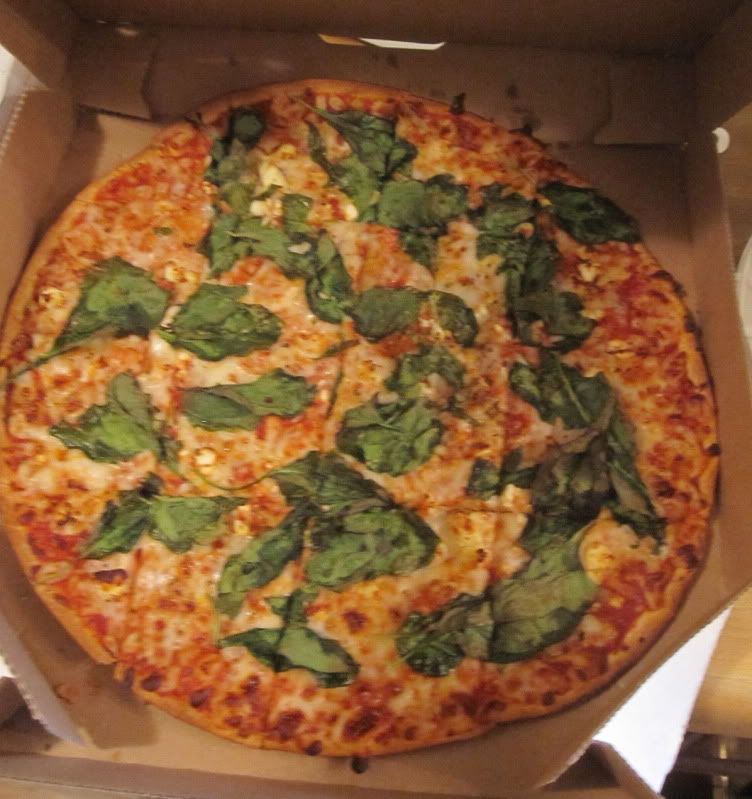 We got one flatbread pizza with spinach and feta.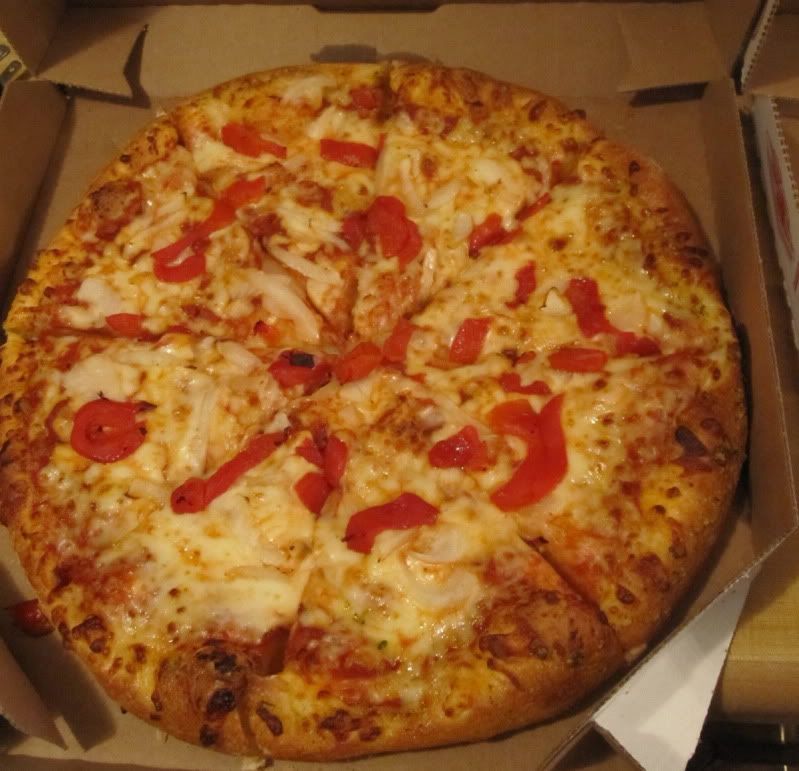 And one garlic crust pizza with onions and red peppers. They were so good! And bonus we now have leftover pizza for late night snacks/ cold breakfast! Does anyone else do that?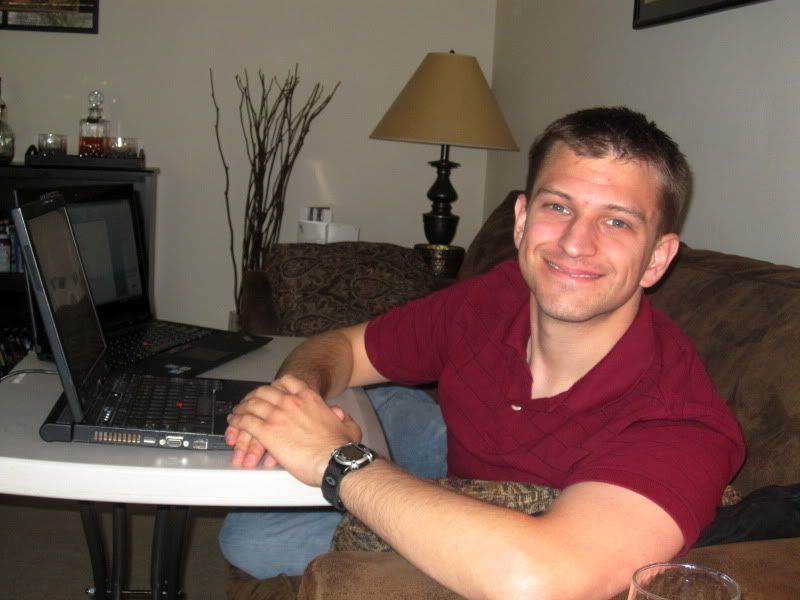 And now we're all settled in for the night. Josh is working away on his paper that he's getting ready to submit to a journal soon while I'm getting comfy with this:
I was a little bummed to find out the Starbucks coupon card I got yesterday wasn't for the entire book but was still really happy when I realized that its for the first 115 pages! That's quite a book sample. I have been wanting to read this since I first heard about it!
I'll be back with a birthday update on Monday! Josh and I have some super fun plans for the next three days that I am so excited for, and that I can't wait to recap with you guys! One of our plans tomorrow involves a major 90's flashback. Any guesses? 😀