So this post was supposed to go up yesterday… I feel like such a bad blogger. I'm sorry guys! I could list some of the reasons why it didn't get posted:
I found out my sister is pregnant with her second baby!! (Congrats Katie!)


I'm adjusting back to the first week of school and trying to stay on top of everything.

I have so much cleaning and laundry to do its not even funny.
But the main reason this post didn't get put up yesterday was because of this show:

I have seen previews for the show Once Upon A Time since before it premiered this past fall and always meant to watch it but never got around to it. Well yesterday afternoon I decided it would be fun to give the show a try. There are only eight episodes so far so I figured if I liked it I could be caught up in a few weeks. Well lets just say I LOVE it and I'm now all caught up and anxiously awaiting Sunday's new episode! So embarrassing but that's why there wasn't a blog post yesterday. I hope you guys don't think it has anything to do with how I feel about this blog or my commitment to it, blogging is one of my absolute favorite things to do. Its just been harder after not blogging on my vacation to get into the practice of setting aside specific time just for blogging and not for anything else again. Do any fellow bloggers ever experience this?

Well even though I filled you all in on my vacation there was one other thing Josh and I did in New Haven that I haven't shared with you guys yet. One of the nights there we hosted a hummus party!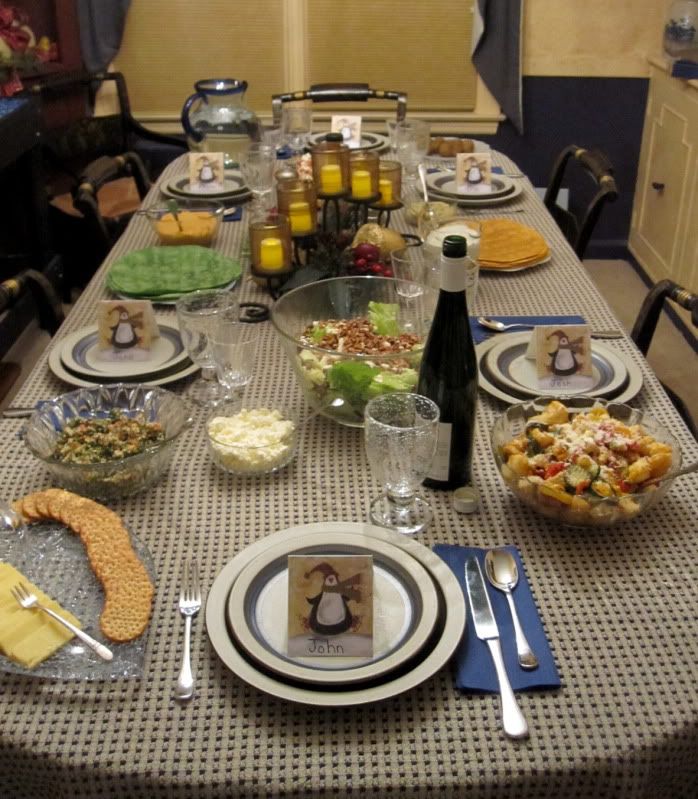 And I got to set a table! 😀 It was so much fun! I can't wait to get to do it again in the future!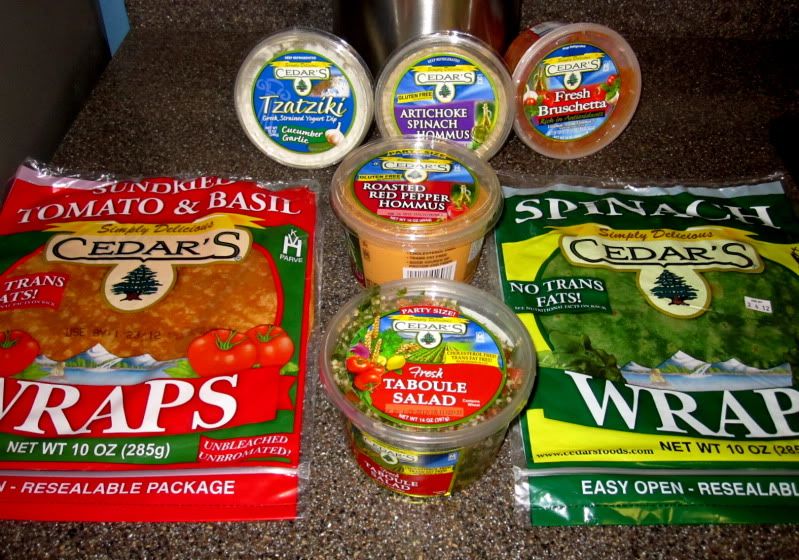 Cedars was so kind to send me coupons to try out some of their products a few months ago. I love hummus and am a huge fan of Mediterranean food so I was really excited to try them out. Unfortunately for me Cedars is not sold anywhere near me in Pennsylvania. Luckily for me its sold in Connecticut and I knew I'd be there over winter break! Josh and his parents were so sweet to help me try out the products and host the hummus party. While preparing for the party I did some research on Cedars and found out they were one of the first companies to sell hummus in the United States. And most importantly, they're one of the few hummus companies left that still use olive oil in their products. Call me crazy, but if you're eating hummus shouldn't it have olive oil in it? I have a lot of respect for them for not switching to cheaper oils to save money.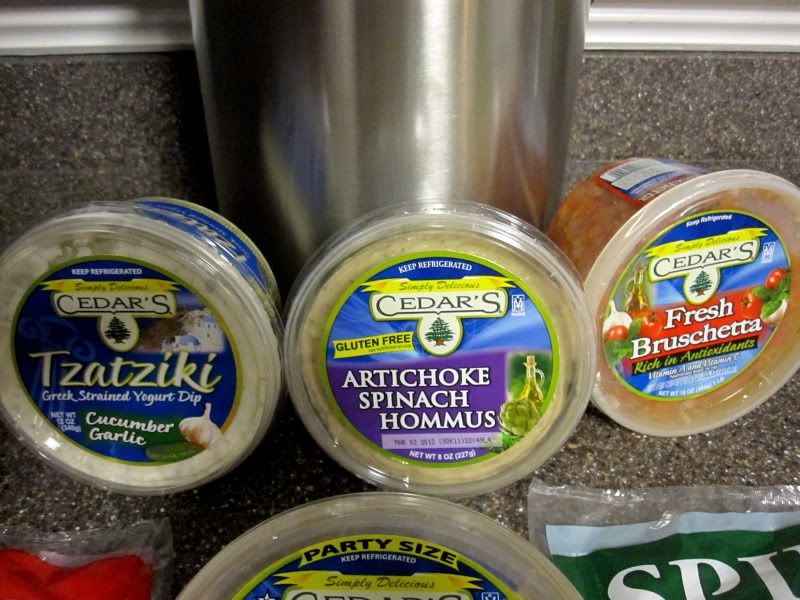 For the party we picked up Cucumber Garlic Tzatziki, Artichoke Spinach Hummus, and Fresh Bruschetta.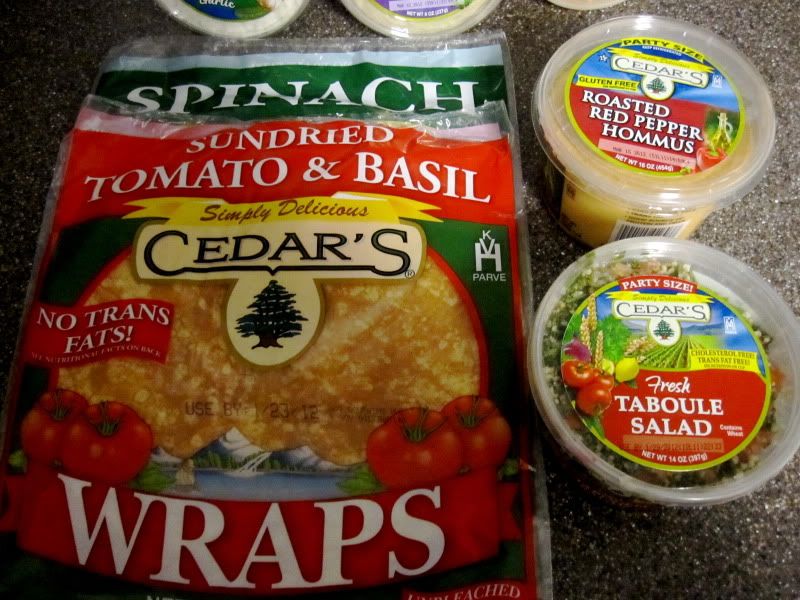 We also picked up a party size Roasted Red Pepper Hummus, a Fresh Taboule Salad, and Spinach and Tomato and Basil Wraps. I was SO excited to dig into all this food!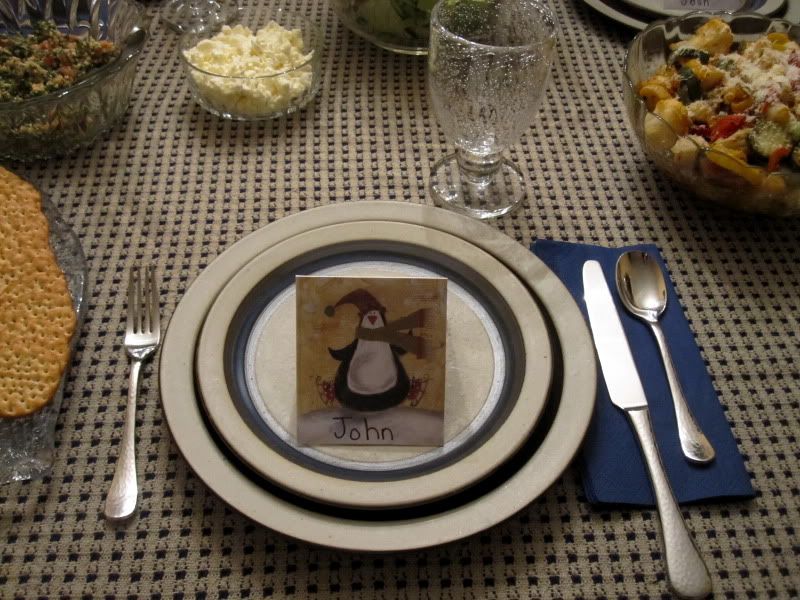 Along with Josh and his parents their family friend Jane and her daughter Regina were coming over for the party. I was so excited to meet them and to get to congratulate Regina on her recent engagement! It was definitely a day for celebration. Josh and I made cute little place cards for everyone.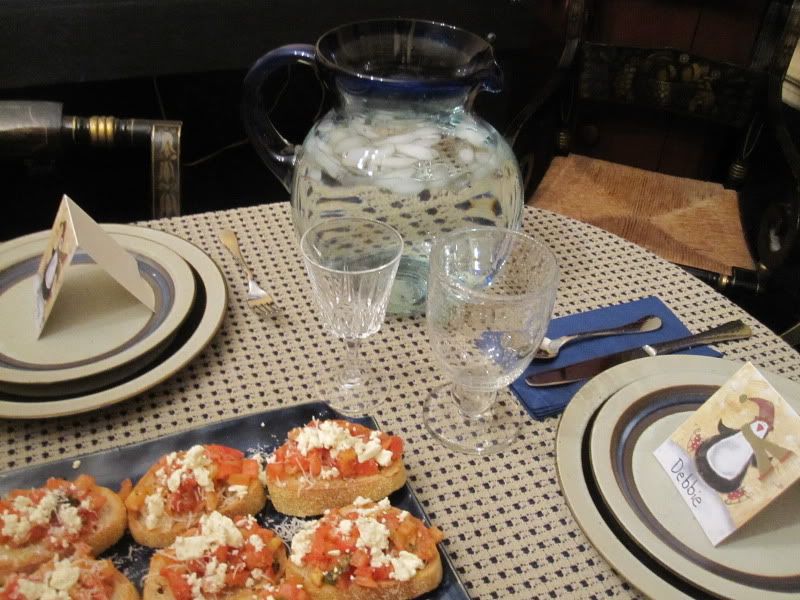 To make them all we did was cut and fold a notecard in half and glue a penguin picture on the front. It was so simple to do and I think it added a nice little touch to the table.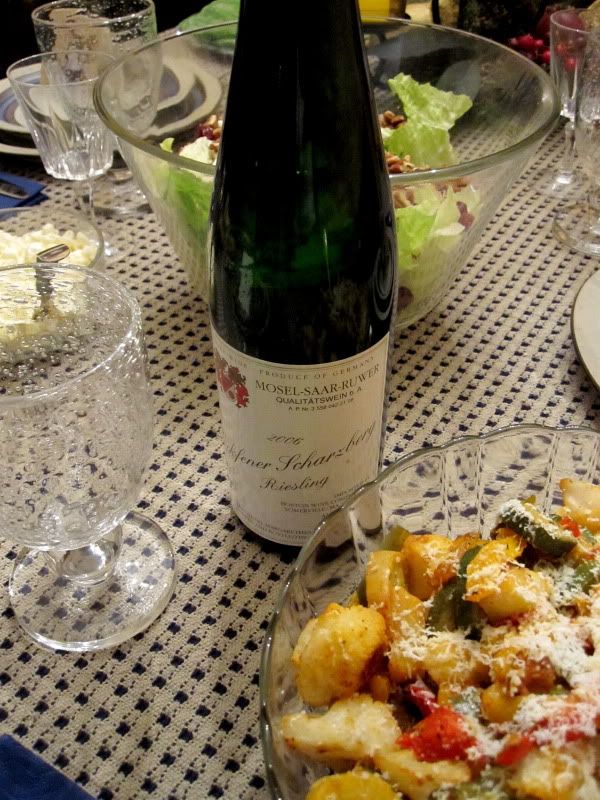 Since we were celebrating we broke out some bubbly! 😀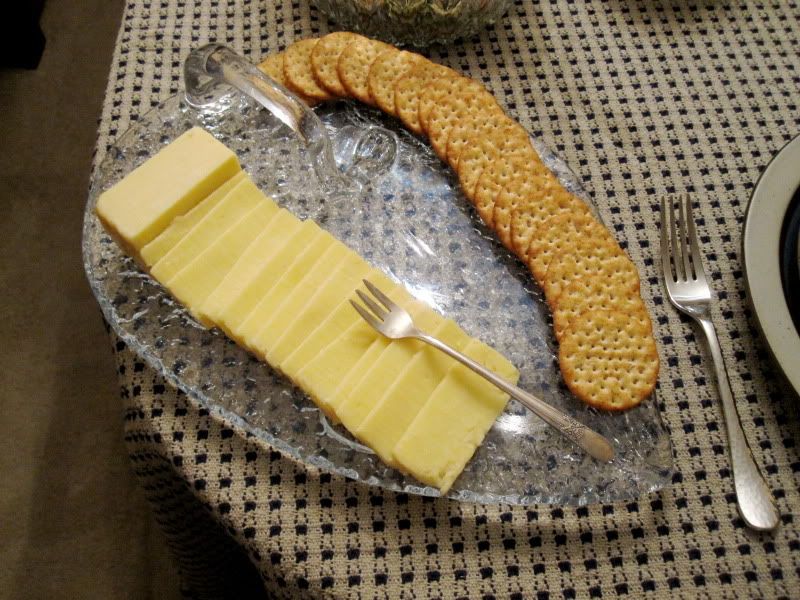 Is this not the cutest cheese serving tray? Its in the shape of a mouse!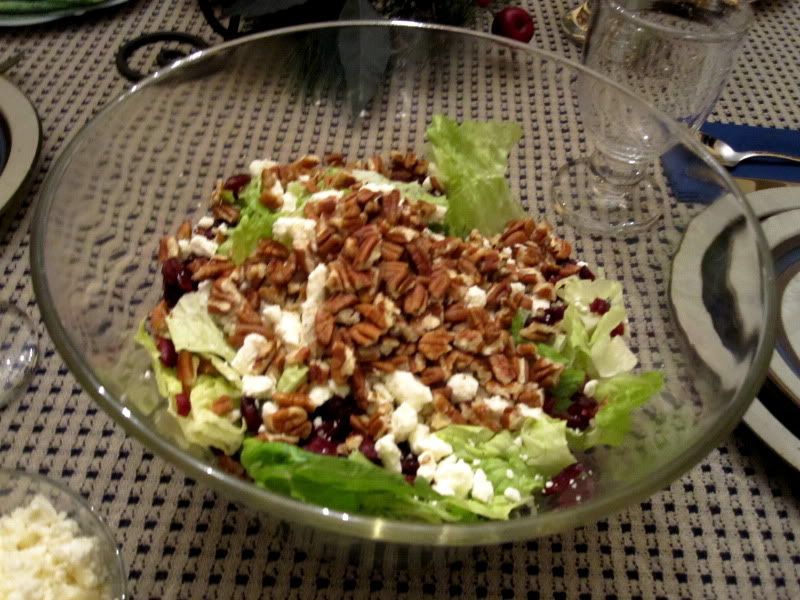 Debbie made another one of her amazing salads. Mixed greens, cranberries, pecans, and feta make for a great salad combination.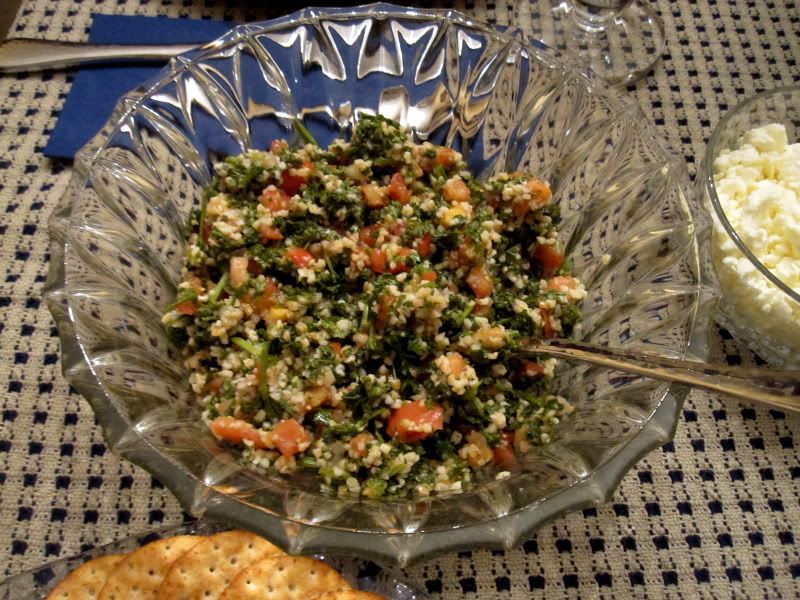 The Cedars taboule. I was in love with this stuff. If it was carried in a grocery store near me I would eat it all the time.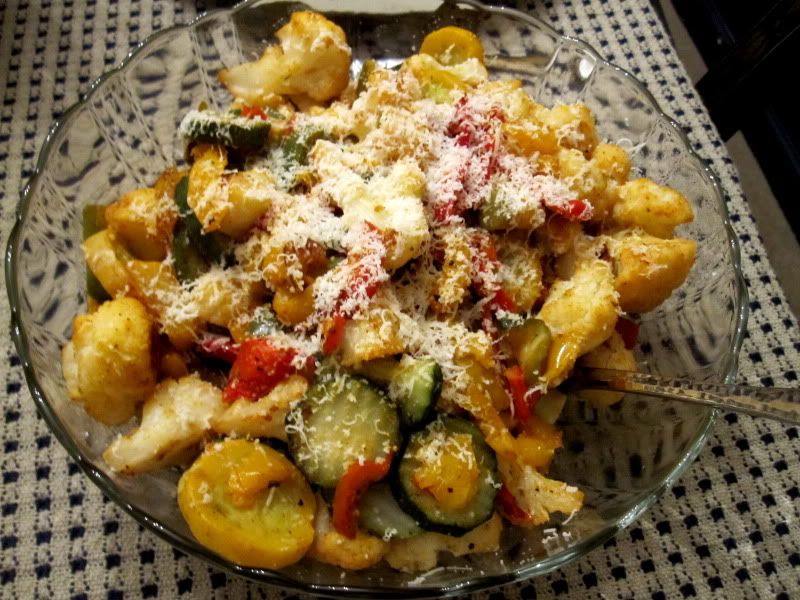 Josh seasoned bags of frozen veggies and placed them in the oven until they started to lightly brown and get crispy. He then topped them with shredded cheese and salt and pepper. They were so good.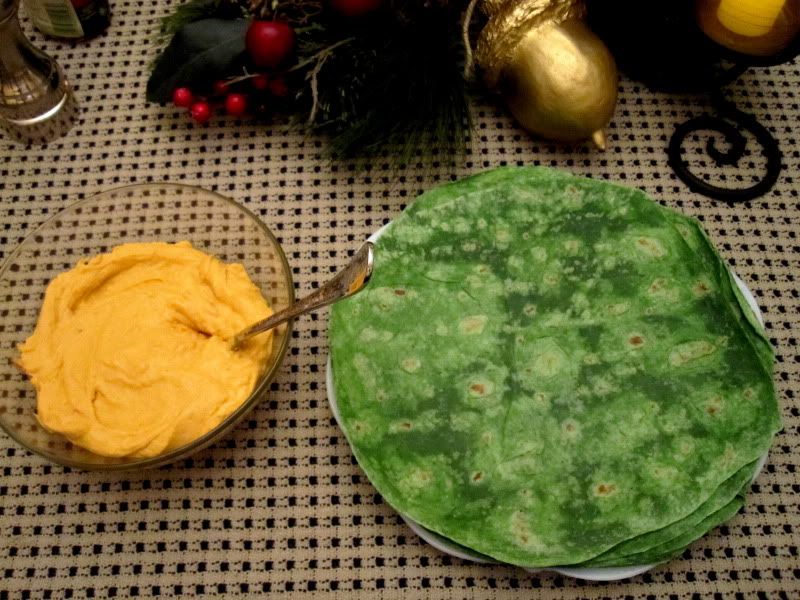 The spinach wraps and red pepper hummus. I am in love with Cedars hummus. Its thicker than I'm used to but so packed with flavor and so incredibly fresh tasting. I also loved the spinach wraps. As you guys know I'm a huge fan of wraps as I use them daily to make breakfast burritos. If these were sold by me I would switch to them in a heartbeat. The ones I use at home are very good but these are great.
The sundried tomato and basil wraps along with the tzatziki and artichoke spinach hummus. The wraps and hummus were amazing but I left the tzatziki for others to enjoy. Its never really been my thing, something about cucumbers and dill don't taste right to me, but Josh absolutely loved it and Debbie raved that she normally doesn't like tzatziki and that she loved this!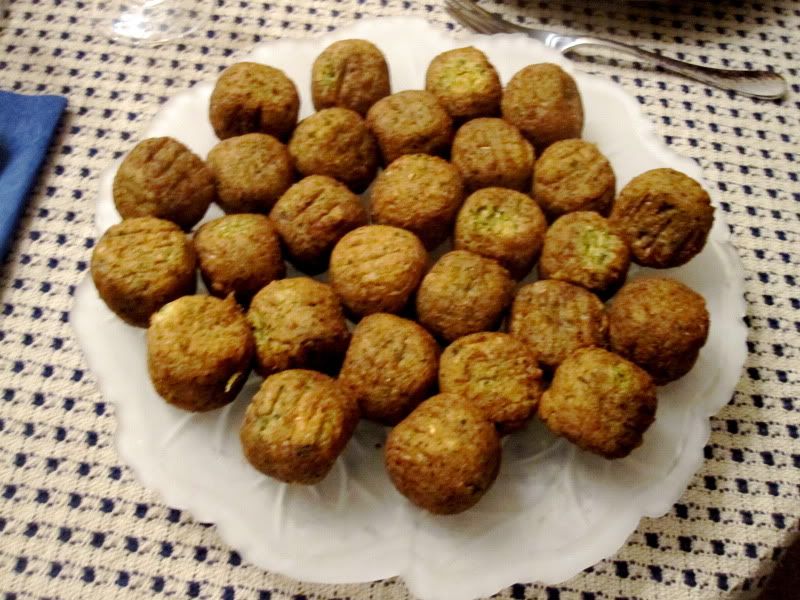 Of course we couldn't have a Mediterranean night without falafel! I loove falafel and filled my plate with quite a few of these!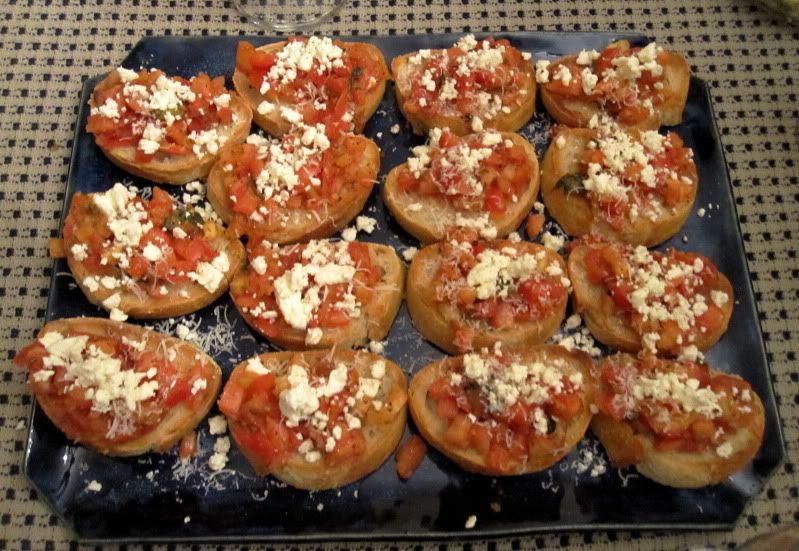 Probably my favorite dish out of everything we ate was the bruschetta that Josh made. He sliced up Italian bread and broiled it for just a few minutes before topping it with Cedars Bruschetta and feta. The taste was out of this world, the bruschetta tasted so fresh and full of flavor. I loved every bite.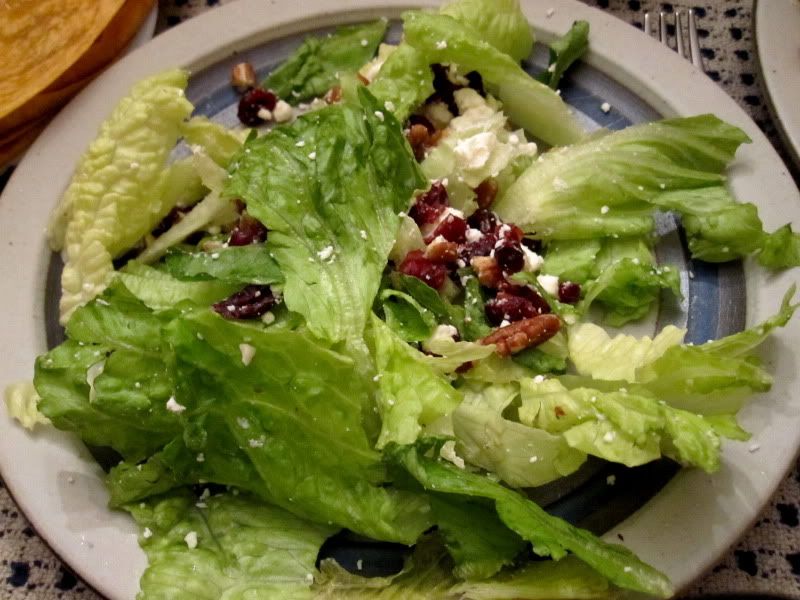 A picture of my yummy salad plate.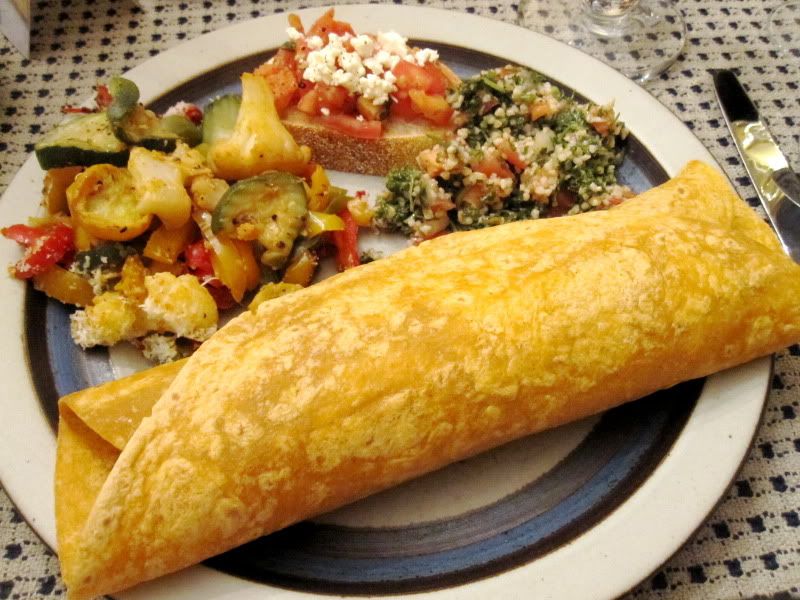 And my very, very happy dinner plate. I rolled up falafel and hummus in the wrap. Everything was amazing and even better than the food was the incredible company. We talked, we laughed, we ate and then we laughed some more. It was so great getting to know such special people in Josh's life. I hope to get to see them again soon! And I'm happy to report they all LOVED the food. I was really impressed with Cedars and how good their food was. I also love how with a few key products you have a dinner theme for the night that everyone can enjoy!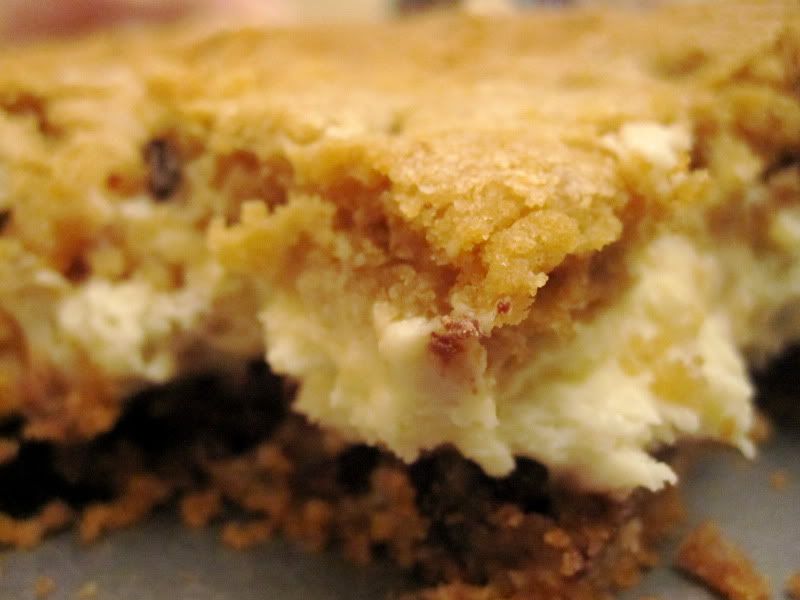 We finished the night with a completely un-Mediterranean dessert that was out of this world good. You layer cookie dough on the bottom of a baking pan, then fill it with cream cheese fluff, and then top it with yet more cookie dough and bake for an hour. Delicious? Absolutely. Healthy? In no way shape or form. This was a dessert I was able to enjoy in a very small quantity and it satisfied my craving without giving me a belly ache. If only I could be so good with Swedish Fish and Sour Patch Kids!
And that was Josh and I's hummus party that we were so excited to host and to share with you! I hope you enjoyed it! And I hope you have a wonderful long weekend to look forward to! Josh just surprised me with a trip to DC for the holiday weekend so tomorrow I'll be heading to his place before we hit the road Sunday morning with his friends. And the bonus? My best friend Rachel will be there!! She hasn't met Josh yet (which she never lets me forget) and I haven't seen her in forever so I'm so excited to get to catch up and for them to finally meet! Because I'll be in DC Monday I won't have an update for you guys until Tuesday but I PROMISE I will post one and that it will be good! Thanks for being so awesome and sticking with me through my crazy schedule! 🙂