Today was a productive day. I met with my psychology group to finalize everything for our final presentation on Friday, did some more birthday shopping for my Dad, got my workout on, and mailed off some textbooks I sold online. Holla for a dolla!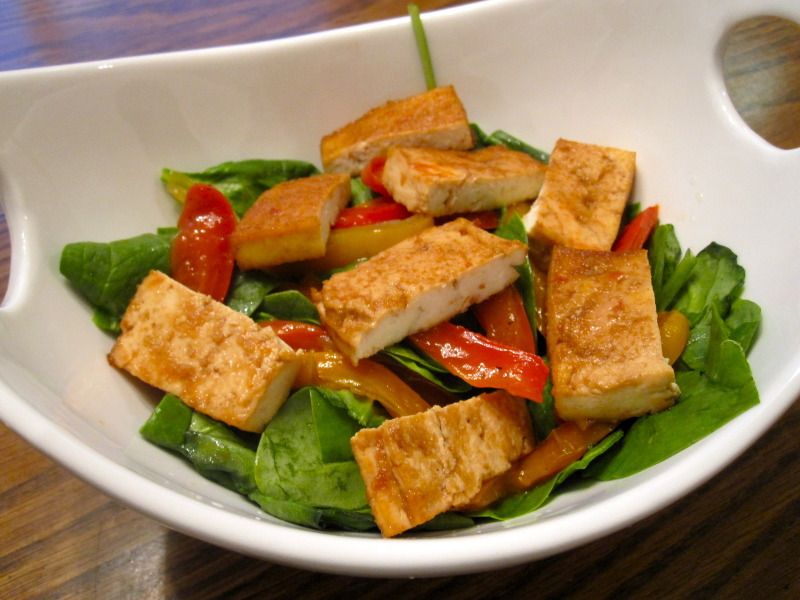 I also made one of the best dinner salads I've ever had. Using Mama Pea's tofu dippers recipe I broiled some tofu and placed it over a bed of spinach and peppers marinated in salad dressing. It was so good I already have plans to make it again tomorrow. If you're looking for a tofu recipe I definitely recommend trying it out, its amazing!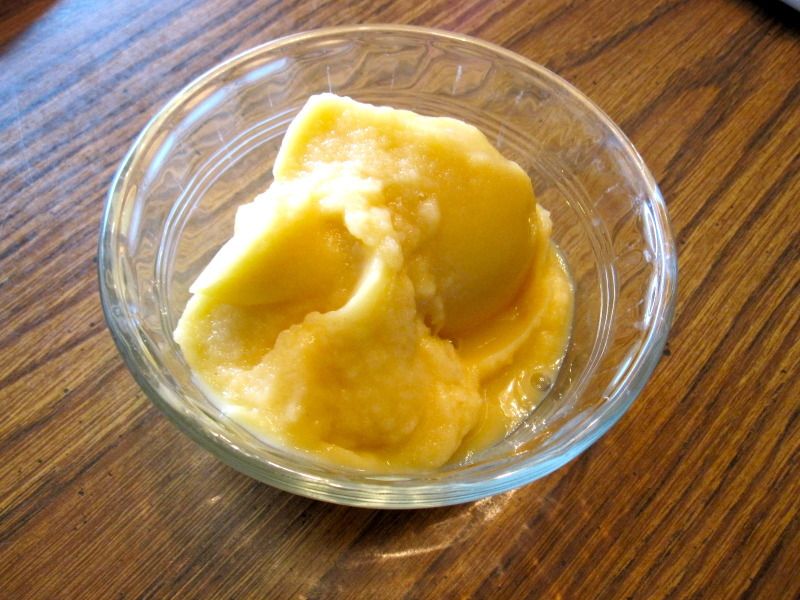 I also had some tasty homemade peach sorbet that I'll tell you guys about more tomorrow! ;p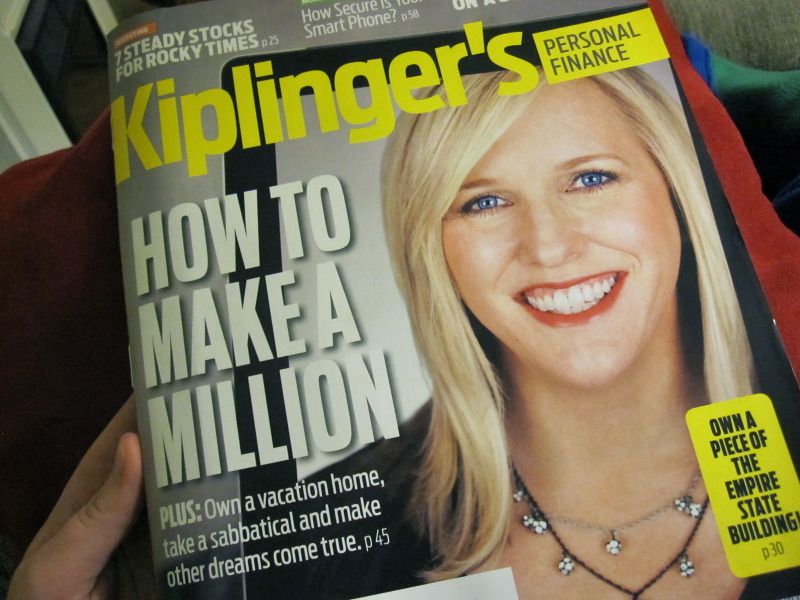 And I learned how to make a million! Just kidding. The article talked about a couple who had a brilliant idea, left their careers, used their kids college education funds as seed money and then struck it rich. While I'm really happy for them, that's a little too risky for me. And while I'll likely never be a millionaire, I'm happy on the safer path.
What I love about Kiplinger's is all the personal finance information. I'm a huge finance nerd. I love Roth IRA's and Credit Scores and all that stuff that gives me knowledge to have a more secure, financially sound future. I'm graduating next semester and its got me thinking about apartments and student loans and all that grownup stuff I'll have to deal with very soon. There were some useful tips in this month's magazine that I wanted to share with you guys. Hopefully it will be of some use to you, it definitely was to me!
Your monthly rent/mortgage payment shouldn't exceed 28% of your monthly gross income. (I did the math on this and if you make $30,000 a year that's $500 a month for an apartment. Yikes!)

Recurring monthly payments for all debts (mortgage, car loan, credit cards, and student loans) shouldn't exceed 36% of your monthly gross income.

If you have a credit score of at least 740 and can put down 40% of the purchase price of a home  you'll secure the best 30-year fixed-rate possible.

If you put down less than 20% of the cost of the home you'll have to pay private mortgage insurance.

As I definitely plan on renting before buying a home I found this really useful information. I want to make sure I have enough saved so that when I do buy a home I get the best possible rate and don't have to worry about buying extra insurance.
I also think its good to know how much debt is okay to take on, and how that is proportionally related to your income. I feel like most people out there have monthly debts worth more than 36% of their monthly income. I feel really lucky to not have a lot of student loans (since my stepmom works at my school) or car payments (since I bought my old but still kicking car outright in a Walmart parking lot) and want to make sure I continue to make good decisions when it comes to finding a place to live and potentially getting a new(er) car and not get myself into too much debt. I feel like my generation has to deal with so much debt and stress, and I don't want that to be my life. Like everyone else, I just want to enjoy my life and I'm hoping soaking up financial knowledge will help me do that. 🙂
Question of the Day: Do you have any useful finance tips? Please share! I'm always looking for more!
My tip: If you're looking for a way to monitor your credit score on a more frequent basis than the one free report from each of the three major credit agencies a year I recommend using Credit Karma. Its completely free and you can use it as often as you like. They pay TransUnion for your score each time you request it and make money off the ad revenue on the site. They are completely safe and do not send you spam emails or sell your information or anything else. I have been using Credit Karma for years and got my dad and Josh hooked on it. If I needed my exact credit score I would go through the government for my free one to have all three of the credit agencies compile my score but for just month to month monitoring using one of the big three's scores (in this case TransUnion) works perfectly fine for me. Credit Karma is awesome because it lets you monitor how your score changes over time and gives you a report card on what you are doing right and what you are doing wrong in terms of building a good credit score. I recommend it to all my friends, it is such a useful site.