I hope everyone had a wonderful holiday weekend! I can't believe how fast it flew by, it was so much fun! Last Thursday I got a phone call from Josh asking me if I wanted to take a roadtrip with Lily to see Patricia in DC on Saturday. Patricia graduated from the same PhD program Josh and Lily are in last year and has a consulting job in DC. I got to hang out with Lily and Patricia this past fall and had a blast. I was so excited to get to do it again! Lily was so sweet to handle the driving to DC. We left early in the morning and got into Alexandria right around lunchtime. After picking up Patricia and dropping off our stuff at her apartment we headed into downtown DC for some lunch.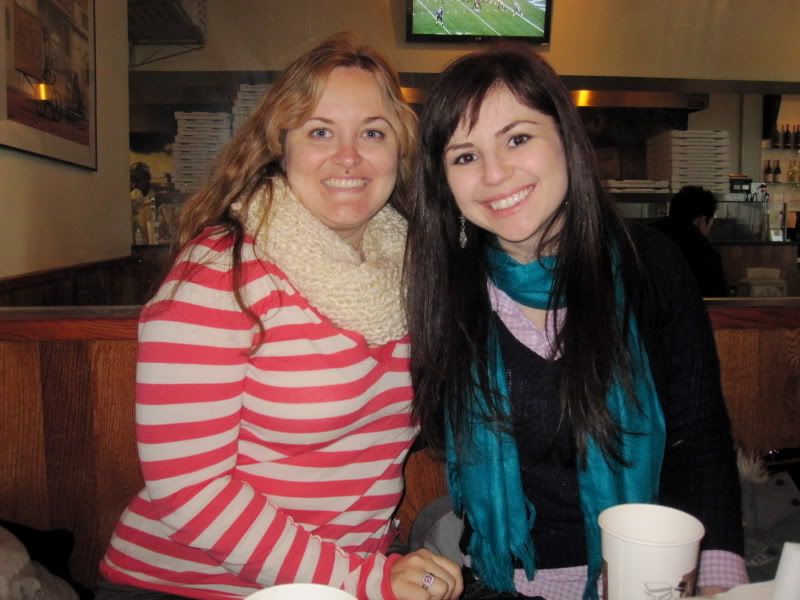 Lily and Patricia 🙂
And a super blurry picture of Josh and I. Its such a good picture of him though!
We were excited to get to try a really popular place I can't remember the name of that Patricia raved about. Unfortunately when we got there we found out the wait was 50 minutes. Since we ate breakfast at 8am and it was now 3:45-ish we were starving and decided to walk around the nearby streets until we found something.
We ended up finding this pizzeria called Upper Crust. None of us had ever heard of it before but it looked nice and we figured pizza would be quick so we headed inside. Unfortunately for us someone had ordered an insanely huge take out order and we were waiting for nearly an hour for our pizza. We were not liking the place too much when something pretty awesome happened.
Meet Vern. He's pretty awesome. And he's also one heck of a pizza maker! He came up to our table to apologize for the wait and let us know that he was personally making our pizza. He guaranteed it would be the best potato pizza we would ever have and also gave us free fountain drinks and cheesy bread. We're pretty easy to win over.
And Vern did not disappoint. This pizza was AMAZING. It had a super thin crust yet it held heat so well and had fresh spices, melted cheese, roasted potatoes and caramelized onions. We devoured each and every slice.
The other star of the show was Vern's Cheesybread Creation. I call it this because Upper Crust doesn't make cheesybread. He whipped up his own special recipe and it was out of this world. After looking up Upper Crust online I realized it wasn't just a random pizza shop but actually some pretty big deal pizza in Boston. I'm so glad I got to try it and will definitely be coming back for more next time I'm in town. Vern took a potentially disastrous situation and made it into an amazing one. I'm so glad we didn't get to eat at the other restaurant like we planned because if we did we wouldn't have found one of the best pizza shops I've ever been to. If you're in the DC area (or Boston since apparently they're all over there) I definitely recommend checking it out! Vern will take care of you! 🙂
After an awesome lunch we decided to sight see. The sky was crystal clear and bright blue but the temperatures were frigid.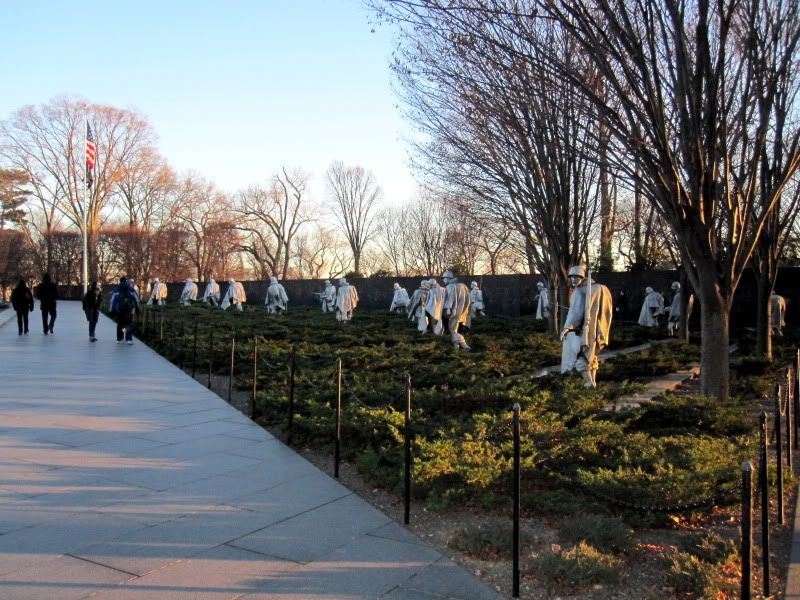 The Korean War memorial.
We had plans to walk around to see a lot of monuments but ended up quickly walking by most of them. It was SO cold!
Being Martin Luther King, Jr. Day on Monday one stop we had to get to was the new MLK monument. Here we are all huddled by the entrance.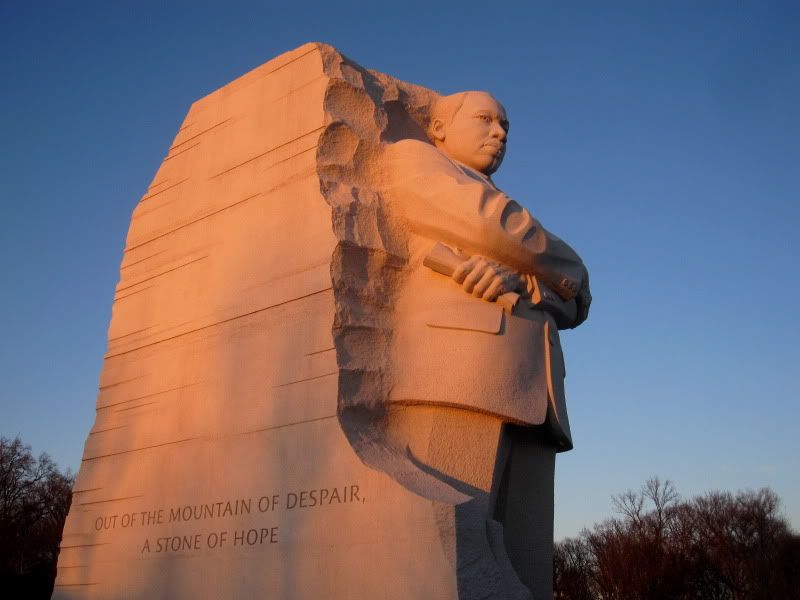 It was such an awesome monument. Its incredible how far our country has come in such a short period of time. It makes me so proud to be an American.
After our drive-by tour of the monuments we decided to head to warmth and get some drinks. We ended up hitting up the bar at the Willard Inter Continental.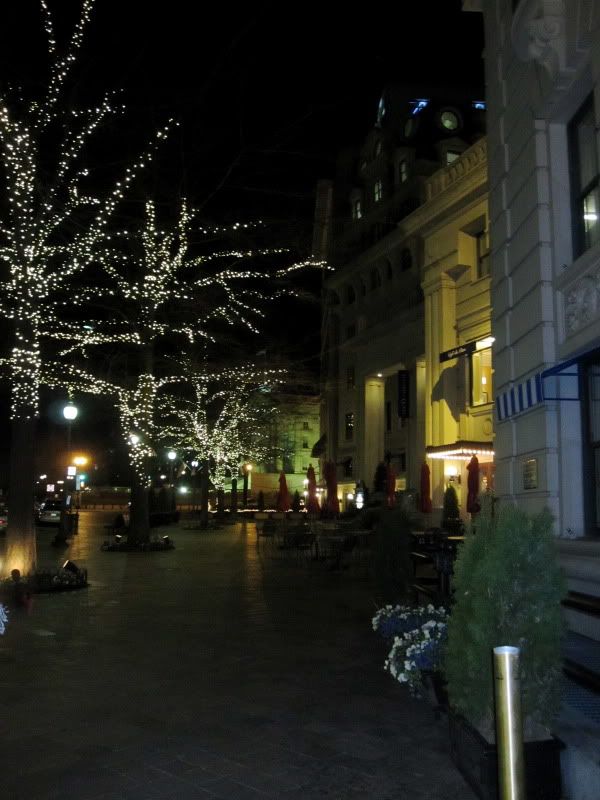 It was such a gorgeous hotel. I love how they decorated the trees outside.
And the lobby was stunning. There was a gentleman playing piano in the lobby and it was so welcoming.
The Round Robin and Scotch Bar inside the hotel was so awesome. It felt like stepping back in time to an old gentleman's club. I loved the charm. And it's apparently where lobbying first started.
Josh ordered their signature mint julep. Its what the bar is known for and is quite the experience. Its made from a recipe dating back to the 1800's and is really good. Josh loved it!
Lily got a hot brandy cider. It tasted so good to have a hot drink on such a cold day.
Patricia and I both got girly sparkling wine drinks. And they were amazing. The orange peels also made them smell incredible.
And the best part of the bar was getting to see my friend Rachel! She just moved to DC and had to trek three hours to meet up with us thanks to construction on the Metro. That is true friendship! <3
After drinks we headed over the see the White House. This was my first time seeing it at night and it was absolutely gorgeous. The best part about seeing it at night was that there were no crowds or lines to get good pictures! Such a cool experience!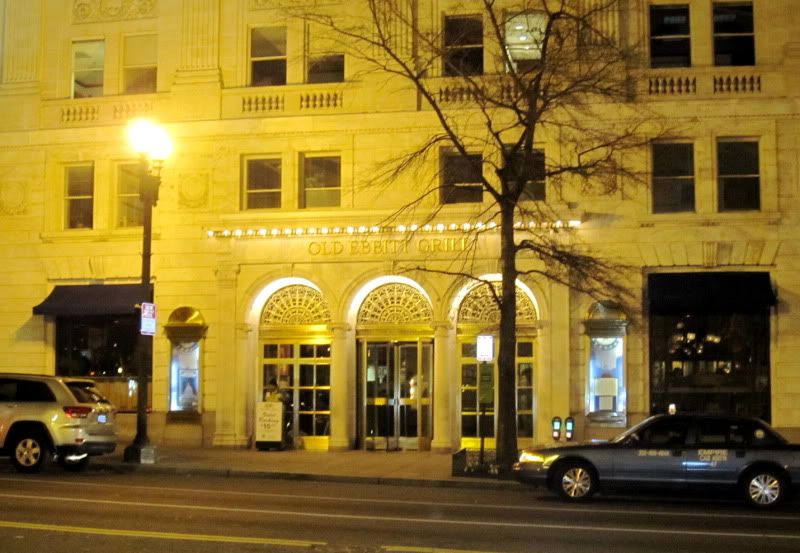 For dinner Patricia had made us reservations at the Old Ebbitt Grill. I was hungry and couldn't wait to see what was on the menu.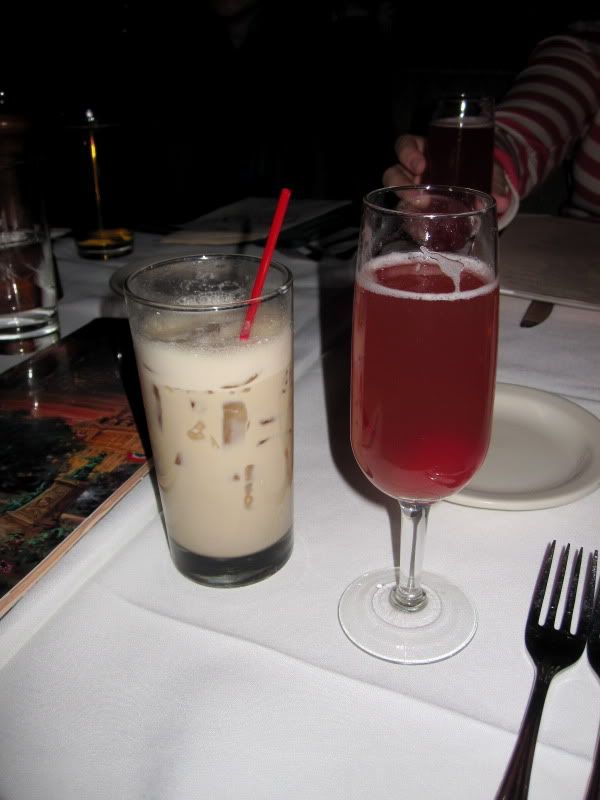 For drinks Josh ordered a Sneaky Pete and I got another girly sparkling wine drink. Both were excellent.
For an appetizer the table ordered a cheese plate. I was trying to be good since I knew I was drinking a lot of sugary calorie filled drinks that night and skipped the cheese but from what I heard it was delicious.
I couldn't decide if I wanted something healthy or something hearty for dinner. Josh was feeling the same way so we decided to split two entrees. I ordered the cranberry beet and apple salad.
And Josh ordered the pumpkin stuffed raviolis. Both were amazing and it turned out to be the perfect way to enjoy dinner.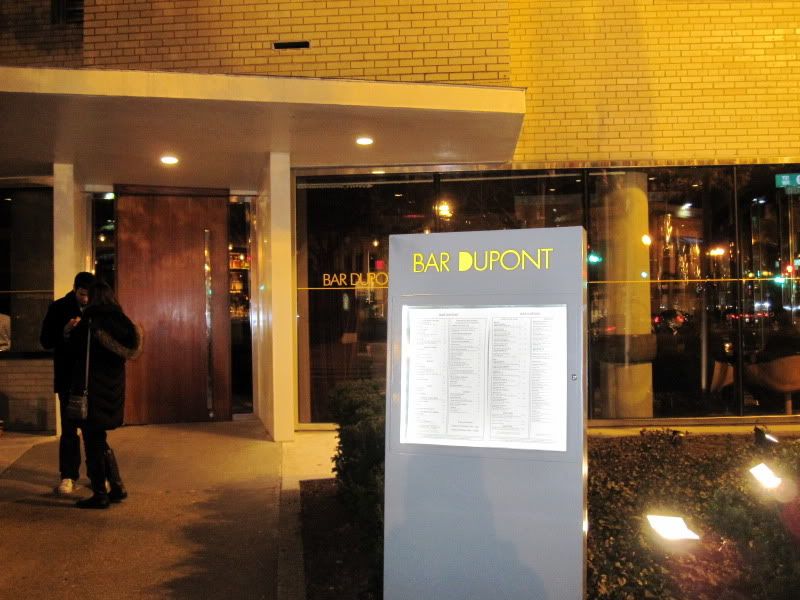 After dinner we continued our tour of D.C. and took a cab to Dupont Circle to hit up Bar Dupont.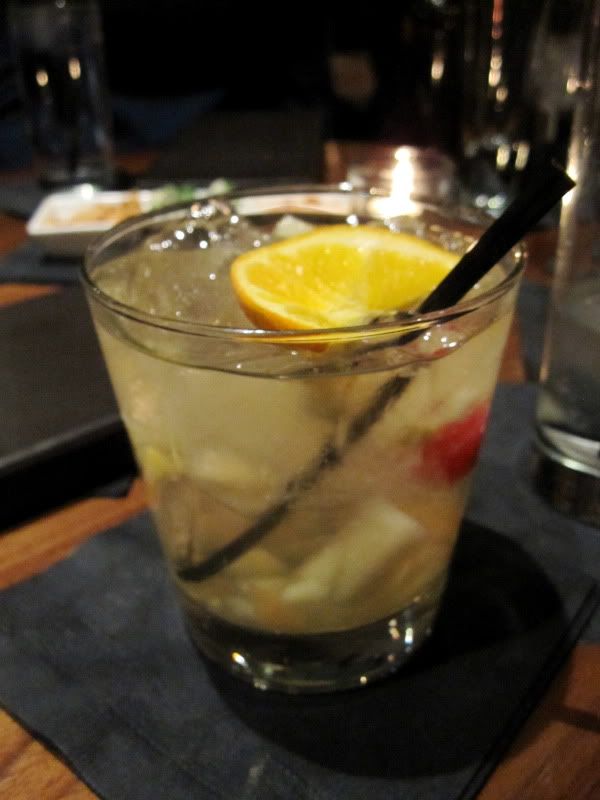 A delicious sangria that tasted like fruit juice despite being made completely of alcohol. I don't know how they did it, but it was good!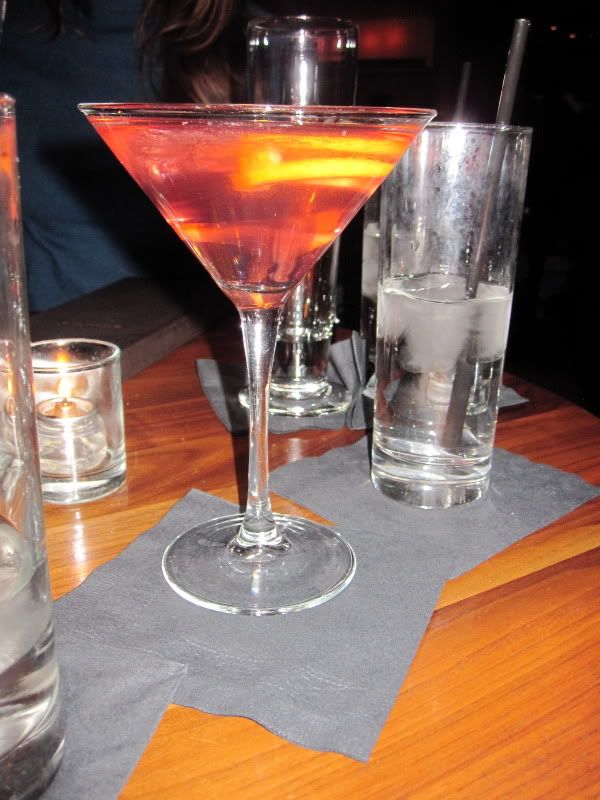 A very girly, very pretty, very yummy cosmo.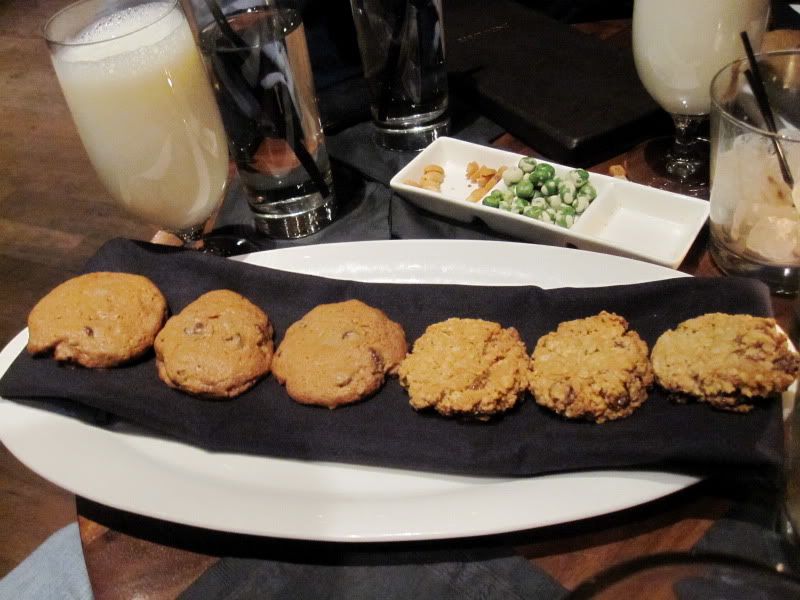 And after hours of talking and laughing we decided to end the night with a little more eating. Josh and I split a plate of their fresh baked cookies, complete with a big glass of milk. They were amazing. I always love chocolate chip cookies and these did not disappoint, but I was blown away by how good the cinnamon oatmeal cookies were. I don't really like oatmeal cookies but could not stop eating these!
We had a very funny trip getting back to Alexandria via the metro, you meet some really interesting people using public transportation! After we got back to Patricia's we changed into PJs and almost immediately crashed. We were all so tired!
The next morning we slept in and took our time getting ready. For breakfast Patricia recommended Brasserie Creperie, a restaurant over by the Pentagon. I was so excited, I haven't had good crepes since I was in Quebec City with my dad where I convinced him they were healthy and ate them every day for lunch.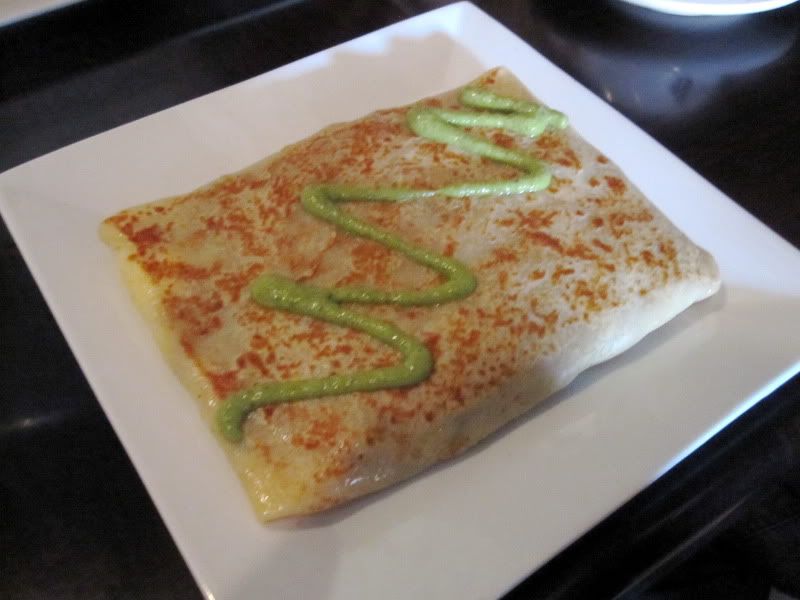 Patricia and Lily had the bright idea to each get one savory and one sweet crepe and split them, so Josh and I decided to do the same thing. Our savory crepe was stuffed with goat cheese and veggies. It was so great.
And even better was our sweet nutella and strawberries crepe. We cleaned our plates.
The shopping complex the creperie was in was absolutely adorable! There was an ice skating rink in the middle of it! I am in love with the charm of DC. Its one of my favorite cities and a place I feel would be so awesome to live in.
After a lazy morning brunch it was time to hit the road and head back to State College. Lily, Josh and I noticed the Hagerstown Outlets driving down to DC and thought it would be such a fun place to stop on the way back. The first stop on our list was obviously J.Crew. Unfortunately there wasn't any amazing sales happening so I left empty handed but Lily ended up finding some adorable stuff from Gap and Banana Republic. Josh and I both picked up some discount hair care products which I was pretty excited about.
The rest of our road trip involved sharing funny stories during the drive home and a shameful wonderful trip to Taco Bell for dinner. It was my first time there in forever, and will definitely be my last time there for a long time, but it was so good. Something about cheesy bean burritos sounds perfect after a long car ride.

And now we're home and I'm back to school. It was such a fun trip and I had the best time getting to explore one of the coolest cities with such awesome people. I can't wait to go back! 🙂
Question of the Day: Did you do anything exciting for Martin Luther King, Jr. Day? I'd love to hear about it!