Today was a good day. It started off just like any other Thursday, I woke up, had a breakfast burrito, went to finance class, died ran for twenty minutes in aerobics class, came home and had some pasta salad. I don't know if it was the frigid temperature (at one point today it was in the 40's!) or I was just craving some coffee but after lunch I decided today would be a perfect Starbucks day.
My love for this coffee shop knows no bounds. I got there around four and there was not another customer in sight. I brought along my laptop so I could answer some blog emails while I enjoyed my coffee. I love that I am starting to get blog emails, I love hearing from new people!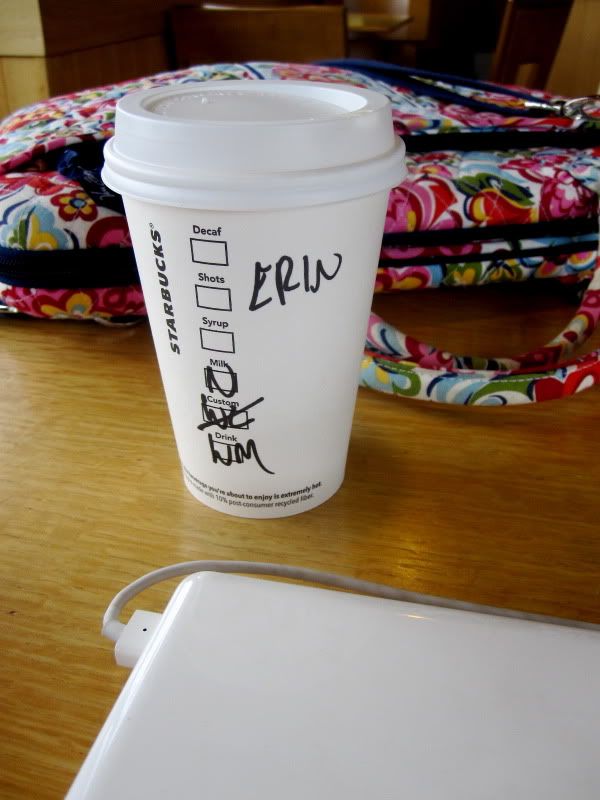 Any Starbucks connoisseurs want to guess what my drink was? 😀 (Its a tall white chocolate mocha with skim milk and no whipped cream.) Its my favorite warm weather coffee. I usually get a grande but I downgraded to a tall today because I decided to splurge on this: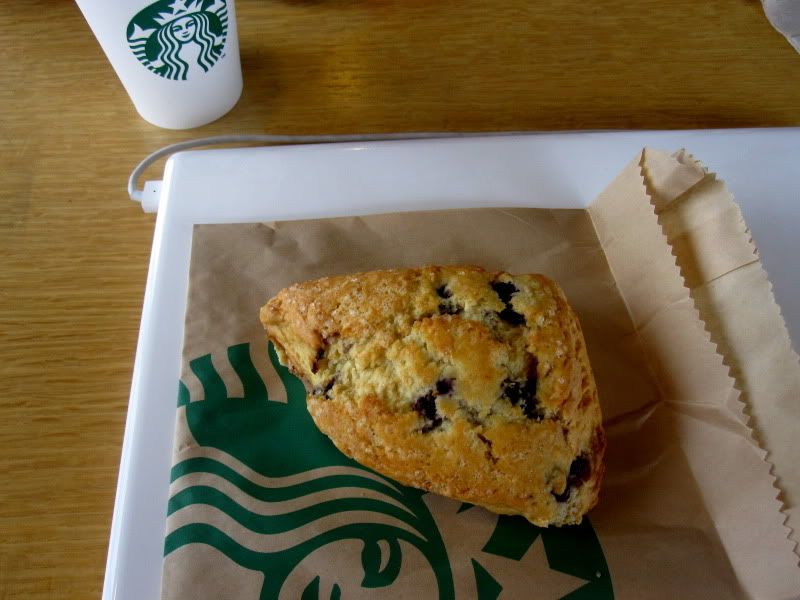 A blueberry scone of my dreams! It looked so good in the display case I couldn't pass it up. I tried to ration with myself that I would just eat half and save the rest for later but it was so warm and soft and filled to the brim with blueberries it was gone in a few bites.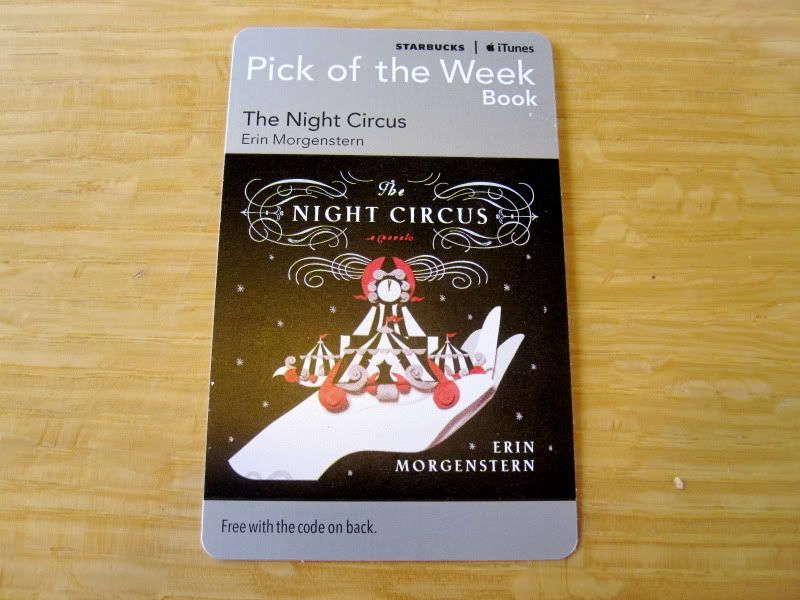 I was also excited to see what their free download of the week was. Much to my surprise it wasn't a song but a book! If you have an iPad or iPhone (I don't but my boyfriend is sweet enough to let me download it on his) I would highly recommend stopping by Starbucks this week to pick up your free coupon. I love books of all sorts and remember reading this book's Amazon page awhile back. At the time it was for pre-order but even then The Night Circus by Erin Morgenstern was getting rave reviews. I am so excited to get to start reading it!
Getting the coupon for the ebook reminded me that tomorrow is the last day of Borders. If you have a Borders by you I'm sure you're aware of this but its a bookstore like Barnes and Noble that just went bankrupt and now is going out of business. I was there two weeks ago when everything was 70% off and picked up some stuff but haven't been back since. A few days ago I got an email that everything is now 90% off. I wasn't sure if I would find anything or if there would even be anything left, but I decided to take the fifteen minute drive to find out. I am so glad I did!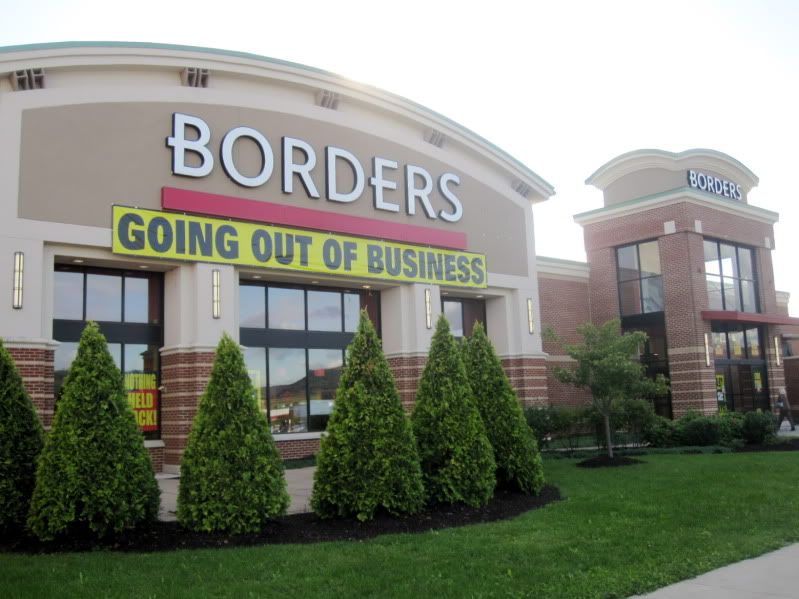 I used to sit out on that patio and drink chocolate chip cookie dough javakoolas on sunny days. 🙁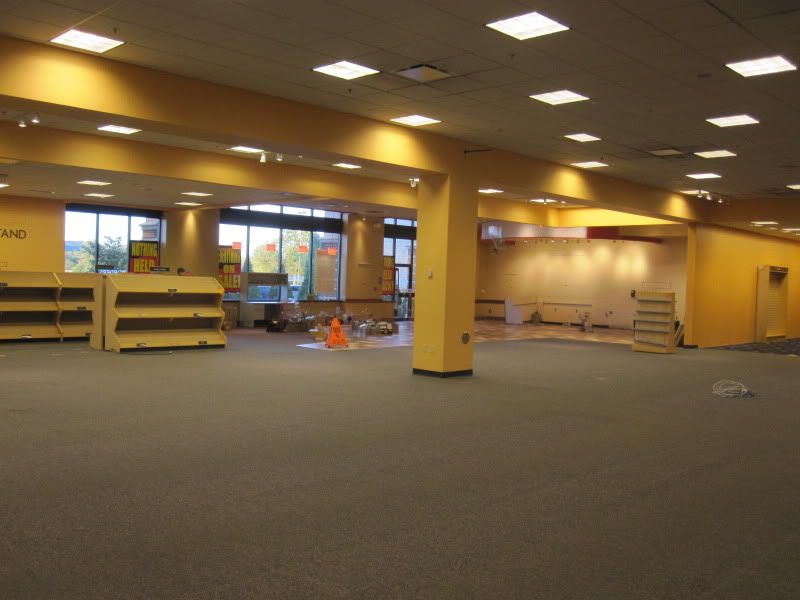 The entire back of the store was empty! I'm so sad that this bookstore chain is closing. I know there's still Barnes and Nobles and they're technically the better bookstore but I've always loved Borders because they had better sales. I'm easy to win over. ;p They did not disappoint with prices today, everything was $1 or less! There wasn't a lot left and what was left was in cardboard boxes that you had to pick through but there were some great deals to be had if you took the time to look. I found two books in particular I immediately had to snatch up.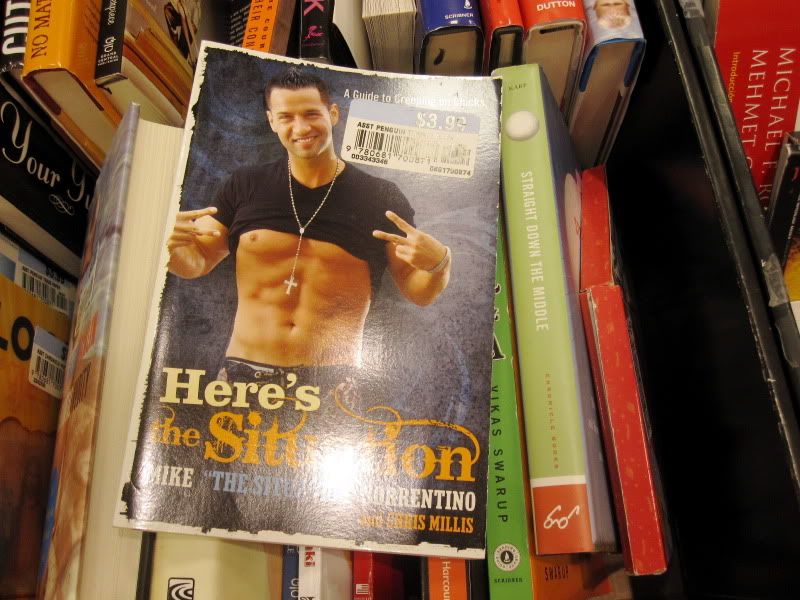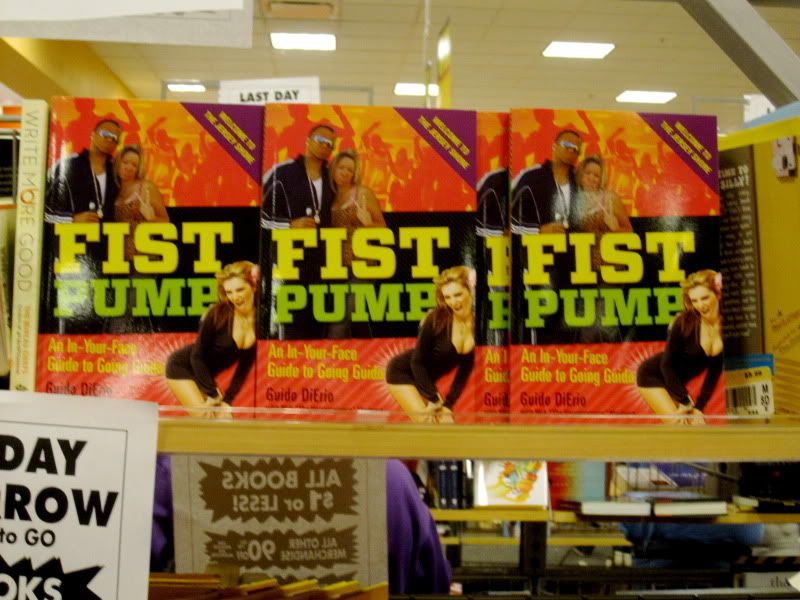 Kidding. ;p

Two hours later I walked out of there very happy with a big box of books and a whole lot of savings! (That did not include any books about the Jersey Shore cast members. Although I do love that show, its a guilty pleasure!)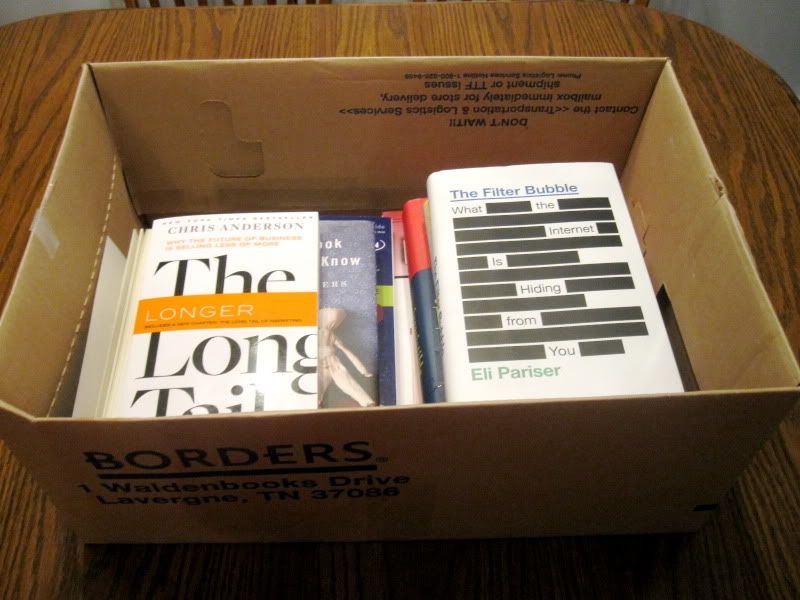 This was a heavy box of books! It took forever to lug up my driveway. I got 14 books and spent a total of $14.21! Because I love calculating savings I added up how much they would have cost at retail price. To get all these books I would have had to spend $311.67! I saved $297.46 (or 95%!). I love good deals.
I love to read and am always looking for new books so I thought I would show you guys the books I got. I read a whole assortment of genres, so there's a little bit of everything in here! If you've read any of these books I would love to talk about them with you, or if one looks good and you'd like more info about it just let me know!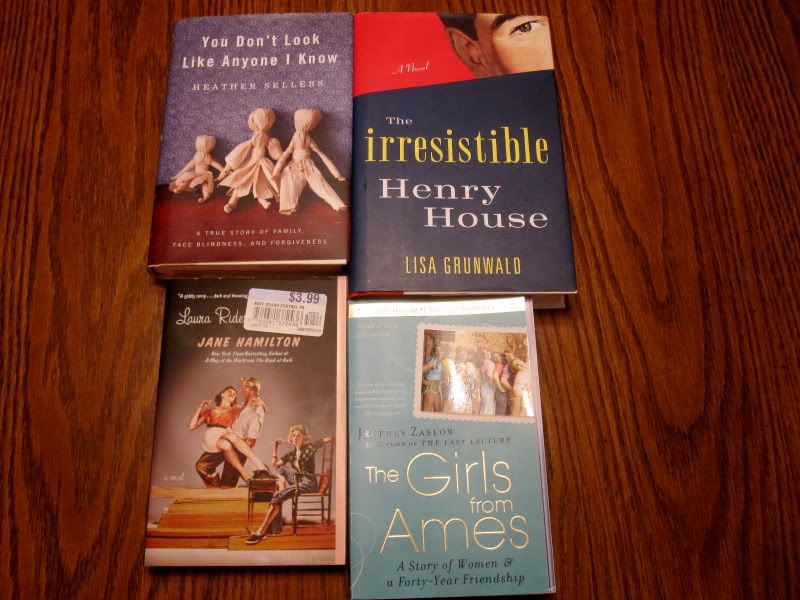 From top left going clockwise: You Don't Look Like Anyone I Know by Heather Sellers (nonfiction), The Irresistible Henry House by Lisa Grunwald (fiction), The Girls from Ames by Jeffrey Zaslow (nonfiction), and Laura Rider's Masterpiece by Jane Hamilton (fiction).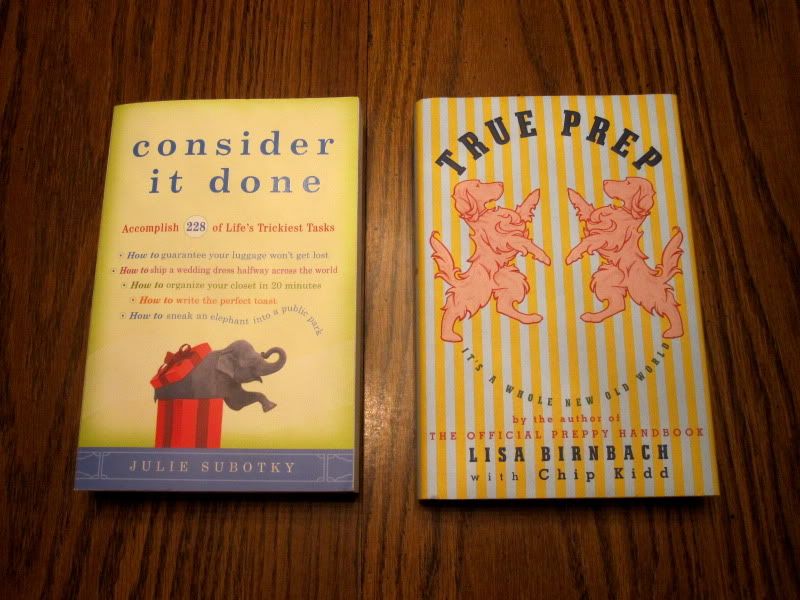 Consider It Done by Julie Subotky and True Prep by Lisa Birnbach. (I have wanted True Prep since it came out, when I saw it in the bookstore I jumped up and down. True Life: I'm a Dork.)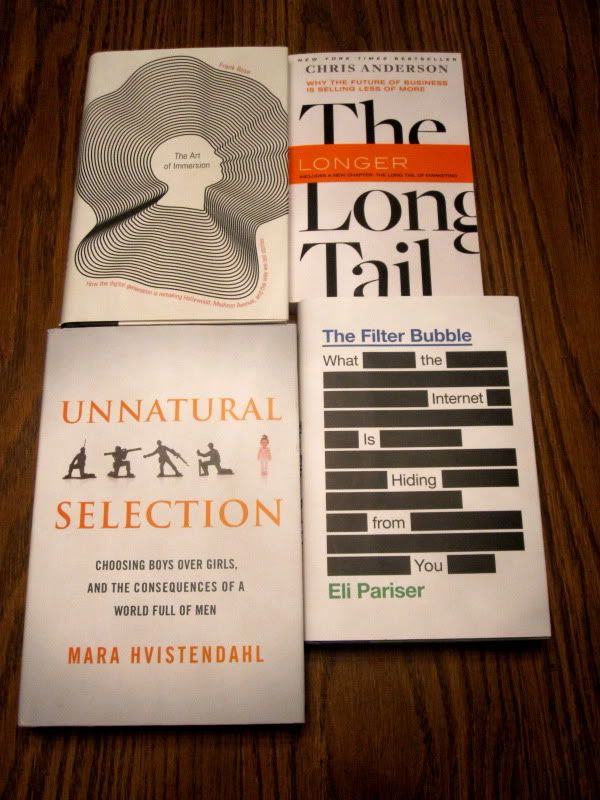 From top left going clockwise: The Art of Immersion by Frank Rose, The Long Tail by Chris Anderson, Unnatural Selection by Mara Hvistendahl, and The Filter Bubble by Eli Pariser.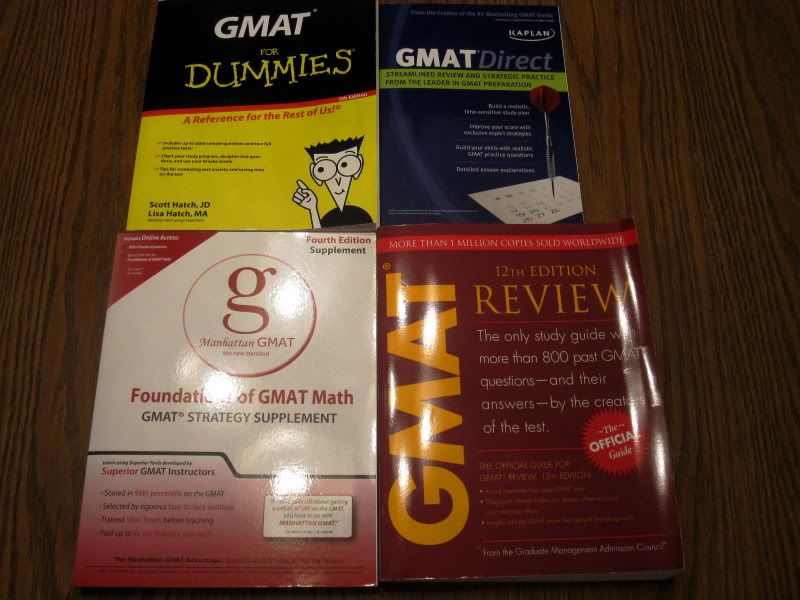 And some GMAT books! This is where I really saved money. Its dawned on me recently that I'm almost done with school and I need to start thinking about the next step. While I don't know if I'll immediately go to business school or get some real world experience first I do know I need to take the test while everything is still fresh in my mind. These were all the GMAT books they had left and while its probably overkill they cost $4 total. I figure I'll start with the GMAT for Dummies and work my way up. ;p
By the time I got home it was 7pm and I was hungry! My family had lamb tonight so I was on my own for dinner options. I decided to whip up some quinoa. It was totally an experiment composed of me throwing things together that luckily turned out great (it oftentimes doesn't), so I thought I'd share it with you.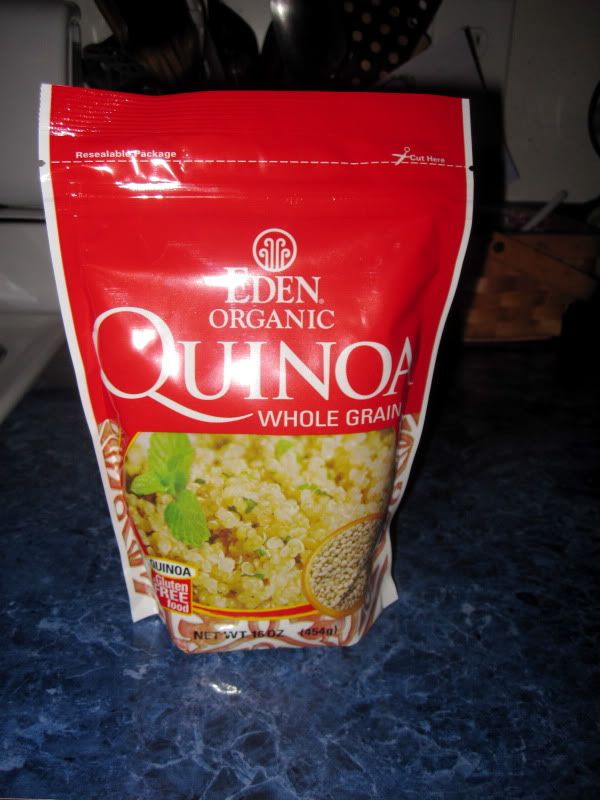 You start off with quinoa. I cook it just like the back of the package says. Boil 1 and 1/4 cups of water and then pour 1 cup of pre-rinsed quinoa into the pot. (I found out today from the Fitnessista that the reason you have to rinse the quinoa before you cook it is because quinoa has a natural insect repellent coating on it that if you don't wash off will taste bitter when cooked!) After pouring quinoa into the boiling water turn down the heat and cover the pot. Let it simmer for 12 minutes and then take it off the heat and let it cool for five minutes, fluffing it up from time to time so it gets really soft.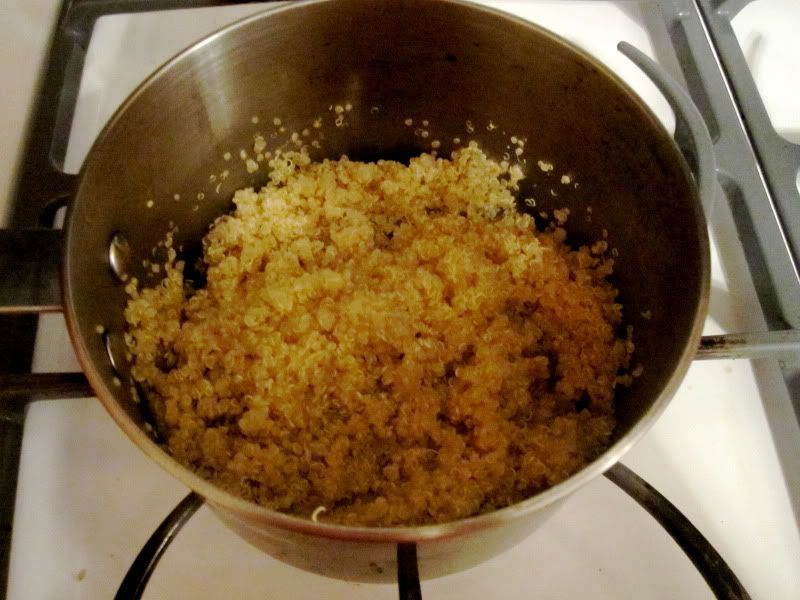 It'll look like this when its all ready.
This is where the experimenting started. I was craving stir-fry and thought it would be fun to try doing it with quinoa and some veggies.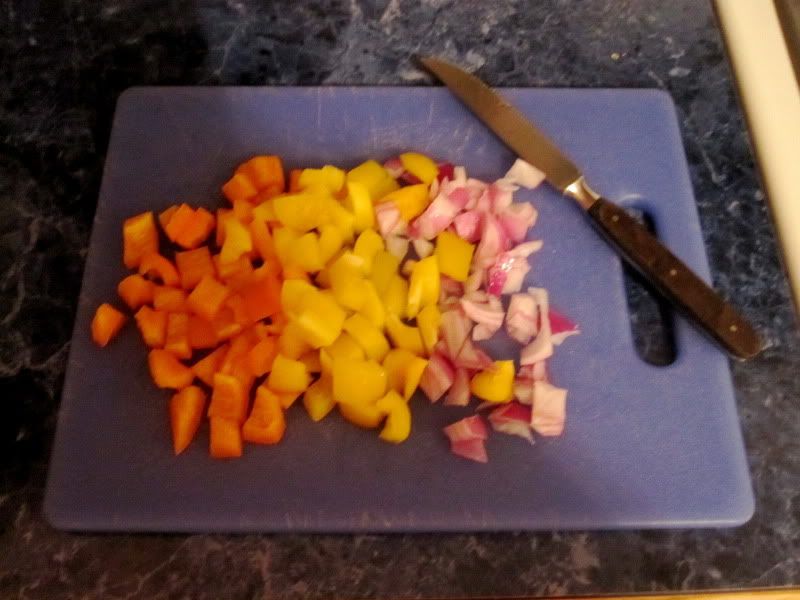 I used half an orange pepper, half a yellow pepper and a whole lot of red onion. After taking this picture I also decided to use a quarter of a head of garlic which I chopped up into small but sizable pieces. I love garlic!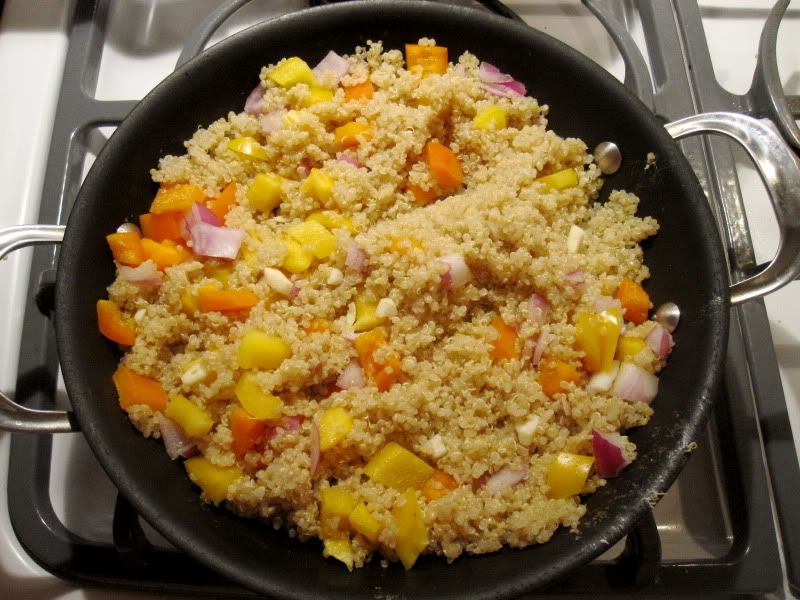 I added all the ingredients into the pan along with some extra virgin olive oil and got cooking. Can you see the garlic? I also added in a few shakes of salt. I stirred this over medium heat for about ten minutes.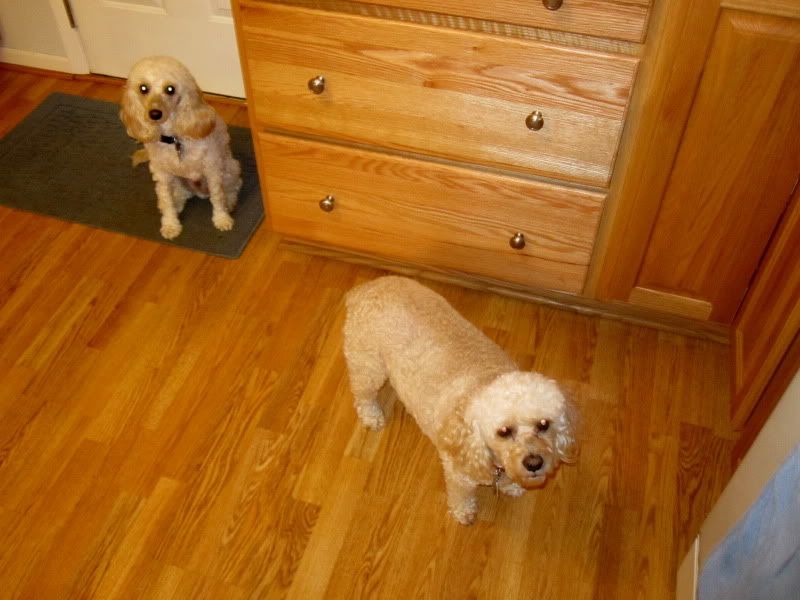 I had company while I cooked!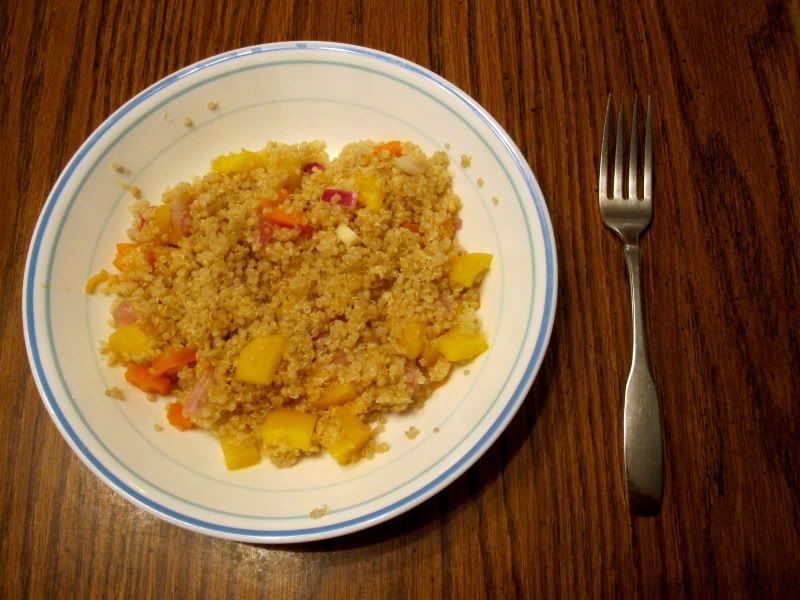 My dinner! 😀 After it was finished cooking on the stove I portioned out my meal (it makes four servings) and then mixed in a handful of cheddar cheese. Because the quinoa was still steaming hot it melted right in like it would on the stove. I didn't add it to the whole pan because Diane saw me making it and asked if I would save her some. She was recently diagnosed as gluten, dairy, and soy intolerant so I skipped the cheese while stir-frying, although if you're making it just for cheese eaters I would highly recommend adding it while you still have everything on heat on the stove. This was SO delicious and something I will definitely be making again! It was simple to make, nutritious, and super filling!
Time to go talk to that special guy I've mentioned on here on a few occasions! ;p I hope you all have a great night!